27 Best Practices for an Ecommerce Website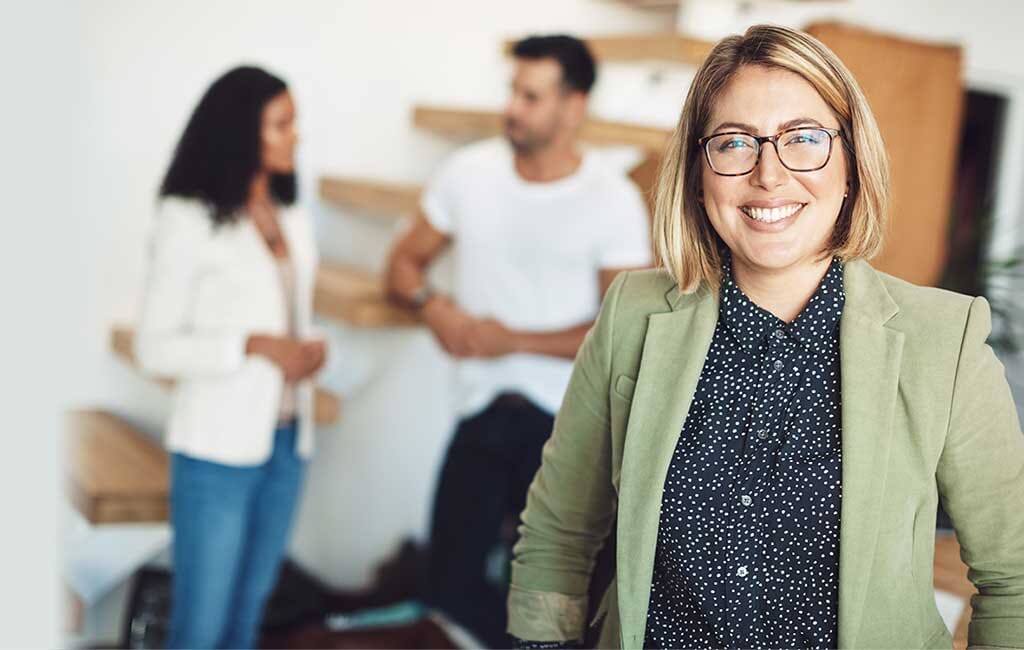 Whether you are building a new Website or trying to optimize an existing site, it's vital to enhance your site the right way to maximize conversions, generate more leads, and increase overall revenue. Below you will find 27 best practices for ecommerce success.
---
1. Simplify
As a digital marketing company, We often see businesses try to do too much with their Website. The highest converting Websites are those that are simplified. When you look at the home page for Apple, you will notice there is a clear headline and call to action (CTA). These are the two most important things that drive conversion.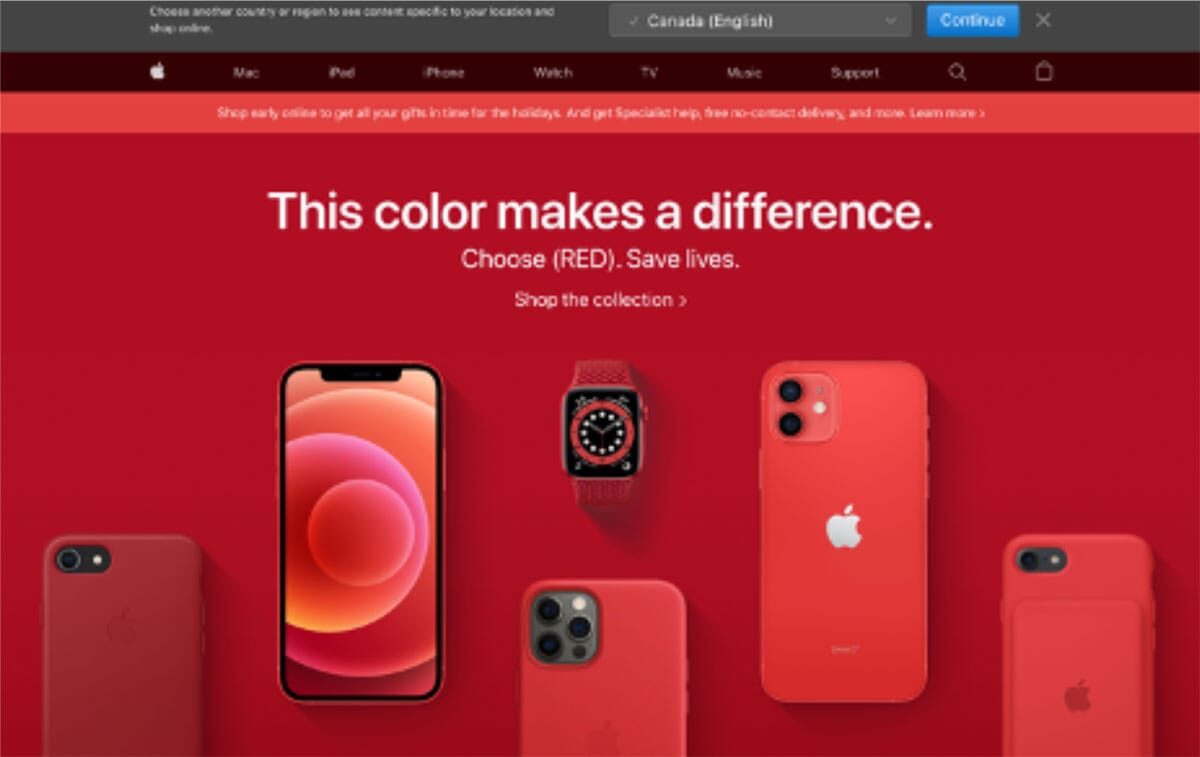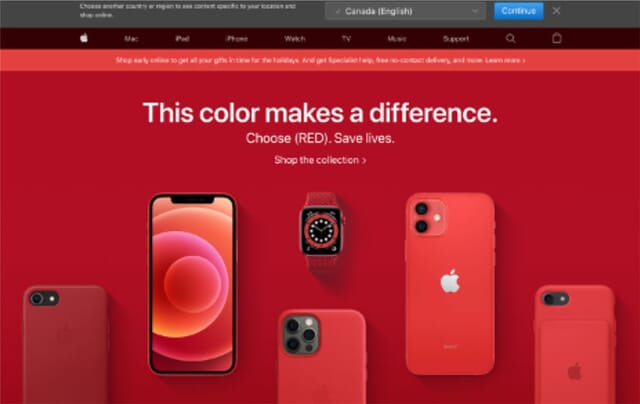 If there is too much clutter, your prospects will miss your call to action, which is why it's so important to keep the top of your Website as simple as possible.
Here is another example from Nike. As you can see here, they also have a simple headline and call to action.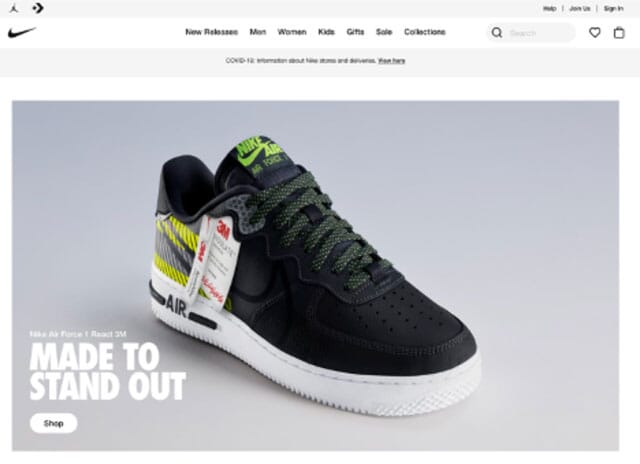 2. Select a Hero Image That Sells
The image at the top of your Website is what connects with prospects and creates desire. If you are a small business, you can use stock photography, but we typically recommend high quality photography to achieve the best result. Both Nike and Apple have done this and their hero images will drive results. It's an investment that is worth it.
3. Keep Your Navigation Simple
When we optimize a Website, one of the first things we look at is what people are clicking on. Try to focus your navigation into an easy to understand menu that makes it easy for people to find what they need. Below you will see Apple's navigation. You will notice that their menu is separated by product line, which makes it easy for prospects to click through and find what they need in a specific product line.

---
4. Search Engine Optimize (SEO) Your Navigation
Not only do you want to optimize your navigation from a usability perspective, but you also want to optimize if for search engines. For Apple, they know that prospects search for their products by product name, so their navigation works from an SEO perspective. Below you will see the Blueprint Internet Marketing Website navigation. You will notice that we use our main keywords in our navigation. This makes it easy for prospects to find what they are looking for and enables search engines to understand what our site is about and rank us for these keywords.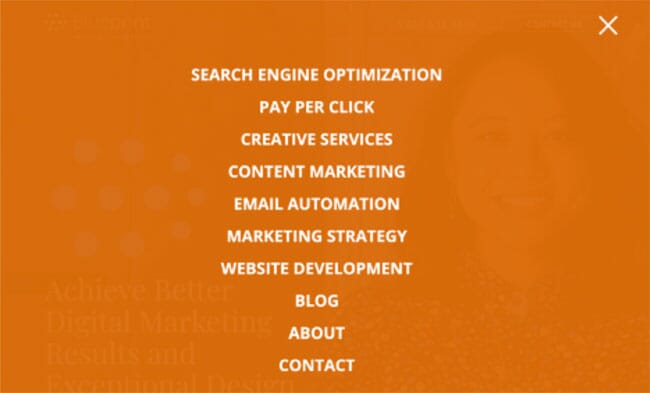 ---
5. Make it Easy to Search
If we look at Nike's search bar, you will notices that they make it easy for prospects to find what they are looking for by using their search field.

The bottom line is that the more complex your Website is, the more important it is for people to search for what they are looking for. Since Amazon has so many products, they put the search bar front and centre as you can see here.

---
6. Include Campaigns
If prospects don't click on the call to action at the top of your site, they are looking for something else. This is why it's important to include additional campaigns below. As you can see here, Nike has several campaigns below the top hero image, including gear up, beat the cold, trending now, and just in. The gear up section focuses on shoes, while the beat the cold focuses on seasonality. Trending now allows them to feature their best sellers. This is a smart approach because they are using premium real estate to focus on products that have a track record of success. We always ask clients to outline their best selling products from highest to lowest, so that the site can focus on the best-selling products. Lastly, Nike has a section on just in, so that returning customers can see what is new, making it easy for them to see what has come in since the last time they were on the site.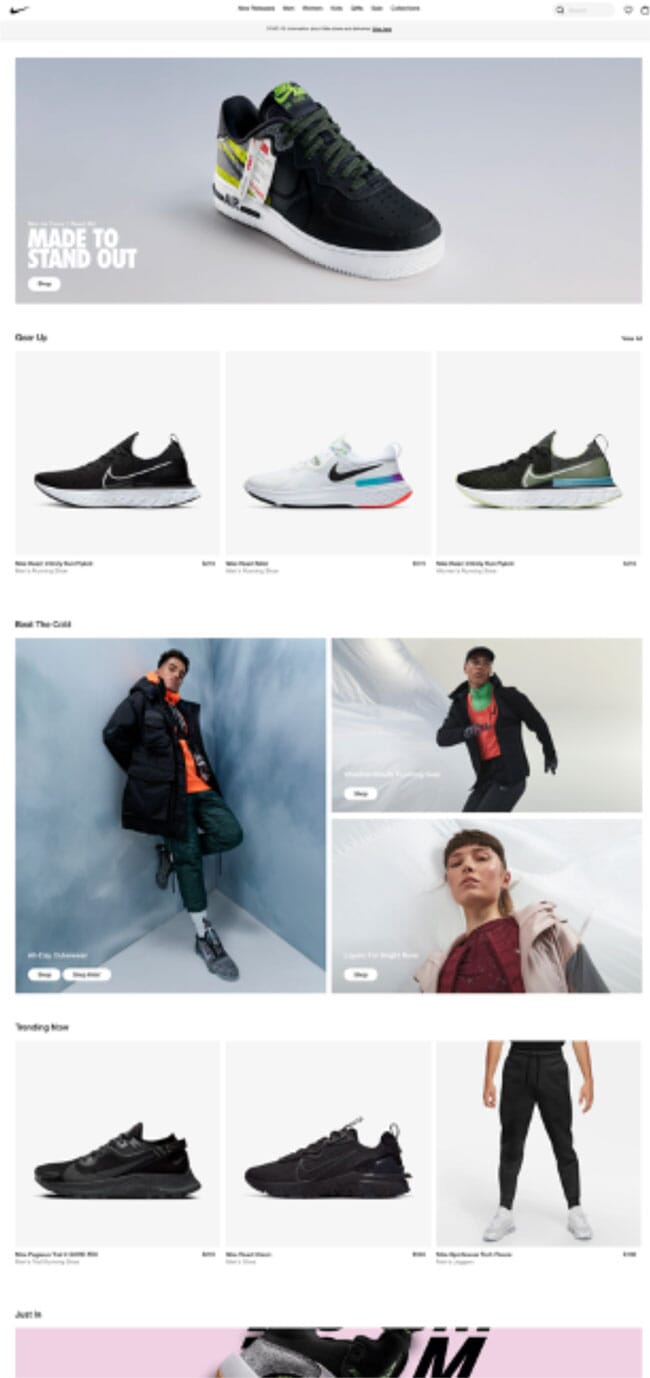 7. Get High Quality Web Hosting
Your prospects and customers will not wait around if your Website is slow, resulting in lost business. It is for this reason to get high quality hosting services. This will ensure that each and every page on your Website will load quickly to maximize sales.
8. Simplify Your Checkout Process
To maximize conversions from adding an item to a cart to checking out, make it easy for your prospects to check out. Every step in your checkout process increases the chances of someone abandoning their purchase. It is for this reason that you should only ask for vital information in the checkout process, which is their billing information and shipping address.
9. Make it Even Easier for Returning Customers
For customers who have created an account with you in the past, make it easy for them to provide their shipping and billing information by allowing it to be prefilled with a single click.
10. Make it Easy to Add to Cart and Check Out
One of the mistakes companies make is they don't prompt prospects to check out once they add to cart. Nike does a great job of making it easy when you add to cart to take the next step and check out. As you can see here, when you add to cart, they show you a checkout button, which allows you to complete your purchase. This is a subtle thing to do but very effective to increase conversions.

---
11. Do Not Force Shoppers Create a Profile
As we mentioned earlier, the easier your check out process the higher your conversion rate will be. It is for this reason that it's important to allow shoppers to check out as a guest without having to set up a complete profile. Using Nike as an example, you can see that they allow you to check out as a guest.

12. Maximize Sales Revenue Using Email Marketing
Email marketing is a powerful tool for converting and retaining customers, especially for online retailers. On average, 60-80% of online shoppers will abandon their carts before completing a purchase and for customers that have purchased, almost 80% will view their emailed receipts. These two statistics show the incredible opportunity marketers have to improve both initial sales conversion and maximize overall revenue per customer.
ecommerce email campaigns offer a simple way to encourage repeat purchases, build your brand and drive customers to spend more money with your business. Below, you will find two proven ways to generate more sales through email marketing:
Abandoned Cart Emails
Approximately 50% of abandoned cart emails are opened, and approximately 33% of clicks convert to sale. These high rates mean that abandoned cart emails can pay for themselves and more.
Reminder Emails
Prospects who have added an item to their cart are warm leads. Some may not have intended to abandon your cart at all – they may have been interrupted by a technical glitch, or a personal priority. Saving the cart and emailing it to them with a link to complete their purchase is possible. It's a simple, effective technique for getting warm leads back on the path to purchase.
---
Offer a Discount
While technical or personal interruptions may be the reason some prospects don't buy, a large proportion abandon their cart on seeing a total cost higher than anticipated. Overcome this by offering a discount or special saving.
Reserved for a Limited Time
Create scarcity and a sense of urgency by letting your customer know that you have held their item and pricing for them – but only for a limited time.
---
Combine offers
Offers don't have to be used in isolation. Test combining offers, such as a discount and holding the product for a limited time in their cart. You can also make it easy for customers to get answers to their questions by including a phone number or instant chat for support.
13. Don't Forget About SEO
Not everyone knows exactly what they are looking for. As a matter of fact, people typically go through a linear process from awareness to information gathering to comparison shopping to purchase. This means that a lot of people start their search on Google.
If your Website is not properly optimized from an SEO perspective, your Website simply will not come up for your search terms. To get the best results, optimize each and every page on your Website for a different keyword. Your keyword should be in your page title, meta description, headings (H1 and a subheading), as well as your description. When it comes to your description, provide at least a paragraph of content.
The more pages you can get to rank well, the more organic traffic you will drive to your Website. This means that you will have to spend less money on pay per click advertising and have more control of your business.
---
14. Provide Key Information in Your Product Descriptions
Not only does your product description need to be optimized for SEO, but it also helps sell your prospects on your product offering. We always say that you can never be too long, you can just be too boring. With that said, keep your copy as tight as possible. If you can communicate to people why they should buy your product in a short description, keep it short. If, however, it helps to provide additional information, such as the materials the product is made out of or the size/model that is in the picture provide that. Measurements or dimensions, colour options, and more should be included if relevant. Use bullet points to make it easy for people to digest the information where feasible.
15. Generate More Traffic Through Your Blog
By publishing interesting content in your industry, you can drive customers back to your blog. There are different approaches you can take. You can write about a specific topic or answer questions that people are asking. By doing this, you are adding even more pages to your site and ranking for a longer list of keywords.
16. Build Your Email List
If you are spending money on PPC advertising or adding pages to your Website through SEO and your blog, it costs time and money. On average, only 1-2% of your visitors will convert into a sale. This means that approximately 98% of the people that come to your Website do not buy and may never return. Many of the prospects are qualified, just not ready to buy. To get the most out of your traffic generation investment, add a lead capture form to your site to capture email addresses. This can be done with a call to action to learn about exclusive promotions, or through an exit pop up that appears when a prospect is leaving your Website. Below, you will see how Nike does this through their pop up form.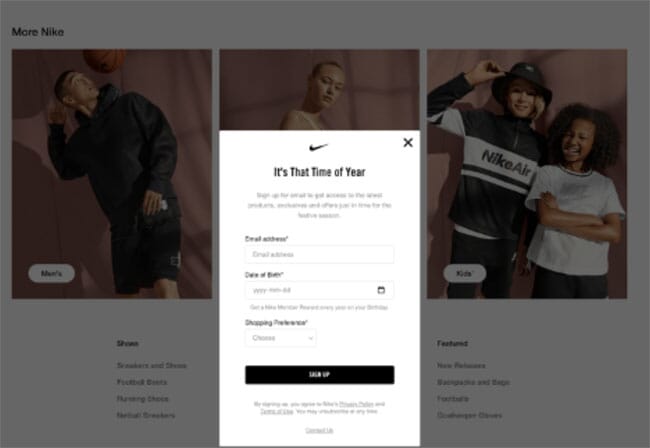 By capturing your prospects email address, you are building your email database that allows you to market to them in the future. The key is that if you were spending money on advertising or content creation, monetize your investment and build your database.
---
17. Make it Easy to Pay
Different people like to pay in different ways. Some use credit cards, like Visa, American Express, and Master Card, while other prefer to pay using PayPal or Apple Pay. To maximize conversions, provide as many payment options as possible.
18. Do Not Include Ads on Your Website for Other Products
While it may make sense to try to increase revenue by adding banner and text ads to your site for other businesses, it creates additional noise on your Website. The more distractions you have on your site, the more anxiety you create, which reduces conversion to sale. It is for this reason that we recommend focusing your Website on your own products for the best results.
19. Provide Easy to Access Customer Service
Some customers need more information to complete their transaction. Sometimes they may have questions about an item or help to find the product they are looking for. That's why it's vital to provide customer service through the three main channels – phone, email, and chat.
Not only should your customer service staff be friendly, but they should be knowledgeable and fast to respond. Try not to make customers wait. People want immediate gratification and fast solutions to their problems. This is why it's vital to train your staff to resolve issues efficiently and quickly.
20. Split Test for Better Results
When you launch your Website, it may be set up following best practices, but each element that impacts results is not optimized. It is for this reason that your ecommerce site should be A/B split tested on a regular basis. Elements such as the phrasing of your content, button colour, CTA placement, and images should be split tested to determine which element performs best.
You also want to look at what pages are getting the most page views, so you can ensure that the most frequently visited pages are the easiest to find and higher up on the page to access with ease.
21. Analyze Your Traffic Sources
Whether you are using social media, such as Instagram, PPC advertising, or SEO to drive traffic to your Website, it's vital to analyze what traffic is converting. Specifically, you want to analyze your cost per click (CPC) and cost per sale (CPS) for each traffic generation channel. By understanding which channels are most cost-effective, you will know which ones to invest more time any money into.
---
22. Analyze Key Performance Metrics
As discussed earlier, people go through a very linear process before making a purchase decision from awareness, to information gathering, to comparison shopping, to purchase, to post purchase (retention), to advocacy. At each stage of the buyers journey, there are specific metrics to analyze to understand how well you are performing and to determine where there is opportunity for improvement.
Below you will find a complete list of metrics to analyze:
Impressions
Reach
Engagement
Email open rate
Email click-through-rate
Cost per sale
Organic traffic
Social media engagement
Abandonment
Average Order Value (AOV)
Sales Conversion Rates
Customer Retention Rates
Customer Lifetime Value (CLV)
Repeat Customer Rate
Refund and Return Rate
Ecommerce Churn Rate
Net Promoter Score (NPS)
Subscription Rate
Program Participation Rate
23. Optimize for Mobile
On average, 50-60% of sales are made on mobile phones. This means that it's vital to optimize your ecommerce site for mobile devices. To take things a step further, as your business grows, consider building an app for your ecommerce business. This will allow you to personalize the shopping experience of each customer, while saving personal information, such as payment options and shipping addresses. This allows your customers to check out and complete their purchases in fewer clicks, resulting in more sales.
24. Provide Free Shipping
Unexpected costs are the number one reason that people abandon their shopping carts. That's why you want to provide free shipping.
Top Reasons For Abandoning Shopping Cart
% Among U.S. Online Shoppers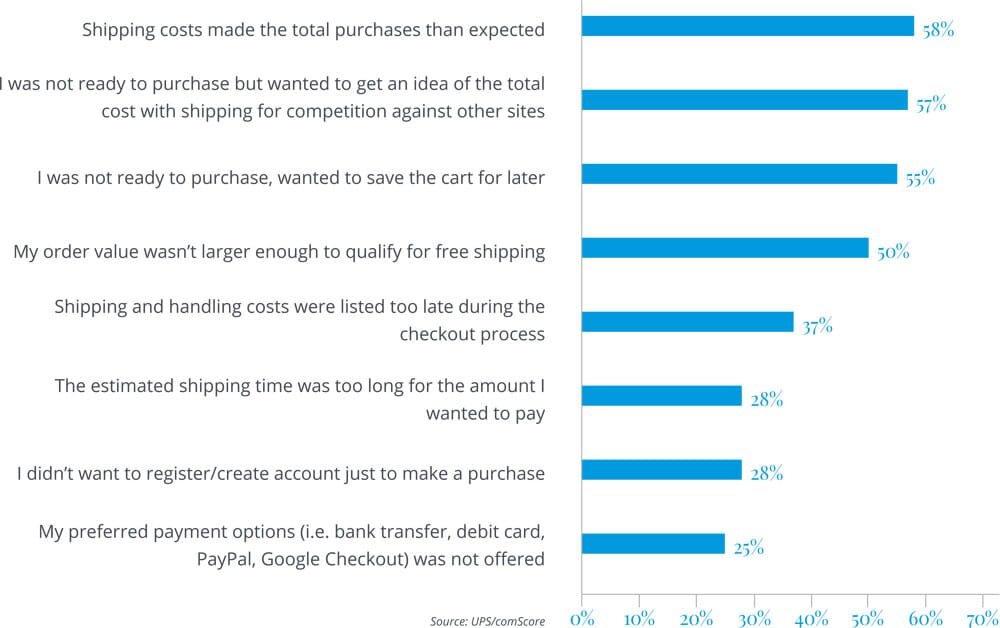 If your concern is that the shipping costs will cut into your profit margins, a simple solution is to look at the average shipping cost and add it to the cost of your products.
25. Use High Quality Product Images
Since your customers can't touch and feel your product to assess the quality, they rely on your product images. That's why it's so important to have high quality images that show your product well from different angles. This is your chance to sell your product and make your customers feel comfortable with what they are buying.
Not only should your images sell your products, but they should work together to position your brand professionally. This means that all of the product images on your Website should have a similar look and feel. For example, every product should have a white background, so they all look consistent and on brand.
26. Demonstrate with Video
The more technical your product is, the more video can help sell your product. In this example, you will see how Black and Decker includes a video as part of their product images, as you can see in the third image. If you click on the video, it shows you their product in action.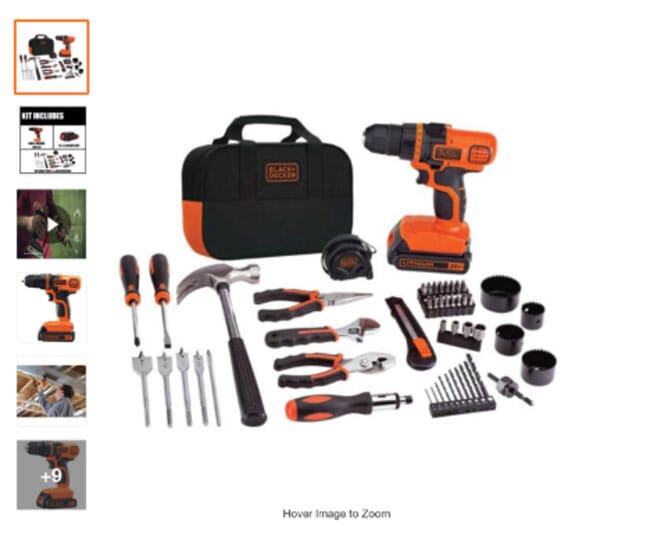 We recommend not including more than one video to keep your customer focused on the product and making the purchase versus watching multiple videos.
Even if you don't have a technical product, videos can work well to show your product from a lifestyle perspective. In fashion, videos are used quite often as part of the product images to show how the product looks in motion.
---
27. Provide Social Proof
People go through a linear decision making process when making a purchase decision. The first question they try to answer is why something is important to them, then what it will do for them, then how it works, then they ask themselves what others have to say. With a wellestablished brand with a strong following, the social proof is already established. Channels like Instagram enable brands to communicate their lifestyle and build a tribal following for their brand with a lot of social proof. For a new business, customers will look for reviews and testimonials from others to make them feel more comfortable with their purchase. Not only should you include reviews on your Website for this purpose, but you should encourage your customers to leave positive reviews on third party Websites, so prospective customers can see you have positive impartial reviews.
Conclusion
Ecommerce and digital marketing in general is on based on logic. It's simply a matter of executing each step as well as you can to help yourself achieve success. Then, take the time to test to make sure that you are constantly improving results. If you have any questions at all, contact us today at 1.888.533.4886 or at info@blueprintim.com.