4 Numbers that can Change Your Internet Marketing Results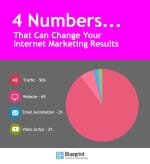 As a digital marketing agency, we are often asked what are the key numbers that every marketer should have on their dashboard, so in this post, we are going to look at these four numbers and illustrate how you can drive these numbers forward. Below you will find an infographic as a visual representation as well as additional perspective. Enjoy!

As outlined in the infographic, the four key numbers that every marketer or business owner should have on their dashboard are unique visitors, leads, sales presentations, and sales.
Every dashboard should have these four numbers as the starting point because they show you exactly where your Internet marketing campaign is performing well and where it is under performing.
The four key drivers of these four numbers are traffic generation (advertising), landing page or Website optimization, automated email marketing, and the use of scripted videos.
Each step can have a significant impact on results. For example, if you double your landing page conversion rate, you can double your sales without even increasing your advertising spend.
Although all four areas are critical to the success of an Internet marketing campaign, we often see business owners and marketers spend a lot of their time and budget on advertising, while neglecting landing page optimization, email automation, and the use of scripted videos.
To get the most out of your Internet marketing, start by optimizing your landing pages or Website to ensure that it is converted Website visitors into leads at the highest rate possible. Then, test various advertising channels to see which channel is producing the most efficient cost per lead and sale. Then, use email automation to build predictability into your marketing and maximize the volume of leads that attend a sales presentation. And to get the most out of your leads, bond with them through video!
We've covered quite a bit here. If you have any questions at all, please don't hesitate to leave a comment.