9 Skills to Look for in an Internet Marketing Expert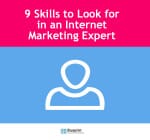 As a digital marketing agency, we often give our clients advice on hiring marketing personnel. I recently had an interesting conversation with one of our clients regarding what skills they should look for when hiring an internal marketing employee. For several years they tried different marketing personnel from senior level marketing directors to content developers, but they were not able to achieve real marketing success.
I informed my client that to be successful in Internet marketing, you want to build a team that has the following skills:
1. Strategy
2. Lead generation
3. Search engine optimization
4. Pay per click
5. Direct mail and print
6. Conversion and email automation
7. Content marketing
8. Reporting
9. Lead scoring
The challenge is that it is difficult to find one individual that understands all of these different areas.
Strategy
Strategic understanding is important because you want to ensure that your business will be properly positioned in the marketplace for years to come. You also want to ensure that you are going after the right target audience with the right products in the right markets, while being clearly differentiated. This takes strategic thinking.
Lead generation
Lead generation is vital because it is the front of your Internet marketing funnel and the source of your business' growth. If you can't generate leads, you can't grow your business. With so many lead generation channels available from PPC, to SEO and display advertising, you want to ensure that you have knowledgeable people managing this side of your business.
Search engine optimization (SEO)
As we are all aware, more people continue to conduct their research and make purchases online. It is for this reason that SEO is so important. You want to ensure that you have internal or external support from an SEO perspective to make certain that your site ranks both locally and in terms of the organic search results.
Pay per click (PPC)
PPC is a great way to drive immediate traffic to your Website. To get the most out of a PPC campaign, ensure that the campaign is set up and managed properly. It's worth spending a little up front to ensure that your campaign is set up properly because there are several moving parts that can save you money or waste your advertising budget.
Direct mail and print
With so many people moving their marketing budgets to online channels, offline channels, such as direct mail and print are often neglected. Some people believe that they are too expensive while others feel that they are channels of the past. The truth is that there are many opportunities that are available that can drive great results for your business offline. Success depends on smart and efficient media buying, as well as a well and properly crafted campaign.
Conversion and email automation
Many business owners and marketers pay a lot of attention to their advertising but don't get the most out of the traffic that their ads are generating. To get the most out of your advertising, you also want to ensure that your landing pages and email automation is set up properly to maximize the volume of leads and sales presentations that are generated, which are the leading indicators of a successful Internet marketing campaign.
Content marketing
Internet marketing continues to grow in complexity. There are now a multitude of channels that are available to drive traffic and results for your business. Content marketing strategy integrates all of your marketing, so there is a game plan behind your marketing efforts.
Reporting
Not only do you want to have a team in place that can drive results, you want to be able to analyze your marketing campaign to understand what's working and what's not. You want a single page that tells you what's happening with your business and where changes need to be made to improve results.
Lead scoring
Lead scoring can be very powerful. So many companies spend a lot of their budget on advertising, then ask their sales people to call on all the leads. This approach simply isn't the most effective or efficient. Furthermore, you end up burning out your database instead of maximizing your return on your advertising spend.
The bottom line is that there are several skills that you are looking for. You most likely won't find all of them in one person. But, you want to establish a game plan of how you can scale your business, while acquiring the necessary knowledge and skills both internally and externally to maximize your results long term.