Digital Marketing Management: How to Create a Sustainable Strategy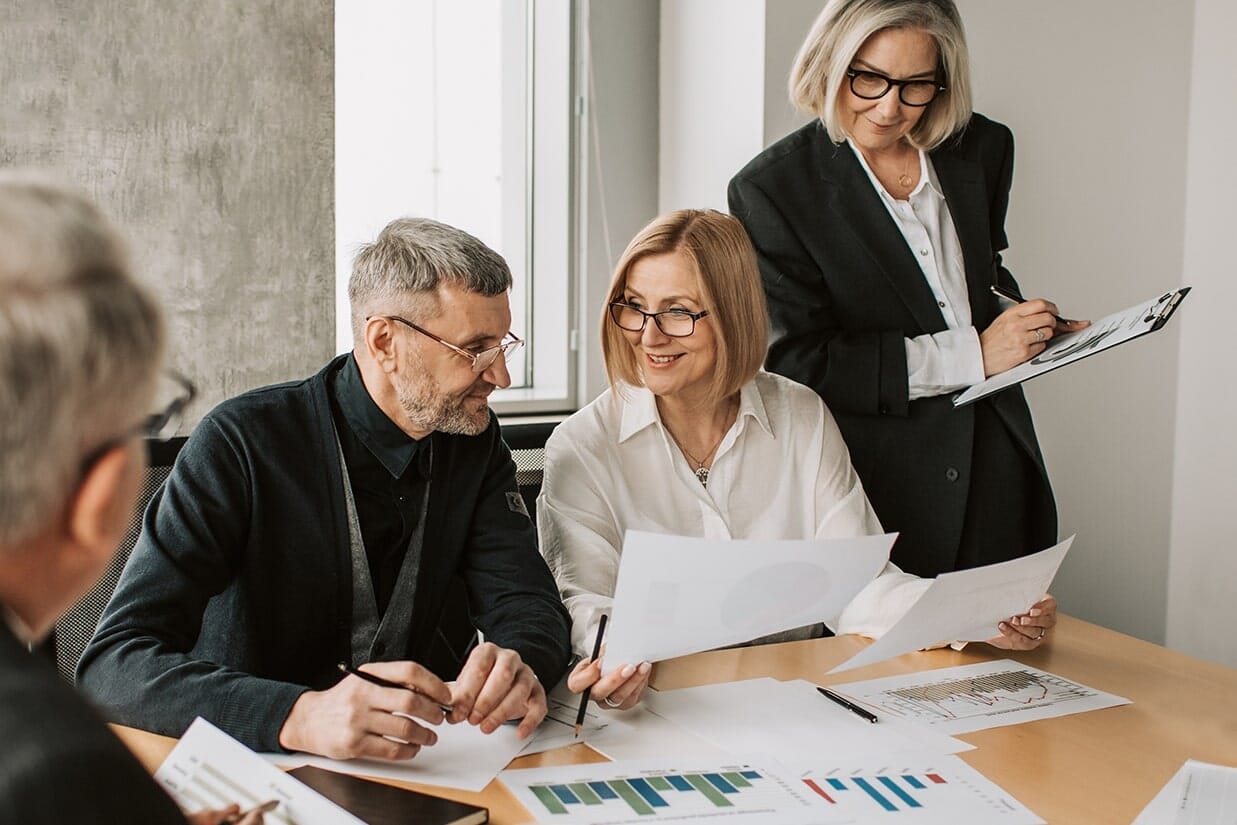 If you are developing a Digital marketing campaign, there are some key steps that you can take to get the most out of your marketing investment. Here is what you will learn:
1. What is digital marketing?
2. Why is digital marketing important?
Digital marketing is important for many reasons, as it effectively works to generate more website visitors, leads, and sales. SEO, PPC, and social media are some of the main channels used to generate website visitors and engage with audiences. Additionally, websites and landing pages are used to maximize the conversion of website visitors into leads, and email marketing and automation is used to maximize the conversion of leads into sales. There are many different avenues and approaches that can be taken for your business, and overall, digital marketing is a great way to get immediate feedback on what's working and what needs to be fixed to improve results.
3. What is digital marketing management?
Digital marketing management is the process of mapping out how you're going to drive traffic, generate leads, and convert leads into sales. Before you can begin mapping out your digital marketing campaign, you'll need to take the time to outline your target audience, their emotional drivers, and develop a clear value proposition of what you want to communicate. Next, you should outline your marketing goals for each channel. Get as specific as you can so that you can measure the success of each goal across the various channels.
By understanding your audience, what drives them emotionally to make a purchase, and having a clear value proposition, you're able to establish a foundation for your messaging. Additionally, outlining your marketing goals, allows you to have a clear understanding of what you want to achieve and what success will look like for your business. This starts with taking the time to map out your overall digital marketing campaign, and communicating it to your team and outside vendors. If you are a larger organization, we suggest outlining what your brand represents in terms of its vision, mission, and core values so that you have clarity on what your brand represents. This will set you up to establish a clear brand image that will be consistent across channels and platforms moving forward.
Another thing to consider prior to developing your marketing strategy, is that brand guidelines ensure that all of your marketing has a consistent look and feel. Therefore, it's important to implement this first so that you have a strong foundation to begin building your digital marketing campaign.
4. Digital marketing mix framework
The marketing mix traditionally known as the 4 P's consists of four marketing elements, including Product, Price, Place, and Promotion. However, over time, the marketing mix has evolved and now includes 7 Ps – product, price, place, promotion, people, process, and physical. Let's take a look at each area.
Product
Your product is what you're selling. Take the time to outline the features and benefits of your product to have a clear perspective on what you're selling. This will make it easier to communicate to both your team and outside vendors.
Price
This is the number attached to the product you're selling; however, it's also important to consider what you can offer your customers that's free. For instance, offering a free e-book is a great tactic for your digital marketing campaign. From here, you can then provide other offers that might be a lower cost product, that then leads to a full priced product. When considering what you're going to be charging your customers, it's important to consider all aspects like if it will be a reoccurring purchase or not. Take the time to document everything around the product or service so you have clarity on your prices and ascension ladder.
Place
This is where and how you provide your customers with access to your products. In online marketing, there are countless ways you can sell your product, and it all comes down to what is most convenient for your target audience. The top places you can sell your product online include; social media platforms by selling directly, such as Facebook Shop, a dedicated online store built in Shopify, WooCommerce, or a custom website with ecommerce functionality. Additionally, you can also sell via online marketplaces, like Amazon, eBay, Etsy, or other niche marketplaces.
You can also use all three of the channels above to sell your products online to maximize sales. For example, social media platforms, such as Facebook can be used to target those that are using social media. For the audience that might be searching online, you can create a dedicated store and optimize each page of your website for a different product. Lastly, for your audience that buys a lot of their products on Amazon, it makes sense to sell through this site. Simply put, to maximize sales, your best bet is to sell on as many channels as you can.
Promotion
When it comes to promoting your product, there are multiple channels that you can use including advertising, affiliate marketing, organic traffic generation and public relations.
PPC advertising is one of the main channels to use when it comes to digital marketing, and is generally conducted through Google and Facebook/Instagram.

Affiliate Marketing is a great source to drive leads and sales with very little risk. Typically, you would pay affiliates 50% of revenue if they make a sale and there is no other out-of-pocket expense.

PR is a supportive channel that you can use to get positive, impartial press about your product. It's used primarily to help launch a new business, initiative, or product, or help with perception in the market. It's a supportive medium but is typically not recommended as the primary source of website traffic and leads for a sustainable, long-term period.
People
People are a vital component of your digital marketing campaign. Though this might go without saying, there are some important takeaways from this point. There are three key support areas to consider; sales, customer support and social media support. It's important to ensure that you're prioritizing how you're interacting with people at every turn.
Process
To scale a business, it's vital to document the processes. As you grow, the processes can be provided to different team members to execute. Without process, it is very difficult to scale a business and team to support the growth.
Physical
Physical elements of your marketing plan should be carefully planned as they make your business feel tangible and memorable. This includes your website, social networks, and the engagement with your employees. All of these things should also be consistent with your brand values.
5. Digital marketing plan
Your digital marketing plan is a document that outlines how you'll be going to market. Additionally, it also encompasses what your campaign looks like, your goals, what you're investing in and your timing for implementation. Here are the steps to follow:
Step 1: Outline your short, medium, and long-term business goals and your budget.
Step 2: Outline your target audience, their emotional drivers, and establish your value proposition.
Step 3: Outline the strategies that you will use to achieve your digital marketing goals.
Step 4: Map out your marketing campaign.
Step 5: Outline your implementation plan.
Step 6: Outline your vision, mission, and core values.
Step 7: If budget permits, create brand guidelines.
6. Digital marketing campaign management
Once you have planned your digital marketing campaign, you'll want to ensure that you have a documented process in place to execute your digital marketing, so you can scale it over time. It's also important to analyze how your digital marketing is performing at each step, so you can make adjustments and optimize your campaign. As part of your process planning, it's vital to assign roles to each step in your digital marketing. For example, who will be running PPC? Who will manage social media and respond to prospects? Who will develop content for SEO? Who will publish the content for SEO and social media? There are many questions to ask when it comes to campaign management, and if you're unsure how to approach them, you can reach out to a digital marketing agency near you.
7. Importance of data in digital marketing
When establishing your digital marketing goals, you should be outlining your high-level goals, such as total website visitors, leads, and sales. However, you should also be establishing goals for each digital marketing channel. It's important to establish primary goals for each channel, so you don't get caught trying to analyze too much information. Keep your analysis as simple as possible, so you can take quick action to improve results.
8. Digital marketing KPIs and Metrics
When establishing your goals, you want to identify your Key Performance Indicators (KPIs) for each channel as discussed earlier. Here is a list of some of the KPIs to keep an eye on for each channel:
SEO
SEO takes into consideration many different measurable aspects, such as;
Overall Website Traffic – refers the number of visitors coming to your website.

Traffic Per Web Page – the number of visitors per page indicates which pages are generating the most visitors.

Ranking of Keywords – shows you how your primary and secondary keywords are ranking.

Change in Ranking – indicates how your ranking is changing over time by keyword.

Number of Backlinks – shows you if you are gaining new links from other websites.

Number of Referring Domains – shows you how many unique domains you're acquiring backlinks from.

Domain Authority – shows you if Google views your web pages as authoritative or not.

On-page Optimization Score – shows you if your pages are properly optimized.

Text Readability Score – lets you know how easily readable your content is.

Page Speed – shows how fast your pages load to provide a good user experience.

Pages Per Visit – shows the number of pages that a visitor views, which is a good indicator for quality of content.

Bounce Rate – is the percentage of people who visit one page per visit, which indicates the quality and relevance of your content.
PPC
PPC, or Pay-Per-Click Advertising is the second channel that's important to track for your business. KPIs for PPC include the following;
Impressions – show the number of times your ad is seen by people.

Clicks – indicate how many people are clicking on your ads.

Click-through Rate – shows the percentage of people that click through on your ad.

Conversions – show you the volume of leads that you're generating.

Conversion Rate – indicates the percentage of people that opt in for your offer.

Cost Per Click – shows you how much you're paying per click.

Cost Per Acquisition – indicates your cost per lead.

Impression Share – shows you the percentage of time your ad is showing.
Social Media Marketing
Social Media Marketing is another important channel to measure KPIs for. Here are the key metrics to monitor:
Reach – shows you the number of people that you're reaching.

Impressions – shows you the number of times your content is viewed.

Audience Growth Rate – shows you how fast your audience is growing.

Engagement Rate – is the percentage of time your audience is engaging with your content.

Amplification Rate – shows how much your content is shared.

Virality Rate – indicates how often your content goes viral.

Video Views – shows how often your videos are viewed.

Video Completion Rate – is the percentage of people completely watching your videos.

Net Promoter Score – shows customer loyalty and how likely a customer would recommend you to others.

Click-through Rate – is the percentage of people that click through on your content to view it.

Conversion Rate – shows the number of people that opt in for your offer.
9. The consumer decision journey
Customers go through a very linear decision-making process when choosing whether or not to make a purchase. By understanding the process they go through, you can better understand what to communicate to them at each stage to maximize leads and sales. Below you will find the 5 stages that customers go through:
Stage 1 – Problem Recognition
In this stage, customers recognize that they have a problem, but don't know how to solve it.
Stage 2 – Information Search
In this stage, customers begin their information search to find a solution to their problem. This is where publishing free content that is helpful to readers will help position you as a thought leader and someone your audience can trust.
Stage 3 – Comparison Shopping
At this stage, customers are comparing alternatives, so they can make the right decision and get the best value. This is a great opportunity to provide comparison guides to position your product as the obvious choice.
Stage 4 – Purchase
In stage 4, your customer is ready to make a purchase. This is where a product demo, webinar, or sales letter/video can be used to sell your product
Stage 5 – Post Purchase
In this last stage, your customer is still evaluating your product and company. This is where onboarding comes in. Take the time to welcome your customer and show them how to get the most out of your product.
10. The difference between inbound and outbound marketing
There are a few key differences between inbound and outbound marketing. For starters, inbound marketing is the process of creating and sharing content that will bring customers to your website. A great example of this is using your blog to provide helpful information, then providing a free e-book that continues to help them on their journey. This is an excellent way to position you as a thought leader while generating leads.
Alternatively, outbound marketing is more of a traditional advertising approach, such as PPC advertising, banner advertising, print ads, etc. Outbound marketing is important because it drives immediate traffic to your website, and can results in leads and sales in a short period of time. You might be asking yourself which is the better approach. When it comes to inbound or outbound marketing, it's not a matter of doing one or the other. It's best to do both.
11. The different types of digital marketing
When setting up your digital marketing campaign, there are two key areas to focus on. The first is traffic and the second is conversion.
As discussed previously, the key traffic generation channels are SEO, PPC, and social media marketing. Additional channels include banner advertising, email marketing, affiliate marketing and offline advertising. When it comes to conversion, there are two key steps. The first step is to generate leads. This is achieved through landing pages and your website. The second step is to use email marketing to convert leads into sales.
We typically recommend developing the front of your digital marketing first, which includes your ads and landing pages. This is important because it allows you to focus on generating leads first. Without leads, you can't grow your business. Once you're generating leads in a cost-effective way, add an email follow up sequence to contact new leads and educate them on your product and why it's the obvious choice.
12. Digital marketing strategies
There are some key components involved in creating an effective digital marketing strategy. When it comes to outlining your traffic generation strategy, it's best to look at the channels that you will use to drive traffic. When building your digital marketing strategy, outline what offers you will use to generate leads, such as a free e-book, discount coupon, etc. Next, outline what your ads and landing pages will communicate and then outline what sequences your email marketing campaign will include. For example, you can start with a nurture sequence, followed by a sales letter or offer sequence. Then, you can add on an onboarding sequence, and an upselling sequence. Once all of this is determined, you are ready to map out your overall digital marketing campaign to make your digital marketing strategy tangible.
13. Digital marketing services
Digital marketing can be very complex and you may need some support in different areas to help develop and optimize your digital marketing campaign. Digital marketing services that you can get support on, include:
14. Digital marketing trends to follow
It's safe to say that the trend of AI-based technology will only continue in the next few years. This is why it's important to analyze how you can effectively implement AI technology into your marketing strategy. For example, you can add instant messaging, chat bots, videos, etc. However, it's important to balance the use of AI with quality. Because Google values quality, it's important to perform a final edit on any AI work to produce great quality content.
The next trend to focus on is social media marketing, especially short-form videos such as Reels, TikToks, YouTube shorts, etc. Live videos have also become increasingly more popular within the last few years and provide great opportunity for increased engagement with audiences across platforms. These are the top digital marketing trends to focus on in 2022 if you aren't already doing so to increase the presence of your business online.
Conclusion
Although digital marketing has many parts, focus on the basics of driving traffic and converting the traffic into leads and sales. Ensure that you have simple reporting in place to track results, so you can optimize your marketing to drive down your costs and maximize profitability. To learn more about developing your digital marketing campaign, download our free digital marketing e-book today. If you have any questions, please feel free to contact us. We would be happy to help.