The Five Pillars of Internet Marketing – Part Two: Traffic Generation and Conversion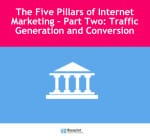 This is part two of a three-part series on The Five Pillars of Internet Marketing. If you missed part one, read that first here.
In part one, we explored the overall Five Pillars strategy and looked at a few of the biggest challenges businesses face with their internet marketing campaigns. In this post, we will look a little more closely at the first two pillars: traffic generation and website and landing page conversion.
Let's start with the first pillar, traffic generation. There are many different channels through which your website receives visitors. Here are several examples:
• Search Engine Optimization (SEO)
• Pay-per-click (PPC)
• Display advertising (such as banners)
• Email advertising
• Social media marketing
• Offline advertising (such as print campaigns)
While this provides businesses with lots of options for prospective visitors and leads, you must have a powerful plan in place to make the most of the traffic you generate. Regardless of the channels you choose, there are three vital steps you should follow every time:
1. Give ads strong, compelling headlines and ensure that they contain a valuable offer, such as an eBook or giveaway. The headline should grab the attention of the reader and the offer should drive them to visit your website.
2. Each advertisement should lead to a unique landing page so that results can be easily tracked.
3. Test every advertisement you produce in order to track its success and make changes as necessary. Tracking your progress and trying new approaches will significantly increase the strength of your advertising campaigns.
Following these three important steps will allow you eliminate ads that are performing poorly, save money on advertising costs, and maximize the results of the ads you have in place.
This leads us to the second pillar of internet marketing, website and landing page conversion. There are four key steps to conversion success, which we call the four Golden Rules:
1. As we discussed previously, ensure that each advertisement leads to a unique landing page so that you can track the success (or lack thereof) of each.
2. Just like with your ads, test different headings and offers on your landing pages to identify the ones with the highest conversion.
3. Simplify your landing page as much as possible to ensure that it loads quickly, is easy to navigate, and is visually attractive.
4. Ensure that you select the right type of landing page for each ad so that your campaign is integrated and flows smoothly for the visitor. As a digital marketing agency, we recommend using four different types of landing pages:
• A squeeze page for banner advertisements;
• A squeeze page for Facebook campaigns;
• A squeeze page for offline advertising, such as print; and
• Your corporate website for search engines, such as Google.
Selecting the most appropriate kind of squeeze page for each campaign will significantly increase your landing page conversion and enable you to maximize your number of leads generated.
So, now you know how to drive significant website traffic that will increase over time as you master your strategy. You also know how to create strong opportunities for conversion and maximize lead generation to get you the most out of your advertising time and money.
In the final part of this series, we will look at the final three pillars of internet marketing: email marketing and automation, content development, and reporting.
Please share your thoughts with us by adding a comment below, and don't forget to check back for part three!