Text Messaging SMS Best Practices for Business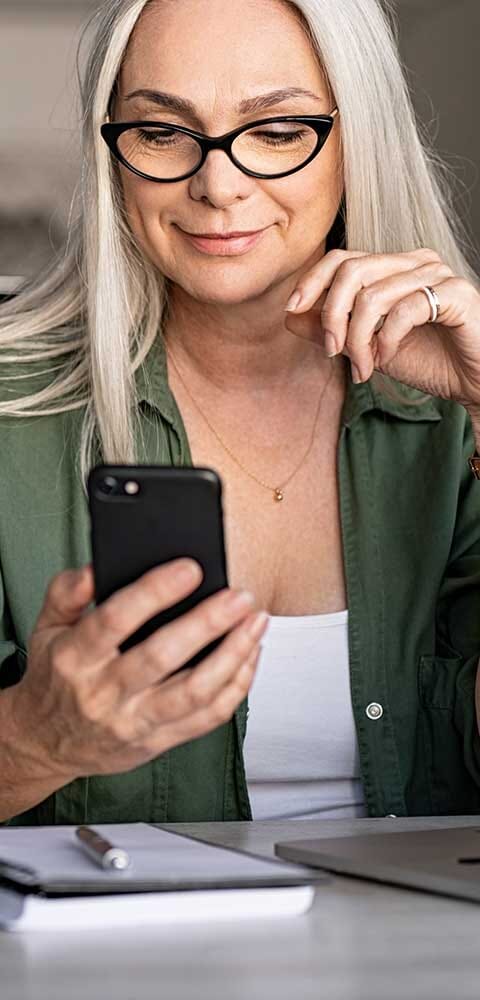 Text messages get a 98% open rate and very high response rates, as well as an average response time of 90 seconds. In comparison, email gets approximately a 25% open rate, 7% click through rate, and an average response time of 90 minutes. This is why it's so important to use text messaging as part of your Internet marketing campaign.
As a digital marketing agency, we see that text messaging is heavily underutilized because many businesses are not sure how to use text messaging for marketing. Below, we will walk you through everything from the basics of text messaging to best practices to develop text messages that get results for business.
What is SMS?
SMS stands for short message service. It is the standardized communications protocol for mobile devices. People typically use SMS and text message interchangeably.
What is MMS?
MMS is multimedia message service. It is the standardized communications protocol for multimedia content that is sent to a phone number, such as an animated GIF, picture, or video.
---
What is Short Code and Long Code?
A short code is a 5 or 6 digit phone number companies use to send and receive SMS and MMS. The short code allows you to text back and forth with your prospects and customers. A long code is a standard local phone number that is 10 digits.
The advantages of using a short code are as follows:
Can send out to larger lists of 4,000 and up
Great for bigger, nation-wide companies
Easy to opt-in as it's a simple number
The disadvantages of short codes include:
Not as personal
More expensive
The advantages of using a long code are as follows:
Great for two-way texting
Less expensive to text
Great for local business and number is local
The disadvantages of long codes include:
Longer send times as it sends one at a time
Numbers are harder to remember
---
What is a Keyword?
A keyword is the word or phrase people can use to send to your short code number to subscribe to your text messaging campaign. When your prospect or customer sends a text to you using the keyword, they can automatically be entered into your marketing campaign. For example, "Text BPROMO to 771199 to subscribe to get the latest Internet marketing tips.
Text Messaging Copywriting
Text messaging is not like email where you have unlimited copy. With text messaging, you only have 160 characters, so every character has an impact on your message and marketing results. If you go over the 160 character limit, the text messaging platforms will charge for an additional text message, which can get costly if you are sending out a high volume of messages. Use only one call to action, so your message is simple and clear.
The purpose of text messaging is to achieve one of the following:
Get your prospects to reply
Motivate your prospects to speak to you on the phone
Drive your prospect to visit your Website.
Your Website or sales call can then communicate your complete sales message.
---
Include a Call To Action
You can use your keyword and code as part of your call to action through multiple mediums, including:
Live Presentations and Events
Facebook and Instagram ads
Google Ads
Banner Ads
Business Cards
Promotional literature
Emails
As part of your call to action, ask for their name and any other information that you need to create their contact record.
Offers and Contacting Your Leads
When communicating an offer, respond immediately using an auto reply. If your offer is more complex, respond to each prospect within no longer than one to two hours for the best results. Do not send more than 1-4 promotions per month depending on your product offering.
Sales Promotions
If you are going to have a sale, send your prospects and customers your promotion details they need by email, including the time, date, products on sale, as well as a short code they can use to sign up for VIP access and early-bird discounts for future sales events. Next, use text messaging to send a last minute reminder of for your sale and provide them with an additional discount to maximize last day sales. Your text link will take them to your sales page.
VIP Club
A powerful offer to generate leads using text messaging is to offer a 10% discount on their next purchase when signing up for your VIP club where the prospect gets exclusive deals. Once they sign up for your offer, give them instant access to their promo code.
Mediums that you can use to communicate this offer include:
Social media posts
Thank you pages after opting in
Checkout pages
Blog content pages
---
Enter to Win
Nothing engages a customer more than a contest where they have a chance to win something. Useemail to provide all the details about the offer and include steps on how to participate. To generate a mobile following, share a short code, so prospects can opt in on their phone. Next, send a text message to those who have not yet entered the contest to encourage them to enter before the deadline. Next, announce the winner by text when the contest ends. You can even provide a link to sign up for email news and future contests and giveaways.
---
Deal of the Day
A deal of the day is a very effective offer to use to get people to sign up for a text message offer. In your emails, simply offer a deal of the day that people can sign up for. Then, use SMS notifications with a daily incentive to drive prospects to make a purchase.
Surveys
Surveys are an important way to gather information on how to improve your products and services. Simply provide questions that people can answer through a web form or you can use text messaging. By using text, you can get real-time feedback by asking for a response to a recent transaction or interaction that your customer just experienced.
---
Events and Webinars
When sending out information for an upcoming event, include information on speaker bios, the agenda for your event, etc. In your emails, include a short code that people can use to sign-up for insider tips, etc. Text messaging is a great way to get people to sign up for your events and webinars. You can also use text messaging to let your audience know about early-bird specials Use text messaging as an auto responder for signing up, then send a reminder a day before your event, then an hour before to maximize the number of people that actually show up.
Birthday and Holiday Promotions
At some point in your marketing campaigns, acquire the birthday of your prospects and customers. This will allow you to announce flash sales and promotions, which is a great way to build relationships and create lifelong customers.
Automate Messaging
At some point in your marketing campaigns, acquire the birthday of your prospects and customers. This will allow you to announce flash sales and promotions, which is a great way to build relationships and create lifelong customers.
Track Performance
You can use a mobile communications platform to create short links to fit in your text messages, since text messages have a 160 character limit. The platform will even provide a unique link for each person you are communicating with, so you can tracks clicks for each person.