Top Tips For Your TikTok Marketing Strategy in 2022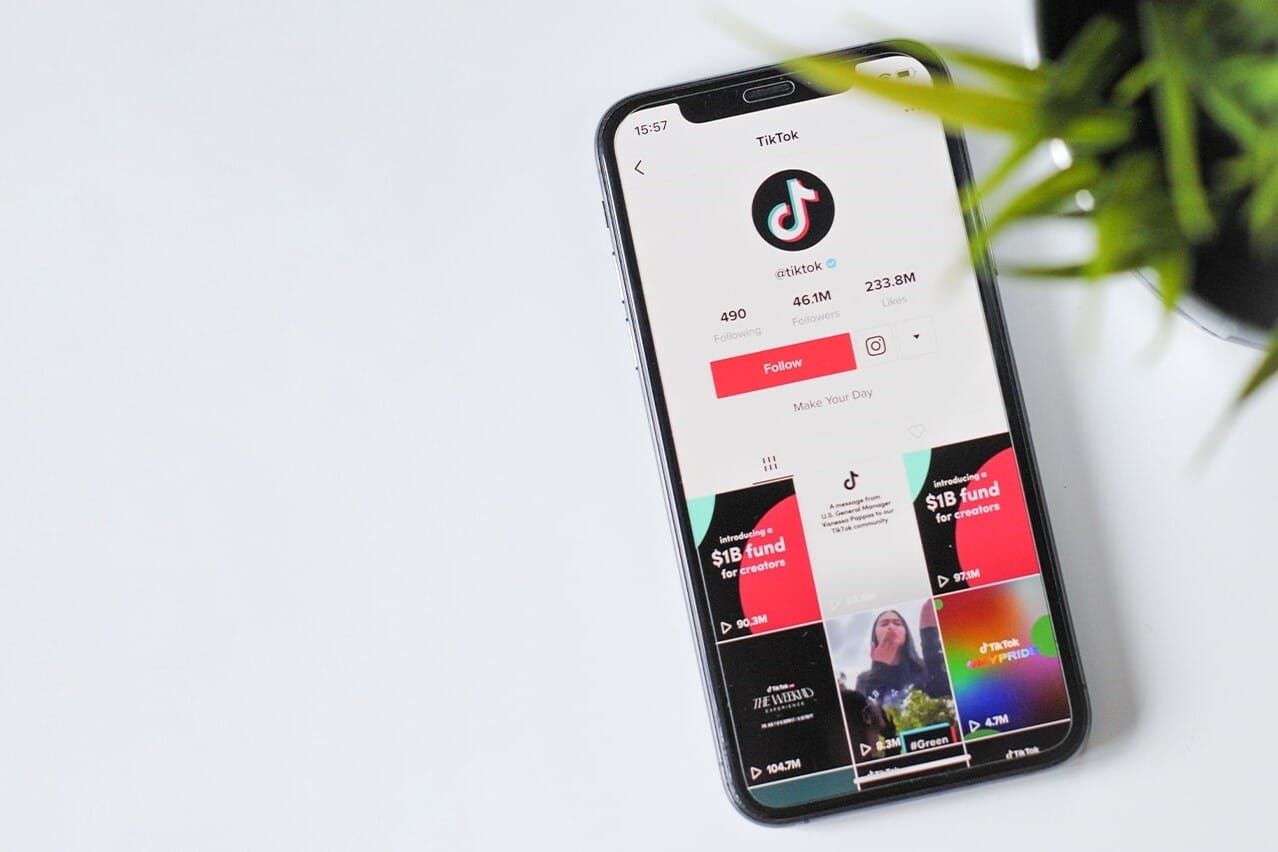 The continued success of TikTok within recent years has changed the way many brands and businesses choose to approach their marketing strategies. For many, platforms like Facebook, Instagram or LinkedIn would have been where they previously directed their efforts. However, TikTok is not only a platform to get on board with (if you haven't done so already), but the way it has influenced all others is significant. It's certainly worth mentioning that this app isn't only for those of younger generations, but people of every age are on TikTok. Therefore, it's very likely that you'll reach your target audience regardless of who that might be. Although there can be a learning curve for TikTok, we're here to help! Here's what you need to know about creating a TikTok marketing strategy in 2022.
Why Use TikTok For Your Business?
You might be wondering how TikTok can help your business and why it's such a vital platform to utilize. For starters, TikTok is an emerging space that allows you to promote your brand, business or products with ease. Not only will it establish a greater community of people, but it brings with it the opportunity to increase brand awareness and very quickly receive feedback from your audience. It allows you to gain insights and analyze what individuals look for with ease. Because TikTok pushes your videos to people who don't even need to be following you, you'll reach many more people than you could on Instagram or Facebook, for example.
It's probably safe to say we've all seen the influence that TikTok has had on products. For example, if someone talks about a life-changing product in one of their videos, it gains millions of views, and suddenly that product is sold out everywhere. It has happened countless times and ultimately proves the power behind creating TikTok videos and the potential this app can offer businesses and brands alike.
Considering the way TikTok is set up and how it rewards its content creators, there are countless benefits that you can receive. From increasing brand awareness and selling your products to getting customer feedback, there are many upsides to creating a digital marketing strategy for TikTok. But what are the different marketing strategies, and how do you know which approach would be best for you and your business on this platform? How do you even set up a business account on TikTok? Here's what you need to know.
Setting Up a TikTok Business Account
To set up a TikTok business account, you will need to first go to the top right corner of your profile and open up the "Settings and Privacy" tab. Next, click on "Manage Account" and press "Switch to Business Account." Here's what your screen should look like.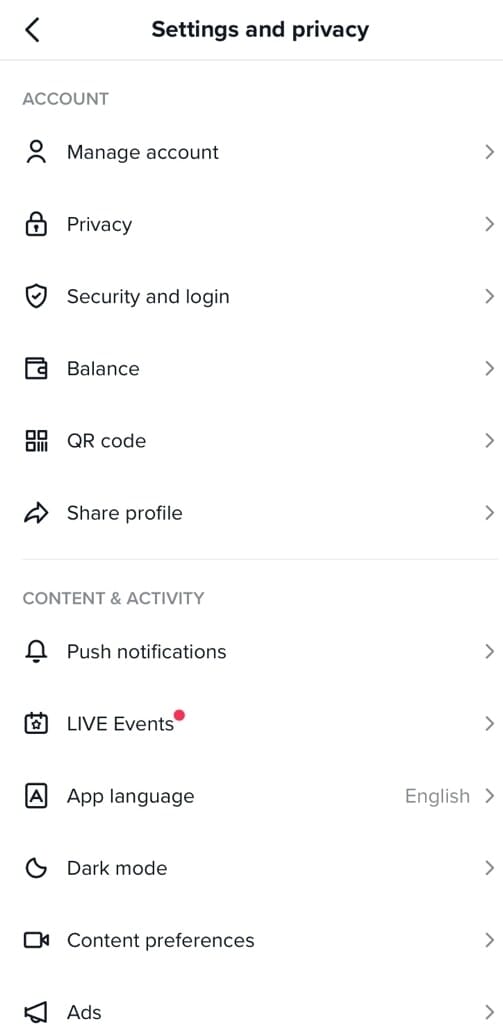 At this point, you will be prompted with choices of different categories and simply choose which one fits best with your brand or business. It's fairly straightforward to create a TikTok business account, and is the first step in the right direction to begin utilizing this platform to its fullest potential.
Best Marketing Strategies For TikTok: Advertising
There are various ways you can approach your marketing strategy for this platform, which include creating your own content, collaborating with others, or turning to TikTok advertising. When we speak about advertising on TikTok, you can be certain that many people will see your content because you're paying to ensure that's the case. With the upside of reliability and security, TikTok ads can be a great way to begin establishing an audience or connect with more people globally.
What Are TikTok Ads?
There are three different types of ads that you can create on TikTok, which include video ads, image ads and spark ads. The first two options are fairly self-explanatory, and the latter allows you to take the content you've already created for your page and push it out to appear on more people's feeds.
How Do You Make a TikTok Ads Account?
You will need to start by going to ads.tiktok.com and fill out the information in the "Create New" section. It's as simple as filling out all the necessary information, and you'll be ready to begin creating ads through TikTok Ads Manager!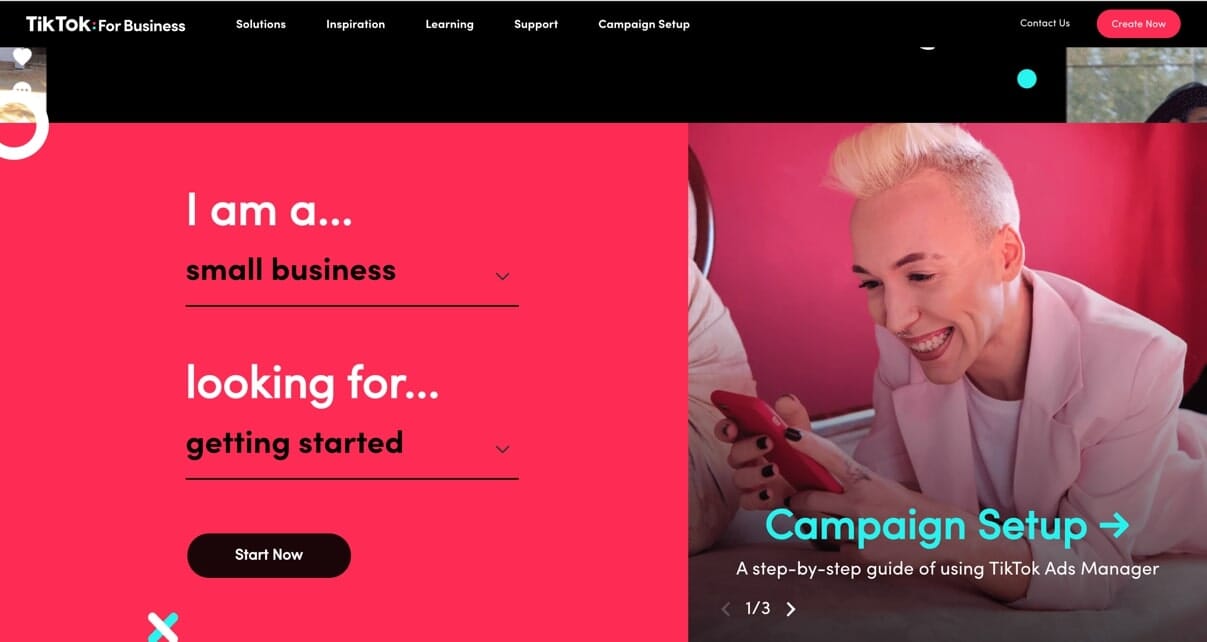 Best Marketing Strategies For TikTok: Collaborations
Another way of advertising your brand or product is through collaborations. For example, partnering up with TikTok influencers who have lots of followers is how you can expand your potential audience reach. They don't necessarily need to be celebrities but rather people who have simply made a name for themselves on this platform and have a significant following as a result. This is an important thing to keep in mind when it comes to utilizing this platform.
Since many "influencers" on this platform have gained increasing popularity because of a trend they started or a video that went viral, they don't necessarily need to fall within a specific niche to be successful. In contrast to individuals in the past who had large followings, like singers or actors, it is now very different. This means that, should you want to collaborate with an influencer that has a large following, you are ultimately looking at untapped potential unless they are already established or known for one thing in particular.
You can also take a different approach and ask content creators who you think show a lot of promise. Perhaps you personally really enjoy their content and believe they would be a good person to partner with, even if they don't have a ton of followers. Regardless of how you go about the collaborative approach, it's one that many businesses succeed with through TikTok. So, if this idea does pique your interest, it's best to start doing a little bit of research about who on this platform might be the best fit for you and your company. Your content marketing strategy could be one of the options above or a combination. If you decide to take any sort of paid approach, it's best to try various tactics to track which one performs best.
Best Marketing Strategies For TikTok: Creating Your Own Content
The last approach you can take to your TikTok marketing strategy might have actually been the first thing to come to mind; creating your own content. This is, of course, the option that will cost you the least amount of money and will also allow you to be the most creative. As an organic approach to your content marketing strategy, there are endless means of connecting with your audience. Here are the top four aspects to keep in mind to optimize your TikTok content.
Whether you're a large or small business looking to make waves on TikTok, tapping into your customer's wants and needs will allow you to connect with more people. By taking into consideration the four aforementioned aspects, you have a better chance of connecting with a greater audience. By going through trending sounds, video ideas and hashtags, you can see how things are being received and how they might benefit your content and overall TikTok marketing strategy. Before creating a strategy, let alone the actual content you will produce, it's best to familiarize yourself with TikTok. What's trending? What are other brands or businesses doing well that you also feel you could succeed with in your own way? Before you can implement any type of strategy, it's important to do the necessary research first.
If you're a business that already has the information about your main demographic established, then use this to your advantage when studying TikTok. How might the trends or sounds work for your specific demographic? Would it make sense for your business to branch out and see if you can expand your audience, or is your niche very specific to a certain age? By getting familiar with the app itself and which audience you want to attract, you can take a much more streamlined approach to the content you'll produce.
Top Tips For Creating a Successful Marketing Strategy
1. Establishing Your Audience
As previously mentioned, if you already know this information, then you don't need to worry about researching different audiences. However, if you're still trying to figure out specifics, you can start by asking yourself which demographic your content is intended for. For example, do you create products specific to women in their mid to late twenties? Do you offer a service or product that any age or gender could benefit from? Simply take the time to better understand whether or not what your business has to offer is very specific to a certain group of people or is more flexible. From here, you can begin studying your competitors or others within your niche and see how their audience interacts with specific content. You'll likely find that others within your niche approach TikTok's differently than they would their other social media accounts. Although there will certainly be overlap between social media channels, particularly Instagram and TikTok, it's important to observe how this app works and the way individuals interact with it.
The research stage is vital to understanding and establishing your audience, specifically for those without analytics they can draw on from other channels. However, because TikTok is such a unique platform, it's worthwhile for any business or brand to research how audiences navigate through content on this app, regardless of how established they might be elsewhere.
2. Setting Goals and Running Audits
As previously mentioned, it's a good idea to see what competitors or similar brands are doing so that you have a better idea of what your audience is already interacting with. Although running an audit  might seem a bit overwhelming if you've never done one before, analyzing what other creators are doing and looking at your own strengths, weaknesses, opportunities and threats (S.W.O.T framework) is a good place to start. Essentially, in order to create an effective marketing strategy of your own, you will need to analyze what others in your field are already doing. This ultimately expands on the research stage we spoke about earlier and allows you to track your progress moving forward. It also effectively analyzes how your audience reacts to certain approaches and pieces of content so that you essentially have a blueprint of how to communicate with them moving forward.
This goes hand in hand with setting your goals. If you plan to create content that is fun and engaging, your goals might look different on this platform than, say, on LinkedIn. As a platform that's used to express creativity and connect with users globally, it would make sense to set different goals for TikTok than your other socials. Take the time to map out and understand your goals for this platform and go from there.
3. Tracking Your Analytics
Through your TikTok Business Account, you can check your analytics by turning to your profile and hitting the three lines at the top of your page. From here, you can click on the "Creator Tools" and see your "Analytics." Here's what that will look like.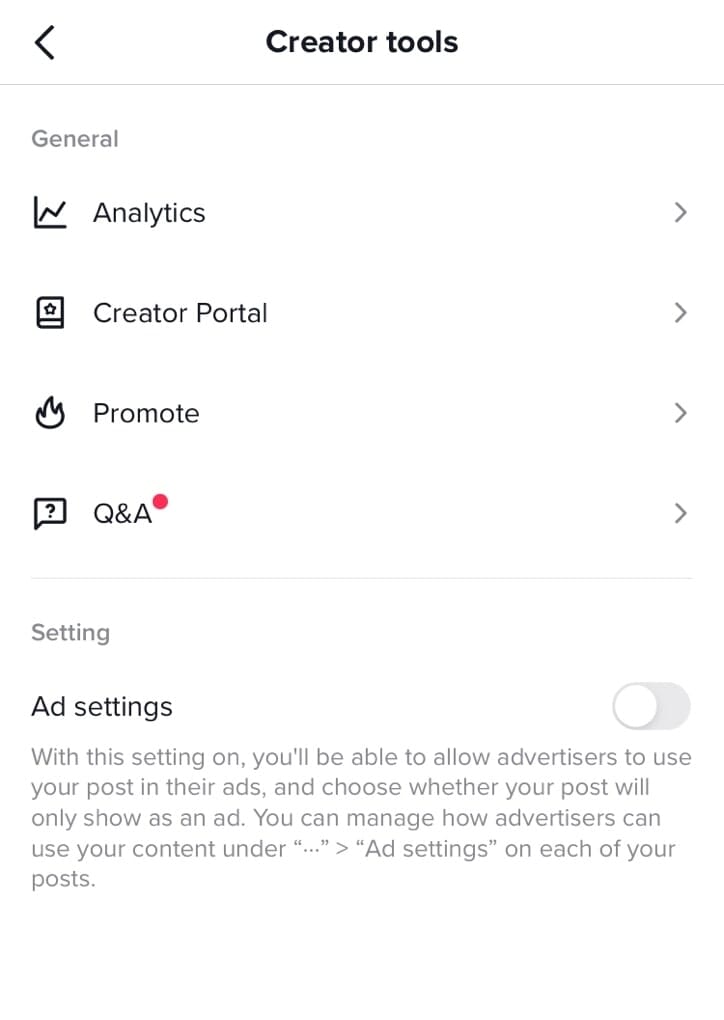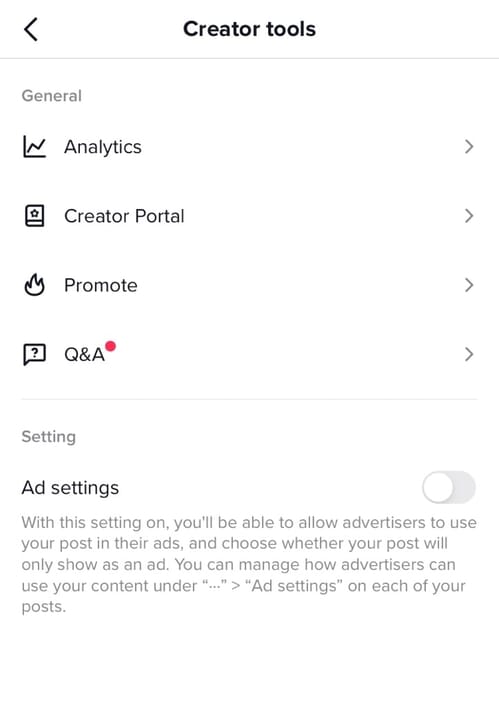 Checking this section of your profile regularly as you post more content is very useful for seeing what type of progress you're making. It allows you to better understand how the content is performing, what your audience is thinking, and how you're hitting your goals.
Because TikTok is a platform that doesn't always provide a rhyme or reason why content becomes successful all of a sudden, it's best not to be too hard on yourself if you aren't hitting your Key Performance Indicators (KPIs). For example, an account may have only a hundred followers, but create a video that quickly gains traction, and all of a sudden, millions of people have viewed their content. Sometimes it just takes one video going viral and countless ones before that may only be viewed by a few people. With that said, if you do see that something is working, run with it. If you see that something isn't working, learn from it. At the end of the day, TikTok is still fairly new and is constantly changing and evolving, so all you can really do is try your best to stay in the loop and continue monitoring how your content performs moving forward. Our last tip for approaching TikTok as a business is to be consistent with posting. The more content you produce, the greater likelihood that it will be put in front of the audience you're creating it for.
Conclusion
With all of these things in mind, TikTok is intended to be fun and entertaining! So, try your best to approach it that way. Whether you want to hop on trending content, use trending music or be original and bring something new to the platform, the possibilities are endless. This means that there are also many ways you can approach your TikTok Marketing strategy. It's wise to do your research and create goals, and although no set instruction manual can determine your success on this platform, the tips above are a good place to start.
If you'd like to learn more about utilizing social media for your business, be sure to download our free digital marketing e-book.