What is a Digital Marketing Campaign?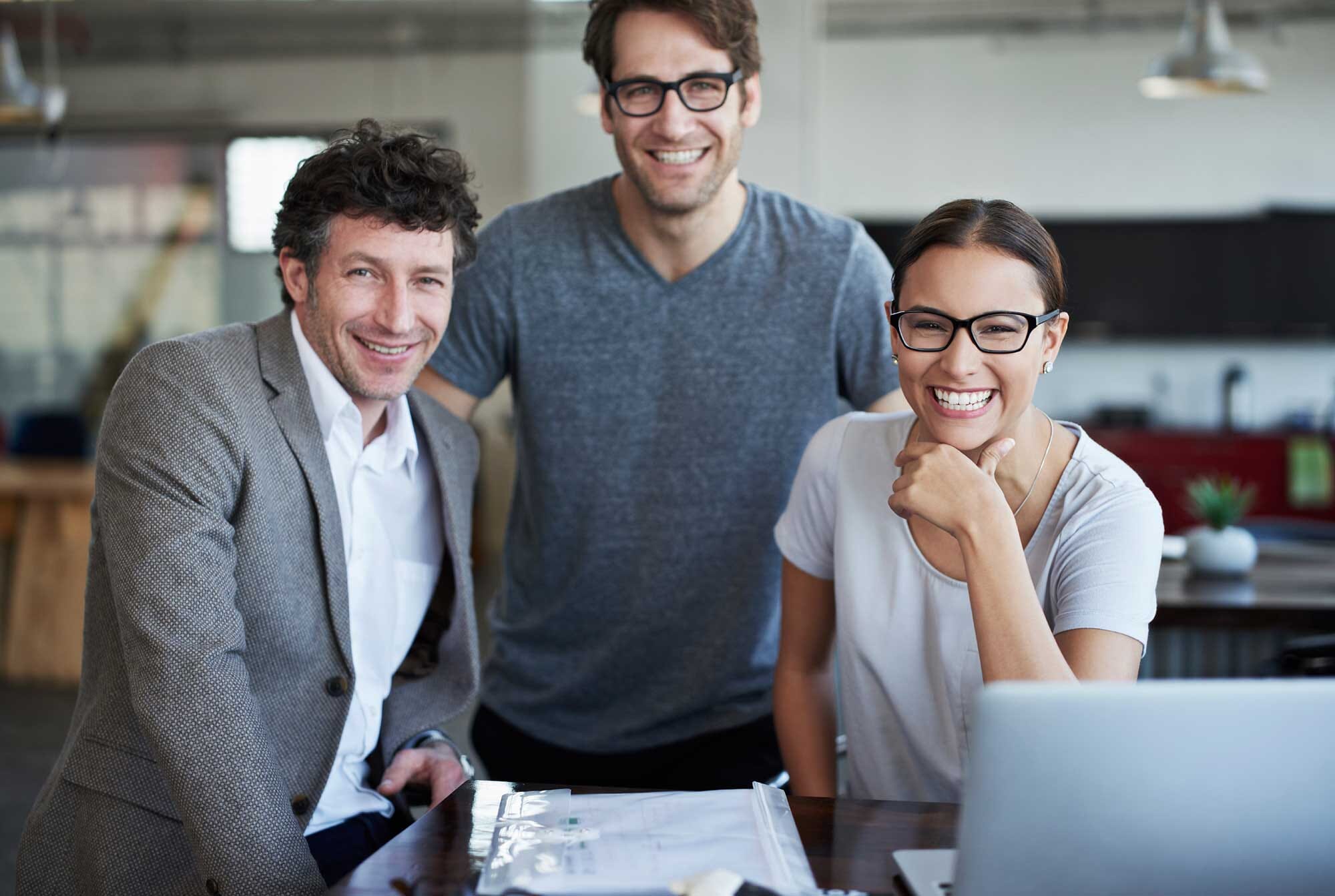 Digital marketing campaigns have evolved over the years as technology has improved, ranging from social media to email automation. Below, you will learn how to develop a complete digital marketing campaign from your advertising to your Website and landing pages to your email marketing to follow up on your leads.
When executed correctly, your digital marketing campaign will increase your Website rankings, visitors, leads, and sales, while improving your brand awareness across multiple platforms.
Typical Digital Marketing Cycle
As a digital marketing agency, let's start by looking at the typical digital marketing cycle. Normally, when we see a digital marketing campaign, we notice that businesses develop a website first, then purchase advertising and direct the advertising to their website. Next, leads and given immediately to salespeople. The problem with this approach is they generate less leads, are not sure which ads are performing best, and are unsure about the cost per lead and sale. Moreover, unqualified leads are sent to sales, frustrating salespeople and reducing the conversion rate from leads into sales, while leads are not nurtured for future sales, resulting in lost revenue.
---
Advanced Digital Marketing Cycle
Now, let's take a look at a better approach to digital marketing campaign development. With the campaign-based model, you create your digital marketing campaign in 8 steps:
Develop key messaging to outline the emotional drivers of your audience
Map out your digital marketing campaign to understand how your ads will connect to your landing pages and your email automation
Develop your landing pages, including offers
Create your ads
Set up your automated email campaigns
Set up lead scoring (if needed)
Send qualified leads to salespeople
Develop projection reporting
---
Let's take a deeper look at each step starting with your key messaging.
Key Messaging
Key messaging is allows you to outline the emotional drivers of your target audience, so you gain clarity on what matters to them. This enables you to develop customer focused marketing communication that emotionally connects with your audience and what's important to them.
Take the time to uncover the following emotional drivers:
Desires
Fears
Frustrations
Obstacles
You also want to outline the following:
Key benefits your product provides
Differentiation versus your competitors
Proof points that substantiate your claims
Story that you want to tell
Value proposition
Once you have a good understanding of what you want to communicate based on what's important to your audience, map out your digital marketing campaign. Before you map out your campaign, let's dive in to the essential elements that make up a digital marketing campaign.
---
Traffic Generation Channels
All progress in digital marketing starts by being able to drive Website visitors to your Website and landing pages. This is the starting point to increase sales. If a company can't drive enough traffic through various digital marketing channels, you can't grow. To drive traffic, you want to select the right channels, execute each advertising channel correctly, and split test your ads to constantly improve results.
As you start selecting your digital marketing channels, think about it as a numbers game. You want to drive the highest volume of Website visitors possible, while generating the most cost-effective cost per lead and sale. Selecting the right digital marketing channels depends on your industry, products, and budget.
The main digital marketing channels include:
Pay Per Click Advertising (PPC)
Search Engine Optimization (SEO)
Email Marketing
Display Advertising
Social Media Marketing
Selecting Your Digital Marketing Channels
To maximize traffic, it's vital to add traffic generation channels over time. Most people or businesses don't have a large social media following to start with. As a result, we typically recommend starting with the following: PPC, SEO, blogging, and social media.
The reason to start with PPC is because it will give you a better sense of the real search volume for your keywords, while allowing you to monitor how well the different keywords convert into sales. PPC also provides immediate traffic, so that you can start growing your business immediately.
During your PPC launch, you want to test the performance of your ads and landing pages to make sure you are generating the most efficient cost per lead and sale possible. You also want to determine which PPC channel is performing best for you.
Next, we recommend launching your SEO campaign with your blog and social media. The reason we recommend launching all three of these channels as a second step is because they all work as a system to drive organic traffic to your Website.
After some time, when you feel comfortable producing content on a regular basis, consider adding video to your content mix. We recommend video because YouTube is the second largest search engine and is a great way to drive more traffic. Next, repurpose your videos into slides and podcasts to drive even more traffic. Next, create eBooks and even quarterly publications using all of the great content you have generated to drive even more traffic to your Website.
---
Landing Page Development
Once you have an idea of the traffic generation channels that you want to use, set up a unique landing page for each channel. For PPC campaigns, we recommend using a simplified micro site. For SEO, optimize your website. For email marketing, display advertising, and social media, we recommend using a simplified landing page.
When setting up your landing pages, the main items to focus on are your headline, offer, hero image, and opt in form. Let's take a look at each.
Headline
There are several ways you can write a headline. The key is to follow a few simple rules for the best possible result. The first rule is to always match your headline to the rest of your campaign, starting with your ads. If your call to action in your ads is to download a 20% off coupon, your headline should deliver on that. The second rule is to ensure that your message is clear. A simple, straightforward headline quite often performs very well.
In terms of headlines that perform well, the how-to-headline works very well where you simply communicate that your audience will learn how to do something specific by opting in to your offer. For example, a hot tub business could communicate that by opting in, you will learn how to select the perfect hot tub for you through a video series.
The problem awareness headline is a second headline type that works well. With a problem headline, you outline what pain the customer may be facing and how you can help.
The big promise headline is another headline type that is very powerful. Instead of focusing on the negative, you focus on your unique selling point and how it will benefit your audience.
These are just a few examples of headlines that you can use. The key is that your headline has to pull your readers into the rest of your communication and be persuasive.
Compelling Offer
Your offer is a vital part of your landing page and has a significant impact on the performance of your landing page. For an offer to be compelling it needs to appear valuable enough to make the visitor take action. This may require testing and refining to ultimately get it right, but justifying the benefits of the offer and providing a clear CTA is essential. Examples of offers include free ebooks, downloadable coupons, free webinars, etc.
Hero Image
A hero image is typically the first image your prospect sees at the top of your page when arriving on your landing page. Your hero image should be consistent with the rest of your marketing campaign, while connecting with your audience emotionally.
Opt In Form
The landing page will also need an opt in form to allow the visitor to enter their information and access what you're offering. However, a balance needs to be found when asking for information. The shorter your Web form, the more leads you will generate. But, the longer your Web form, the more qualified your leads will be. We typically recommend maximizing your lead volume by keeping your web form short. Then, you can qualify leads later.
Now that you have a good understanding of traffic generation channels and landing pages, let's take a look at email campaigns and how they can help you convert your leads into sales.
---
Email Marketing and Automation
As a digital marketing company, we often notice that email marketing and automation is underutilized. Email marketing can be used to nurture your leads, make them sales ready, onboard new leads, and even maximize retention.
Once you have generated a lead, Automating your email follow up sequences will increase the conversion of leads into sales, while generating more predictable results. There are various campaigns that you can use to achieve this. Let's take a look at a few examples.
Email Bonding Campaign
The bonding campaign is a simple way to make leads more sales ready by providing great value to your prospect prior to making your sales pitch. Once you have generated a lead, you send out a sequence of bonding emails that educate your prospect on how to make the right purchase decision. For example, If we were selling hot tubs, we may have a three part email sequence on how to select the right hot tub. By providing this information, you are positioning yourself as a thought leader and your product as the obvious choice. Next, send out a sequence of emails referring to a last minute promotion for a limited time to drive your prospects to come in store or buy online. As you can see, this is a simple but very effective way to develop a campaign that gets better results than simply calling your prospects.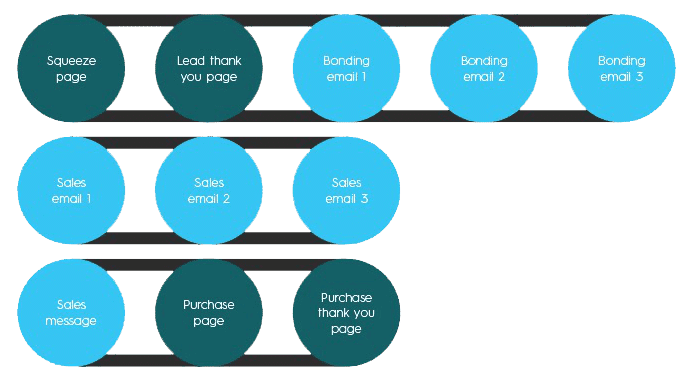 Email Multi-video Sequence
The next email marketing campaign is a multi-video campaign. If you are great on camera, a multi-video campaign is a great choice. It's similar to a bonding campaign, but you are using video.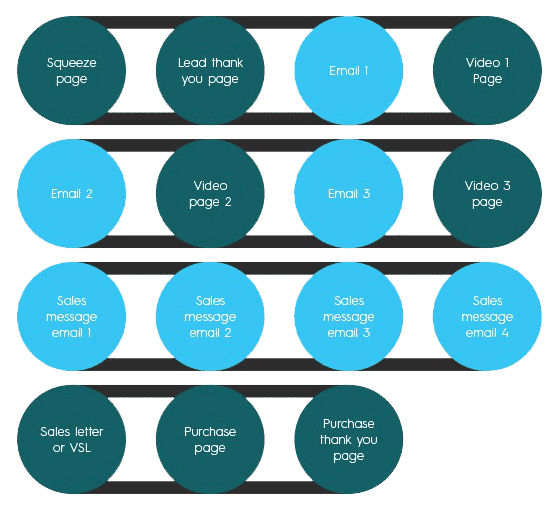 Email Webinar or Event Sequence
If you have a higher priced product, Webinars or other events can work very well. Your event can be automated or live. With an event campaign, you send a sequence of invitation emails to drive prospects to sign up for your event. To maximize the number of people that actually attend, send out a sequence of reminder emails. And to maximize the volume of people that see your event, send out a rebroadcast sequence.
The purpose of showing you these email campaigns is to illustrate how powerful campaigns can be. And there are many more campaigns that you can build.
---
Map Out Campaign
Now that you have an understanding of the various components of a digital marketing campaign, define what channels you want to use, what landing pages you need, and what email marketing campaigns you would like to use. Then, map out how everything will work visually.
---
Define Your Campaign Goals
Similar to traditional marketing campaigns, it's important to understand what you're trying to achieve before creating a digital marketing campaign. Creating a list of measurable results that you want your marketing campaign to produce will be the only way to recognize whether the campaign was successful or not. Regardless of what it is you're trying to achieve, try to identify specific goals that can be easily measured and tracked.
---
Traffic Generation
For many online marketing campaigns, increasing the amount of traffic that a website or landing page receives is of great importance. More traffic means more opportunities to generate leads, share information, and gain customers.
Rankings
Increasing website rankings on search engine pages is an important metric in digital marketing campaigns. If your website doesn't appear near the top of the results of an Internet search, it's unlikely that organic search traffic will reach your page.
Website Visitors
Increasing the amount of traffic that reaches your website is another key result of a digital marketing campaign. Whether the visitors land on your page via a search engine or by directly accessing the page should be defined in your campaign goals.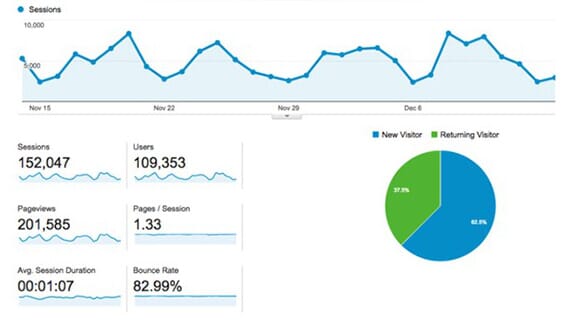 Lead Generation
Lead generation is one of the primary steps of your marketing funnel and is often a primary goal of digital marketing campaigns. Success can be measured by lead volume. However, lead volume must also be weighed against lead quality.
Social Media Followers
Social media has evolved greatly since it first became popular. Because of the social media algorithms used to limit or amplify messaging, increasing your number of followers is now an integral part of an effective social media presence. Because of that, digital marketing campaigns that solely focus on increasing social media followers have gained greatly in popularity.
Social Media Shares
In a world where expertise isn't as trusted as much as it used to be, the influence of word of mouth has become increasingly important. In light of this type of online atmosphere, making a statement on social media is rarely as effective as having someone sharing their opinion of your statement with their social media acolytes. More than ever, customers rely on the opinions of people they know rather than accepting what marketers, advertisers, authorities and experts have to say. A digital marketing campaign that focuses on increasing social media shares can often be more effective than straightforward advertising.
---
Conversion
Conversion occurs when a visitor to your website or landing page performs the action that your digital marketing campaign intended. It might be making a purchase, filling in a form, joining an email list, becoming a follower on social media, etc. An effective digital marketing campaign will result in higher conversion rates. Calculating the cost per conversion will also enable you to judge the effectiveness of your campaign.
Conversion Of Website Visitors Into Leads
Someone who simply visits your website shouldn't necessarily be considered a lead. The visitor may have mistakenly clicked on a link or simply required a small bit of information that your website happened to provide. However, if a visitor signals interest in your product or service, they might be converted into a lead. A digital marketing campaign needs to display onsite calls-to-action (CTA) that transform a website visitor into a lead. For example, a CTA might be a form for the visitor to fill out, a button to click or an offer to exchange information. When a website visitor completes a CTA they can be considered to have been converted into a lead.
Conversions Of Leads Into Sales
Converting a lead into a sale is often the ultimate goal of any type of marketing campaign – digital or not. If this is the intention of your digital marketing plan, action needs to be taken to make this happen. Examples of action could include leads being turned over to the sales team, leads being asked directly if they're ready to make a purchase, incentives being offered in exchange for a sale or time limits being applied to the sale.
---
Brand Awareness
The goal of your digital marketing campaign might simply be brand awareness. This is often the case with new brands or brands that are renewing their vision. One of the problems with brand awareness marketing campaigns is the difficulty of quantifying the results. However, measurable quantities such as online/hashtag mentions, branded search volume, social media traffic or even increases in sales can be used to track the effectiveness of a brand awareness marketing campaign. The steps of brand awareness are: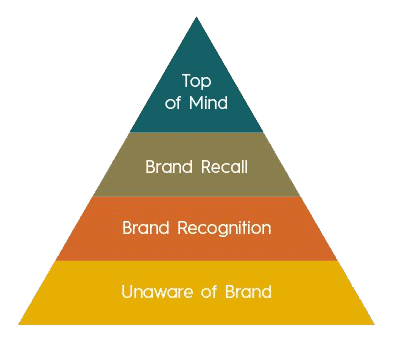 ---
Launch Sequence
A digital marketing campaign consists of several components and costs can add up. It is for this reason that we recommend launching your digital marketing campaign in stages. This allows you to get a return on your ad spend early to fund future marketing initiatives.
Test Your Ads and Landing Pages
When working with clients, we recommend launching campaigns with just the front end to start, which includes just your ads and landing pages. The reason we recommend starting with your ads and landing pages is because there is a lot to optimize. You want to test different ad variations, messages, as well as your landing pages to drive down your cost per click and cost per lead.
Test Your Email Marketing and Automation
Once you are generating leads cost-effectively, add your email marketing campaign to warm up your leads and make them sales ready.
Add Lead Scoring
If you are having a hard time keeping up with your leads and prioritizing which leads to call on first, consider adding lead scoring to help identify which leads to focus on first.
Introduce Enhanced Reporting
At this point, you have a more complete digital marketing campaign in place. To get the most out of your advertising campaign, introduce more advanced reporting to compare your cost per lead, opportunity, and sale by lead channel. This will allow you to make spend adjustments based on performance, so you can scale your business.
Once you have built your digital marketing campaign and strong reporting, take the next step to position your business as a leader in your market. A great way to achieve this is with content marketing.
---
Developing Your Content Marketing Plan
To get the most out of using digital marketing channels, you want to develop a content marketing plan. Content marketing will enable you to go beyond advertising and tell your audience a story through your marketing channels that will resonate with them and differentiate you. Content marketing allows your business to develop a voice, providing a consistent message that underpins all of your content.
While driving traffic through multiple channels is important, determining what you offer that audience is equally so. Often what's missing is a content marketing strategy, which will build your business' online presence and encourage a dialogue with your audience.
Content marketing is the foundation of today's successful digital marketing campaigns. Utilizing multiple channels drives a high volume of visitors; the content answers the questions that are in the minds of your audience during their buying cycle.
Content marketing also allows your business to develop a voice, providing a consistent message underpinning all of your content. This allows you to show your prospects what you represent, what sets you apart, and why they should buy from you.
23 Steps to Content Marketing
Define Your Purpose
Outline Your Goals
Define Your Target Audience
Outline Your Buying Cycle
Develop Your Story
Outline Key Benefits of Your Product
Outline Your Differentiation
Perform a Competitor Analysis
Outline Your Mission Statement
Define Your Primary Message
Define Your Secondary Messages
Outline Your Keywords
Define Your Value Proposition
Outline Your Positioning Statement
Define Your Tag Line
Outline Your Sales Process
Create Your Content Strategy
Determine Your Content Development Requirements
Define Your Content Development Needs
Create Your Channel Plan
Create Your Content Segmentation Grid
Develop Your Editorial Plan
Execute
---
Analyze Results And Optimize
To get the most out of your digital marketing campaign, it's vital to continue to test everything from your content, ads and landing pages to your emails.
Conclusion
Digital marketing is a methodical process that takes time to develop and test. By implementing your campaign with a proper process and roadmap in place, it is much easier to scale your business. By implementing the digtial marketing process a step at a time, you get quick wins along the way and achieve return on your ad spend to fund future initiatives. If you have any questions at all, please contact us today. We are here to help.