YouTube Video Marketing: How to Create and Optimize Your Videos and Channel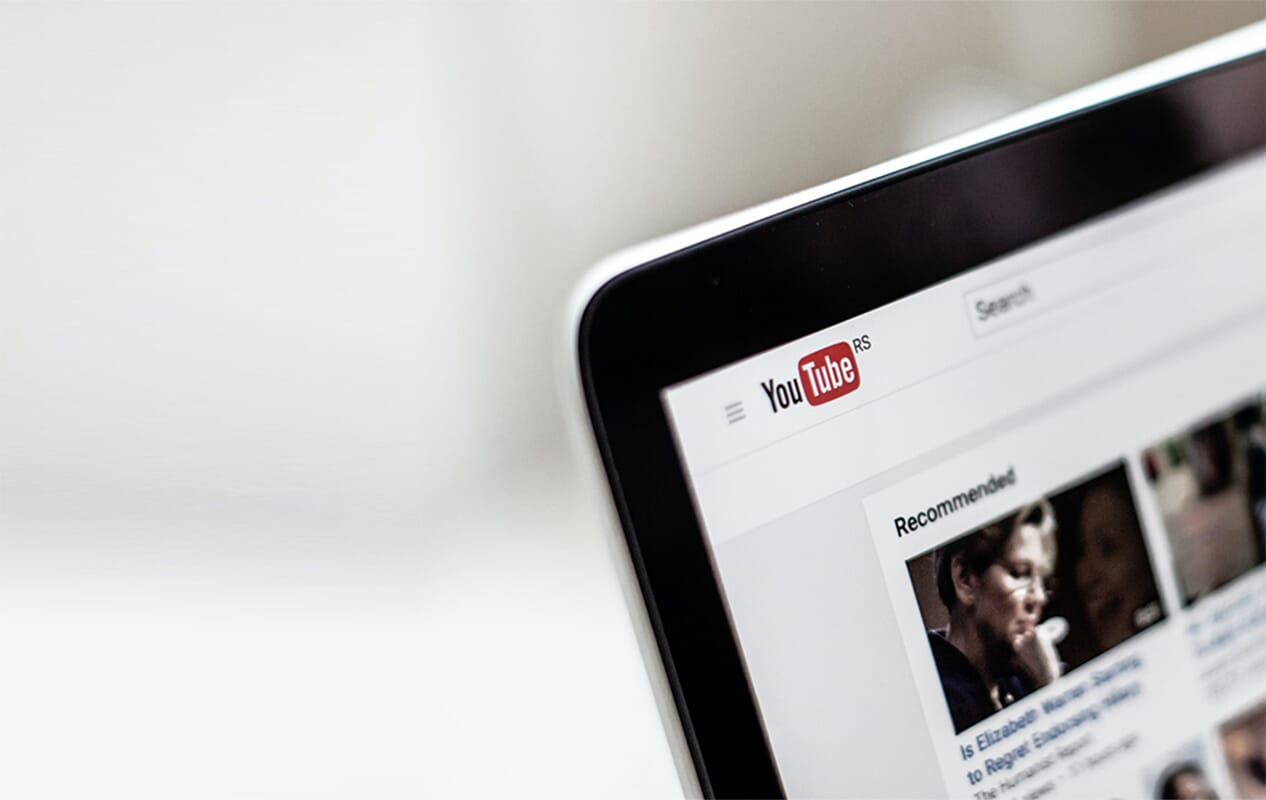 After Google, YouTube is the second most visited website in the world and an essential tool for marketers that should not be overlooked. You may think of YouTube as a place where people spend time watching funny videos, but for large segments of the population, YouTube is more popular than standard television.
If you're not leveraging YouTube, you're ignoring a massive opportunity. If you think that your audience probably isn't spending time on YouTube, consider this. Currently, one-third of the total time that is spent online is spent watching videos. With YouTube having more than a billion active users and content that can be accessed in 76 different languages, it is the perfect platform for your audience to watch, engage and share your video content.
While it may not be easy to quickly create a commanding presence on YouTube, the sooner you start, the sooner you'll begin to see results. To help you learn more about YouTube video marketing and how to create a YouTube channel, as a digital marketing agency, we've put together this complete guide on how to create and optimize a channel as well as understand the advantages of pay-per-click advertising on YouTube.
How to Create a YouTube Channel
Because YouTube is owned by Google, you'll need to create a Google account to be able to access the YouTube interface. Simply go to Google.com, click on "Sign In" and then click on "Create Account."
You'll be asked if you're creating a personal or a business account. In this instance, select the business account option. Choose an email address and password and fill in the rest of the required fields.
Creating a YouTube Brand Account and Uploading a Video Trailer
Next you need to create a YouTube Brand account. To do this, go to the YouTube site and sign in with your new Google account if this hasn't already been done automatically.
Click on the account icon and select, "Create Channel." After clicking on "Get Started" you'll have the option to "Use your name" or "Use a custom name."
Select "Use a custom name" and then add your brand name in the appropriate field. This can be edited later on if necessary, so no need to worry that it's permanent. As you can see here, once you select the custom name option, you'll be prompted to create your channel name.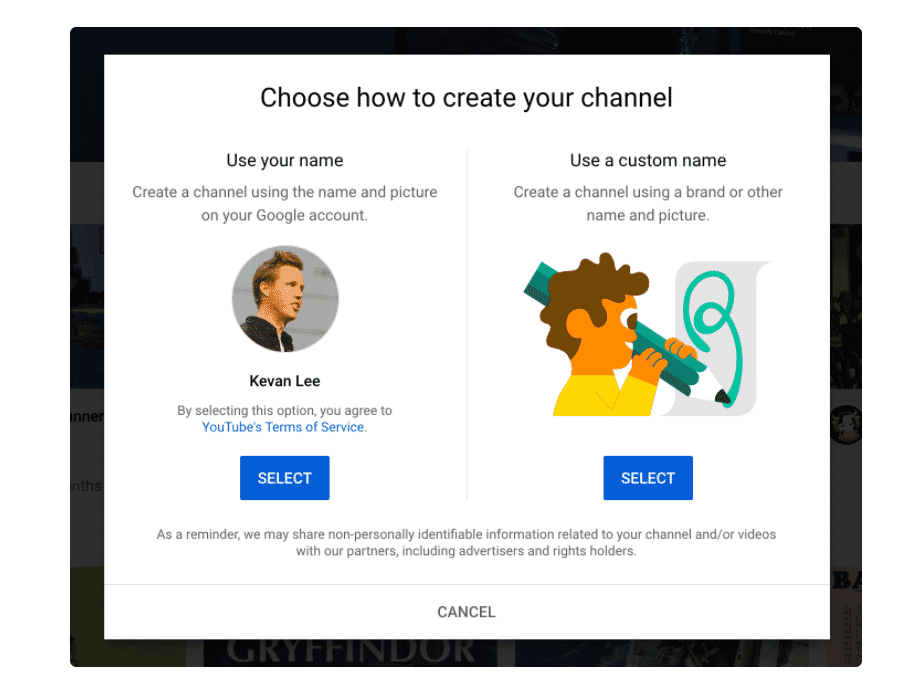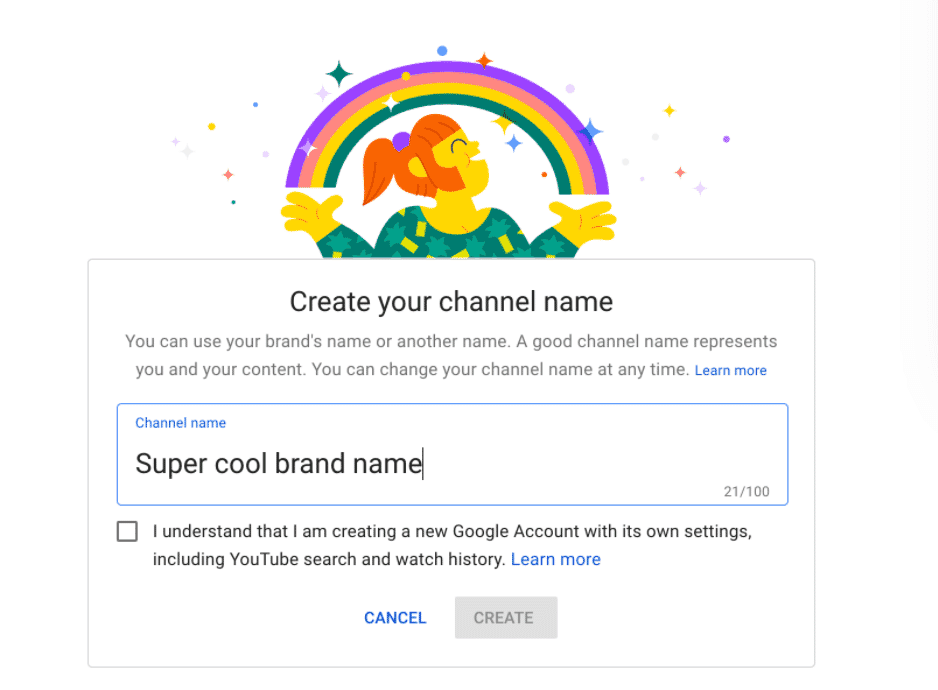 ---
Customizing a YouTube Brand Account
Click on "Customize Channel." This is where you begin to add imagery related to your brand. You can upload a channel icon and channel art.
From there you can start adding text into the "Description" field as well as your company email and links to your website and other social media channels.
One thing to know that might be useful for later is that you can customize the way your YouTube appears to either subscribers or non-subscribers. You can use this to add some extra flair and/or added content that appears to subscribers only to entice them to subscribe.
Start by clicking on the gear wheel in the top right corner and clicking on "Customize the layout of your channel" and pressing "Save."
Upload the trailer by clicking on the upload arrow in the top right corner and import the video file from your hard drive. Add a video name, description and keywords.
As shown here, once uploaded, tap "For new visitors" and click on "Channel trailer." Select the video you just uploaded and "Save." Your video trailer for non-subscribers is now ready to be watched!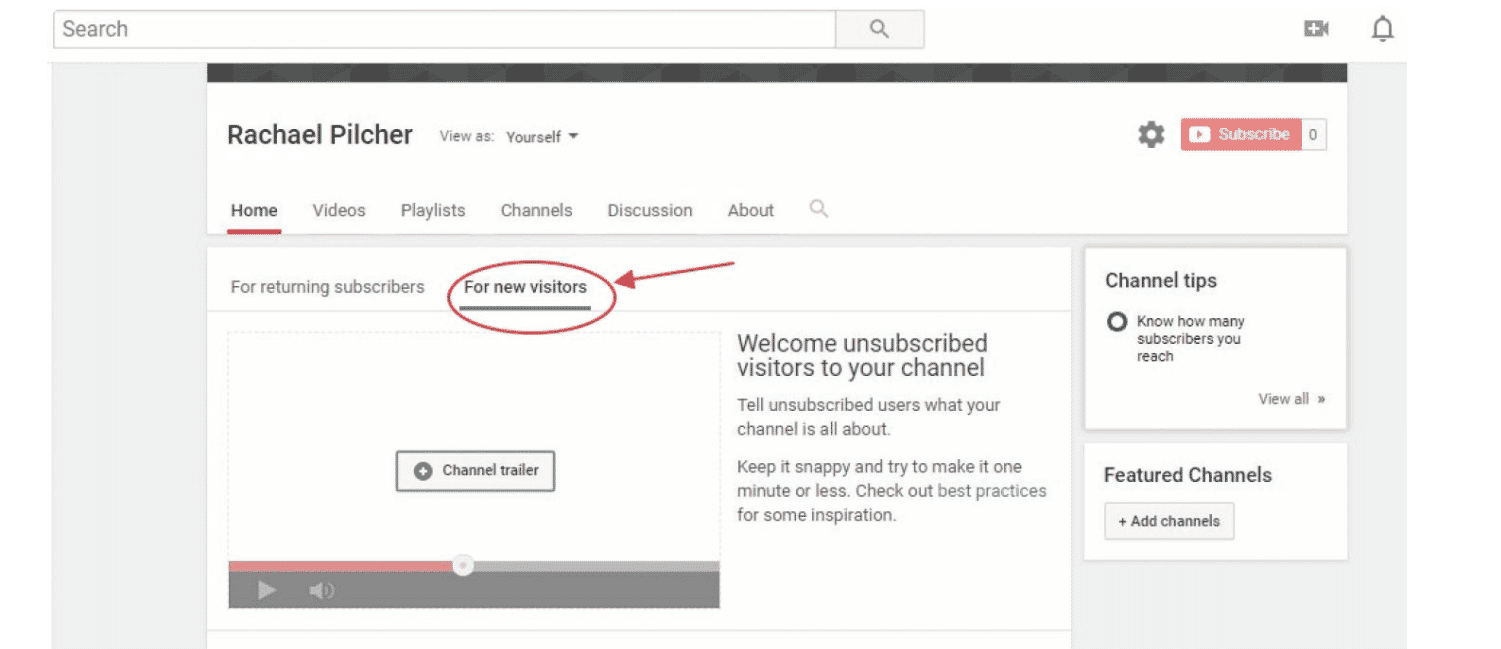 Five Key Elements of Successful YouTube Videos
When it comes to marketing on YouTube, there are some common characteristics that are generally found on many of the successful videos that exist.
When you're just starting it, it can pay to mimic these characteristics to maximize your potential. Eventually, after uploading several videos, you'll begin to accumulate enough of your own data to get a better idea of what works best in your specific situation.
Using this template of video characteristics will ensure your videos are primed for success. Here are the five key elements of successful YouTube videos that you can use to optimize your content.
#1 The Intro – YouTube Video Marketing
A good introduction should quickly grab the viewer's interest and convince them to continue watching. This often means describing what the viewer will be watching and why it should be important to them.
This is often accomplished with an image or short video that's overlaid with a title. You could also add music in the background and/or a voiceover reading the title. This should all occur within the first five second to prevent the viewer from moving on.
An example for a photography YouTube channel could be an introductory title such as "Five Ways to Get the Best Portrait Shots." It explains exactly what the video is about and how it can benefit the viewer. A budding photographer would hope to receive five tips to help them take better pictures.
---
#2 The Logo – YouTube Video Marketing
The importance of a recognizable logo in marketing cannot be overstated. The way to make your logo recognizable is to use it consistently in all your marketing efforts – including your YouTube videos.
Over time your logo will become associated with the type of content you're publishing and create an image based idea of what the viewer can expect from your channel.
In addition to your logo, a YouTube Channel provides the ability for you to create a short, reusable video scene that appears consistently in all your video uploads. This scene can and should include your logo, brand name and possibly a unique piece of music.
---
#3 Call to Action – YouTube Video Marketing
Every marketing video needs to present a call to action (CTA). Whether this means getting the viewer to subscribe, click a link, buy something or share with a friend, the CTA will allow you to measure the effectiveness of the video.
While the number of views the video receives is one measure of success, ideally you want your marketing video to influence someone to act. Whether that act actually occurs or not will give you more insight into how your videos are working – or not.
Quite often in YouTube videos you'll see the CTA near the very end. While this can be effective, there are often opportunities elsewhere in your video to naturally place a CTA. The more you can make it benefit the viewer the better response you'll get.
---
#4 Subscribe Links – YouTube Video Marketing
You'll see that most videos include a subscribe link and urge viewers to click on it. And the reason for this is that it makes it easy for the viewer to remain connected.
Subscriber numbers are important because they immediately let you know that you have a committed community of followers that want to know what you have to say. Subscribers will also typically be the first to know about and watch new content that you upload.
Attaining milestone numbers of subscribers also unlocks certain YouTube features that aren't available without the required number of subscriptions. For example, 100 subscribers allows you to create a custom URL while 1000 subscribers allows you to start monetizing your videos with ad revenue.
Don't leave subscriptions to chance. Use your videos to help drive up your subscriber numbers. There are plenty of free graphic subscribe buttons that can be found online which can simply be added to the end of your video like shown here.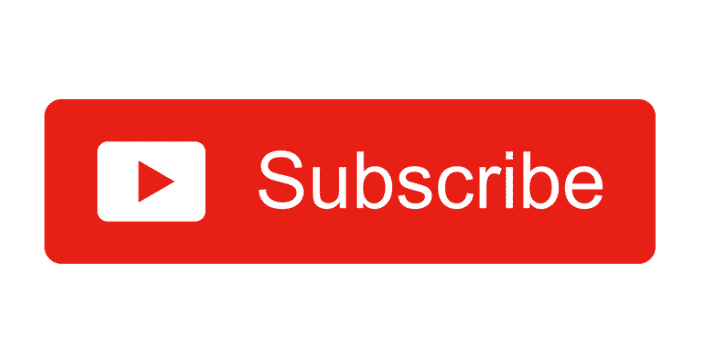 ---
#5 Background Music – YouTube Video Marketing
Background music is often most noticeable when it doesn't exist. Videos without music seem less professional and often create the feeling that something is missing.
Music can be used to quickly grab attention. It can set the mood, push the narrative forward and create an emotional connection with the audience.
Some people are worried about running into copyright issues when using music, but YouTube offers a huge library of royalty free music and sound effects, known as Audio library. There are also many other sources of royalty free music that you can use to enhance your video creations.
Optimizing Your YouTube Channel
Now that you have a YouTube channel and are able to upload videos to it, you'll need to know how to optimize your channel to ensure you get the most views possible.
Again, this is a building process that takes time. There's no simple switch that you can flip to instantly boost the number of views you're getting.
But doing everything you can to optimize your content will make sure that the time and effort you're putting into your channel is maximized.
Keywords
Because YouTube is basically a video search engine owned by the largest search engine company in the world, search engine optimization (SEO) is hugely important in optimizing your YouTube channel.
When choosing keywords for your uploads you want to include the words that will be commonly searched when looking for videos similar to what you're producing. You can use an online keyword research tool to help you find the most popular searches.
You can also try searching some keywords using Google or the YouTube search bar and seeing which ones consistently bring up videos in a category similar to yours.
Some experimenting can give you insight into which keywords are most likely to bring traffic to your channel. Pick out five to seven of the keywords that most appropriately describe your channel and its content.
To add these keywords to your channel page, go to the "YouTube Studio" which can be found in the drop-down menu in the top right corner. Click "Settings" in the left-hand column and click on "Channel." In the "Basic info" tab there will be a field where you can add your chosen keywords.
---
Titles
Your video titles need to be descriptive and concise. The title is how the video will be mentally categorized by the viewer, so present them with what they're looking for.
Although your title can be as long as you want, shorter is better. YouTube allows for 60 characters in the title before it starts to be cut off, so make sure the important signifiers and keywords are upfront.
If you need ideas for a good title, the YouTube search bar autocomplete can give you tips. Simply start typing in what your video is about and see what YouTube suggests.
---
Thumbnails
A thumbnail is an image that represents your video. It's what potential viewers see when scrolling through YouTube looking for something to watch.
YouTube can automatically choose this for you, but it's best to customize this yourself. Oftentimes the YouTube screengrab isn't consistent with your branding, is out of focus, or doesn't offer the most compelling image possible.
When you customize your thumbnail, you can use a screenshot, a photo, text, or a combination of them all. Try to create something that's informative while making the potential viewer want to click through.
Thumbnails are important because the imagery can often grab a viewer's attention even before they read the title. As the saying goes, a picture is worth a thousand words and the thumbnail gives you an opportunity to prove this saying right.
On the Basic Details tab for your video, you'll see some auto-selected thumbnails from YouTube which can be used.
If you would like to use a different thumbnail than what is being auto-generated, you can play the video on your computer and use a 'snipping tool' to select the section that you would like used as a thumbnail and upload the snipped image to YouTube.
---
Metadata
Metadata is the name for all the information included in the title, description, tags, thumbnail, and caption text of the video you uploaded. Metadata helps search engine results by matching the search phrase with the main characteristics of your video.
By entering the appropriate metadata into the various fields available during the video uploading process (or editing it later) you increase the chances that your video will appear higher in the search results.
Ensure the video title is descriptive with the main keywords frontloaded. You want a potential viewer to understand what the video is about immediately.
Compose comprehensive, yet concise, descriptions. Again, front-load the most important content, because the viewer will have to click "Show more" after reading about 250 characters.
Tags are similar to keywords, but more industry-centric. You can use keyword planning tools to help you find the most popular tags related to your video. Make sure to choose the most relevant and specific tags possible. You don't want to create ambiguity here.
The two main points to remember about metadata, as proscribed by YouTube itself, are don't be misleading and strive for quality over quantity.
Transcribing
Captioning can occur automatically in YouTube, but when automated it isn't indexed for search results. It's better to upload them yourself or use the "Transcribe and auto-sync" function to type them in. It can take some time, but it can make a difference in your search result ranking. By including your captions and a complete transcript, you'll ensure that everyone that lands on your channel have an opportunity to check out your content. Transcriptions are extremely beneficial for someone that is hard of hearing or for people that prefer to read the text over watching a video. YouTube's search algorithm works similar to Google's, so including relevant keywords in your transcript text will help ensure that the algorithm understands what your content is about, which in turn can lead to a boost in search rankings for keywords you're trying to target.
Benefits of Advertising on YouTube
While posting your own SEO optimized videos on YouTube can be built into an effective marketing tool, sometimes you need to get yourself in front of an audience that isn't already coming to you. This is where YouTube pay-per-click advertising can be effective.
There can be many benefits to advertising on YouTube, especially for small businesses.
Reach
As mentioned, YouTube is the second most popular website on the planet. And for many people, it's their primary source of video – even beating out network television.
It's estimated that close to five billion YouTube videos are watched every day. There are very few, if any, media channels that can provide this type of exposure.
---
Targeting
Another reason why YouTube advertising is so valuable is the ability to target the users that are relevant to what you're marketing.
It's possible to target audiences by demographic, the topics and categories of the videos they watch, the keywords used to find those videos and to place advertisements on specific pages.
Again, it's difficult to think of many other large media sources that allow this kind audience definition.
---
Cost
If you run an ad on television, in a magazine or on a billboard, you pay for that ad whether anyone sees it or not.
On YouTube, you only pay for the ads that are actually viewed. If the ad is skipped within the first five seconds there's no cost.
The price you pay for advertising is determined by you. You pay per view at a rate that's typically between 10 and 30 cents each. If you want to spend $10 on advertising at a rate of 10 cents per ad, you know it will be seen 100 times.
The best way to get started is sooner rather than later. Things will begin small, but the more you stick to it, the more your YouTube channel will grow. Momentum and knowledge will be gained and eventually you'll look back at your first video upload and realize how far you've come. If you have any questions at all about optimizing your YouTube channel, email us at info@blueprintim.com.