Increase Sales to the Customers You Already Have with Upsell and Cross-Sell Email Marketing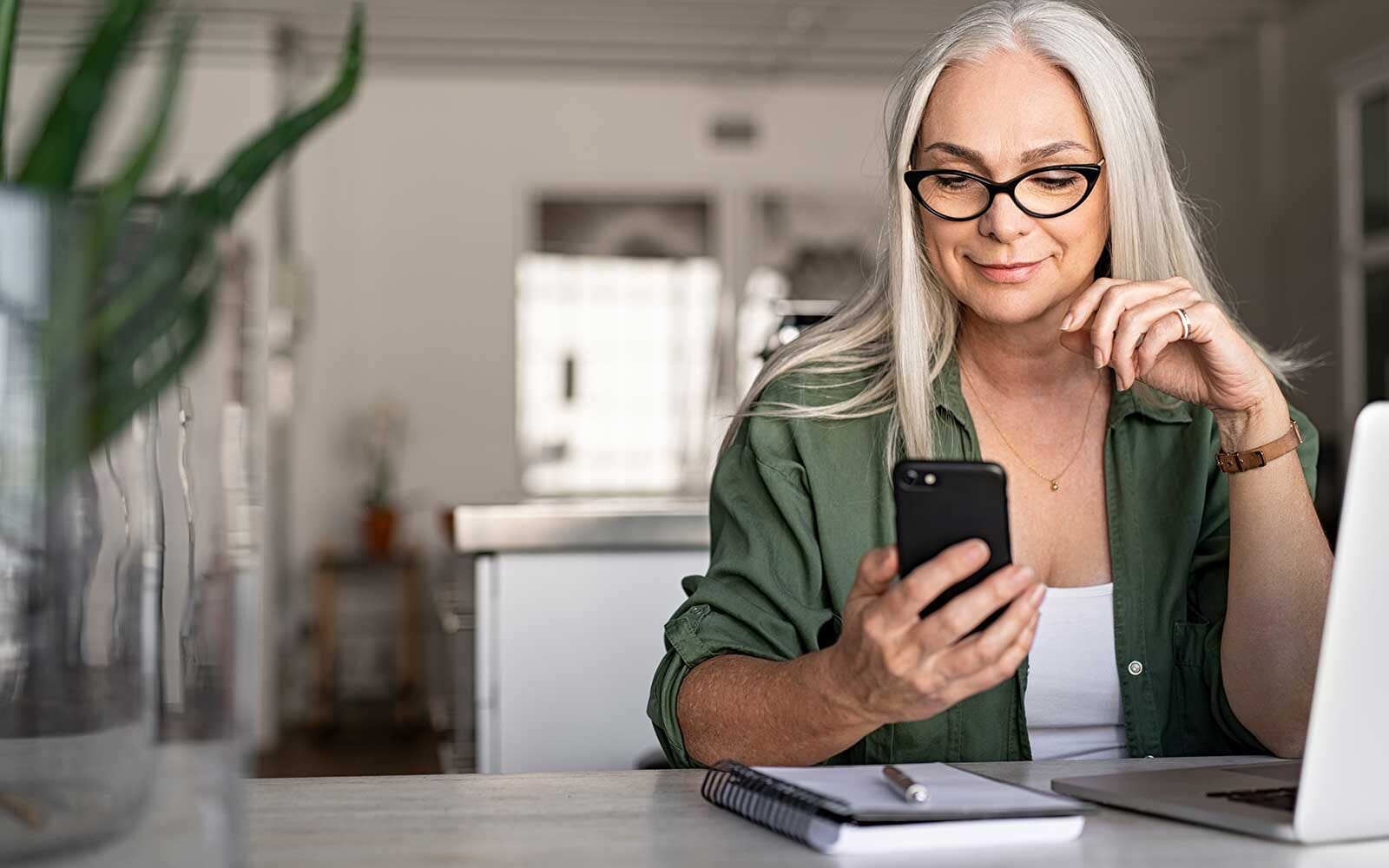 If your business offers more than one product or service level, Upsell and Cross-Sell Email Marketing can help you increase sales to the customers you already have. As a digital marketing agency, we always say that upsells and cross-sells can generate results sooner rather than later, at lower cost, while preserving goodwill and cultivating loyalty among your existing clients.
Acquiring a new customer typically takes a substantial investment of marketing budget and time. It is not unusual for that investment to exceed the revenue from the customer's first order. To realize your marketing return on investment you can:
Wait for repeat purchases from successfully retained customers to build cumulative sales revenue. This is typically longer-term, taking a year or more to achieve ROI.
In the short- to medium-term, it is possible to accelerate new customer ROI via purchases of larger quantities, additional items or enhanced services using Upsell and Cross-Sell Email Marketing.
Combined, the two approaches can help you realize the greatest gains.
Effective Upsell and Cross-Sell Email Marketing programs work in concert with customer care communications. They harvest added sales while also providing helpful, relevant and timely information in tune with customer interests.
Upselling and Cross-Selling: What's the Difference?
Upsells are order upgrades
An upsell is an upgrade to the item or service purchased. Upsells may be offered before an order is completed, or later. Examples include:
Move up from regular size to large size, or additional units.
Move up from current model to a new, more powerful model.
Add consulting services or an extended warranty.
Add items needed for functionality such as batteries, an SD card or a charger.
Here is an example of dollar shave club. As you can see, they not only sell you a starter package, but they also try to sell you on a restock box continuity program as part of their checkout process.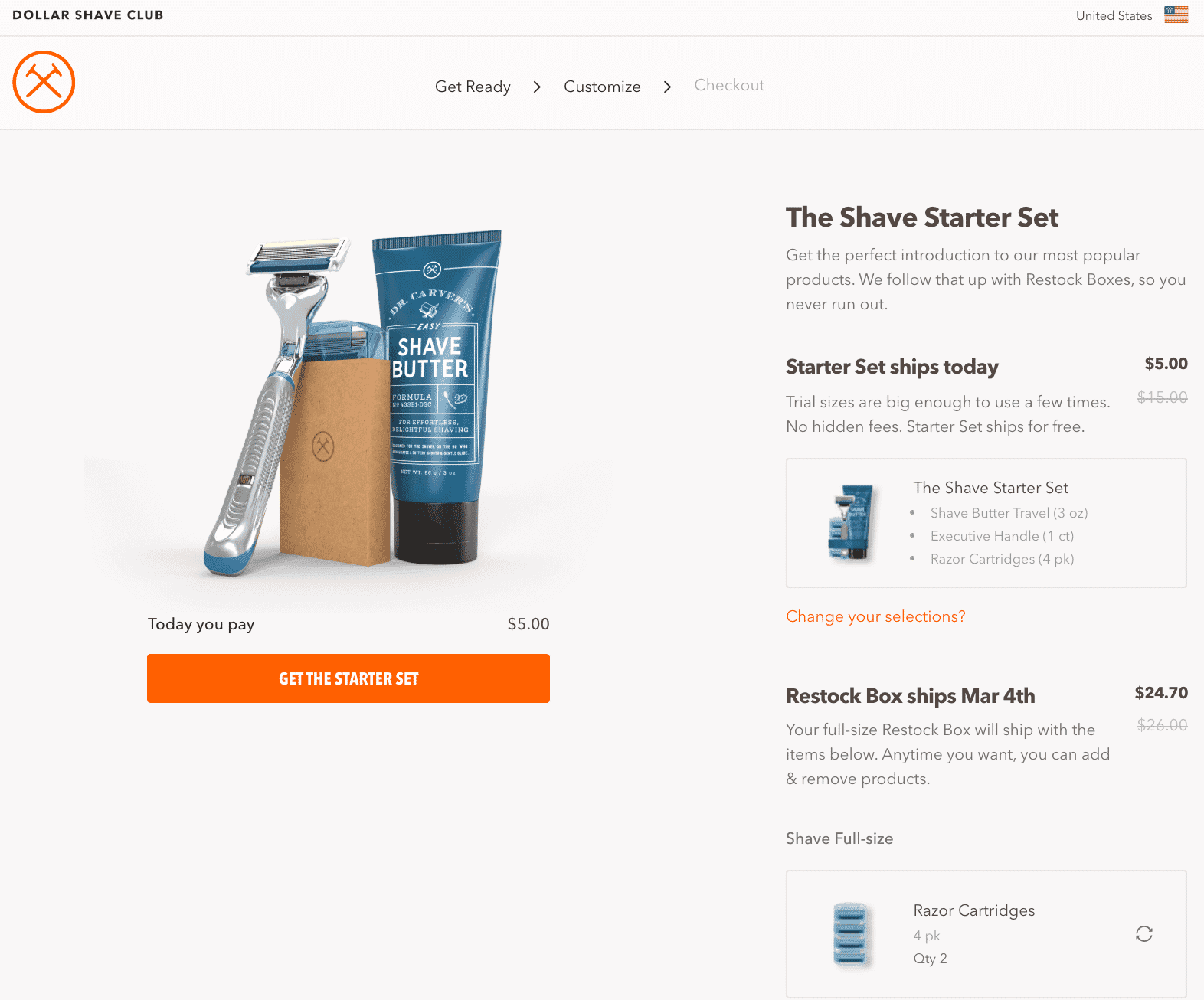 ---
Cross-sells are "You may also like…" offers
A cross-sell consists of offering your customer additional products or services that may interest them. These are often related or complementary items. Examples include:
A curated selection of athletic gear for a running shoe buyer.
A printer or other peripherals to go with a new computer.
Gift subscription for current subscribers to give to a friend.
Credit cards or investment vehicles for a mortgage holder.
Apple does a great job of cross selling throughout their Website and checkout process. As you can see in this example, after a prospect has added a laptop to bag, they are offered additional items, including AppleCare, charging cable, and an adapter.
The 5 W's of Successful Upsells and Cross-Sells
For enterprises ranging from local retailers to automakers and financial institutions, upselling and cross-selling are time-honoured techniques for business growth. And they can deliver excellent email marketing results.
Who
Upsells and cross-sells target your existing customers. They know and trust you and have already demonstrated their interest in your product or services. As a result, on average they are much more likely than anyone else to buy from you again. According to Shopify, "the probability of selling to an existing customer is 60% to 70%, compared to a 5% to 20% probability of selling to a new customer. Plus, upselling gets easier over time. First-time buyers are 27% more likely to return, but after their second or third purchase, this grows to 54%."
---
What
Upsells and cross-sells present appealing offers for products or services you already have, selected to dovetail with your customers' previous purchases and preferences.
---
When
Upsells and cross-sells can be presented at various times. Depending on your offer, they may be effective at the time of initial order or later. They may tie-in with your business calendar or seasonal events, for example.
---
Where
Upsells and cross-sells can play a part in emails you may already be sending, such as order confirmation and thank you, welcome/onboarding messages, pre-renewal notices, service follow-ups, new product announcements or enewsletters.
---
Why
Upsells and cross-sells focus on those who are most receptive to your offer – your existing client base – for whom you have email addresses. Email continues to rank as one of the most effective sources of business for both B2B and B2C marketers, and upsells and cross-sells are an excellent fit for automated email programs.
Order confirmation or thank you upsell
Thank you emails provide an ideal opportunity to offer your customer added functionality and value at the "honeymoon" stage of your relationship. For example, offer additional product at a special reduced price.
In this example from The Source, you will see how they provide an offer of $10 off your next purchase. This encourages the buyer to buy again, while rewarding them for making their initial purchase.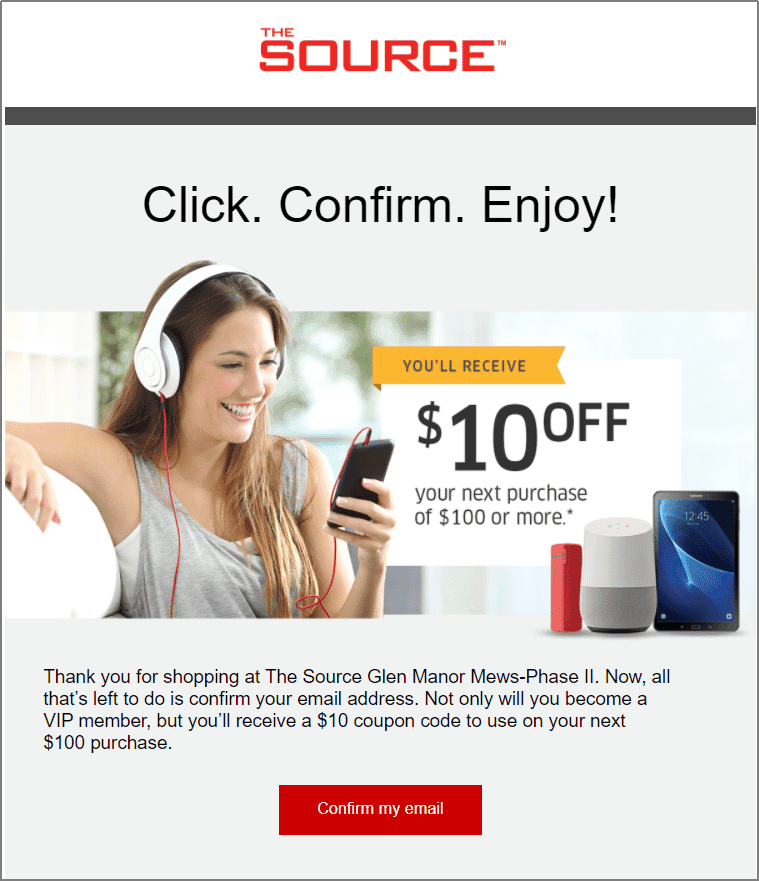 ---
Upgrade from basic access to premium service
With new users of a free or basic-level service, use email to communicate the added benefits of stepping up to paid or premium service. Start early and allow enough time for more than one email effort. When needed, try offering a free trial extension – extra time can prompt some customers to say "yes."
In this example, Amazon offers their members a promotion on Amazon Prime Video.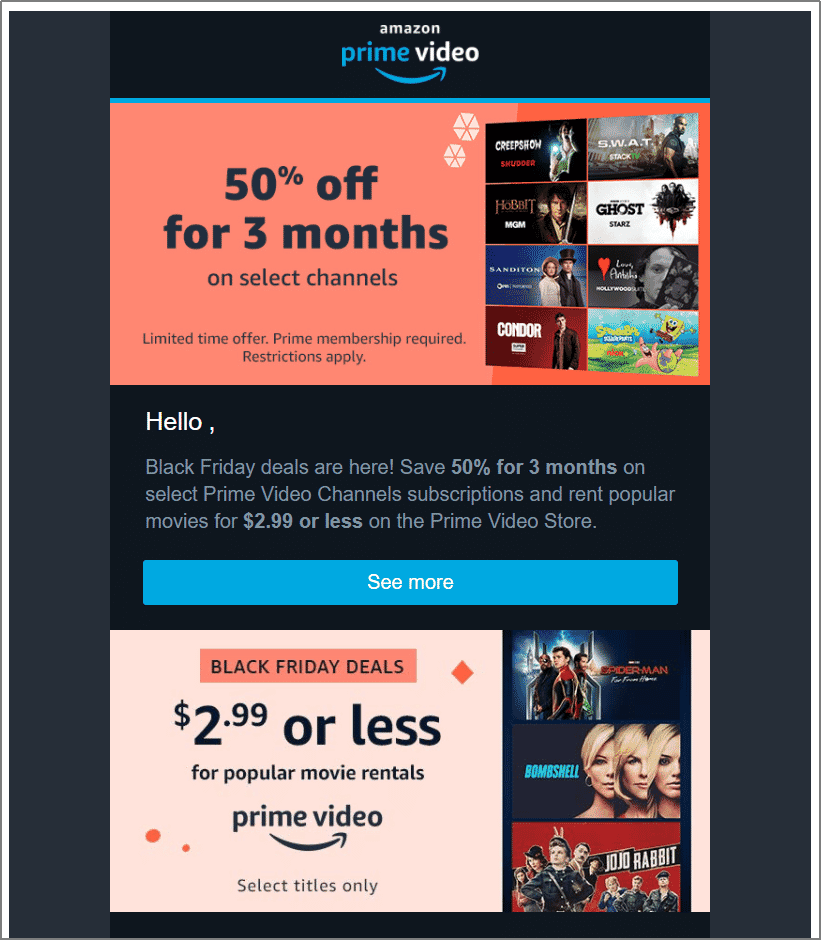 ---
Upsell before auto-renewal of a paid subscription
Before the subscription renewal date, let subscribers know about the opportunity to upgrade to an enhanced, larger or longer version of the service you provide. Customers are not always aware of available options. Here again, start early and allow enough time for multiple email efforts.
New product launch
Existing customers are usually your best prospects – and ideal ambassadors – for new or improved products. Use upsell emails to include them at an early stage of launch marketing and make them feel like "insiders."
Here is an example of how Harry's introduced a new package/set.

Anniversary or milestone emails
Recognize customer anniversaries or loyalty with emails that communicate your appreciation – and include special bonuses or savings on the products or services they use.
Here is an example from Uber where they reward loyal clients with a discount on their next 5 rides.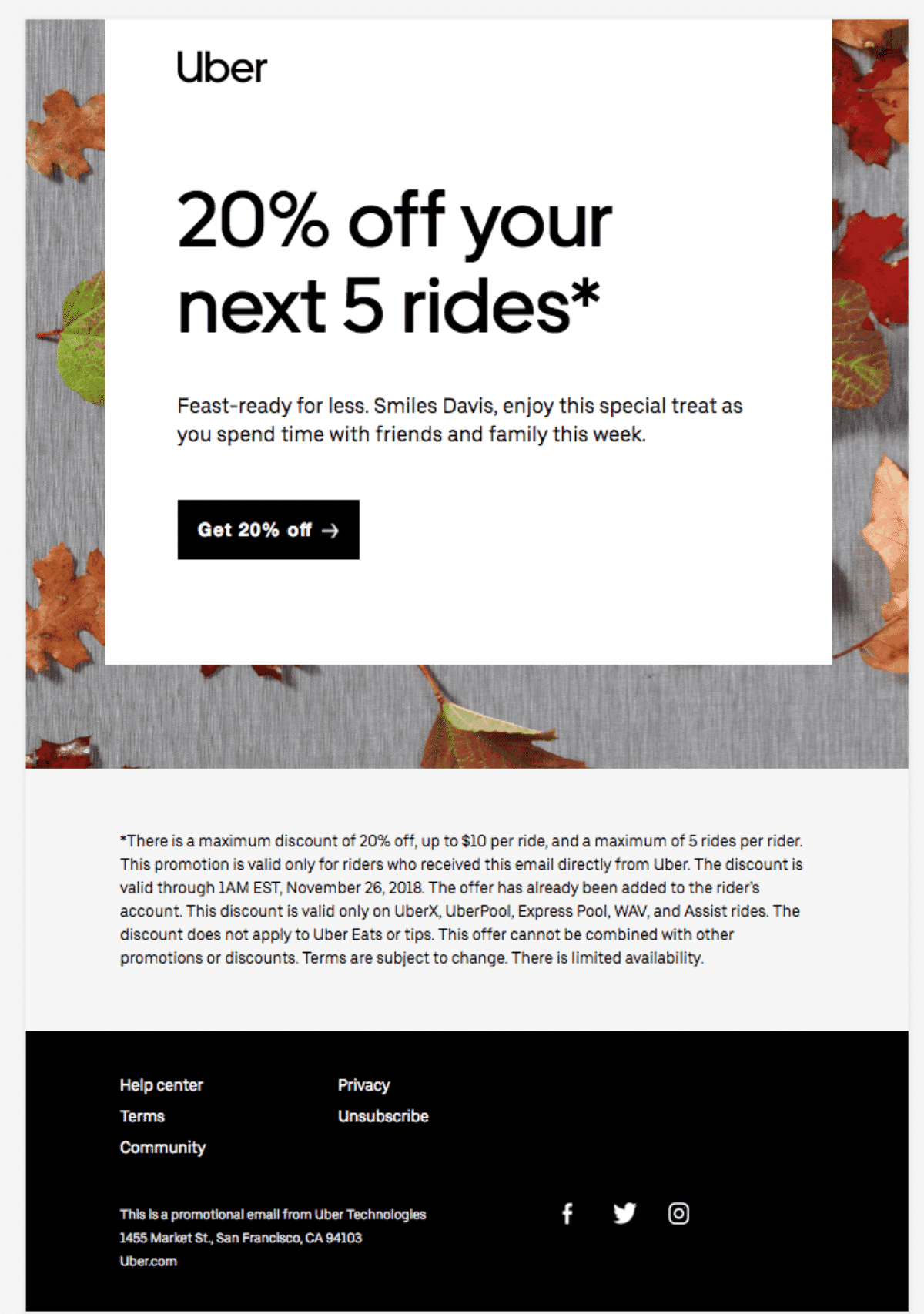 ---
Cross-sell email inspiration
Cross-sell in cart abandonment emails
Along with the products in the abandoned shopping cart, include suggestions of related or complementary items that are likely to interest your customer. You may be able to use previous purchase history to guide cross-sell suggestions. Ideally, offer special pricing or a discount code as an incentive for the additional items.
In this example, Indigo cross sell into related items.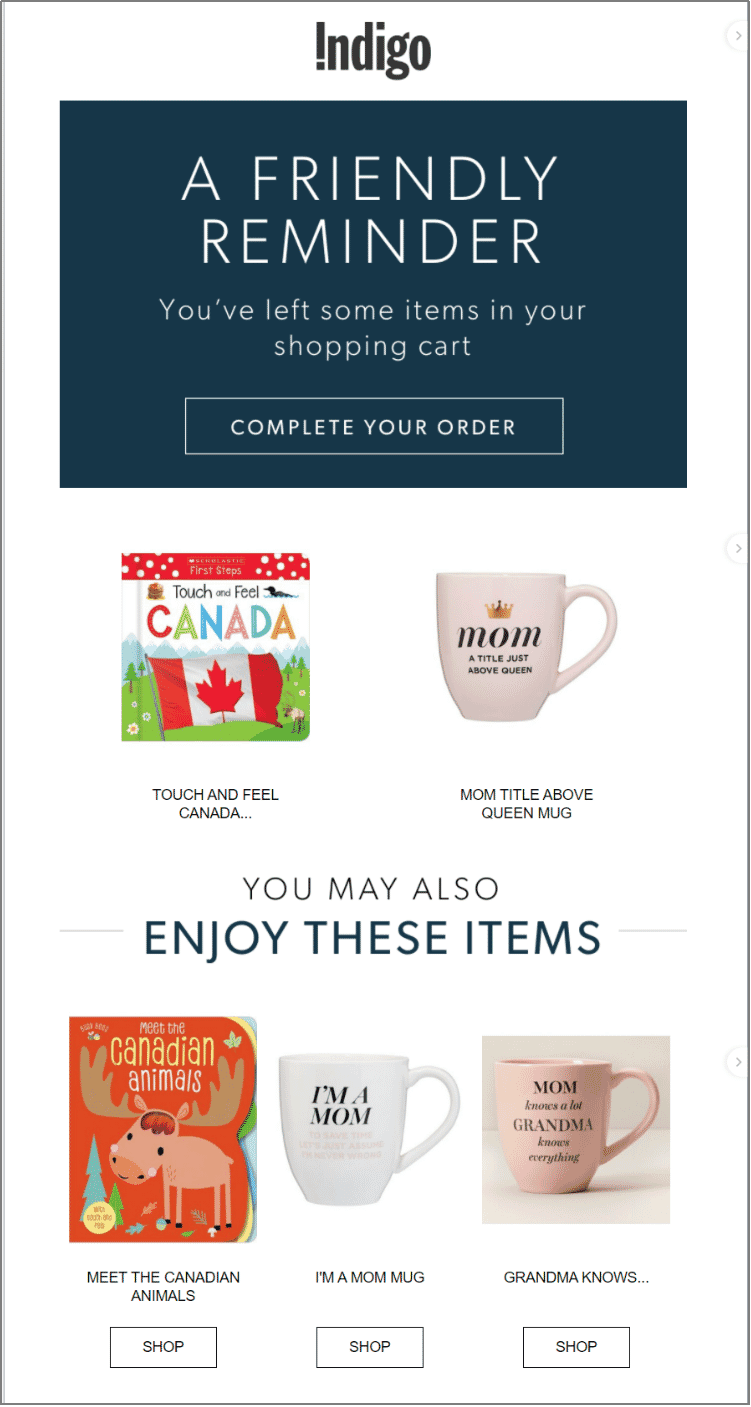 Cross-sell in order confirmation emails
Open rates for order confirmation emails are exceptionally high, averaging approximately 65%. As a result, they provide a powerful opportunity to promote other products likely to interest your customer.
Follow-up to website visit
This type of cross-sell email follows up your customer's website visit with a helpful – not pushy – message based on navigation behaviour. It notes which items were "recently viewed" along with alternative or complementary selections "also available."
Thank you emails
As with thank you upsells, personalized messages of appreciation or loyalty recognition are ideal vehicles for cross-sell offers.
New products or additional product lines
You may have products or services that some customers are not yet aware of and would like to know about.
In this example, Amazon promotes their photo storage product.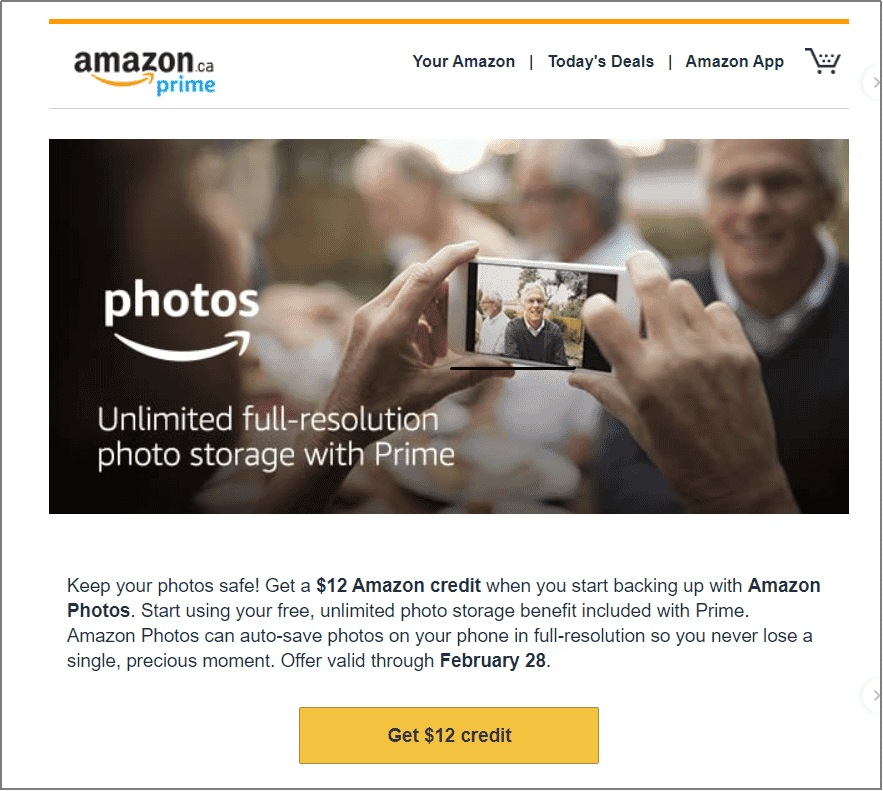 Gift subscription promotion
Current customers are typically the best prospects for gift orders.
In this example, Apple uses the special occasion of mother's day to communicate the importance of buying a gift.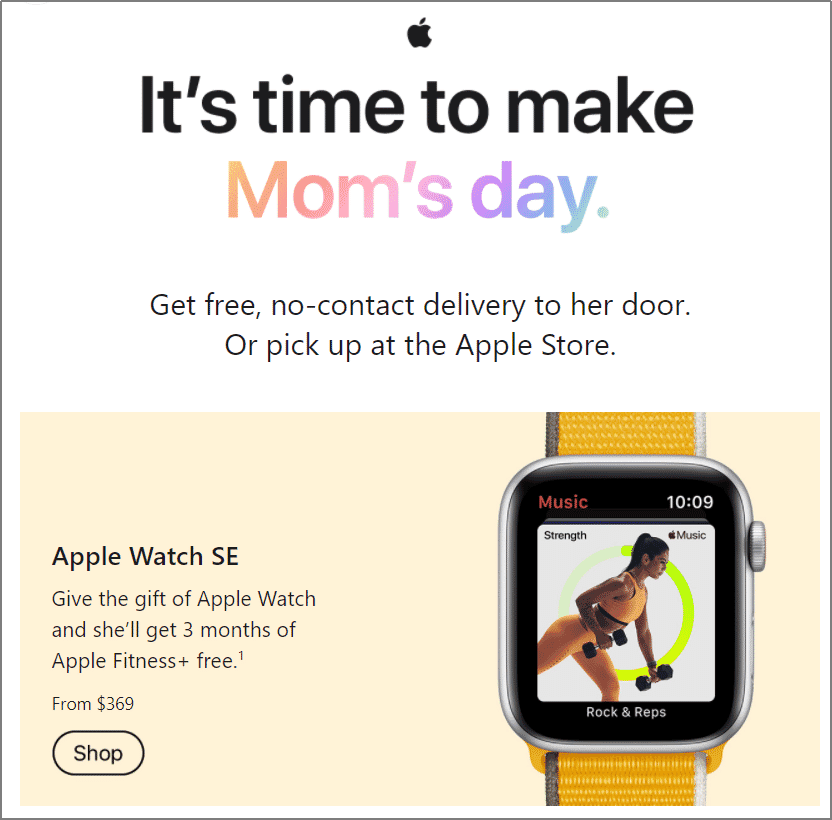 Combining Upsell and Cross-Sell Emails
Premium membership plus extra savings
Amazon promotes Prime membership benefits together with savings on curated merchandise selections.
Bundled or layered offers
Aeroplan builds commitment and adds point-earning opportunities through linked connections with program sponsors such as Starbucks as you can see here.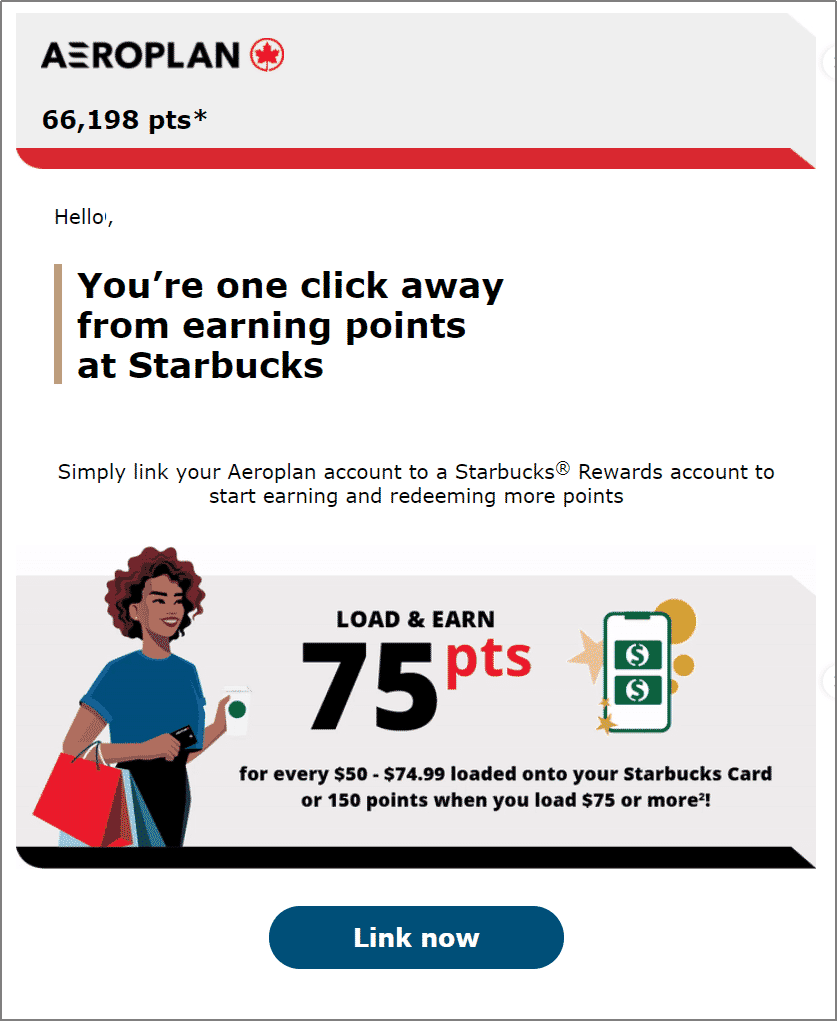 Making It All Work: Relevance and Timing
Be helpful, not pushy
As much as they are designed to generate orders, upsell and cross-sell emails can also focus on sharing news, ideas and expertise. Show that you care with helpful recommendations that respect your clients' time and privacy. It is best to avoid any suggestion that their current or recent purchase is below-par: instead, focus on what's new.
---
Segment your list
Targeting emails to the right audience translates into higher open, click-through and conversion rates. Relevant messages will be perceived as more interesting and attractive. Consider the type and timing of your customers' previous purchases or other activity, and how these could match up with new offers and your business goals. Focus on what's actionable using email and your available resources: sometimes it's necessary to sacrifice a little precision in order to keep the scope manageable.
Other than a personal conversation with each customer, previous purchase activity is your best indicator of their potential interest in particular product lines or service categories. Factors to consider are how recently they purchased from you, how many times, and the dollar value of purchases. Other aspects could include:
Location in buyer's journey or usage trend. For example, are some customers approaching maximum use of their current tier or package?
Mobile vs desktop device?
Geographic location.
---
Personalize your approach
Take advantage of available information – for example, customer name, company, city, product purchased – to add a personal touch to your email message. Keep it simple, as this is about recognition, not intrusion.
---
Timing is everything
Consider what timing makes the most sense in the intersection between your products and time factors – whether that is based on the calendar as in seasonal products, the buyer's journey and previous purchases, or product availability. It is often helpful to let customers know the best time to order certain products – for example, to beat an expected price increase, or to allow adequate time for delivery.
---
Offer added value
Present a value proposition that makes a good case for added benefits the customer can expect versus the cost of an additional purchase. Offering a discount or a bonus can help to attract attention and lift response.
---
The principles of persuasion apply
Upsells and cross-sells work best when presented within an attractive, compelling sales story. Your message may need to be supported by illustrations, educational information or demonstration to clearly show the value and benefits you are offering.
What's special about your offer, and what's in it for your customer?
Is there any urgency, limited quantity or availability?
Positive reviews or quotes from satisfied buyers strengthen the sales message.
Are you reaching people who share a special interest or affiliation?
---
Stay in character
Just as with the people we know, marketing messages communicate your brand's personality. You want your emails to use a consistent, familiar voice, like a character in a story. Are you serious or playful? Cute or elegant? Traditional or irreverent?
---
A clear call to action
Communicate your offer as clearly as possible, who it is for, and what your email recipient needs to do to get it – for example, a prominent "CLICK HERE" button. Be specific about any deadlines or prerequisites.
---
Track and analyze your results
To find the winners, pay attention to what happens after deploying your email campaign. Which segments responded well, and which did not? Look at bounce, open and click-through rates – but it's the conversions that count.
---
Take advantage of email automation
Automated email tools are perfect for running effective upsell and cross-sell campaigns. Once your campaign is set up, run it on a planned schedule. There are always opportunities for fine-tuning campaigns as you gain learning from the results.
Analyze your customers, their needs and interests, and possible segmentation.

Identify the products or services with upsell or cross-sell potential for your business.

Consider timing opportunities: new customer welcomes, order confirmations, milestones in the buyer's journey, enewsletters, new or enhanced products, seasonal offers, etc.

Develop ideas for email creative content that will work with your audience segments, product offers, email timing and available resources.
Acquiring a new customer is just a starting point in the journey to sustained business results. Upsell and Cross-Sell Email Marketing programs multiply the value of your initial investment in customer acquisition. They work best when carefully honed for customer targeting, timing and relevance, blending attractive offers with helpful information that contributes to customer goodwill and loyalty. An effective automated email program can leverage lower costs and higher response into ongoing gains for your business.
As Pardot consultants, Blueprint has seen what works across different industries and marketing needs. We're available to help you get the most out of Pardot with the right email campaigns, assets, and expertise. If you'd like to know more, call 905.844.1685 or email info@blueprintim.com.