4 Steps to Transform Your PPC Results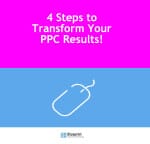 As a PPC management company, we always say that to develop a strong Google Adwords campaign that will increase your number of website visitors and grow your business as cost-effectively as possible, there are four vital steps that have to be executed correctly once you have selected your keywords:
1. Set up – Campaigns and ad groups.
2. Ads – Text and banners.
3. Landing pages – Websites and squeeze pages.
4. Ad rank – Determined by the first three variables.
Creating Ad Groups
Before you begin setting up your Adwords campaign, it is important to group your keywords into ad groups. Each group should centre around one keyword, which will heighten your ad rank as well as sales conversions.
Use one of the two major match types when grouping your keywords. These two match types are:
• Exact match – This means that your ads will only appear for this exact keyword. To do this, insert the entire keyword between enclosed square brackets. For example, if the keyword phrase was "SEO Services Toronto", it would appear as: [SEO Services Toronto].
• Phrase match – This is a more aggressive option, and can be achieved by inserting the keyword phrase inside quotation marks. Following the example above, this would appear as: "SEO Services Toronto".
Modified broad match is another match type to consider.
Don't use both exact match and phrase match keywords within the same ad group, as this will confuse Google and you will essentially be competing against yourself.
Creating Ads for Each Ad Group
Developing an organized campaign that serves your ads within each ad group equally is crucial, because you want to be able to monitor which ads are performing best. A good way to do this is to create 2-4 ads per ad group.
Create ad copy for each ad you wish to create. This ad copy will be used on Google's Search Network. This should consist of:
• A 25-character long headline – This should include your keyword for the ad, and even other keywords within the same ad group.
• Two 35-character long description lines – This should include your value proposition, which includes both a customer benefit and a call to action.
• A 35-character long display URL – This should also include your keyword phrase, if possible.
If you can achieve a click through rate of between 1-5%, your ad is performing well.
Website or Landing Page Set Up
Optimizing the website or landing page that your ads drive traffic to is equally important. This page should be well designed and should be attempting to achieve one of three things: generate a lead, drive an online purchase, or attract the visitor to spend more time on your website, depending on the type of website you have.
Your landing pages should:
• Have text which matches your ad text – This will improve your quality score by showing Google that your ads are relevant to your site. It will also improve your CTR because your ads will be relevant to the search terms.
• Load quickly – Your website should load quickly to avoid losing potential prospects.
• Include a clear call to action – This will increase conversions and ROI.
Instead of sending all of your PPC traffic to your website, create a focused micro site. This will result in much higher conversions because the site is specific and free of distractions for your prospect. You must include: a home page, an about us page, a contact us page, a terms and conditions page, and a privacy policy for the micro site to be approved by Google. Due to the high conversion rate of micro sites, you will generate many more leads and achieve a lower cost per lead.
Achieving a Good Ad Rank to Maximize Your ROI
Google does not simply give the top position to the highest bidding advertiser. Your placement depends on whether or not you have a beneficial user experience and highly relevant campaigns. This is what is known as your Ad Rank, and it is determined by the following formula: Ad Rank = Quality Score x Max CPC bid. The ad with the highest Ad Rank gets the highest position.
Understanding your ad rank is easy. Your quality score is determined by how relevant the keyword, landing page, and advertisement are to each other. It also considers the CTR (% of searchers vs. clicks on your ad) of your advertisement. CTR is increased the most by having an ad that is relevant to the keyword. Integrating each aspect of your PPC campaign to be relevant, including keywords, ad copy, ad groups, landing pages, and offers, will increase your quality score. If these match well and are well built to maximize the benefit of each other, your quality score will be high compared to your competitors. Quality score is graded on a scale of 1-10. The max CPC bid is the maximum you're willing to pay for each person that clicks on your ad.
Building Your PPC Campaign
Adwords allows you to create up to 25 different campaigns with 100 ad groups each. Each of the ad groups can contain hundreds of keywords, as well as your ads. There are three key networks within Adwords:
• Search Network – This is the network we've discussed so far. Ads appear above or beside search results.
• Search Partners – Ads appear above or beside search results on other Google properties and Search Partner sites, which include sites like Google Maps and Amazon.
• Display Network – Ads appear on external websites, including web pages and blogs.
Generally, it's a good idea to start with Search Network only and add other networks later so that you are able to see the results with each.
Understanding the four key variables that impact your PPC campaign's traffic and conversions is the first step towards seeing significant results. Start slowly and build a powerful campaign with relevant, integrated ads and landing pages to outperform your competitors.
To learn more about PPC campaigns and get started using Adwords, explore our PPC eBook.
Share your comments and questions with us!