Using Google Ads For Your Business in 2022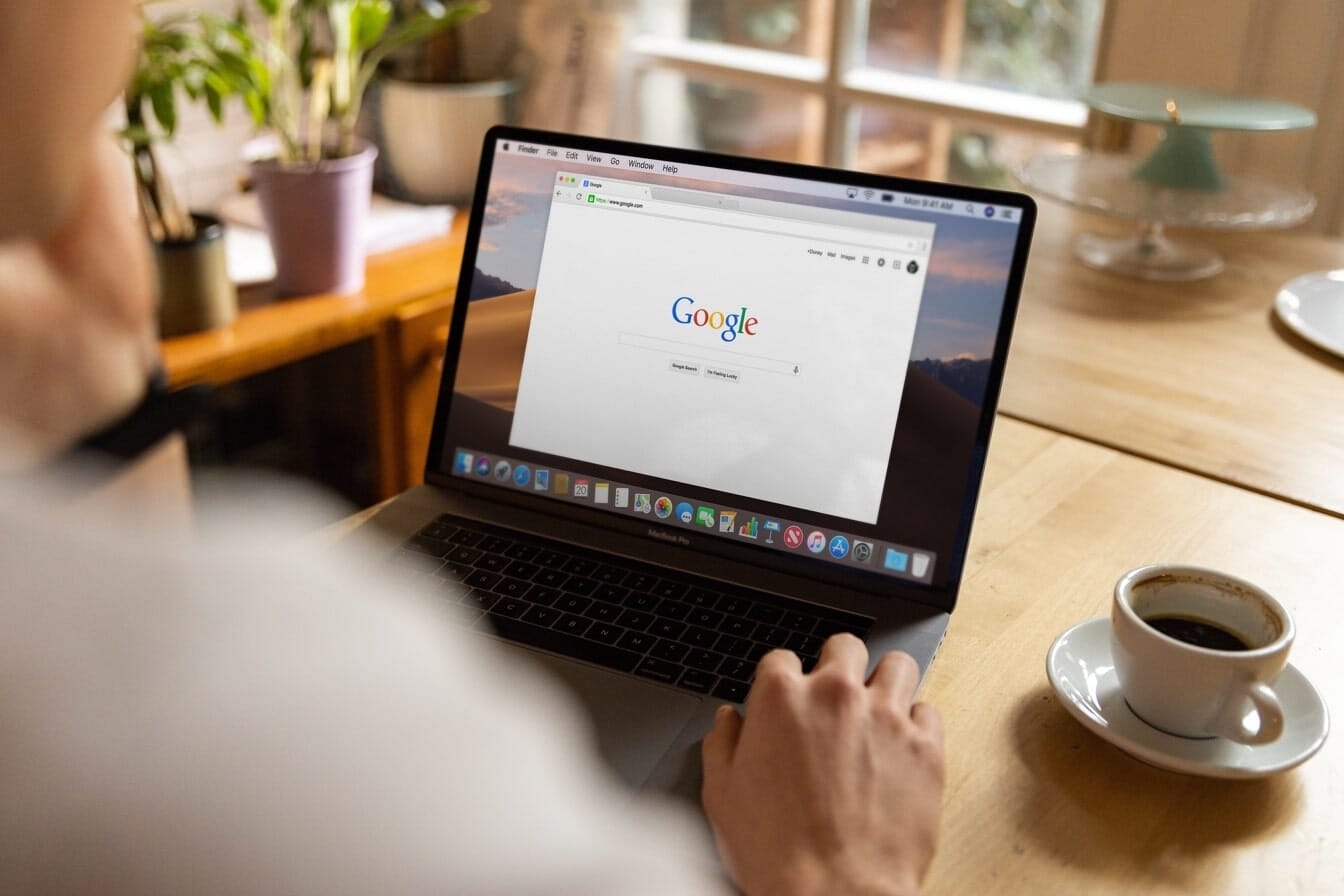 It's safe to say that Google is a powerful resource of information unlike any other. The fact is that millions of people use Google to search for information every day. Therefore, if your business isn't showing up in those searches, you're missing out on a huge opportunity. Luckily, Google Ads can help.

Google Ads allow you to promote your business when users search relevant keywords. It's a way to put your product or service before potential customers when they're already searching for what you have to offer.
Because of the platform's massive reach, it has the potential to take your leads and sales to the next level. Below, we'll provide you with what you need to know about using Google ads for your business in 2022.
How Google Ads Can Help Your Business Grow
Formerly known as Google Adwords, Google Ads is a paid advertising platform under a marketing channel known as pay-per-click (PPC). With this type of advertising, you pay every time someone clicks on your ad. In addition, you can also pay per impression, which means you pay every time your ad is seen.
This type of advertising can be highly beneficial because it allows you to specifically target people who are already looking for information related to your business. The platform shows your ads on the search results page the moment your prospects are looking for products and services like yours. This means that when they come across one of your ads, it will most likely be relevant to them.
So why should Google Ads be a part of your paid strategy? First off, it's no secret that billions of internet users rely on Google whenever they have a question that needs answering. Out of all those people, some are bound to be looking for solutions to problems that your business can provide. Google Ads can drive qualified traffic to your website, increase in-store visits, build brand awareness, generate leads, and ultimately increase sales.
You have full control of your campaigns at all times, including the budget you'd like to allot. You can set a monthly cap or even stop your ad spending at any time. Additionally, your targeting can be as specific as you want. You can show your ads to any prospect at any stage of the buyer's journey, no matter which industry your business belongs to. Ads aren't limited to the search engine results page, either. The avenues for advertising also include YouTube, Blogger, and the Google Display Network.
If these reasons aren't enough for you to try this platform, here's a pretty compelling statistic: 65% of people ready to buy will click on paid ads on Google. So without a doubt, using Google Ads for your business is an effective way to maximize your marketing ROI.
---
7 Steps to Promote Your Business Using Google Ads
By now, you're probably convinced that Google Ads can help supercharge your advertising strategy. To help you get started, we've laid out a simple guide below. Before you proceed, though, you need a Google account for your brand or business. Once that's up and running, you can go ahead and follow these steps:
1. Start Your Campaign with a Solid Goal
As with most business endeavours, well-defined goals can mean the difference between success and wasted time and money. Think about your overall strategy and pinpoint how you want Google Ads to support it. Identifying specific objectives before starting a campaign can help you make the most out of your efforts. To create a new campaign, head over to the Google Ads homepage and click on the "Start Now" button.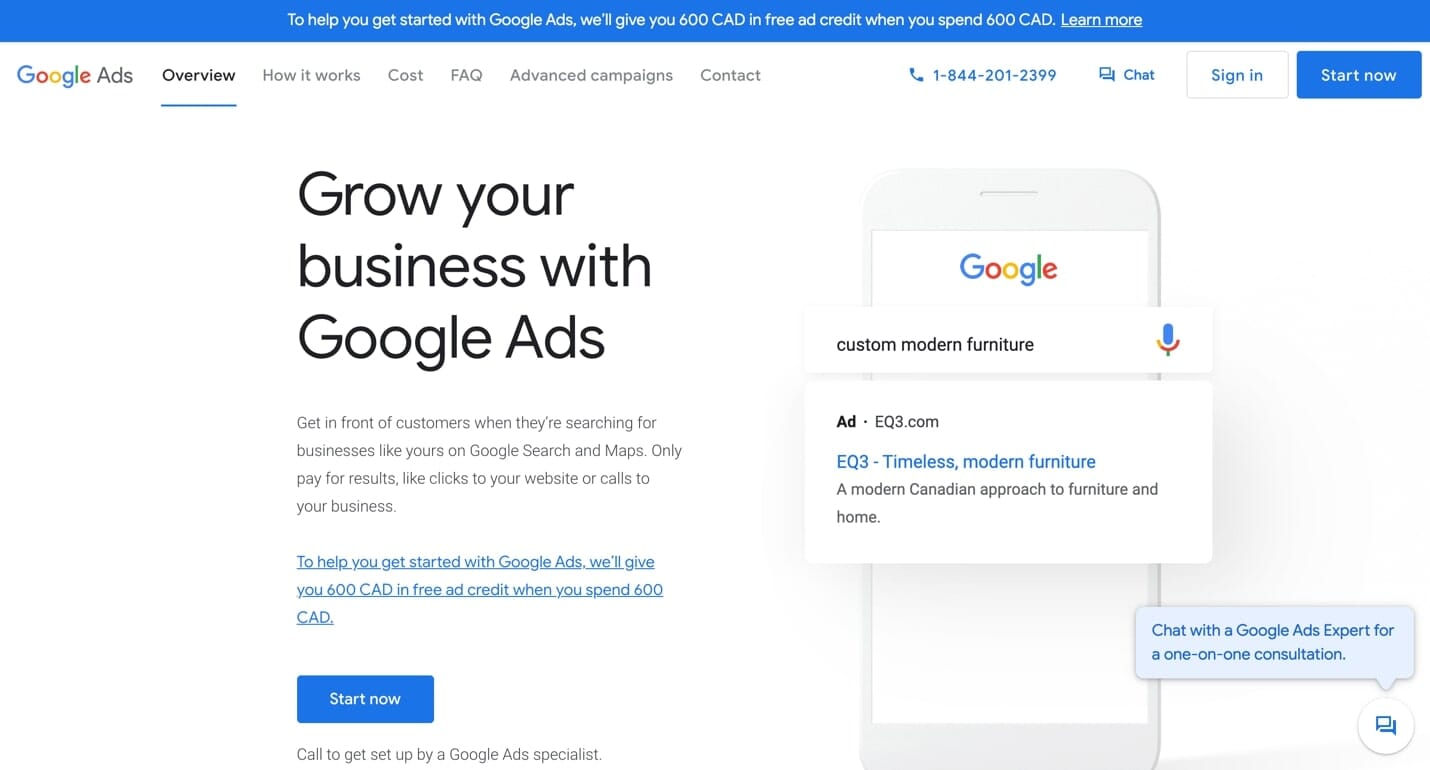 Selecting your campaign goal comes next. Your choice will help define the right type of ad, let Google know the best audience to show your ads to, and how they'll get your bid money. You can choose a goal from the first page that pops up, which will lead you to set up a Smart campaign. Many advertisers consider this a quick way to set up ads. However, if you want to build out your customized campaigns, it's best to click the "Switch to expert mode" option instead.
2. Select Your Preferred Campaign Type
Once your objective option is all set, you will have to select your campaign type. What appears here will depend on the objective you selected in the previous step. This is an example of what you would see.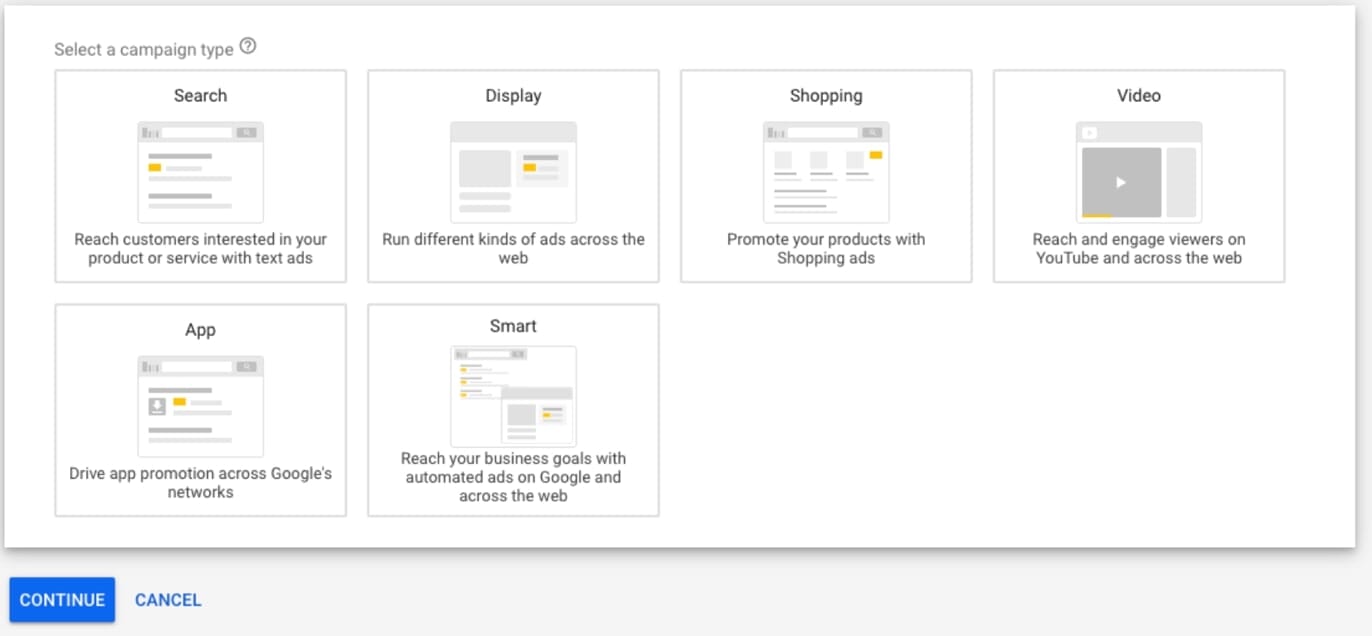 Here's a short description of the main options:
Search – These are text ads that appear on Google results pages. If you want to get in front of people who are ready to buy, this is the type you should choose.
Display – This campaign type allows you to reach prospects through image ads that appear within the Google Display Network, which includes a vast array of websites and Gmail. This is an excellent choice to increase your brand awareness among potential customers early in the buying cycle.
Video – With the right keywords, you'll be able to reach your audience with a video advertisement that pops up before, after, or sometimes in the middle of YouTube videos. If you want to grab the attention of a relevant audience, choose this campaign type.
Shopping – These are product-based ads that are displayed specifically for product searches. An ad under this campaign appears as an image of a product and its product name, price, store name, and reviews. You should select shopping ads if your priority is boosting traffic to your e-commerce store and increasing sales.
App – This campaign type is the best choice to promote a mobile app for your business across Google's largest properties, including Google Play, Search, YouTube, and the Google Display Network. What sets app ad campaigns apart from others is that there's no need to create individual ads. Google will automatically design your campaign based on your app's info, target audience, and the bid amount.
After selecting your campaign type, Google will request some information depending on what you choose. Just enter in the necessary details and proceed to the next step.
3. Set Up Targeting, Budget, and Ad Extensions
Next, key in the campaign name and choose an advertising network. The search network is the better choice if you're new to Google Ads since it allows more control over your campaigns.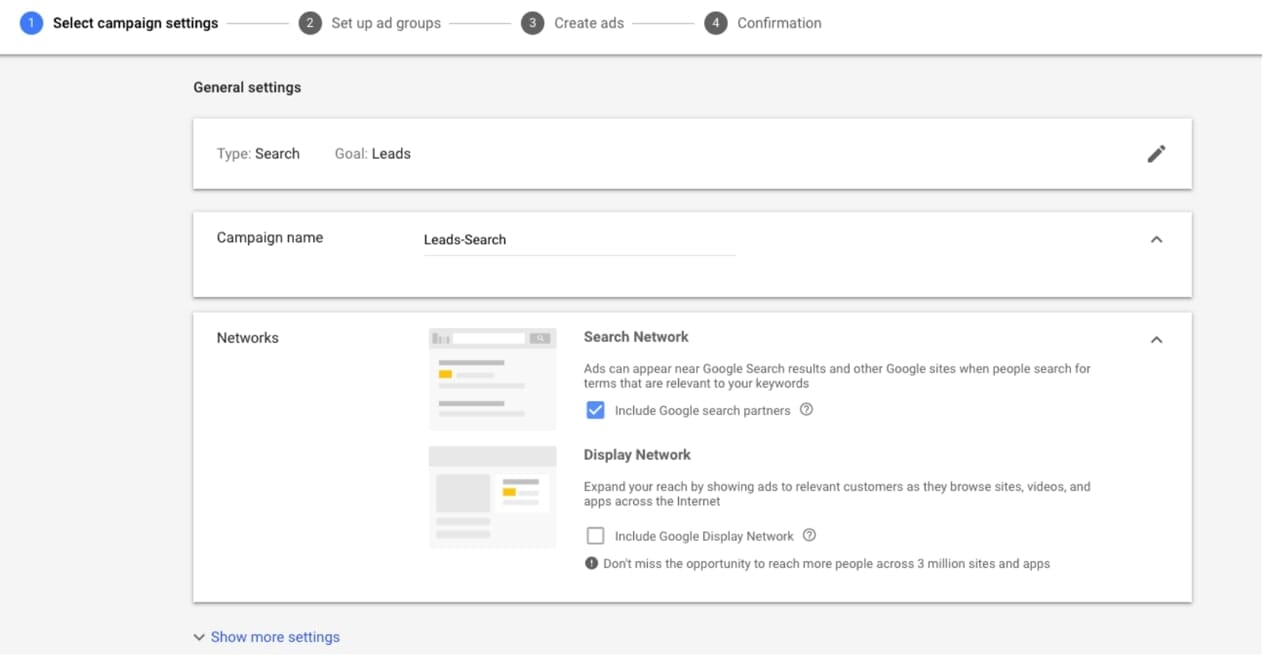 You can then set up your audience targeting preferences by location and language. There are additional customization options for the location settings, such as excluding locations and radius targeting. If you want your ads to be shown to the right people, you need to be as clear as possible with your location targeting.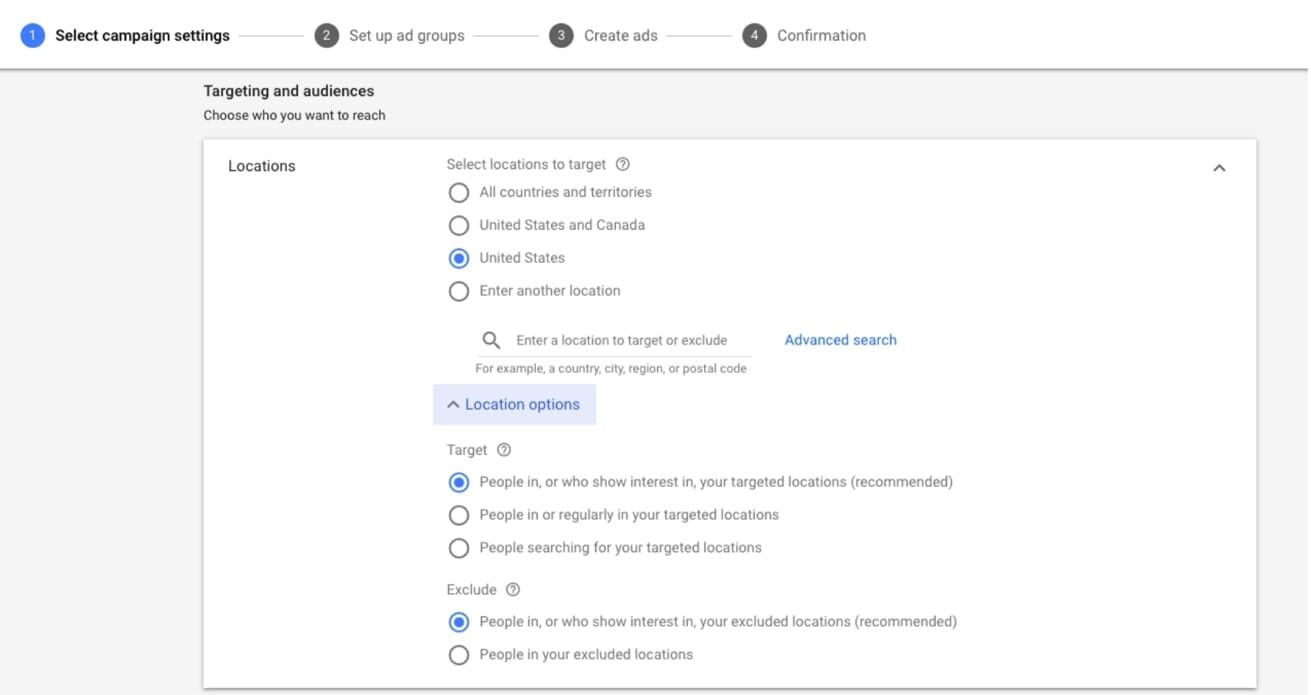 You can then narrow down your target audience by choosing to show your ads to people based on their language preferences. Setting up your audience targeting comes next. You can select from a wide range of specific interests and demographics to help Google show your ads to qualified users.
Then it's time to put in actual bids and the budget for your campaign. First, you can set the maximum amount you want to spend on your Google ad daily. After that, choose a bid strategy based on the type of interaction you want to focus on. You'll be able to configure Ad extensions in the next section. These are additional pieces of copy below your ad that can provide your audience with more options and value.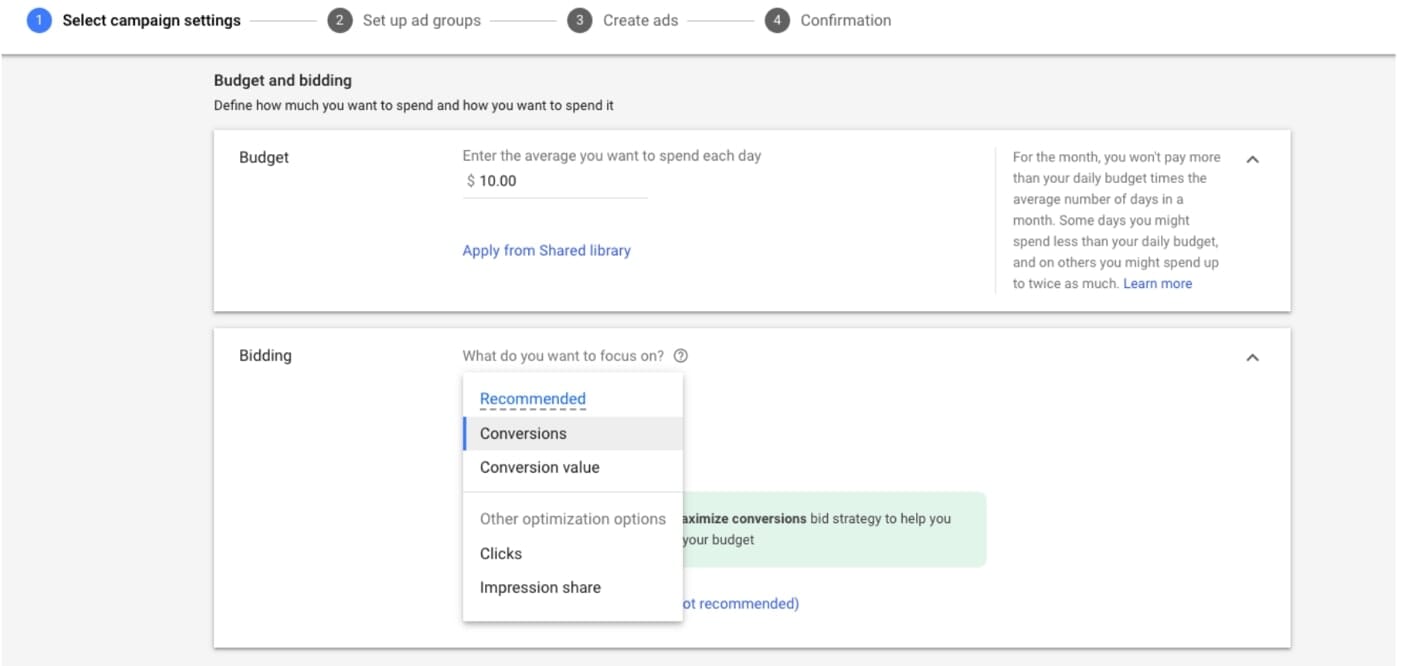 4. Organize Your Campaign with Ad Groups
The next step is to set up ad groups. If you have multiple ads with the same themes, targets, products, or other shared attributes, you can group them using a shared set of keywords. When you set your preferred keywords, you'll also need to choose the match type. The selection includes a broad match, phrase match, or an exact match. The best match type will depend on your goals, so there's really no right or wrong option here. It's advisable to test a combination of matching types for different keywords.
5. Create Your Ads
Finally, you can proceed to create your Google ad. Fill out all the fields for the headlines and the descriptions. Remember that you need to clearly state your offer and be able to give your audience a reason to click. Include keywords and a persuasive call-to-action (CTA) as well. 
6. Publish Your Campaign
In the next section, you'll be able to review all the details of your campaign. Make sure to double-check everything before you confirm. If you haven't done it previously, you'll also be able to add your payment information before your campaign can go live. Google will then conduct an ad review, which typically takes less than 24 hours.
7. Track Key Metrics and Optimize Accordingly
Analyzing the performance of your Google Ads will not only allow you to make the most out of the time and money you spent on them, but it will also let you know the adjustments you need to make for your future campaigns to be more successful. To do this, you need to have Google Analytics set up on your website and link it to your Google Ads account. Once you've done both, you can monitor key performance indicators such as impressions, click-through rate, the average cost per click, and more. You can also take steps for further optimization, such as adding UTM codes, setting up conversion tracking, and CRM integration.
It's also vital to review the quality score of your campaigns. Quality score refers to a number from 1 to 10 assigned by Google to each ad keyword. Simply put, Google uses it to determine your ad's ranking. Higher ranks mean better placements, so improving your quality score is necessary if you want more potential customers to see your ads.
---
Best Practices and Bonus Tips
Your landing page must have a clear call to action, easy-to-read blocks of text, an obvious goal, an inviting layout, and relevant buttons and links. It should provide your target audience with a seamless experience up to the point of conversion.
To determine which ads are the most effective, you can conduct split tests by creating multiple ads per campaign.
Try running a mix of campaign types to figure out the best combinations that will align with the goals of your PPC strategy.
Ensure that your ad copy matches the searcher's intent, contains your target keywords, and talks about pain points with a straightforward solution.
Steer clear of broad keyword terms as much as possible. The more specific your keywords are, the higher the chances that Google will show your ads to the right audience.
It's good to target keywords with commercial intent such as "cost," "for sale," and more.
The Google Ads budget report can be beneficial for checking the projected spending across your account, both per day and month.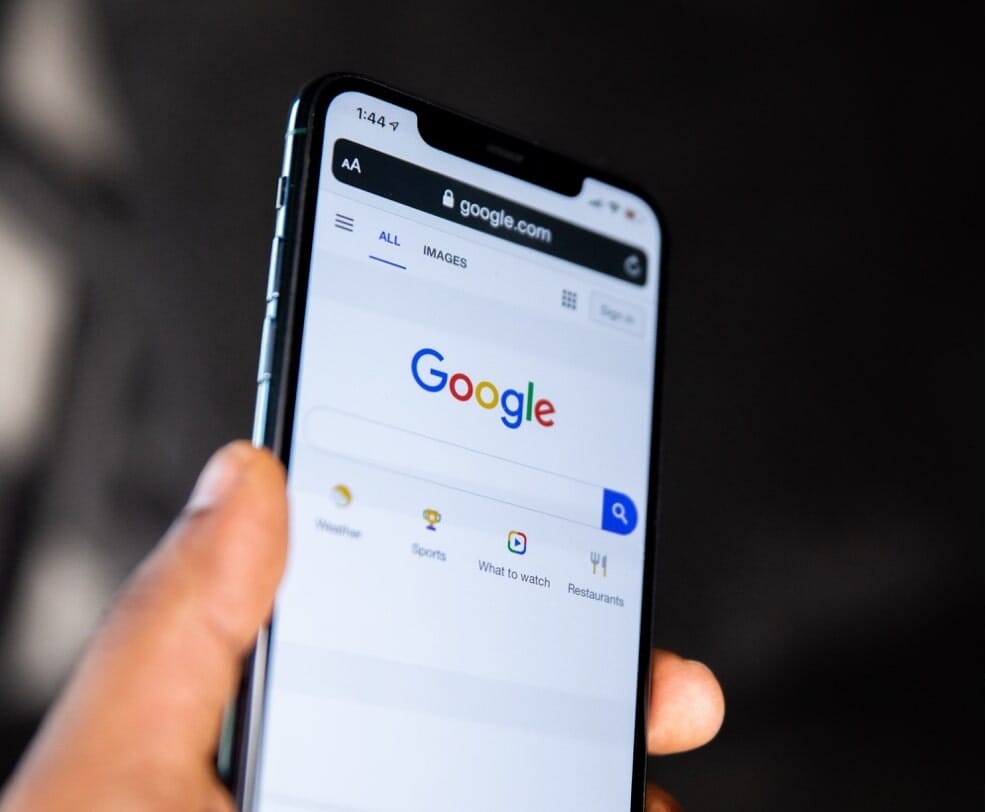 Conclusion
Google Ads can be a powerful tool for your business with its many advantages. The opportunities for reach and engagement are vast, and the data and analytics available are unparalleled. If you're not currently using Google Ads or if you're considering making a switch, we highly recommend giving it a try. You may be surprised at just how valuable this advertising platform can be. For more information on achieving efficient, high-volume traffic and conversion, download our free PPC e-book.