How to Use TikTok for Business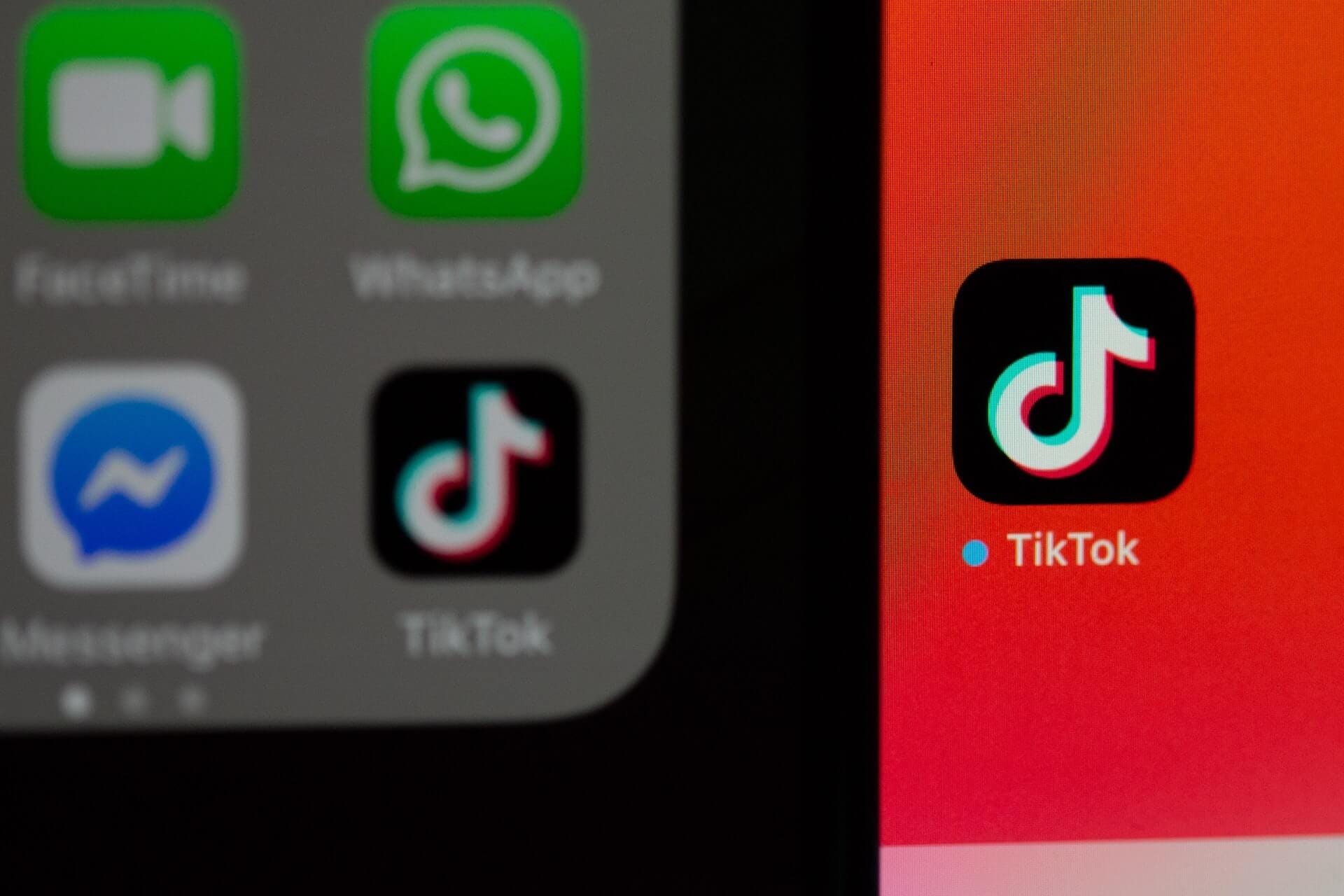 While there are a few social media platforms that have established a large following as a result of their first-mover advantage, including Facebook, Twitter and Instagram, new platforms are popping up all the time. With that said, few of these new platforms ever achieve a critical mass that has any chance of competing with the audiences already amassed by the Big Three. TikTok may be changing that. It was the most downloaded app in 2020 and has been consistently making headlines in traditional news channels over the past year. As a
digital marketing agency
, we recommend that if you're running a business, you can no longer ignore social media. Not only can it be a low cost method of marketing, but it is one of the main ways that valuable customers interact with a product and brand. Even if you think TikTok is an app for young people, writing off a market of an estimated half-billion users isn't a smart business practice no matter how you look at it. Below, we'll show how you can leverage this new social media platform to expand and grow your business, no matter what industry you're part of through organic traffic and
PPC advertising
on TikTok.
Understanding TikTok
Sure, TikTok may have entered into mainstream consciousness because of dancing and karaoke videos, but the niche markets within the app that can be found or created are endless. Who figured that a video-sharing social media platform dominated by 16 to 24 year olds could become a place to learn about housekeeping techniques? Even if your business isn't related to common industries such as food or clothing, there's still an audience on TikTok that's willing to engage with clever and humorous takes on whatever it is that you do.
Familiarize Yourself with The Platform
The best way to find out where your business can fit into TikTok is to spend some time and explore. See how things are done, what's popular and how other brands have successfully created space for themselves. One of the first things that you'll notice is that TikTok isn't necessarily about professional quality video or taking yourself too seriously. Light-hearted fun and creativity, as opposed to authoritativeness and slick production values, exude an authenticity that appears to be more valued by TikTok audiences than the traditional top-down business school marketing techniques from radio and TV. Even the Washington Post has embraced the fun aspect of TikTok by posting a video of their news team discussing the latest episode of the Bachelorette instead of more serious news.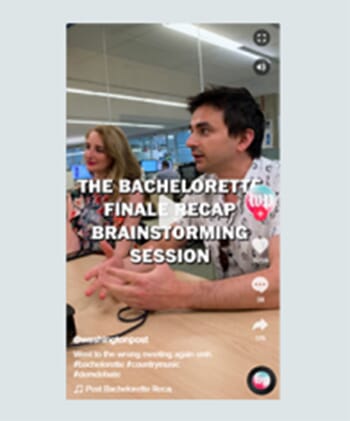 ---
The Basics
At its core, TikTok is a video-sharing platform with easy-to-use editing tools. It also allows you to pair your visuals with popular music without having to worry about song publishing fees or copyright infringements. All the music available on the app is already licensed by TikTok for your use. One of the things that's very attractive about the app is that it appears to be much easier for content to go viral than it is on other platforms. TikTok's algorithms appear to be set up to promote virality regardless of the number of followers you already have.
---
Creating Your First Video
There was a time when creating, editing and publishing a video required expensive software and audio/visual experience. TikTok has democratized video making with a suite of tools that make it intuitive and easy. And because you're rarely penalized for low production values on this app (in fact, they can work to your advantage if shrewdly used) the results are dependent on personality, authenticity and creativity more than anything.
Tap to Create
To create your first video, tap the black "+" button in the middle of the bottom of your screen. Allow the app to access the camera, photos and microphone on your phone to be transported to the recording page. You can select a 15 or 60 second video at the bottom of the page before pressing the red button to begin recording.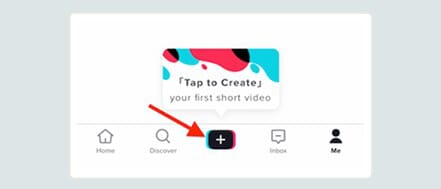 Add Music
You can add music to your video by tapping the "Sounds" button at the top of the screen. You can search the music library with the search bar or by browsing through the "Discover" tab and the various categories provided. You can create a list of favourite songs for future use. To select the song used for your video, click the checkmark beside the title. Once loaded you'll be returned to the recording screen and the song title will appear at the top.
Add Effects
There's a list of effects on the right side of the recording screen which allows you to use the front or back of your camera for recording, change the playback speed, smooth out your facial features, add filters to the video, create video cuts or use the camera's flash. There's also an "Effect" button on the left hand side of the bottom of the screen that will take you to pages of effects that you can use to enhance your video. You should spend some time playing around with these effects to find out what each of them does and identify ones that might be most effective for the footage you've taken.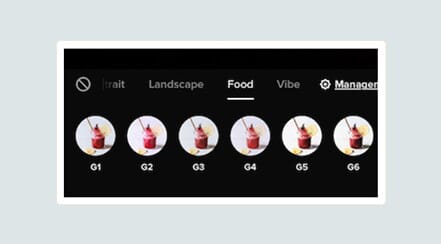 Using Pre-Recorded Videos
If you already have a video on your phone that you'd like to use, you can tap the "Upload" button to retrieve a pre-recorded video rather than recording one on the spot. This makes it easy to reuse old videos or separate the process of recording videos from working within the TikTok app.
Sharing Your Video
Once you're happy with how your video sounds and looks, you can prepare it for upload into the TikTok universe and beyond. The "Post" screen allows you to give your video a description, tag friends or associates using the "@" key, add hashtags with the "#" key, add links, limit who can view the video, save it to an album and more. Hit the "Post" button when you're ready to share.
---
TikTok Content
One of the reasons why TikTok has become so popular is that it has a very different feel than the other legacy social media companies. Fun, casual creativity and authenticity are highly valued on TikTok whereas Facebook is based more upon interaction within families and communities. The fact that TikTok limits videos to 60 seconds or less is another feature that's somewhat unique to the platform. Whereas sites like YouTube try to encourage longer videos with sustained viewing times, TikTok takes the opposite approach. There's no longform video on TikTok which means it's necessary to quickly get to the point. Short, attention-grabbing content is what TikTok is based upon.
Be Fun
It's time to join the party and have some fun with what you do. It doesn't mean that you should completely go against the ethics and style of your business, but it does mean that this is a place to let your hair down a bit and show a side of your business that allows its human qualities to shine – like in this example of a veterinarian performing the popular 'Git Up' challenge with a cute puppy.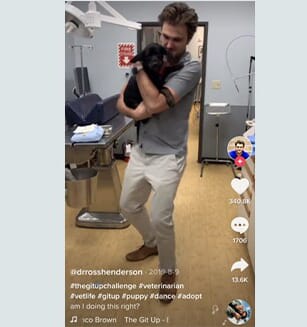 Make Trends Work
TikTok trends are the reason why the app is so popular and has gained mainstream recognition. Making these trends work for your business should be an important part of your TikTok approach. It's a good way to start on the platform, immerse yourself in the culture, get yourself noticed and help you find your footing. By understanding TikTok trends it's possible to integrate your business into the community without coming off as ingenuous.
Work with The Algorithm
As mentioned, it appears that TikTok's algorithms have been set up to reward trends and promote those who buy into and continue to push them. This can and should be used to your advantage. Whether it's dancing, lip-syncing, performing challenges or using popular sounds and filters, buying into a trend will show you're paying attention to what's happening within the TikTok culture and give you a chance to add your own spin to the narrative.
Leveraging Brand Challenges
Challenges can be started by anyone. They can also be participated in by anyone. Whether you're the originator or a participant, it's possible to leverage a challenge to bring more awareness to you and your business. However, by participating in another brand's popular challenge, it's possible to use your creativity to introduce yourself to their following.
Participating in A Brand Challenge
When starting, it's probably easier to participate in an existing brand challenge. Just because you didn't create the challenge or because you're interacting with a competitor's marketing efforts doesn't mean you can't benefit immensely. A creative take on an existing challenge can be explosive. Anyone following the challenge will be exposed to your entry. And if it's an attention grabber, you'll be the beneficiary.
---
Working with TikTok Influencers
One way to help grow your following is to work with TikTok influencers. These accounts already have large followings and can help increase yours. By getting them to perform your challenge or promote your brand, you'll be exposed to their audience and hopefully, make an impression.
Choosing an Influencer
When choosing to work with an influencer you should have a good understanding of their followers and the community they're popular with. Of course, you'd want some type of relationship between the influencer's specialty and your brand. It doesn't necessarily need to be an exact match – such as a foodie influencer promoting your hot sauce. But it could be related and still help expand your market. For example, employing an extreme sports influencer to promote your hot sauce.
Ways to Use Influencers
You can use an influencer to promote a brand challenge, directly talk about your brand or product, promote a link or hashtag associated with your business or have some subtle product placement in one of their posts. Many influencers will already have a list of ideas of what they can do to help you, so ask them questions and listen to what they have to recommend. Ultimately, they understand what it took to create their community and already have a good idea of what works and what doesn't.
---
Business Advertising on TikTok
TikTok is also now open for business advertising. This can be another way of getting your brand in front of a lot of people quickly through
pay-per-click campaigns
. There are few different ways you can advertise on TikTok – each with its advantages.
Infeed Native Content
Infeed native content refers to short videos that appear in a user's feed. They're 15 seconds or shorter in length and are skippable if the user chooses to do so. This means you need to come up with something catchy and engaging. The user can click through on the video, so these are great places to use a call-to-action such as visiting your website or e-Commerce page. Users can also like, share and comment on the video.
Hashtag Challenges
Gaining traction from creating a hashtag challenge can be very difficult, but if you can get it off the ground, it can pay off unlimited dividends. You'll need to come up with something intriguing enough to make people want to create content in response to your challenge. Studying the successful challenges that came before should give you an idea of what attracts attention. You'll need to come up with a creative hashtag, state the rules of the challenge and then demonstrate by performing it. By paying for a hashtag challenge you'll be guaranteed a certain amount of exposure to your chosen demographics while also receiving support, creative guidance and placements. Guess launched the #InMyDenim hashtag challenge which had impressive results: more than 5,500 user-generated videos, over 10 million views and 12,000 new followers to their TikTok account.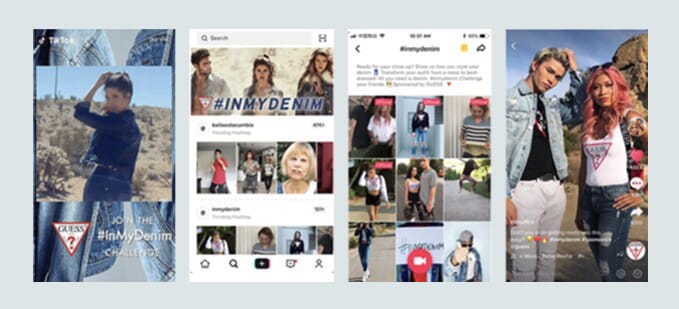 Brand Takeovers
A brand takeover is a full-screen image, gif or three to five second video that appears as soon as the user opens the TikTok app. It can link internally to promote your TikTok challenges or other posts or externally to send the user to another website. Because this will be the first thing a user sees when they're opening TikTok you've got guaranteed exposure.
Branded Lenses
Branded lenses are computer-generated augmented reality (AR) filters specially created to represent your business. Examples of AR filters are when you see pictures of people with cartoon-like bunny ears or a cat nose on their face or when Pokemon characters appear to pop up in the real world when playing the phone app game, Pokemon Go. Branded lenses have been used to great effect on TikTok by makeup companies and eyewear retailers to name only a couple. Branded lenses get people interacting with your company in a way that transcends mere advertising. They take more effort to create, but a successful campaign can pay off in increased engagement, better customer service and making your customers smile. Branded lenses are a 21rst century advertising innovation that will only grow in sophistication with time. Getting in now will ensure you're not left behind in the future.
Conclusion
TikTok has grown so rapidly that it appears it will become a permanent member of the list of legacy social media platforms. Getting in on the ground floor will allow you and your business to take advantage of an uncrowded marketplace. It will also ensure the learning curve doesn't become so steep that you're completely left behind in the future. Take some time to set up a profile and get familiar with the app. Ultimately you and your business have very little to lose and a whole lot to gain. If you have any questions at all, email us at
info@blueprintim.com
.