10 Ways to Improve Your Ranking Through SEO (Part 1 of 2)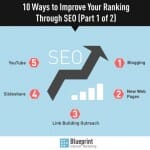 With the shift in SEO from low quality, high volume link building to high quality content development and link building, as a search engine optimization company, we wanted to share with you 10 ways to improve your ranking using a high quality approach to SEO.
1. Blogging
When speaking to new clients, we often see that people underestimate the importance of blogging. From an SEO perspective, blogging on a regular basis is the foundation of success. But, it's not just a matter of publishing content. It's about developing high quality content that will not only help with your ranking, but convert Website visitors into leads and sales. As a matter of fact, we have seen blogs that have developed a lot of traffic, but the Website visitor to lead conversion rate was very poor and the bounce rate was very high. The purpose of generating traffic is to maximize lead and sales volume and it all starts with the initial content that prospects see.
2. New Web Pages
The second area that is vital to rank well is to add new pages to your Website. By adding pages to your site, you are showing Google and other search engines that you are contributing to your market and that your site consistently updated. These are positive signs to Google, since they want to present the latest, high quality information for their users. The key is to ensure that each page is optimized for a particular keyword and based on an overall plan.
3. Link Building Outreach
A link from a high quality Website is still very powerful. A great way to start is by looking at the sites that are already linking to you. Take the time to look at the link text (anchor text) that is being used to link to your Website, as well as what pages on your sites the links are linking to. You may be surprised to find that you already have some high quality links that are simply using the wrong anchor text or are linking to the wrong page on your Website. If your keyword is "SEO company" for example, ensure that the anchor text includes your keyword "SEO company." Also, ensure that it links to your "SEO company" page on your Website, not your home page. Once you have fixed your existing backlinks, take the time to outline the sites that you want to acquire links from as well as a plan to reach out to them.
4. Slideshare
Many people believe that it is too much work to use multiple channels to distribute your content. This is not the case. As a matter of fact, you can send content through multiple channels very efficiently, while minimizing the amount of time that you spend. Slideshare is a great example. You can take a recent blog post and convert your key points into slides. These slides can then be added to Slideshare as an additional channel to drive traffic. It's a matter of repurposing content in an efficient way.
5. YouTube
Since you have taken the time to develop slides for Slideshare, why not use the slides to create a video for YouTube? As a matter of fact, YouTube is the second largest search engine behind Google. Not only will you be able to create videos for YouTube, but you will be developing multiple formats of information to share with your audience. Different people consume information in different ways. Some people like to read, while others prefer to watch or listen.
In part two, we will discuss the remaining five channels that you can use to increase your ranking, including podcasts, guest blog posts, blog commenting, online magazines and Web 2.0 sites.