10 Ways to Improve Your Ranking Through SEO (Part 2 of 2)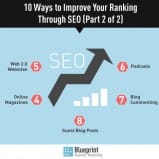 In part one, we discussed the first five ways to improve your ranking through SEO, including blogging, developing new web pages, link building outreach, Slideshare, and YouTube.
In this post, part two, as a search engine optimization company, we are going to discuss the five remaining ways to improve your ranking, which include podcasts, guest blog posts, blog commenting, online magazines and Web 2.0 sites.
6. Podcasts
In part one, we spoke about the importance of repurposing your content into different mediums since different people consume information in different ways. We illustrated that a simple blog post can be repurposed into slides and uploaded into Slideshare. We then recommended repurposing the slides as a video into YouTube.
Since you have developed the video, we also recommend exporting the audio from your video as a podcast. Then, it's simply a matter of editing the intro and exit to work as a podcast. Things to include in your podcast intro include the name of your podcast series as well as what will be covered in the series (what's in it for them). Your exit should include a call to action that is relevant to your topic and audience. For example, if our podcast was on SEO, we may include a call to action to download our free eBook and video series by visiting our Website.
7. Blog Commenting
In previous posts, we have spoken about the importance of blog commenting to establish a relationship with specific bloggers, while establishing a backlink. But, one of the hidden secrets of good blog commenting is that it can also drive targeted traffic. To drive Website visitors, try to be one of the first three to five people to comment to ensure that you get exposure and leave a well though out comment.
8. Guest Blog Posts
A good blog post on a reputable Website is very powerful. Yes, it is more difficult to obtain than directories, but it is a much more valuable link. Not only does the link influence your ranking, but the post itself can drive a tremendous amount of qualified traffic. It's vital to keep in mind that Website traffic is the goal of SEO. Just ranking well does not mean that your business will grow. But, traffic means that the front of your sales funnel is getting filled, which should result in leads and sales. You always to think about both ranking and traffic. Guest blog posts provide you with both results.
9. Online Magazines
So far, we have been emphasizing the importance of repurposing your content into various mediums. It's now easier than ever to publish your own content in the form of a magazine. If you have developed blog posts, podcasts, and videos, why not repurpose all of this content as a magazine? There are several applications that you can use to develop your own Apple Newsstand magazine. This is a fantastic way to establish instant credibility in your market and drive traffic.
10. Web 2.0 Websites
Many people are using Web 2.0 sites and they don't realize it. Web 2.0 sites include blogs, wikis and social networks. There are a multitude of Web 2.0 sites that enable you to build your own profile and community. In the previous post, we spoke about repurposing your content as videos on YouTube. Take it a step further and build your own YouTube channel. And use other Web 2.0 sites. If you do a search for "Web 2.0 sites" you will come across several lists of Web 2.0 sites that you can establish a profile on and backlinks to your Website. Just like with YouTube, these sites can drive well-targeted, high quality traffic for your business.
We have covered quite a bit in these two posts. If you have any questions, please comment below. We'd be happy to assist.