3 Steps to Unlock Your Competitors SEO Strategy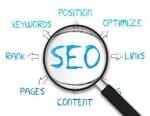 Yesterday, we posted about several steps that you can take to understand what your competitors are doing to outrank you and what you can do to win the ranking war. In this post, we're going to continue to provide three additional steps that you can take to uncover your competitors SEO strategy.
Page Count
One of the variables that Google and other search engines consider when ranking a Website is the number of pages that the site contains. The bottom line is that a site that does not have a lot of Web pages, does not provide a lot of value to the market, while a large site provides more value in terms of the volume of information that's provided.
As a search engine optimization company, we always say that to win the SEO ranking game, it's about providing more value than your competitors to the market both in terms of volume and quality. You want to make a difference in your market. You want to be an authority. You want to be a thought leader.
To understand what it will take to beat your competitors from a volume perspective, start by looking at the number of pages that each of your competitors has for your keywords. To determine this, simply type in the keyword that you would like to rank well for in Google. Then open a new browser and type in your top competitors URL as follows "site:www.competitor.com". Ensure that you include the quotation marks as well. Once you have entered in the URL of your competitor, click search and you will see the number of pages appear in the top left. This gives you a good idea of how big your competitor's site is and the size of site that you want to build for yourself over time.
Fresh Content
Not only does Google look at the number of pages on a Website, but they also look at the freshness of content. Google wants to provide a good experience for users. To achieve this, they want to provide search results with the latest, high quality content. As a matter of fact, with several of our clients, we find that you can outrank larger Websites simply by producing fresh content on a regular basis.
A great way to understand how fresh the content is of your competitors is by reviewing the blogs of your competitors. Look at how often they are producing fresh content to get an understanding of how much content you have to produce. Also, look at the quality of their blog posts. Are they good quality posts? Do they utilize infographics, video, or other high quality components? Are the posts well written? Try to get a good understanding of what it will take to be better than them.
Keywords
Once you have a good understanding of the size of their Website and the quality of the content, look at the keywords they are targeting. An easy way to determine this is by reviewing their page title tags. To achieve this, simply go to Open Site Explorer, type in the URL of your competitor, and click on "top pages." Then, review the title tags and keywords they are using.
If you require any assistance on competitor research or SEO in general, please contact us. If you have a question, please feel free to leave a comment below. We're here to help.