4 Steps to Rank Well Locally…In Less Time!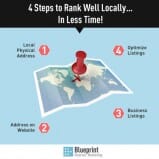 If you're looking to rank well locally, it can be achieved in a relatively short period of time if the right steps are performed. In this post, as a search engine optimization company, we are going to share four steps that will enable you to rank well locally in less time.
Step 1 – Use a Local Physical Address Local SEO all starts by having a local physical address in the market that you want to rank well in. The bottom line is that Google wants to ensure that they are showing "local" listings, not Websites that are optimized to appear to be local. This means that it's vital to have a real physical address in your city.
Step 2 – Include Your Physical Address on Your Website
The second step is all about creating a page on your Website that includes your physical address. You want to associate this address with your Website to show Google that you are, indeed, a local company. We also recommend including a contact us Web form and even a free offer on the page to maximize the number of leads that you generate.
Step 3 – Set Up All Business Listings
There are various business listings that are free of charge that enable you to show Google that you are who you say you are. By setting up all of your business listings, you are showing Google, through multiple sites, that your address is local. It's a clear signal that your address is valid. If you think about the basic logic behind this, it makes complete sense. If company A only has a Website with an address in your city versus company B that has a website as well as multiple directories with the same physical address, who should Google believe? Obviously, it will be company B. The key here, however, is to ensure that your physical address is the same for all of your local listings as well as your phone number. Ideally, try to use a local number, not an 800 number, because it's another signal that you are, indeed, a local company.
Local SEO Step 4 – Optimize Listings
We often see that companies set up their local listings and link them to the page on their Website, but fail to optimize their listings. It's important to keep in mind that Google is looking at many signals when they determine who should be ranked well. One of the signals is credibility. By adding pictures of your business and other tangible elements, you are showing Google that are you a real, credible business. Not just a business that has an address in the area that you are optimized for.
You also want to get social proof from third parties to show that you are providing a great product. A simple way to achieve this is to add a reviews page to your Website. After a customer purchases a product or service from you, send them an email that links to your reviews page, which enables them to leave a review. As a matter of fact, this is one of the first things that we do from a local SEO perspective. It's all about process and doing the little things right. And if you do, you will be rewarded with ranking well locally!
If you have any questions, please leave a comment below, we are here to help!