5 Vital Ways To Rank Well Locally!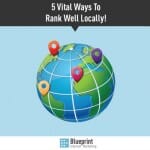 For a local business owner, ranking well locally in Google and other search engines is a must. But, what is the formula to achieve success? As an SEO services company, for some time, we have emphasized the importance of having a physical address and local phone number in the market that you would like to rank well in. We recommended that you have a page on your site with your address and phone number. We also recommended that you set up and optimize your local listings to show Google that you are indeed located in the location that is stated on your Website. And that you should maximize reviews as social proof for Google that you are a reputable company that should be ranked well.
Recently, MOZ conducted a survey, which outlines the five key areas that impact your local ranking. The most important variable that impacts your ranking locally is if you have a Google Places page set up. Based on the survey conducted by MOZ, your Google Places page has an impact of 19.6%. To achieve success when setting up your Google Places page, you want to ensure that your information is accurate and in the correct category. And you want to include your keywords in your business titles.
The second variable that impacts results is your on page optimization, which has an impact of 18.8%. The on-page elements that impact results include your domain, the keywords in your page titles, as well as you name, address, and phone number.
As we have discussed in previous posts, setting up your local listings on various directories is critical. According to the survey, these third party directories have an impact of 16%.
We have also discussed the fact that link building is not dead. In fact, external links that link into your Website have an impact of 14.4% on your local ranking.
We have emphasized the importance of reviews to show Google that you are a reputable company. Reviews have an impact of 10.3%. One thing that you may want to do is create a reviews process as part of your after sales follow up. A simple email connecting to a Web page on your site that links to all of your directories is a great way to maximize reviews. As a matter of fact, it's so important that it's part of our SEO implementation process for all local SEO campaigns.
There are other variables that impact your local ranking, but the ones that we have discussed have the greatest impact. Please feel free to leave a comment if you have any questions.