6 Steps to Develop a Website That Ranks Well and Maximizes Lead Volume (Part 1 of 2)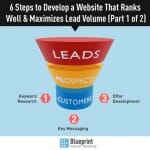 Your Website is what holds your entire Internet marketing and SEO campaign together. It is the platform that enables you to rank well in Google and other search engines. And it generates leads that are converted into sales for your business.
It's for this reason that you want to consider both the search engine optimization of your Website for ranking, as well the structure of content of your Website to maximize lead volume.
In this post, we're going to discuss the Website optimization steps that you can take to develop a Website that will, not only rank well, but will compel your prospects to take action.
Step 1 – Keyword Research
The first step of a sound Website and SEO campaign is proper keyword research. Not only do you want to find keywords that are relevant to what you do, but you also want to ensure that the keywords that you are going after will drive adequate volume. The end result of any SEO campaign is to drive sales. To increase sales, it starts with leads and sales presentations. Both of these numbers are driven by your number of Website visitors. So, ranking is only the beginning. Traffic is the key driver of success and the primary metric to keep an eye on. And this is why keyword research is so important. You want to find keywords that will accumulatively drive enough traffic.
Step 2 – Key Messaging
Prospects make a purchase because two of their needs are satisfied. The first is that they desire what you have to sell. The second is that they believe that you are credible and, as a result, they trust you. We often see sites that are so highly focused on SEO, that the actual content on the Website is not compelling. If you think about the key drivers of success that we discussed earlier (leads and presentations), why would a prospect opt in as a lead if they did not believe what you were saying or were compelled by what you have to say? If your content is simply written for SEO, it does not drive the leading indicators of success – leads and presentations.
A key messaging document should be developed that outlines the emotional drivers of your audience, so when they read your content, they feel like you understand them. Without outlining their emotional drivers, Website content ends up being misguided and unemotional.
Step 3 – Offer Development
Once you have a strong understanding of your keywords and message, you are ready to start working on your Website's content. But, before you move forward with your content development, you want to develop an offer for your Website to maximize lead volume. What is an offer? It's something that is free that you can provide to a prospect that appeals to their number one desire or pain point. An example is an eBook. Ideally, you want to think about developing an offer that provides immediate gratification. Why? Because immediate gratification tends to increase the response rate. It's important to keep in mind, however, that at times other offers can be more applicable, depending on your product.
In part two of this post, we are going to discuss the three remaining steps to optimize your Website. If you have any questions, please feel free to leave a comment below. We'd be happy to help.