6 Steps to Develop a Website That Ranks Well and Maximizes Lead Volume (Part 2 of 2)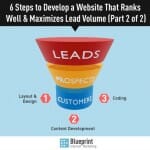 In part one of this post, we discussed the first three steps to develop a Website that drives results, including keyword research, key messaging, and offer development. In this post, we are going to take a look at the three remaining steps of Website optimization, which include layout and design, content development, and coding.
Step 4 – Layout and Design
The layout of your Website is vital to the success of your Website. Typically, the top section of your Website should include a compelling headline and offer that appeals to your prospects number one desire with a strong, single call to action. Why a single call to action? Because you want to simplify the number of options that are available to prospects in order to maximize response.
The secondary section of your Website should explain what you can do for your prospects, as well as how you do it. This is all about building desire, as we discussed in the previous post. Then, you want to support your claims with social proof and your personal story about why you are in business. This is all about establishing credibility and a relationship with your audience. The third and final section of your Website should restate your offer, so your prospect does not have to scroll up.
Step 5 – Content Development
Your overall content should start by communicating why what you have to offer is important to them. It is for this reason that we recommend using their top desire or pain point in your headline. Then, your content should simply say how it works and what it will do for them, followed by social proof and your call to action. We recommend having your content developed before even thinking about adding your keywords. Why? Because once the content is written, it's relatively simple to add the keywords in after, while trying to minimize the negative impact it has on the readability of the copy itself.
Step 6 – Coding
In terms of coding, this is where a lot of the SEO magic happens. This is all about having a Website that uses the right URLs, title tags, Meta descriptions, code, etc., and a site map to show Google and other search engines that your site is easy to navigate and loads quickly. You want to make it easy for the search engines to understand what each and every page on your Website is about. And don't minimize the importance of page loading speed. More and more, Google is increasing the importance of this because they want to provide a good experience for users. So, if you have unnecessary code on your site and if your site is not loading quickly, try to get it fixed. Based on recent changes by Google, they would like at least the top section of each page of your Website to load in less than one second.
If you have any questions, please feel free to leave a comment. We'd be happy to help.