7 SEO Video Optimization Steps To Get Your Videos Found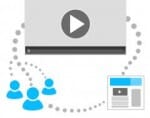 As a digital marketing agency, we often have clients ask us about what they can do to optimize the videos on their Website from an SEO perspective and how we do it. So, in this post, we're going to show you seven simple SEO video optimization steps to properly optimize your videos.
Step 1 – Determine Your Keyword
Before you even start developing your videos, you want to understand what keyword each video will be optimized for. This is vital because it impacts everything about the video from the file name, to the title and description, to the script of the video and words that are used.
Step 2 – Create the Video and Use Your Keywords
Once you have an understanding of the keyword that you want to use for each video, develop each video, while mentioning your keyword in your video at the beginning, middle and end.
Step 3 – Name the File
Once you have created your video, name it using your keyword. For example, if we were optimizing for the keyword "SEO Packages," we would want to include that keyword in the file name, such as "Blueprint SEO Packages."
Step 4 – Develop a Relevant Title
In addition to naming the file correctly, you also want to create a title that includes your keyword. Using our "SEO Packages" example, we could name the video "SEO Packages That Get Results."
Step 5 – Develop a Relevant Description
Not only should your title include your keyword, but your description should also include your keyword as well as a call to action. For example, the description could be "check this video out for a complete understanding of the latest SEO Packages to get your business ranking in less time!"
Step 6 – Get it Transcribed
If your video is hosted by YouTube, get your video transcribed and upload the transcription into YouTube. This enables YouTube to confirm what your video is about and its relevance. If you're using a video hosting service such as Wistia, you can upload your transcription to Wistia. From an SEO perspective, we recommend using YouTube, since it is the second largest search engine. The primary benefit of using Wistia is that you have complete control of what happens after the video plays. With YouTube, related videos are displayed after your video plays, which means that your customers are exposed to competing videos. With Wistia, this does not happen.
Step 7 – Match the Page to the Video
Not only do you want to optimize your video, but you also want to optimize the page that the video is placed on. One of the things that Google looks for on a page is relevance. So, you want to ensure that the video is relevant to the page. For example, the video on SEO Packages should be placed on the SEO Packages Web page.
If you have any questions about video optimization for your Website or YouTube, please comment below. We're here to help.