7 Steps to Rank Well During Google's Panda Updates (Part 1 of 2)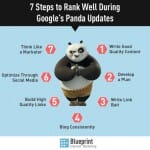 As many people are aware, Google is in the process of their Google Panda updates to ensure that the best quality, most authoritative Websites rank well. So, as a search engine optimization company, we wanted to share with you seven key steps to maintain and increase your ranking in Google.
1. Write Good Quality Content
It may sound like every SEO expert is saying that the quality of the content on your Website is vital today to rank well, but it's being said for a reason. We have found that the sites that are ranking well for our clients are sites that are well written. So, if you have a Website or are thinking about building one, ensure that each and every page is well written. And make certain that each page provides value. Don't just write pages for SEO. Write content that people want to share. If you don't think that people will share it, why should Google?
2. Develop a Plan
While well written content, blogging and link building may get you to rank well for some of your keywords, you want to think about developing a long enough list of keywords to drive enough traffic to your site. We can't emphasize this enough. We have seen marketers that want to rank well for certain keywords. Then, after ranking well, they realize that they are not getting enough traffic.
Traffic is the front of your funnel. If you don't get enough traffic, you have no chance to generate an adequate number of leads and sales. It is for this reason that we recommend developing a plan for your Website from the start. You want to understand what keywords you want to go after from most important to least important. You want to group these keywords into a Web tree that can be developed over time. You want to launch your Website with your most important keywords that you believe you can rank well for. You also want some structure and an outline of how you're going to add pages to your Website and go after additional keywords.
3. Write Link Bait
When we work with our copywriters, we always tell them that, not only should they write for the target audience, but they should ask themselves if it is good enough content for people to share and link to. This includes the pages on your Website as well as your blog. This step is so important because it establishes the foundation of your link building campaign. The days of using directories and other low quality link building channels are behind us. It's now about acquiring links that are relevant to what you do, to your industry, and that are from high quality Websites.
4. Blog Consistently
Blogging is a vital part of your content development strategy. We really can't stress this enough. If you produce high quality content on a regular basis, not only does it help your rankings, but it provides you with fresh content that you can share through your social networks, while establishing opportunities to guest blog post.
In part two, we're going to discuss link building, social media, and how to think like a marketer for SEO. If you have any questions, please leave a comment below. We're here to help.