Are You Using Social Media for SEO?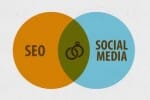 The benefits of social media go beyond interacting with your market. You can also use social media to support your SEO efforts.
Why use social media for SEO?
Social media provides a very strong signal regarding the quality of your content. Google and other search engines know this. When someone interacts with you socially by sharing, retweeting, or providing +1 on your content, it's a positive vote for your content.
As a search engine optimization company, we always say that it's hard to manipulate social networks and that's why the search engines view them favorably. If someone with influence interacts with you, it's even more powerful because author rank is included in the way that Google ranks your Web pages from an SEO perspective. And each social network has its own benefits, including Facebook, Twitter, LinkedIn, YouTube, and Google+. Let's take a look at each starting with Facebook.
Facebook
It's questionable how much the links within your Facebook posts are valued within Facebook when it comes to Google because they are blocked out from seeing these links from Facebook. But, search engines can see how many likes and shares you have through a third party.
The search engines can also see what's happening on your Website. That's why it's important to add share functionality to your Website.
When writing Facebook posts, include your keyword in your posts as well as the full link, not a shortened link, such as Bitly. By including the full link it helps Bing because they have direct access to Facebook, unlike Google.
Twitter
Google crawls Twitter on a regular basis. As a matter of fact, by tweeting something, you can get the page that it's linking to on your site crawled very quickly. You can also reach out to people through Twitter, build a relationship, and through that relationship, get a link to your Website.
LinkedIn
LinkedIn functions as a self-contained search engine, whereby Google and other search engines can't see much that's happening within LinkedIn. However, LinkedIn profiles can rank within search engines, so it's vital to optimize your LinkedIn profile from an SEO perspective.
It's also good to get involved in LinkedIn Groups to drive traffic to your Website. Google can see that people are coming to your Website from a business network. They can also see the average time that they are spending on your site. All of these variables send positive signals to Google, which influences your ranking.
YouTube
From an SEO perspective, we recommend placing a link in your video descriptions back to your Website. It's a simple way to drive traffic to your site. The key, however, is to develop good quality videos that get a high volume of views, comments, and shares. You also want to link your videos to relevant pages on your Website. Don't just link to your home page. And if you are going to use video on your Web pages, the number of views is important, so embedding a video into your site from YouTube can certainly help your ranking.
Google+
As mentioned previously, author rank is important. So, it's vital to link your Google+ profile to your blog. The strength of your blog, including comments, shares, and +1's, give you an author rank. Your author rank influences the SEO of your pages on your site. As a matter of fact, Google looks at your influence on the world, which gives you an individual author rank that impacts every page on your Website.
We've covered quite a bit here. If you have any questions, simply comment below. We'd be happy to help.