Broken Link Building Secrets That You Don't Want To Miss!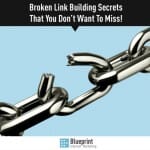 As a search engine optimization company, we always say that link building is still important to SEO, but there are several different approaches to find link building opportunities.
The first is through competitor research whereby you research your top competitors, analyze their backlinks, then reach out to the companies that are linking to them and ask them to link to you.
There are outreach programs such as guest blogging or developing link bait that people may be compelled to link to if you can position the value. One of the forgotten or missed opportunities, however, in link building is broken link building (BLB).
What is BLB? It's quite simple. It's a matter of finding Websites that have broken links, then approaching these Websites to link to you to fix their broken link. What's great about this approach is that you are fixing a problem for the company with the broken link and getting a link in return. This is all about reciprocity and it works very effectively.
To get the most out of your BLB campaign, look for Websites that have relevant content and some domain/page authority. This way, the links that you build will add more weight to your overall ranking. Think quality, not quantity.
We also recommend approaching things from a conversion perspective, not just traffic. What we mean by this is that you want to ensure that the page that you are asking them to link to is not only relevant to what they do, but also provides great value. By providing strong value to prospects that are being driven to your Website from this link, you will lower your bounce rate and increase your chance of converting these prospects into leads. And ensure that you have some type of lead capturing mechanism on the page that you are directing them to, such as a Web form. This will maximize the number of leads that you generate.
The key is to balance traffic and conversion – the two engines of Internet marketing success! If you have any questions, please leave a comment below. We're here to help.