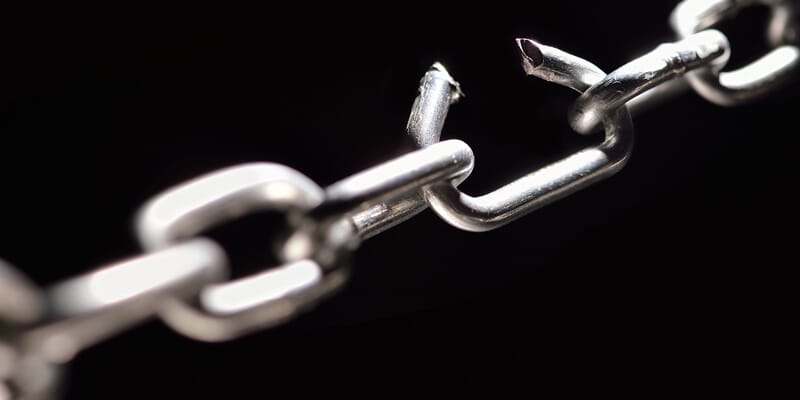 Broken link building is a powerful way to build links for your business and it's relatively easy. The first place to get started is to validate the keyword(s) that you wan to build links for through broken link building. A great place to start validating your keywords is on dmoz.org. For example, if we were in the gym business in the city of Toronto, we may want to validate if we should uncover broken links for the keyword "gym toronto". To start the validation process, as a company that provides
SEO services
, we would type in our keyword into DMOZ. In the example below, we use the keyword "gym toronto".

If we type the keyword into DMOZ, it will show us how they view our keyword in terms of associated categories, which will provide us with keyword ideas that may provide broken link building opportunities.
Right away, you are able to see the associated keywords according to DMOZ, which is one of the directories that serves search results to the search engines, such as Google. According to the list below, associated keywords include sports, recreation, health, fitness and gym.

To further validate our keywords, visit wordcat.org and type in your main keyword to get started. In this example, we searched for the keyword "gym" as you can see below.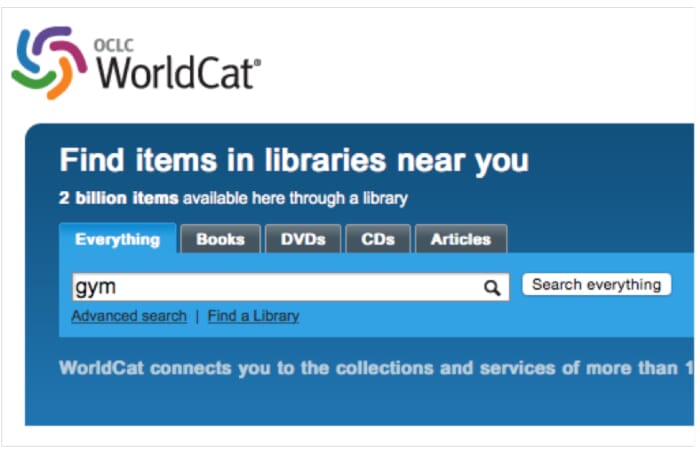 If we scroll down on the left side, we will see topics that are related, which will allow us to add to our original list of keywords. For example, we can see that cardio, exercises, workouts, fit, and strength are all associated keywords.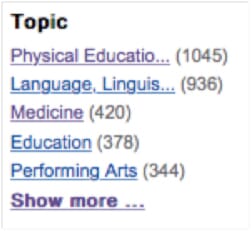 If we look at the titles of associated publications, we see additional keywords, such as abs, thighs, butt, and pilates.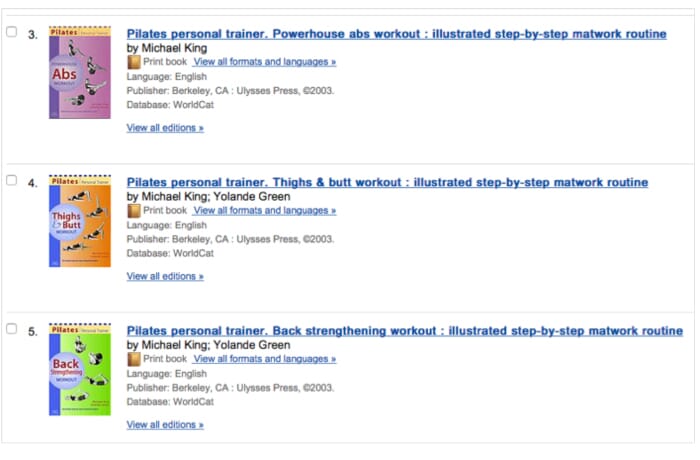 We now have a more comprehensive collection of words, such as cardio, exercises, workouts, fit, strength fitness, health, muscle, abs, thigh, butt, and pilates.
Now you want to test your keywords in Google to see what links there are for your keywords. For example, if we wanted to search for links for the keyword "workout", we would perform the following search in Google (inurl:links.html) as you can see below.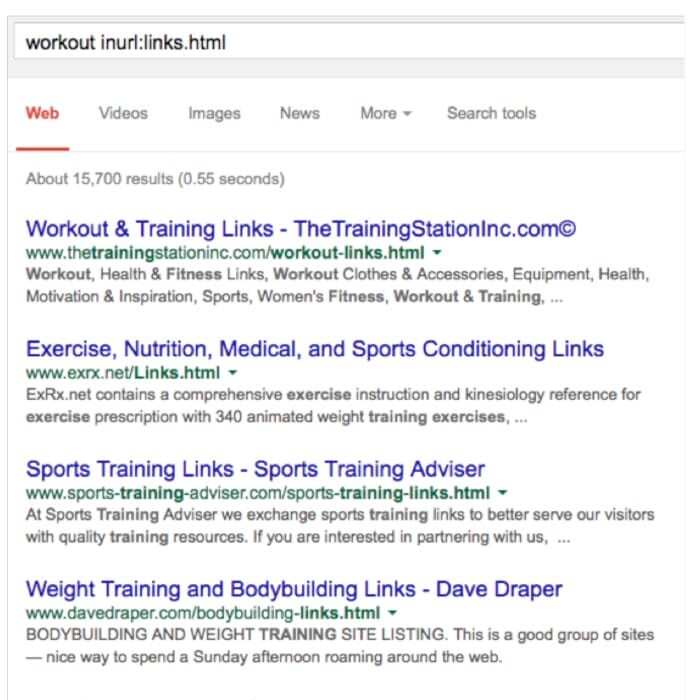 You want to ensure that there are at least 50 search results. Above you will notice that there are 15,700 search results related to the keyword.
While you are testing these keywords, check to see if any others keywords jump out at you. To check for the associated keywords in Google, simply look at the related keywords that are highlighted in blue bolded font or scroll to the bottom of the page and look at the "searches related to your search term".
Once you have a list of your keywords, visit brokenlinkbuilding.com and enter in your keywords into their Keyword Grader tool. They allow you to enter in a list of keywords, which they grade for you based on link volume and the quality of their links. Please note that you do have to pay to use this tool.
Below you will see an example of what the results look like for a list of keywords related to the keyword "workout". Basically, keywords that have a score over 1,000 are good, while keywords under 100 will be difficult to find good links for.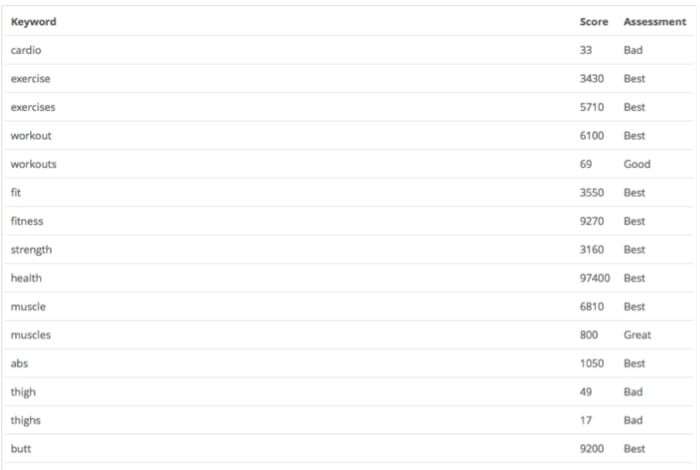 As you can see, we also added in the plural variation of certain keywords to see if there was an improvement in the results. A great example of how variations of the keyword can provide a different result is for the keyword exercise. "Exercises" is almost twice as good as "exercise". You will also notice that "workout" is 10 times better than "workouts".
If we then take the keywords we want to go after based on their search volume, we can then compile a list of actual link building opportunities. Below you will find the link building results for a project that we did for a client for the keyword "relaxation hydrotherapy" and other related keywords.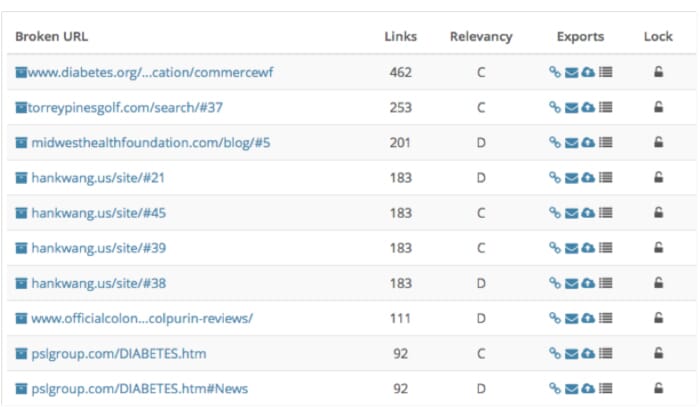 When you perform a broken link building search on brokenlinkbuilding.com, they provide a grade based on the relevancy to your initial keyword(s) and show the number of links into that page. Clicking on the first link confirms it is a 404 page (broken link) as you can see below.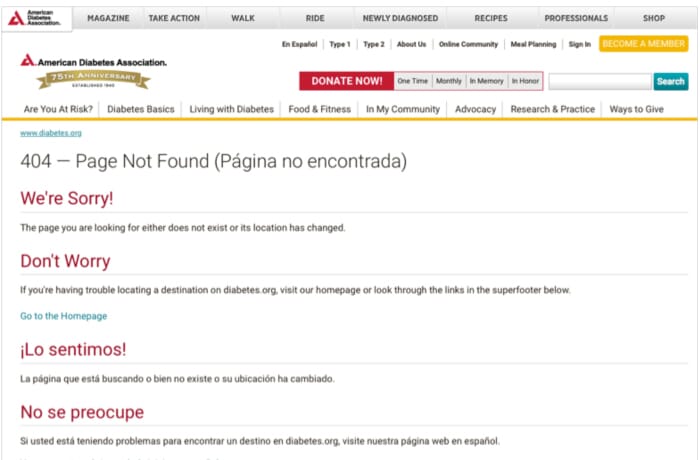 If you click on the square icon to the left of the URL, it will take you to archive.org, which will reveal all the different versions of that page since 2001. This broken link looks like the home page. If we review it in different years, you will notice that it has been inactive for quite a long time, which means that it's not a good candidate.
Here is another example of a 404 page.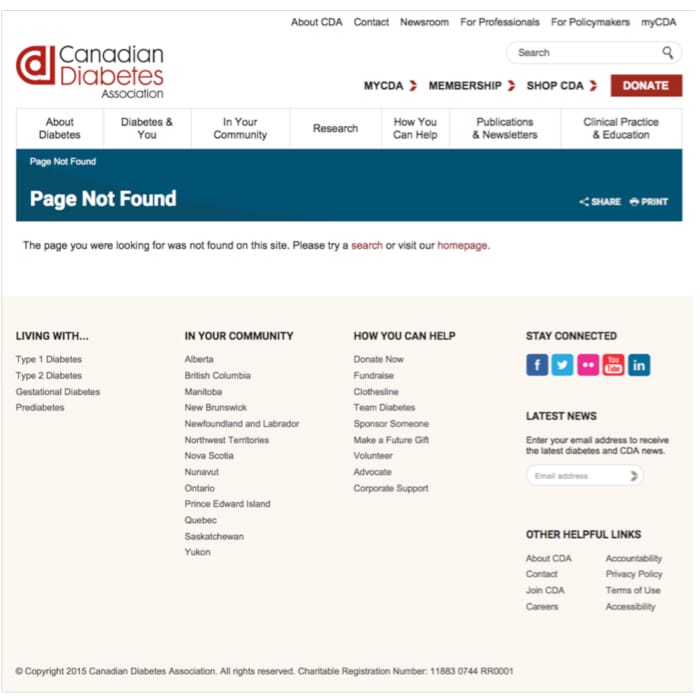 Reviewing that in archive.org shows the previous page that the site was linking to, which is quite good as it shows the history of diabetes.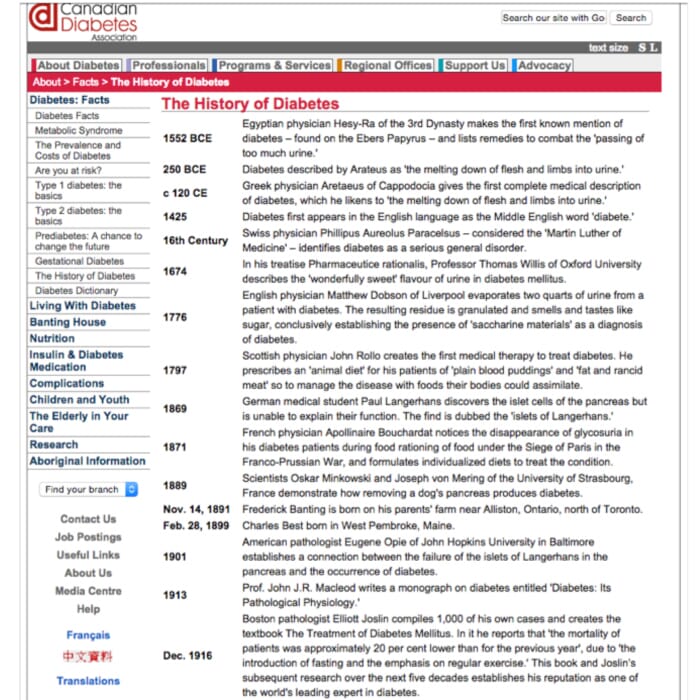 Looking at the new page on the current site, you can see that the page is not very good as it's less informative than the last page that communicated the full history.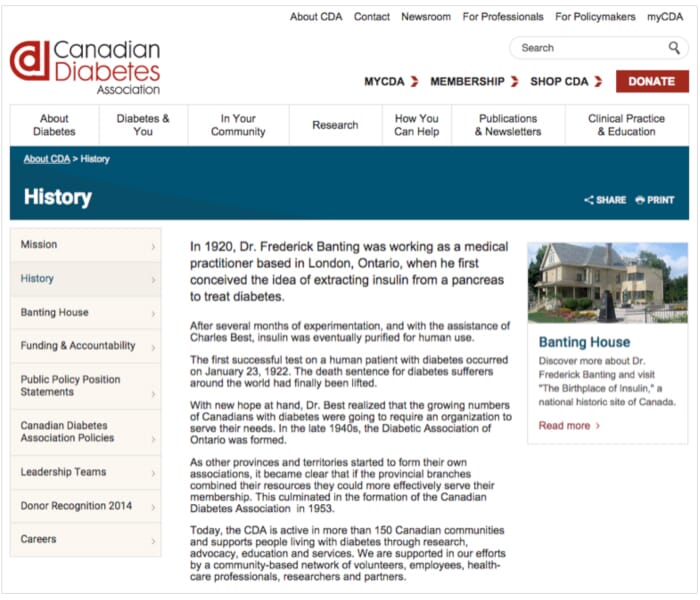 This is a good link building opportunity. Not only does the site that was linking to this page have a dead link, but the page that replaced the page they were linking to is inadequate. If you had a business that was related to diabetes, you could develop a great page about the history of diabetes and reach out to the company with the dead link, informing them that they have a dead link and you have a replacement page.
If you have any questions at all, please leave a comment below. We are here to help.