An Introduction to Search Engine Optimization: SEO Basics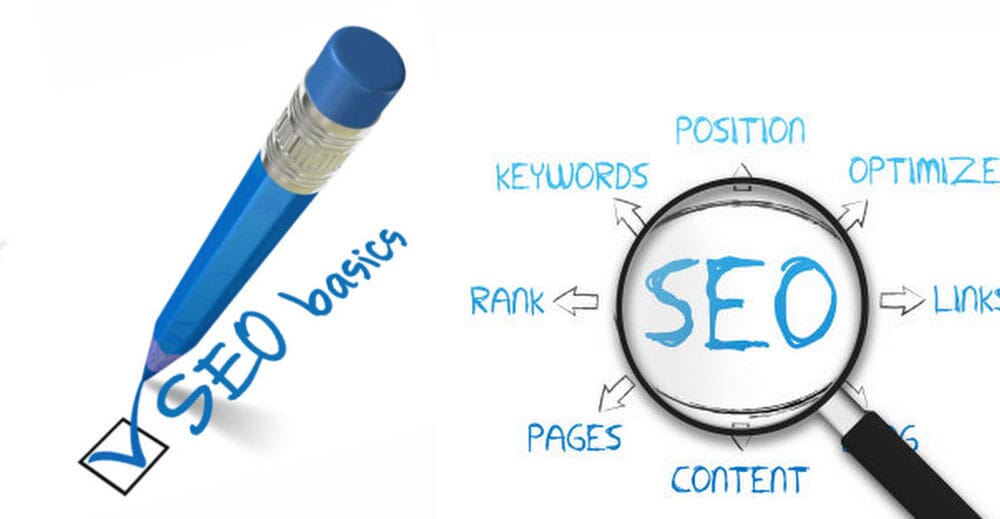 In this post, we provide an understanding of SEO basics. This is perfect for business owners and marketers that want to get a brief overview of the role that SEO plays in getting your site ranked for your keywords in search engines, such as Google.
What is SEO?
SEO is the process of affecting the visibility of a web page in the search engines. As you can see below, as a search engine optimization company, we have optimized our site to rank in both the local and organic listings.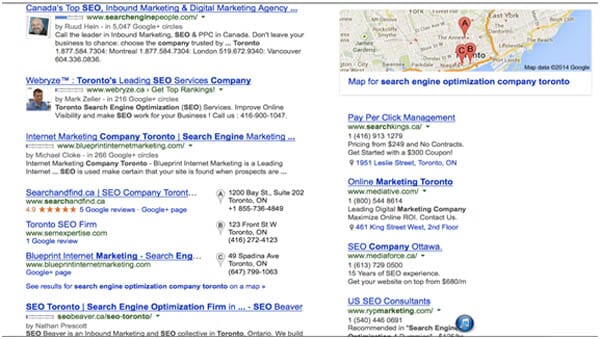 Why is Ranking Well Important?
First, trust is high for your end user when you rank well. It shows that you are an authority within your industry, while establishing credibility. Second, by ranking for your keywords, it drives visitors to your website when they click on your link in Google and other search engines. Third, if you maintain your SEO campaign, it drives traffic to your website in both the short- and long-term.
How Does SEO Work?
There are four key things that need to be done to get your site ranked for your keywords. First, keyword research needs to be performed to uncover the keywords that you should go after to drive the highest volume of traffic to your site possible. Second, competitor research needs to be conducted to determine what it will take to outrank your competitors. Third, your website needs to be optimized correctly, ensuring that each page is optimized for a different keyword from most important to least important. Lastly, a monthly link-building campaign is required to enable you to rank for multiple keywords over time.
Keyword Research
When you start performing your keyword research, begin by outlining a list of keywords that you would like to rank well for. Start with your main (overarching) keyword that represents your product/service. For example, internet marketing company is our main keyword at Blueprint Internet Marketing. Then, outline what your business offers in terms of services. For example, SEO, PPC, Content Marketing, Website Development, and Email Marketing are our main services. Then, outline the keywords that fit below each service. For example, for SEO our key subcategories are SEO Services, SEO Packages, SEO Analysis, and SEO Strategy.
Once you have a list of the keywords that you think are ideal for your business, use Google's Keyword Planner tool to validate your keywords and continue to build your list of keywords. Start by looking at the search volume by signing into Google using a Gmail account. If you don't have one, we recommend setting one up to get complete access to the data that you'll need to make a well-informed decision. Once you sign in to Google's Keyword Planner Tool through Gmail, select the region that you want to target, select exact match, and enter in each of your keywords starting with your main keyword, such as Internet Marketing Company. Look at the keyword ideas to see what keywords Google shows as relevant to your search term, as you can see below.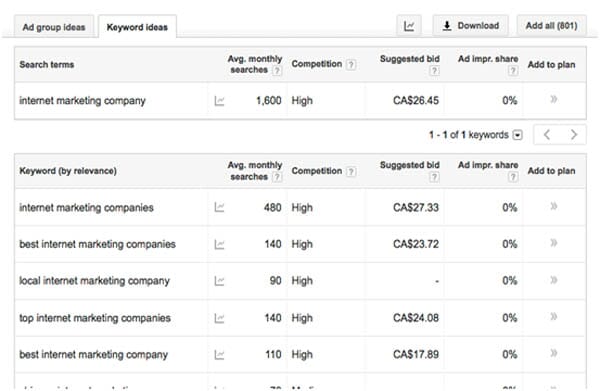 On the right, you can see that Internet marketing company has the best search volume versus the other keywords. You can also see that it has a strong suggested bid and is a competitive keyword. These variables help validate that you've selected the right keyword.
Start excluding terms by using the Exclude function. Look for terms that you don't have on your list. Look for terms that you do have, but may be wrong. Export your list as a CSV file and separate keywords into groups. Determine which keywords are your biggest in terms of search volume and relevance, so you can start developing a vision for the architecture of your website. Look at the level of competition to determine how difficult it will be to rank for the keyword. Look at the cost-per-click to see how much people are bidding on the keyword, which is a good representation of the quality of the keyword. For example, when we searched for the keyword "SEO", we were provided with a long list of keywords as you can see below.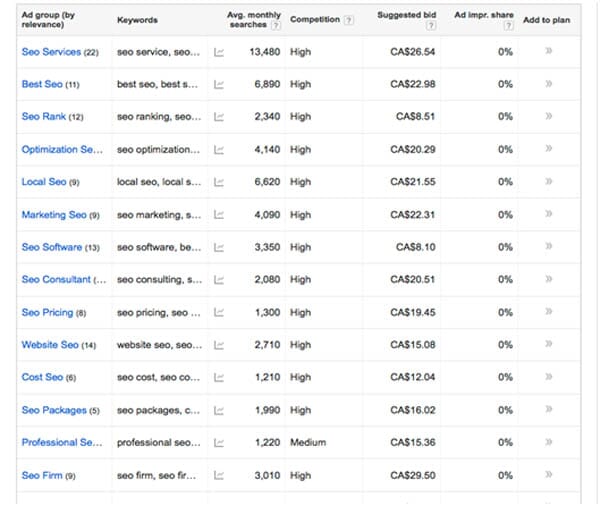 Not only do you want to find keywords that have good search volume, but you also want to find keywords that have buyer intent and are relevant to what you do. If we optimized for the keyword "SEO", the keyword would be too broad and the audience may have no intent to buy SEO services. It would make more sense to use the following keywords:
SEO Services
SEO Packages
SEO Analysis
SEO Strategy
If there are keywords that you are not sure about, enter the keyword into Google's search engine and review the relevancy of the search results to ensure that your assumptions are correct. Review the type of sites that you will have to compete against. For example, for the keyword internet marketing company Toronto, below you can see the companies we would have to compete against.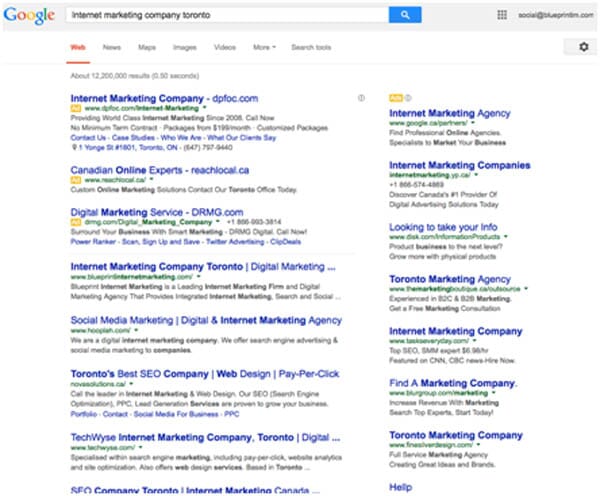 Once you have a better understanding of the keywords you want to go after, regroup your keywords into themes. For example, under Search Engine Optimization Company, we have SEO Services, SEO Packages, SEO Analysis, and SEO Strategy.
We hope you enjoyed learning about SEO basics. In our next post on SEO, we will show you how competitor research is performed. See you there!
If you have any questions at all, please leave a comment below.