Link Building is Not Dead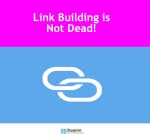 Many people believe that content is the only component that impacts ranking. While content is vital and the quality of content is essential, link building still plays a vital role in SEO and should be part of the SEO services that you receive.
After building your website and optimizing it around your keywords, the next crucial step is getting started with link building. In order to drive large amounts of traffic to your web pages, you need to build a dynamic link building campaign that begins slowly but increases over time.
The depth and impact of link building on your website will determine your success over your competitors'. Quality content is the ground upon which beneficial link building campaigns are created. There are two important types of link building: internal and external.
Internal Link Building
To help search engines properly understand your site, you must have links between pages within your site. Here are several of the most impactful steps to take:
Link between pages on your website – Add links within your content, images, etc.
Add a sitemap – Sitemaps come in two forms xml and html. They provide data to search engines about what pages are on your site.
Add new pages to your website every month – Many people miss this. The relevance and authority of your site is determined along with how recent the pages and content are, as well as how often they are updated.
Add a blog to your site – As above, adding new content consistently to your site and social media networks will assist search engines in determining how relevant your website is.
Internal link building should be the main focus before moving on to external, as it has an enormous impact on your search engine ranking.
External Link Building
External plays an important role in your website's optimization. The benefit was previously gained through the volume of external links; however, this has changed as search engines have been further developed. Now, the quality of the sites which the external links are coming from is what matters.
Back-links are links on web pages other than your own that link to your website. These will show search engines how relevant and important your website is. Here are a few ways to get started with external link building:
Provide access to tools and high-quality content – People who benefit from your content will be more likely to share it with others and link to you on social media networks, forums, etc.
Be active on social media networks – Share the quality content you've created through your social networks. Hootsuite is an efficient, time-saving tool for sharing posts with several social media networks at once.
Comment on authoritative blogs in your field – Most comment forms allow you to add a link to your website. Go to Google and find the blogs with the highest authority on your topic, and post thoughtful comments about their content. Your link will be within the page in your comment, and if you are able to gain the blogger's attention, sometimes they will link to you as well. Don't stuff your comment full of links—these are often rapidly deleted as forms of spam.
Research your competitors – Find out what sites link to your competitors' by looking them up on Open Site Explorer, and try to gain similar links to your website.
Add your website to major directories – Add your websites to online directories, such as dmoz.com, business.com, and bestoftheweb.com.
An aggressive link building campaign will determine the volume of traffic you get that is available to be converted. Creating high-quality content that is informative and helpful will considerably increase sales conversion.
For more information on how to effectively optimize your website, take a look at our free SEO eBook and follow the steps to start improving business today.
If you have any comments or questions, feel free to share them with us and others by leaving them below.