How to Optimize Web Pages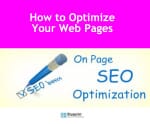 As a company that provides SEO services, we understand the importance of knowing how to properly optimize your web pages in order to grow your business. There are many factors at play which will determine how well your website is ranked within search engines, as well as whether or not you are regarded as an authority in your field.
In this post, we are going to discuss what you can do from an on page perspective to get you ranking quickly for your keywords. The starting point is to ensure that each page is optimized for a specific keyword. For each page, make sure that you insert your keyword in each of the following areas:
Page Title – Make sure that the entire keyword is included in your page title.
Meta Description – As above, include the entire keyword in the meta description of the page.
Content – It is generally a best practice to place the keyword once in both the first and last paragraphs, once in bold font, once as a link to another page on your site, and a few times within the body of the content.
H1 and H2 Headings – Use the keyword within your H1 heading, and use a slightly varied term within the H2 heading. Our keyword is within our H1 heading, as you can see in the following image.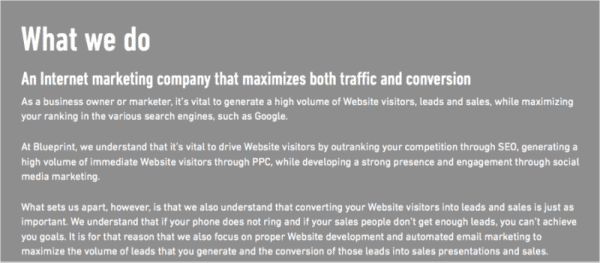 URL – The extension at the end of your website's URL should be the keyword that page is optimized for. For example, on the Blueprint Internet Marketing website, the 'Search Engine Optimization' web page can be found at https://www.blueprintinternetmarketing.com/search-engine-optimization/
To fully optimize your web pages, you want to craft compelling content that will engage your audience. Content can be in many forms, including blog posts, articles, infographics, podcasts, videos, and more.
Create unique, informational, quality content that provides valuable information to your audience and makes them want to buy your product or service, as well as share your content with others through social media. A great way to maximize the benefits of your work is to repurpose your content in different mediums.
When writing your content, make sure to focus on your prospects and approach content development from their perspective. What do they want and need? What questions might they have? What emotional drivers are at play? Do some research on your target demographics and use this information to your advantage by developing your content around it.
Center every new page on your website around one keyword each. Due to the fact that search engines index each page of your website separately, this will help each page to rank well in each of the different areas you cover within your site.
Always remember to have a call to action at the end of your content, which tells the reader what to do next and asks them to engage with you in some way, whether it be signing up for a newsletter or trying a sample of your product or service. This will greatly increase the conversion of traffic into sales.
To learn more about optimizing your web pages, check out our free SEO eBook today to start making minor changes that lead to major results.
Please leave a comment below letting us know what you think. We're always happy to answer your questions.