How to Perform Keyword and Competitor Research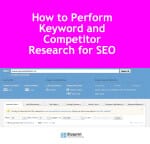 In order to increase traffic to your website and landing pages, it is important to optimize your page for keywords and phrases that are relevant to your company. Just as important is placement of your keywords, which assists search engines in determining the relevance of your website to the search term. This way, customers who search for keywords you've optimized for will be able to find your company and regard it as an authority over competitors depending on your search engine ranking.
In order to figure out which keywords to optimize for, you must do some keyword and competitor research. Simply choosing the most basic search terms is not the most effective way to optimize your website or content, because the number of competitors and frequency of searches matter as well. Be specific when choosing keywords to avoid attracting people who are looking for something related, but not necessarily looking for a product or service like yours. Optimizing your website properly will not only increase your website traffic, but also increase your sales conversion.
As a company that provides SEO services, we always recommend the following three steps to perform effective keyword and competitor research.
1. Brainstorm Keywords
Gather your team to create a list of relevant terms you are able to think of. These include any terms, products or services you associate with your business. Also, remember to include phrases that people may use to find sites like yours. For example, if you sell rare collectibles, some people may type "where to buy rare collectibles" and not "rare collectibles" into a search engine, because they don't want information about them, they want to find somewhere to buy them. Think like your customers and create a list to pull from for later use.
2. Competitor Research
Now, it's time to research the keywords and phrases that your major competitors are optimizing for. The best ways to do this are by visiting their websites, observing website titles, and researching the statistics behind the keywords they are optimizing for. Find as many as 5-10 sites belonging to your competitors and perform each step below for each one. This will give you an in-depth look at the consistencies and differences between both your competitors and each other and your competitors and you.
Visit Their Website
Upon entering their website, take a look at their navigation bar. Chances are that the terms used in their navigation as well as other links on the page are keywords that they are using. Take note of these.
Remember to also take a look at the number of social media shares they have on their content. This will help you determine the authority and quality of the content on their pages.
Observe Website Titles
Take the URL of one of your competitor's sites and enter "site:" and then the URL into Google. For example, for Blueprint Internet Marketing, it would appear as "site: blueprintinternetmarketing.com". By looking at the website titles, you will see consistent terms or phrases—these are the keywords they are optimizing for. Here is an example using a site that is optimizing for the keywords "botox treatments" and "skin fillers":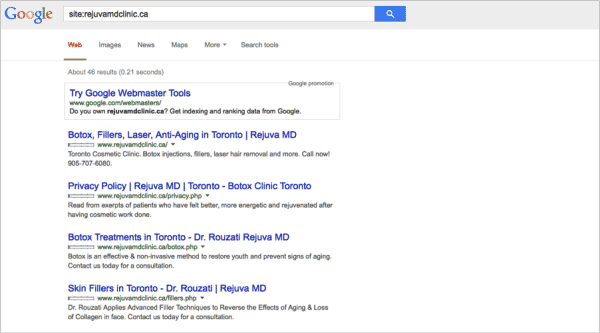 Research Keyword Statistics
Open Site Explorer is a great way to research your competitors and the impact they are having. Open www.opensiteexplorer.org and enter the URL of the top-ranking competitor and click search. Again, we've used the same company as above for this example.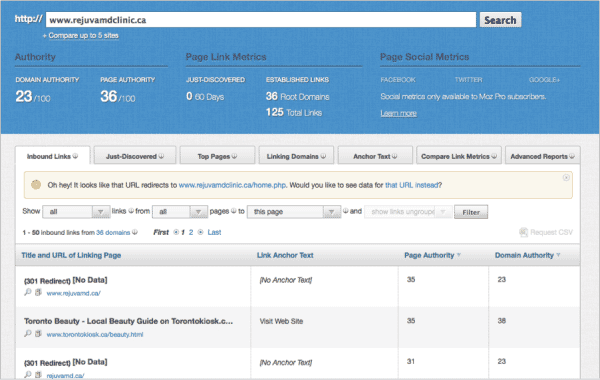 Take some time to investigate the authority their domain has, as well as the root domains. These are two of the most important numbers on this page, as the authority shows their website's authority over competitors, and the root domains show how in-depth their SEO campaign is. Search engines see more root domains as higher authority, so this is important.
The authority of the pages and domains that are linking to the website from external sources is a very helpful piece of information because this helps determine the authority of the website itself. If it is linked to by very high-authority websites, search engines will regard it as authoritative itself.
The 'Anchor Text' tab will help you to see information regarding the terms used in their links and how often they are used, providing more information about the terms they are optimizing for.
3. Keyword Research
Google's Keyword Planner is a useful tool when deciding which keywords to use on your website. Using the revised list of relevant keywords, enter them in from the most general to the most specific, and write down the suggestions that the tool provides to you.
Geotargeting a specific area is a good way to set your business apart from competitors that aren't local. When adding keywords to your list, take into consideration how often the term is searched vs. the level of competition. Keywords with a low search volume relative to competition are generally less valuable that those with a high search volume relative to competition.
Once you have determined the best keywords to target, use these keywords in the navigation of your site as well as for the internal links on your site (you should link to pages within your site from other pages within your site). Order your navigation according to the importance of the keywords, highest to lowest.
These tips will allow you to restructure your site in a way that optimizes it for increased traffic and conversion. For a deeper look at how to optimize your site, download our SEO eBook, which provides an overview of SEO, the importance of keyword placement, and ways to get started with link building.
Feel free to contact us with any comments or questions. We're always happy to hear from you!