SEO Tools to Purchase Websites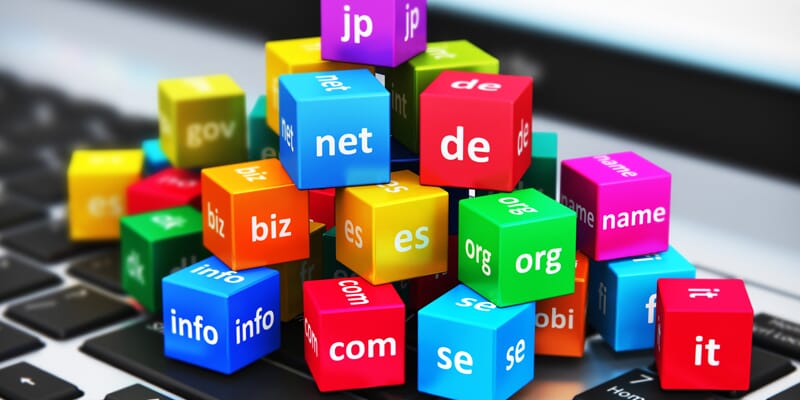 We don't recommend buying links, but what you can do is purchase sites that are not being used that are in your industry.
A tool that you can use to uncover sites is PR Powershot. As you can see below, all you need to do is insert the keyword that you want to go after, as well as any additional criteria you have such as the PR value you are interested in, if the site should have backlinks, if the site is a .com or .ca, and if the site is a buy now site versus purchase via auction.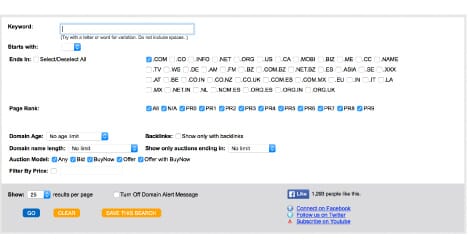 Once your criteria are set, PR Powershot will send you an email to confirm your request and requirements. Then, it's a matter of reviewing the sites and determining which ones you want to buy. Then, take the time to use Wayback Machine to uncover content that was used in the past that may need to be added back to the site, so the site is as comprehensive as possible. Once you have built out the site, host it and link it to your site, and you have acquired a relevant link that has value.
As you can see, there are several factors that you want to consider when making the selection of the ideal site that you would like to acquire as outlined above. Lets go through each one.
Keyword
Start with your main keyword and keep it simple at first to test the results.
Starts With
"Starts with" is simply the letter that you want your domain name to start with.
If you combine the letter that it starts with your keyword, you increase the chances of finding a domain that starts with your keyword.
Ends In
"Ends in" allows you to select your domain extension, such as .com. While .com is the most popular, if you live in a country, such as Canada, you can get some great results using .ca.
Page Rank
"Page Rank" checks for the sites home page rank. The higher the value the better the site is ranked and viewed by Google and other search engines.
Be aware that domains that are a year old with page rank of 5 may have a fake page rank. This may happen because the site owner is faking their PR value. To get around this problem, use a page rank-checking tool like https://checkpagerank.net to verify this, they will show you if the PR is real or fake.
Domain Age
"Domain Age" allows you to specify certain age limits from when the site was first registered. We recommend leaving that alone.
Backlinks
"Backlinks" is an option that allows you to check off if you want to purchase a site that has backlinks that are indexed by Google. We recommend checking the backlinks box to ensure that your site has some backlinks and authority.
Domain Length
"Domain length" allows you to specify how many characters you want in the domain name. We recommend leaving that factor alone.
Show Only Auctions Ending In
"Show only auctions ending in" allows you to specify the number of days that the auction is ending in, such as the next 1, 2 or 3 days.
Auction Model
"Auction model" allows you to choose if you would like to bid, buy now or make an offer.
Filter by Price
Filter by price allows you to add a ceiling for your budget.
Lastly, when you click go it will show a box that allows you to save the search and have the system email you when it sees new items come up that match the search criteria you set.
Now that you have an understanding of how to perform a search using PR Powershot, let's take a look at an example. Below you will find an example of search results found for the keyword "house." For this keyword, there were 142 results as you can see below.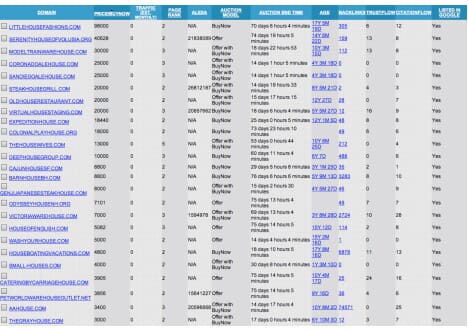 Lets take a look at some of these and review them.
First, you will notice that the price ranges from $10 on the low end to $98,000 for littlehousefashions.com. If you are going for just the name and have no other interest in the site, you can just view what's in your price range.
As a company that provides SEO services, we tend to run through a few criteria before making any decisions. Let's take a look at the criteria to consider:
1. Trust flow and citation flow are two of Majestic's quality back link factors. Majestic is a tool that shows you the quality of Website, as well as other factors. The higher and closer together the trust flow and citation flow are the better the quality and quantity of the backlinks are.
2. Click the link that says "Listed in Google" to look into the domain and page authority, which is provided by Moz. Both the domain and page authority help you confirm the domain and page authority. Like Majestic, Moz has their own algorithm that attempts to mimic Google to help you make decisions about websites, links and quality.
3. Age of the domain is an important factor to consider because the older the site the better the search engines trust the domain.
4. Alexa is a signal that the site is indexed in the search engines and is currently active.
5. Listed in Google is very important because if they aren't listed in Google, the site may have been penalized.
6. Backlinks are important but you want to look at quality over quantity, which is why you want to look at both trust and citation flow as indications of quality.
7. Page rank is an older signal as it was last updated December 2013 to the public. Beware that page rank can be faked. Using the site rethinkhousebuilding as an example, the age column is empty and it is a PR3 as you can see below.
If you input that URL into icheckrank.com, you can see the page rank is not valid.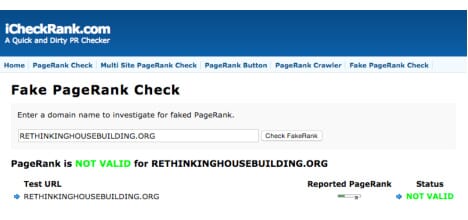 Go to Google and type in the sites URL with site: before the name to double check what is in their index.
Then, type in the domain name minus the domain extension (.com) and see what is being said about the site.
Lastly, go to archive.org and search for the domain. This will show you what previous versions of the site looked like. As you can see below, the last time the site was indexed here was in Dec 2014. Check if any unusual activity has gone on over the years.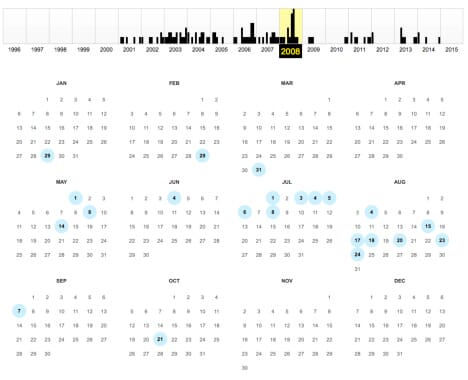 By clicking on the blue dots you can see what the site looked like. In this example you have to go back to 2008 to see how the site looked.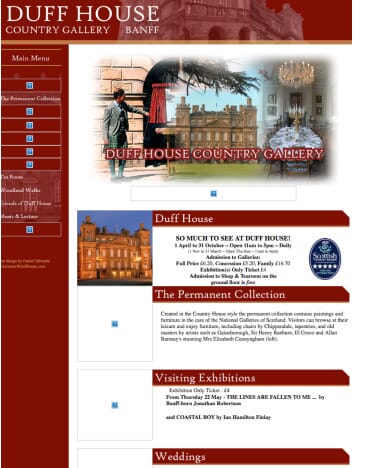 Go back to 2001 and we see a very different website as you can see below.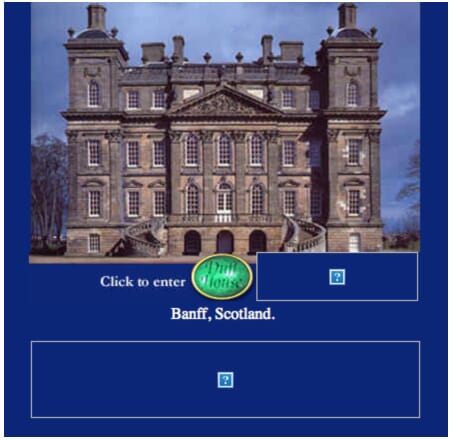 In PR Powershot, it shows the site as close to 3 years old, but as you can see in archive.org it's history goes back to Feb 2001, which makes it over 14 years old.
Using domaintools.com they show the site was registered in 2007, it has been through five registers with two drops. A drop means an owner let the domain expire and it drops back into the main index where anyone can purchase it and the sites date gets set to zero.
Looking at the Dates in the top row it shows when the site was picked up from the last drop which matches the Pr Web number. As Google is a domain registrar, just like GoDaddy, they have all this history in their records.
We've covered quite a bit here. Please feel free to leave a comment below if you have any questions.