Ranking Well Quickly Through a 10-Step SEO Marketing Campaign (Part 2 of 2)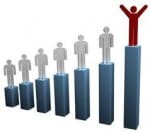 In part one, we discussed the first six steps to take to select the right keywords, validate your keywords, understand how to beat your competition, and develop the actual plan for your Website development.
In this post, part two, as a search engine optimization company, we're going to show you the last four steps to take to develop the content for your website, where to include your keywords, and how to develop a monthly link-building strategy that will get you ranking well in less time! Let's get started with developing the content for your Website beginning with the development of a key messaging document, which is step seven of our 10-step SEO Marketing Campaign strategy.
Step 7 – Develop Key Messaging Document
To ensure that your content is development properly, not only from an SEO perspective, but from a conversion perspective, you want to start by outlining the emotional drivers of your target audience in a key messaging document. Specifically, you want to outline their desires, pain points, and the things that keep them up at night. By having an understanding of their emotional drivers, it makes it easy to develop customer focused content for each page of your Website. And you want to develop separate messaging for each key page of your Website.
Step 8 – Create Offer
Before you start writing the content for each page of your Website, you want to develop some type of free offer that you can provide to your prospects in exchange for their email address, so you can generate leads. There is not point in ranking well if you are not going to be able to maximize the conversion of your Website visitors into leads and sales. A free giveaway that provides value to your audience allows you to do this. For example, on the Blueprint Internet Marketing Website, you'll notice that we have a free ebook and video series that's relevant to each section of our Website. For example, on the SEO section of our Website, you'll notice that there is a free eBook and video series on SEO as you can see below.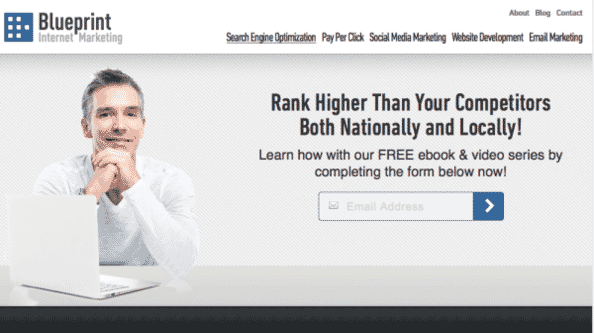 Step 9 – Develop Content and Optimize
Once you have a clear understanding of the structure of your Website and what each page on your site will be optimized for, you want to develop the content for each page and optimize each page for one keyword.
Here's a quick list of where to include your keyword for each page to ensure that each page is properly optimized: title tag; description tag; URL; H1 and H2 headings; and the body copy.
To make it easy for Google to crawl your site and index your pages, include a site map. You also want to ensure that your pages load quickly as Google uses this in their algorithm when determining if a Web page should rank well. And we highly recommend installing a blog. It's a simple way to develop fresh content for your Website and internal links into the various Web pages on your site. It's also a great way to produce fresh content for your social networks and provide value to your prospects.
As you can see below, we publish content on a regular basis to provide value to our marketing while showing Google that we are authoritative. You will also notice that we include our free offer on the right sidebar to maximize the conversion of Website visitors into leads, while providing additional value to our audience.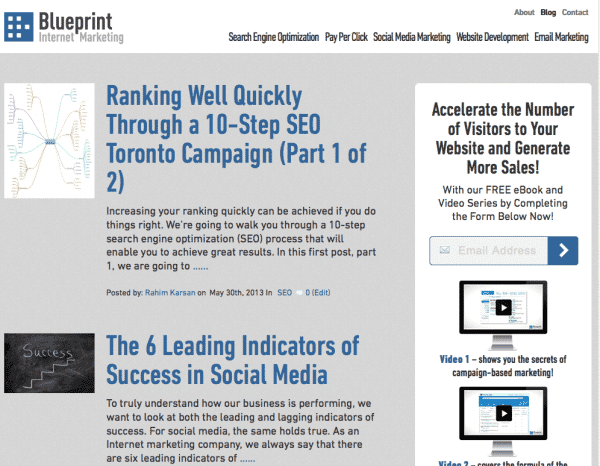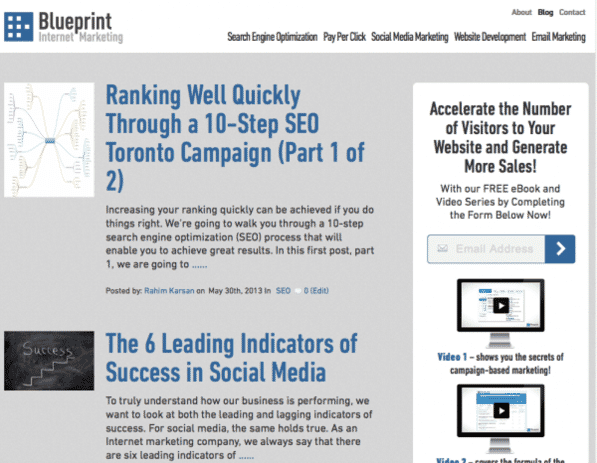 Step 10 – Link Building
So far, we have simply set up the proper foundation for a Website and established a platform to build your monthly link-building campaign. Your monthly campaign should focus on high quality tactics to show Google that you are important to your industry and, therefore, you should be ranked well. To achieve this, get involved in guest blogging, blog commenting, an outreach program to get high quality sites to link to you, as well as social media.
The key to success is to take a qualitative approach if you want to rank well quickly. There are no shortcuts. Take the time to make a difference in your market and you will be rewarded!
If you have any questions at all about an SEO Toronto campaign or an other region, just comment below and we'll be in touch!