Search Engine Optimization Blueprint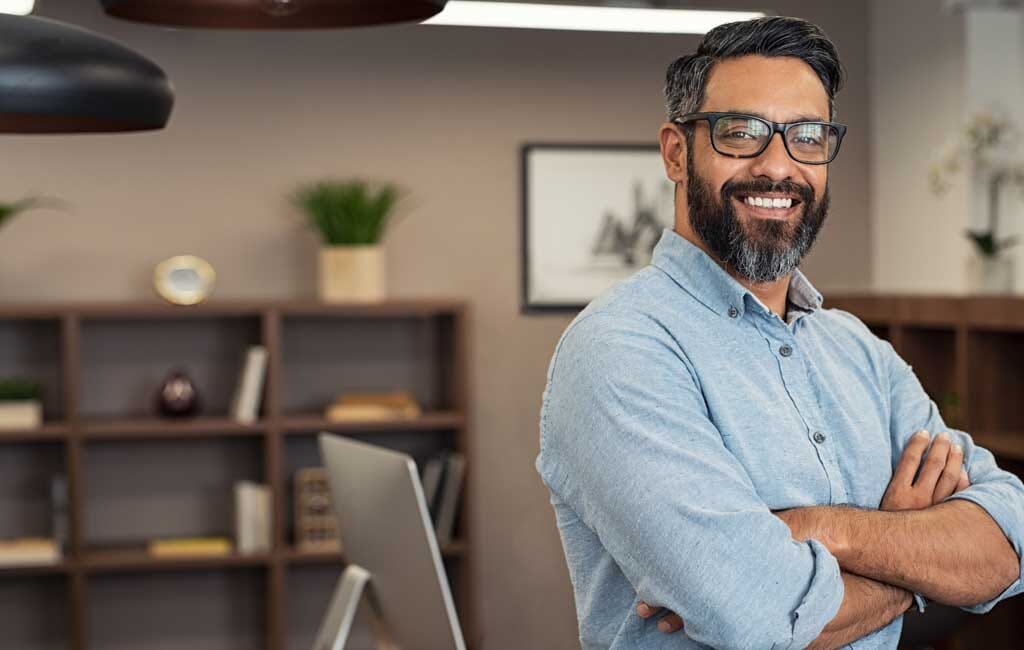 Quite often we hear people refer to search engine optimization (SEO) as a black box, where they're not aware how SEO works or what it takes to get results and rank well. Below, we're going to explain how SEO works and what it takes to win the SEO ranking war!
As a digital marketing company, we're going to start with the basics and what search engines value. By understanding what's important to search engines, you'll gain a better understanding of what you need to do to satisfy their needs and rank well. Next, we will jump into the core of SEO, which includes keyword and competitor research, on- page (Website) optimization, and link building for real results.
What is SEO?
Here's a quick definition of SEO: "Search engine optimization (SEO) is the process of improving the visibility of a Website or a web page in search engines via the "natural" or un-paid ("organic" or "algorithmic") search results."
How Google Displays Search Results
Here is an example of how Google displays search results for the search term "Internet Marketing Company Toronto." As you can see, the first four listings are paid advertisements on the top. After the ads, you see the local SEO listings, which have been achieved through local optimization. After the local listings, organic listings are shown, which have been achieved through organic SEO.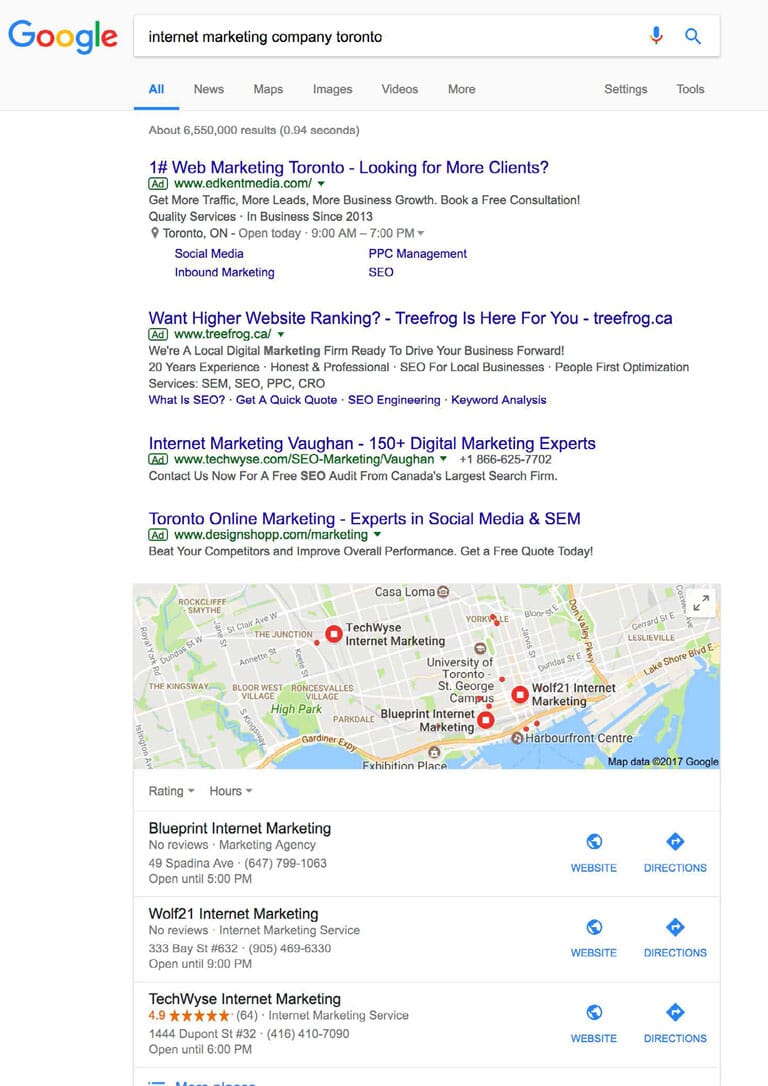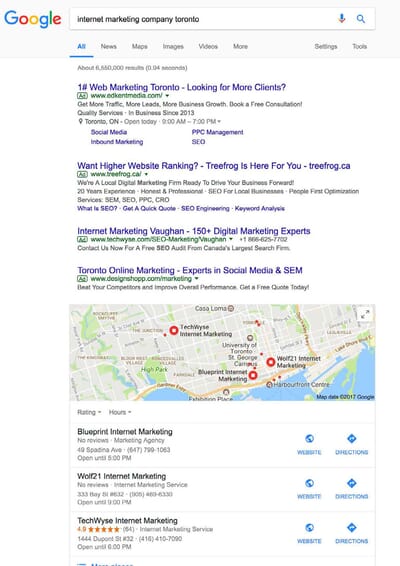 What Google and Other Search Engines Value
Satisfy the Needs of Search Engines
To rank well in search engines, it's all about satisfying the needs of search engines. What do they value? Search engines are constantly upgrading their algorithms to provide a better user experience and targeted results for each search query. The happier the user is with a given search engine, the more often they will use it. The more often they use it, the better the chances are for that search engine to generate additional revenue.
Quality Content and Authority
To provide a good experience for people searching, search engines need to ensure that users are able to find high quality information from the most knowledgeable or authoritative Websites. Search engines achieve this goal by ranking Web pages according to the quality of content, authority within the market, and relevance of content.
---
On-Page Optimization
To satisfy the needs of search engines, your Website should start with proper on-page (Website) optimization by using the right keyword phrases, such as "Internet Marketing Company", in the right places. Then, it's a matter of properly linking your Web pages internally, and developing fresh content on a regular basis.
Below you will find a quick overview of the elements that have to be performed properly for optimal on-page optimization:
Keyword selection
Keyword placement
Web page titles
Web page descriptions
Relevant content
Internal linking
---
Content and Link Building
Once you have established a solid foundation through on-page optimization, show the search engines your authority within your industry. You can achieve this through the development of fresh content as well as high-quality external link-building. The two key words here are content and quality. That's the secret to winning the ranking war.
Keyword Research & Competitive Analysis
As discussed earlier, on-page optimization starts with keyword selection, but how do you select the right keywords and know that you have the potential to rank well? It all starts with keyword and competitor research.
---
Identify Keywords
Before your Website can be optimized, it's important to identify the keyword phrases you should be targeting. Ideally, you want to find high-volume search terms that are relevant to your business or industry. Not only will traffic to your Website improve, but you will also enjoy a great conversion to sale. For example, if Blueprint is optimizing for SEO, it might make more sense to optimize for "SEO Company", since that term is more relevant to what we do. If we optimized for "SEO", it's possible we would get people who are interested in learning more about SEO as a topic, but not necessarily those who are looking for an actual SEO company.
How to Perform Keyword Research
Step 1: Brainstorming
Get your team together and list the terms, phrases, services and products that you associate with your business.
---
Step 2: Competitive Research
Check out the link text that your competitors are using. Chances are that they are using keyword phrases to link from page to page. Here's a quick example of a company that is optimizing their site for various anti-aging keywords. As you can see in their Website navigation, they have links to the main keywords that they are optimizing for.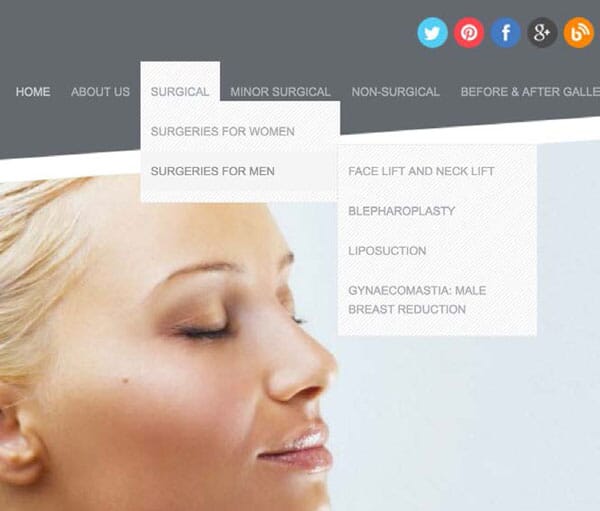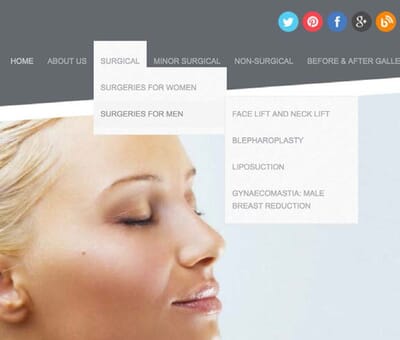 Another great tactic to determine the keyword phrases that your competitors are using is by typing in "site:" before your competitors URL in a search engine, as you can see in this example.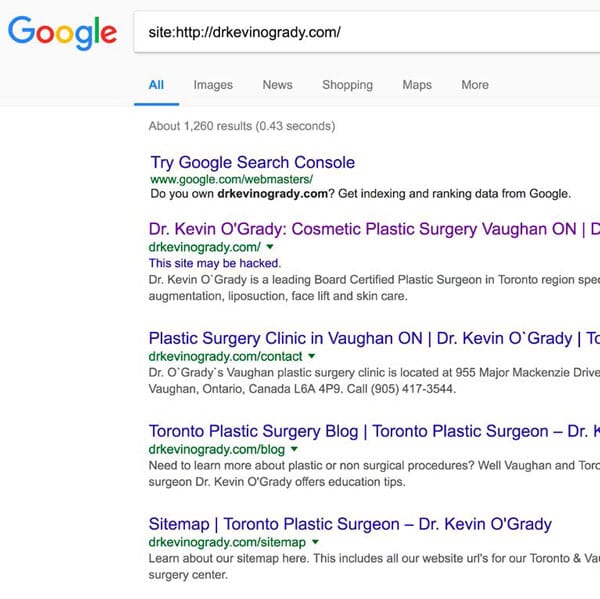 The results that are displayed are very telling if they have properly optimized their site. By looking at their page titles, you will clearly see which keywords they are optimizing for.
As you can see in the example, the last two titles in the list tell you clearly that they are optimizing for the keywords "Botox Treatments" and "Skin Fillers" and that they are geo targeting Toronto.
---
Perform Research on Top Competitors
If you performed this research for your top five to 10 competitors, you'd get a clear understanding of what your competitors are optimizing for, as well as the most competitive keywords.
For more keyword research, check out your competitors site map. If your competitors are using SEO tactics, they will be linking from their site map to internal pages on their Website, using keywords at the bottom of every page on the Website.
Lastly, visit Link Explorer for more in-depth analysis at http://moz.com/link-exporer. Start by copying and pasting the highest ranking Website's URL in the search bar.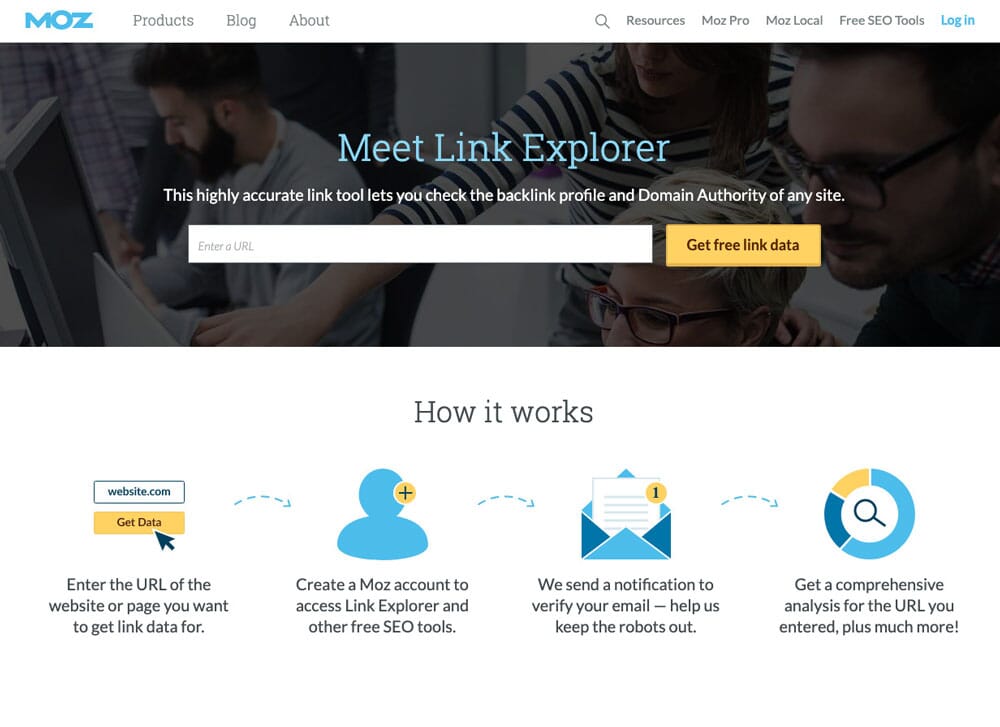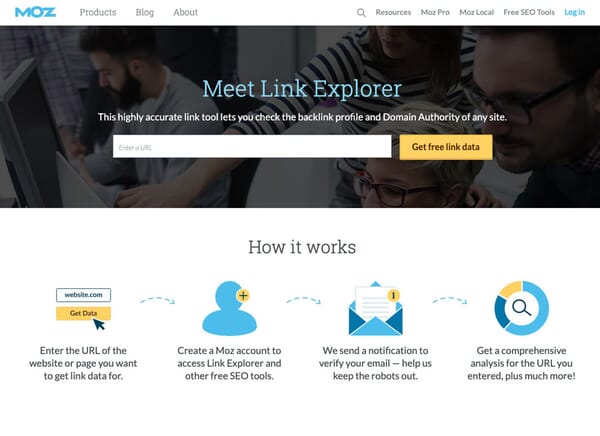 When you click "search" it shows you very helpful details as you can see.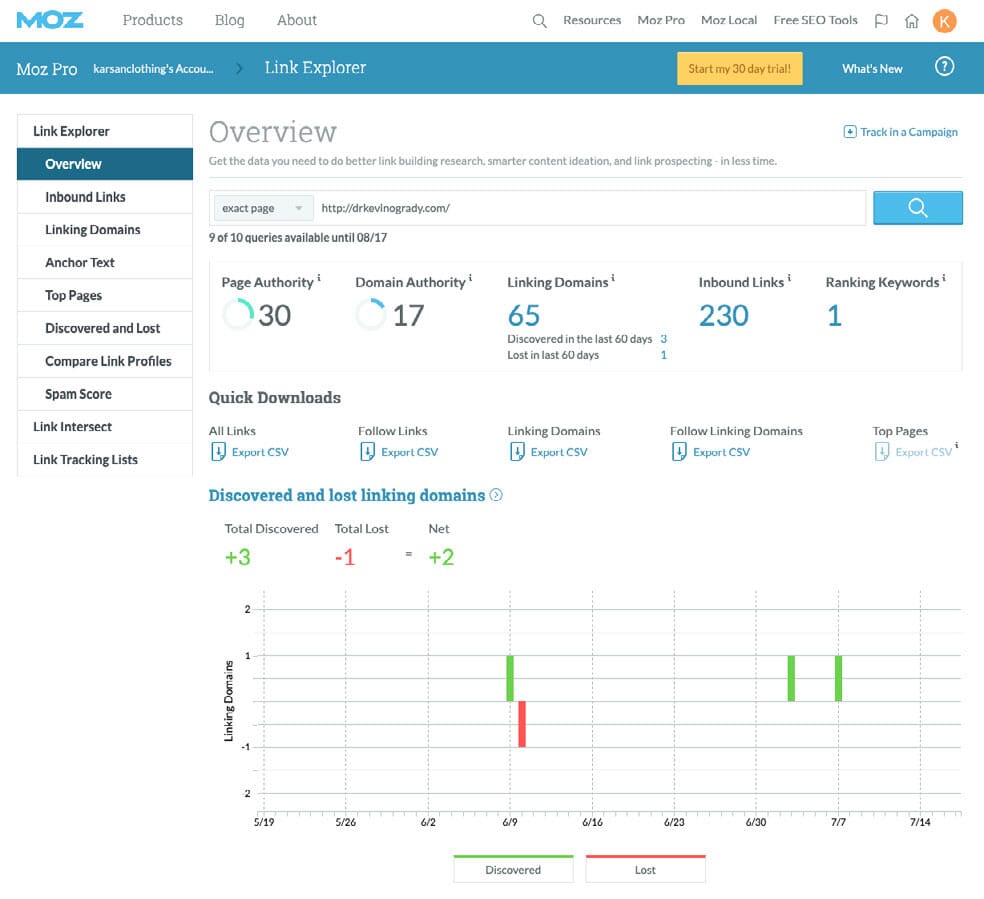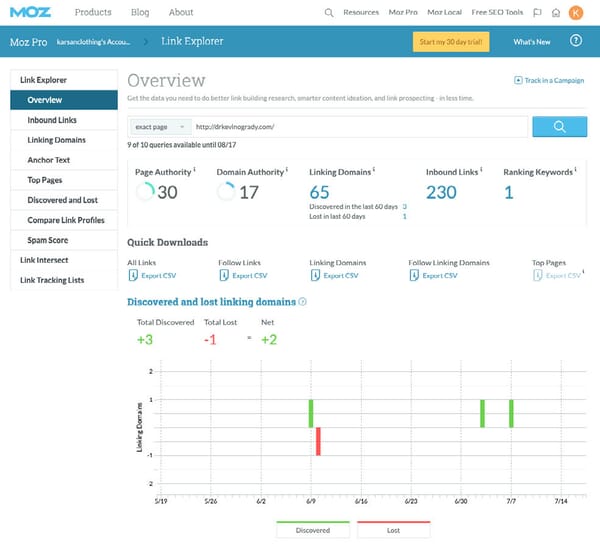 ---
Domain and Page Authority
The domain authority shows the reputation that the Website has. The higher the number out of 100, the greater the authority. The page authority shows you the same thing but it is for the actual page itself.
Root Domains
The number of root domains is important because it shows you if your competitor has an in-depth SEO campaign in place. The higher the number of root domains, the better the SEO campaign, since Google wants to see a high number of root domains, which shows authority.
---
Volume of Links
The number of links is somewhat important as well because it show you the sheer volume of links that your competitors have accumulated.
Quality of Links
While these numbers are all important, the more important variable is the quality of the sites that are linking to your competitors. Take the time to review the top pages that are linking to your Website and determine if they are high quality links or not. You want to gain an understanding of how many high quality links you need to outperform your competitors from a link building perspective.
---
Anchor Text
Click on the Anchor Text tab to see the anchor text that is being used for all of your competitors links. This tab shows you the anchor text term that they are using and how many times it is used, which shows you how aggressive they are from an SEO perspective. As you can see in this example, they are going after the keywords "Toronto best plastic surgeons."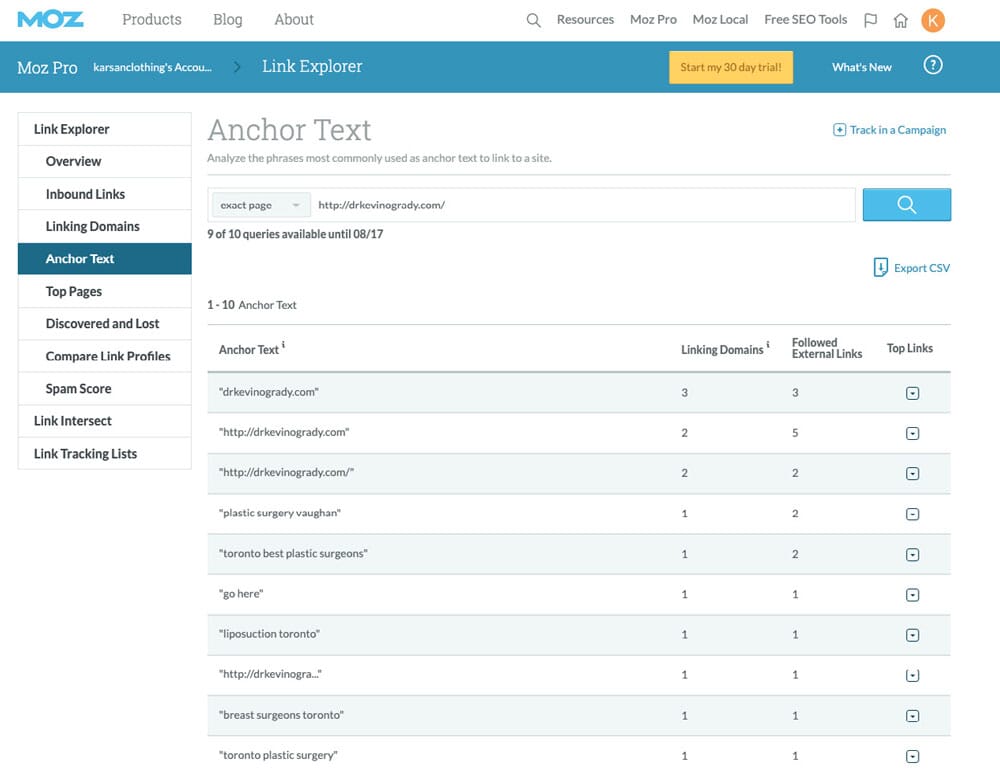 ---
Social Media
Social media continues to impact search results, so take the time to review how many social shares they have; shares, likes, tweets, +1s, show you how many other people are interacting with them, which is a good indication of the quality of their content. Once you have completed this review, rinse and repeat this process for all of your keywords and the top five competitors for each keyword.
Step 3: Keyword Research
After reviewing your top competitors, you will have a better understanding of the keywords you'd like to rank for.
Main Keyword
To begin your keyword research, start with your main (overarching) keyword that represents your product/service. For example, for Blueprint, it is "Internet Marketing Company."
Services and Product Lines
Once you have outlined your primary keyword, outline what your business offers in terms of specific services or product lines. Using Blueprint as an example, our key services are SEO, PPC, creative services, Website development, content marketing and email automation.
---
Categorize Keywords
Next, categorize your keywords into groups (themes). For example, for SEO Services, the group of keywords that would fall into this group include SEO Packages, SEO Analysis, SEO Strategy, etc. This process should give you a good understanding of the projected overall structure of your Website.
Validate Structure of Keywords
To validate the structure of your Website and keywords, use Google's Keyword Planner tool. You want to sign in using a Gmail account, so you have complete access to the full functionality of the tool.
Some of the selections that you want to make when using the tool include the following:
Select your country or region that you would like to target
Select exact as the match type to ensure that closely matching keywords are provided
---
Enter in Primary Keyword
Then, enter in your first keyword to search for starting with your main keyword first. For example, for Blueprint, we would start with "Internet Marketing Company" since it is our primary keyword as you can see here.


---
Review Related Keywords
Once we click "Get Started" it will show us the related keywords, so we can see what Google believes is relevant and related to this search term as you can see.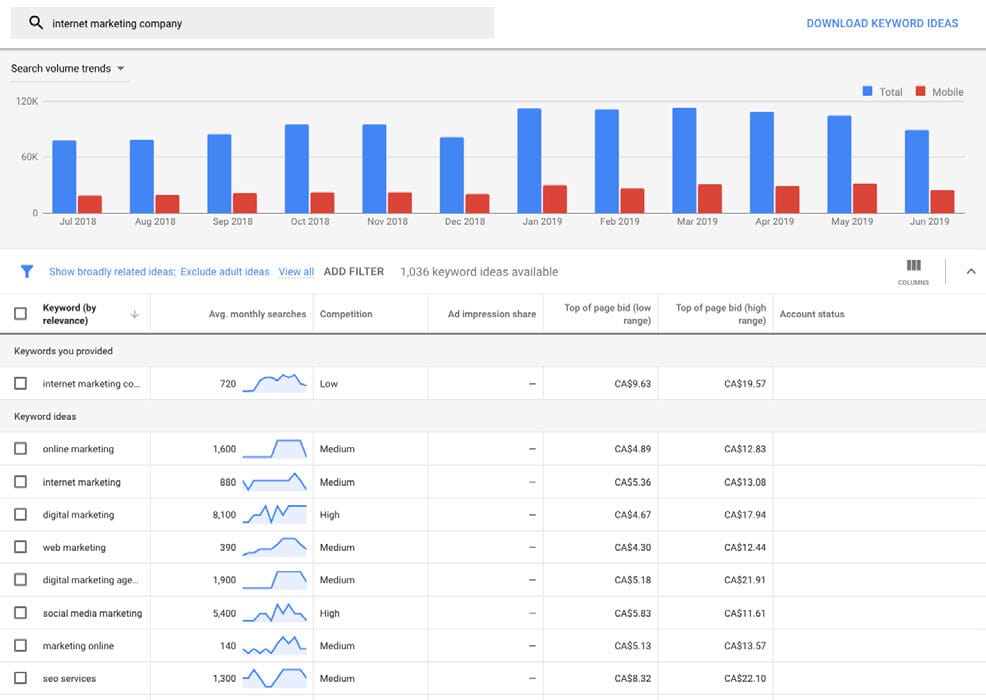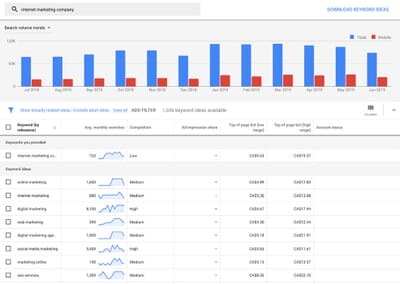 ---
Uncover Terms You Don't Have
Look for terms that you don't have on your list, while determining which keywords are your biggest in terms of search volume and relevance, so you can start refining the architecture of your Website.
Review Level of Competition
As you can see in the last chart, Google shows you the level of competition for the various keywords. You want to take this into consideration when selecting the keywords for your Website.
---
Review Cost Per Click
Google also provides the Top of page bid (cost per click) for the various keywords. The bottom line is the higher the price, the more people are willing to pay for the keywords, which is a good representation of the quality of the keyword.
Review Relevancy
If there are keywords that you are not sure about, enter the keyword into Google and review the relevancy of the search results to ensure that your assumptions are correct. When performing this analysis, you want to visualize the type of sites that you will have to compete against.
Step 4: Use Your Best Keywords in Your Navigation
Once you have a strong understanding of the keywords that you want to go after, use the top keywords in your navigation from most important to least important. As you can see with the Blueprint Website, all of our top keywords are in our navigation.
Redefine Navigation
Now that you have refined your keyword list, you are ready to build your Website. Choose the top keywords from each group that will drive traffic and conversions on your Website.
Develop Engaging Content
Once you have built your keyword list, you can start developing engaging content for your Website in the form of Web pages. Your main goal is to develop consistent, quality content that can be indexed by search engines.
---
Focus on Potential Buyers
Develop content that focuses on their emotional drivers, such as their top desires and fears.
Use One Keyword Phrase Per Page
Search engines index the individual pages on your Website, so use your keyword list to build the pages on your Website.
---
Include a Call to Action
Offers have a significant impact on how many leads your Website generates. Ensure visitors can sign up for a free offer, such as an eBook.
Write Great Content
It's not just a matter of writing content with the right keyword phrases. You want to write content that people engage with, so that they are compelled to opt-in for your offer and share your content with others. Google can tell if the content on your site is high quality and we continue to see that sites that develop great content, add pages to their Website, and blog on a regular basis, rank well.
---
Where to Add Your Keywords
While the quality of your content is vital to the success of your SEO campaign, you still want to ensure that your Website is properly optimized from an SEO perspective. For this reason, we recommend developing each page of your site with one keyword in mind, while ensuring that the keyword is inserted into the following areas:
URL – The following example shows the keyword term "social media marketing" added to the extension of the URL: http://www.blueprintim.com/social-media-marketing/
Page Title – Add the keyword term in its entirety in your page title.
Meta Description – Add the keyword term in its entirety to your page description.
Content – Add the keyword term once in the first and last paragraph, once in bold or strong, once as link text to another page, and a couple of times in the body.
H1 and H2 – Add your keyword phrase to the front of your main H1 heading and use a variation of the term in the lower level H2 heading.
Alt Tag – Add your keyword term to the image title and description.
Getting Started with Link Building
Link building is where the heavy lifting comes in and where the search engine war is won or lost. Setting up your pages correctly is a great start and provides the necessary foundation to start generating traffic through aggressive link building. However, if you want to beat your competitors, you have to add more high quality pages to your Website and be more active than them from a link building perspective. Furthermore, you have to focus on building high quality links.
Types of Link Building
There are two types of link building strategies to consider: internal and external link building. You want to start slowly and increase your link building over time. Let's take a look at the two different types.
---
Internal Link Building
How you link between web pages on your own Website sends a signal to the search engines of how important an individual page is and what the page is all about.
Here are some key steps to take:
Add a sitemap with a link to every page on your Website.
Add a blog to your Website; blogs are a great way to add fresh content to your site and social networks.
Link between the pages on your Website.
Add new pages to your Website every month.
---
Fresh Content
The production of fresh content by adding new pages to your site and to your blog is so important that we have seen clients achieve a page one ranking in Google with very few external links.
External Link Building
While external link building has shifted from quantity to quality, external link building still plays an important role in SEO.
---
Creating Back Links
Sites that link to your Website help establish your authority within your industry, showing search engines that your company is important. But, how do you get other Websites to link to you?
Here are a few basic link-building techniques you can get started with:
Social Media – Share helpful information on social media. A simple tool like Hootsuite enables you to share your blog posts through multiple social networks in seconds.
Provide Access to Tools and High Quality Content – People will link to you if you add detailed, in-depth information and tools that make their life easier.
Brainstorm – List your relationships with suppliers, customers, charities, related companies, and any company relative to your business or in an of these individuals and companies will give you a link.
Forums – Forums allow you to add a signature link to your Website.
Blog Comment – Search Google's blog search for your keyword term, and Google will rank the best blogs for that specific keyword term. Post legitimate comments and try to get the attention of the blogger. Many blogs allow you to add a signature link to your Website.
Competitive Research – Use tools like Open Site Explorer to discover the important links your competitors have and try to get similar links from those sites.
Submit Your Website to Major Directories – These include directories, such as dmoz.org, bestoftheweb.com, yahoo.com, exactseek.com, and business.com.
Learn More
Our goal with the SEO blueprint was to give you a basic understanding of how to use SEO to accelerate your ranking within search engines. If, you have any questions at all, contact us at 1.888.533.4886 or email info@blueprintim.com.