Secrets to Building an Audience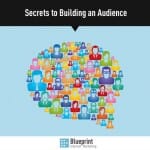 We have been discussing the importance of developing a high quality SEO strategy for some time now. We have also discussed the importance of building links that, not only support your SEO campaign, but also drive relevant traffic that will convert into leads and sales. As a matter of fact, in yesterday's post, we went as far as saying that the entire purpose of SEO is to drive traffic, not to just rank well.
As a search engine optimization company, we have seen several Websites that have focused on ranking for a small number of keywords, but they were not able to drive traffic because their keyword list was not deep enough and they simply did not use enough channels to establish links and traffic.
There is a great post written by Rae Hoffman called the "5 Lies You Tell Yourself About Building an Audience (and Links)" that I think does an exceptional job of explaining how to promote your content and build a following. Specifically, she explains how to maximize the exposure of your content, which adds to a lot of what we have posted about over the last few weeks.
In general, here are the steps that Rae uses and recommends:
1. Publish your content
2. Tweet your content and use hash tags where applicable
3. Ask friends with followings privately to retweet it
4. Submit the post to applicable niche bookmarking or "Digg like" sites to control the titles and tagging for people who later bookmark or vote for it
5. Send emails to applicable blogs that you think may cover the piece
6. Send emails to applicable journalists you think might cover the piece
7. Post the content to both your personal Facebook profile and your business profile
8. Privately ask a few friends to like it and comment on it so it takes higher precedence in people's news feeds
9. Tweet the post to bloggers that you didn't email that you think it might interest
10. Tweet the post to journalists that you didn't email that you think it might interest
11. Publish the post on your Google+ page (note, that she's staggering the posts to Twitter, FB and Google+, so they don't all come at once)
12. Pin it in Pintterest if applicable
13. Retweet it every two hours in the first six hours (being sure to put non retweet posts in your stream in between)
14. Retweet it at least twice the next day for anyone who did not see it the first day
15. Write a few guest posts that link back to the content in question over the next few weeks
Take the time to read the entire post, as it's quite informative. We would also recommend adding LinkedIn to your mix of sites that you are using to distribute your content if applicable. And while the list works for Rae, customize the order according to your strengths. For example, Rae has a strong Twitter following, so she uses Twitter as the first place to announce news. For you, if you have a stronger LinkedIn or Facebook following, you may want to lead with your strongest network.