SEO Analysis of Competitors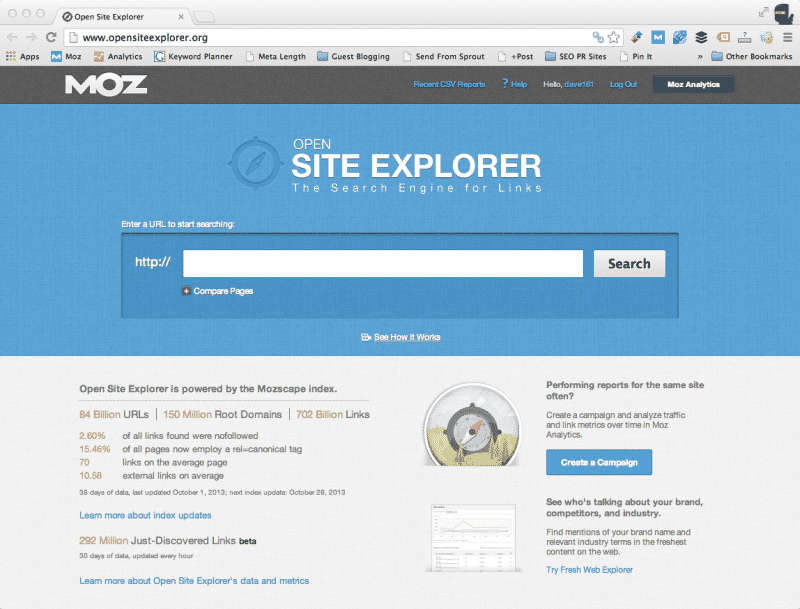 One of the most important steps of a successful SEO campaign is to perform competitor research to determine how difficult it will be to rank well for your keywords.
As a search engine optimization company, we always recommend getting started with your competitor analysis by entering the keyword that you would like to rank well for into a search engine, such as Google. For example, for the keyword "internet marketing company toronto" here are the results.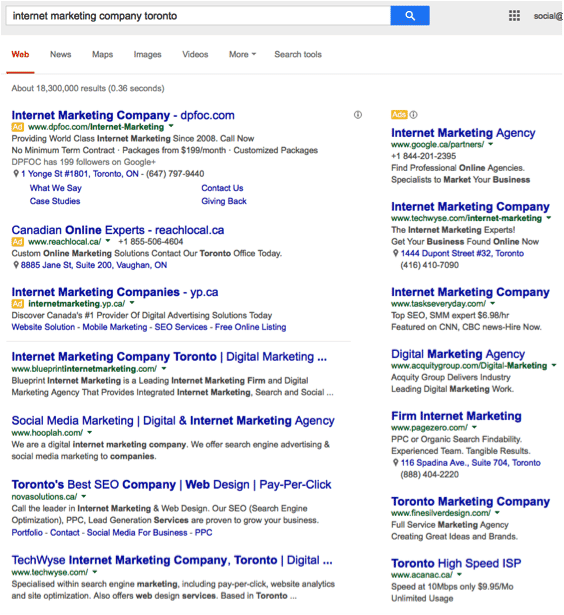 Copy the URL of the highest ranking website into Open Site Explorer. In our example, one of the highest-ranking URLs was Hooplah as you can see below.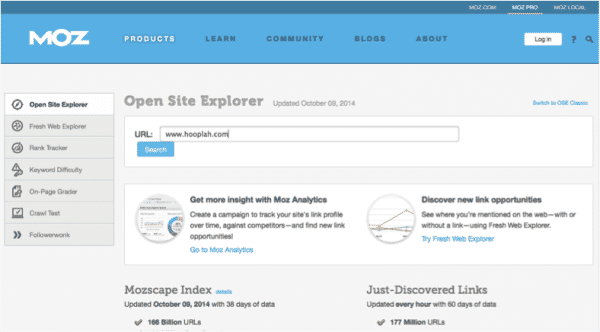 Open Site Explorer will show you the Moz rank for the domain and page authority out of 100 as you can see below.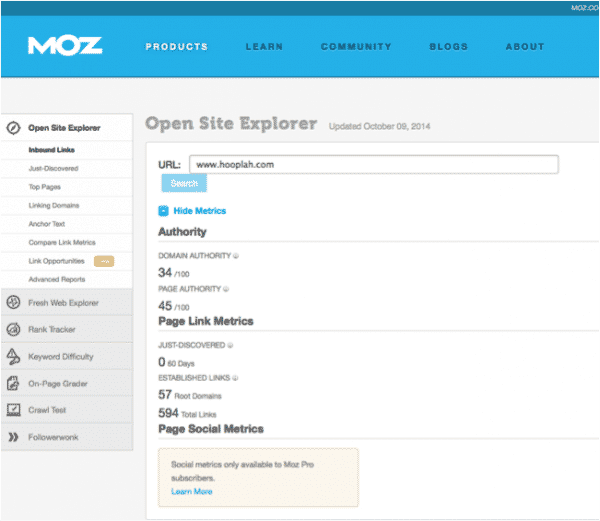 Domain authority shows the reputation that the Website has. The higher the number out of 100, the greater the authority. Page authority shows you the same thing but it is for the actual page itself.
They also show you the total root domains and the number of links. The number of root domains shows you how many different Websites are linking to them. The higher the number of root domains, the better their link building is. The number of links shows you how many actual links they have regardless of how many different websites they are linking from.
Click on the anchor text tab to see the anchor text that is being used for all of their links as you can see below.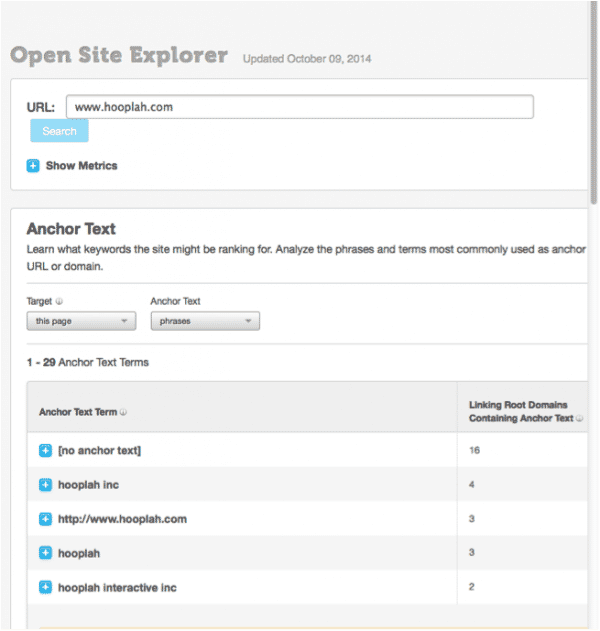 This shows you the anchor text term that they are using and how many times it is used, which shows you how aggressive they are from an SEO perspective. In this example, you can see that they are not trying to include a keyword in their anchor text.
Click on the linking domains tab and look at what Websites are linking to them to determine the quality of links they have as you can see below.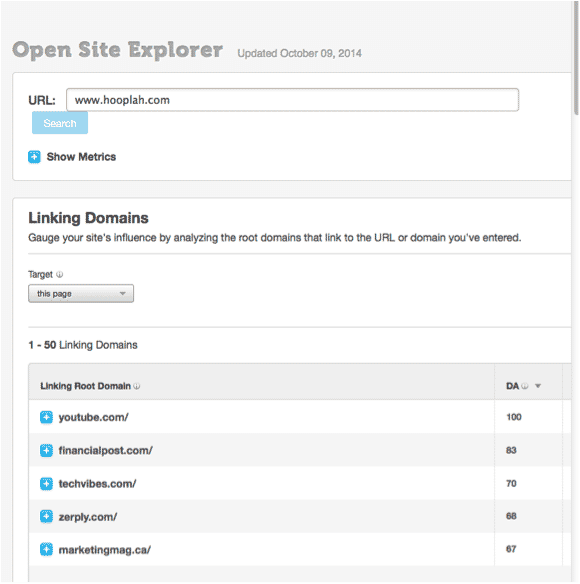 You can see that they are getting some high quality links from the Financial Post, Tech Vibes, Zerply and Marketing Mag. You can also see that they are active in YouTube. We've already learned a lot about this company's link building strategy.
Look at how many social shares they have including shares, likes, tweets, and +1s, which shows how many other people are interacting with them, which is a good indication of the quality of their content. Then, rinse and repeat this process for all of your keywords and the top five competitors for each keyword.
You then want to determine the number of pages that each of your competitors has for your keywords by typing in "site:www.competitor.com". In our example, we use Hooplah once again as you can see below.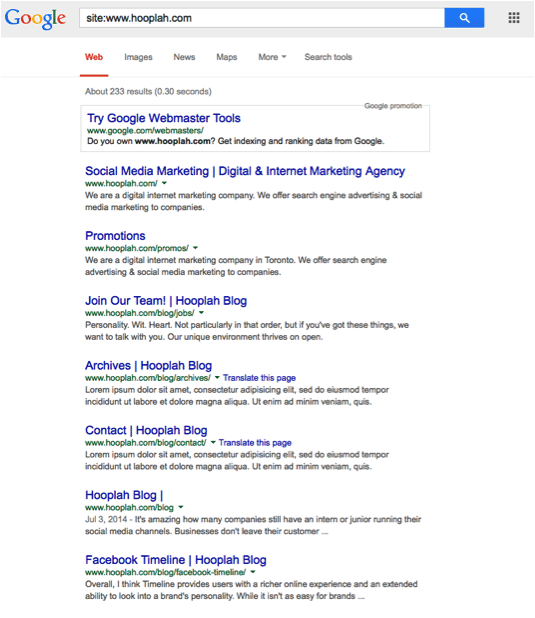 As you can see, the number of pages are shown in the top left, which indicated that they have about 233 pages on their site. The higher the number of pages, the more mature the site appears to Google, which indicates how many pages you need on your site to compete.
The production of fresh content is important to Google. It shows that you are continually making a contribution to your industry. Review the blogs of your competitors to determine how often they are producing fresh content to give you some idea of how much content you have to produce. Count the number of blog posts per month over the last three to six months and determine the average number of blog posts per month.
Review the keywords your competitors are targeting by reviewing the title tags of your top competitors by going to Open Site Explorer and clicking on top pages. You want to review the title tags and keywords your competitors are using in their title tags. In the example below, 6SMarketing has developed several links to their home page.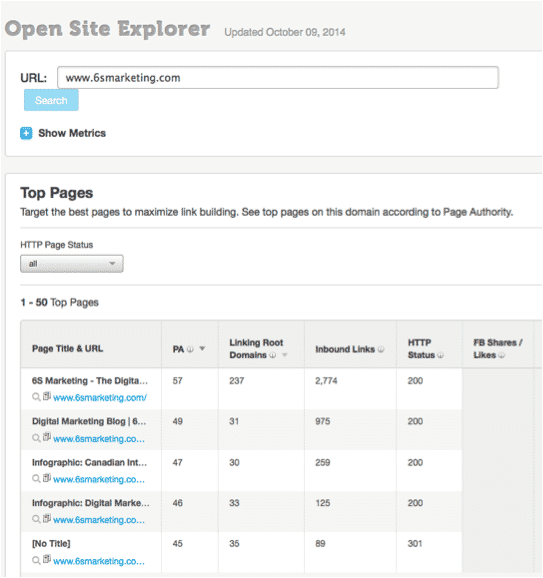 If we click on the first link, it takes us to the home page of their Website. At the top of the page, you can see the title tag of this page, which is optimized for the keyword "Digital Marketing Agency." This is important, because we now know what their main keyword is. Review all of their main pages to determine their keyword structure.
Once you've completed these steps, refine your final list of keywords based on your research. Please don't hesitate to ask any questions you may have by completing the form below. We are here to help.