SEO Marketing Foundation – Part 3: On-Page Optimization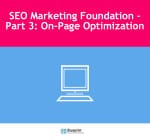 This post is part 3 in a 4-part series. If you missed parts 1 or 2, you can access them here:
On-Page Optimization Keyword Tree
As a company that provides SEO services, we always say that an excellent way to get started with your on-page optimization is to create a keyword tree based on your keywords from your most important to least important keywords. This tree should also be based on the search volume and relevance of your keywords. For example, a keyword tree for Blueprint Internet Marketing might look something like this:
• Internet Marketing Company (Home Page)
o SEO Toronto
• SEO Services
• SEO Packages
• SEO Analysis
• SEO Strategy
o Pay Per Click Company
o Social Media Marketing Company
o Website Development Company
o Email Marketing Services
The last 4 bullet points would also have their own bullets like 'SEO Toronto' does, but for simplicity's sake, we completed only the first.
Content Development Mindmap
Next, develop a mindmap to show your mid- to long-term content development strategy. This should include different topics within your larger general topic, as well as incorporate different forms of content (ie. blog posts, email newsletters, videos, etc.) and when each piece of content will be developed and released.
Title Tags
A title tag is essentially just the title of the selected web page, therefore, there is only one per page. Title tags have a 70-character limit, within which should be your keywords. Your title tags should evoke an emotional response in your audience, and act as a proper headline—remember, you are creating your website for people, not just SEO, so it should provide a great user experience above all else. This is the title that will show up in search results when people search your keyword. For example, for Blueprint Internet Marketing, our home page title tag is 'Internet Marketing Company Toronto | Digital Marketing Agency'. Our SEO page title tag is 'Search Engine Optimization Company Toronto | SEO Services Canada'.
Meta Description
Your meta description should ultimately support the headline of the page it's describing. This is the description which shows up underneath the title in search results. It should describe what the page is about and encourage people to click on your website. Remember to include your keyword in the description, and to place it where it fits best. For example, for Blueprint's home page the meta description is: 'Blueprint Internet Marketing is a Leading Internet Marketing Firm and Digital Marketing Agency That Provides Integrated Internet Marketing, Search and Social Media Marketing Services. Book a free consultation!'. For our SEO page, the meta description is 'Maximize Your Ranking Through Professional SEO Services From a Toronto Search Engine Optimization Company Firm. Get a Free Analysis and Report to Learn How!'.
URL
The extensions for the URLs for each of your web pages should include the keyword that the page is optimized for. For example, the SEO page on our website has the URL 'www.blueprintinternetmarketing.com/search-engine-optimization'.
While you want to include your keywords as much as possible, be conscious of 'keyword stuffing'. This is simply inserting your keyword everywhere; regardless of if it makes sense or fits well. Search engines can detect this type of activity and will not rank you well, so avoid doing this!
Now you have a basis to start building your website and optimizing it for your keywords. In part 4 of this series, we will take a closer look at more on-page optimization strategies, as well as a bit about how to begin link building. After understanding these focal points of great SEO marketing, you will be able to rank above your competitors and accelerate your lead generation and sales. Don't miss part 4!
Please leave us a comment below letting us know any thoughts or questions you have.