SEO Marketing Steps That Maximize Traffic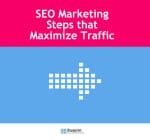 As a search engine optimization company, we have discussed the importance of developing high quality links and content to be successful with your SEO campaign. But, there are three key steps to take that are at the core of a powerful SEO program. The tree steps are to add pages to your site, add blog posts, and develop content about topics that have good search volume, while trending well.
Adding Pages to Your Site
The foundation of a successful SEO campaign is all about building your site with great content over time. Adding pages to your site is one of the key ways that you achieve this. But, don't just add pages to your site randomly. Instead, perform proper keyword research to uncover the keywords that you want to go after. Then, perform competitor research to determine if you can realistically rank for the keywords. Then, develop a mind map that graphically illustrates how you will add pages to your site in a systematic way.
For example, we are currently developing a site for one of our clients, which is a law firm. Instead of adding random pages, we are building one section at a time, so it makes sense to the end user. When adding pages to your site, you will even notice that many of them will rank for your keywords in a very short period of time. This happens because Google and the other search engines recognize that you are adding relevant pages that provide value to your market. The key is that you want to add relevant pages. Try to ensure that the pages that you are adding are consistent with the overall theme of your site.
Adding Blog Posts
Blog posts are a fantastic way to add additional content to your site using variations of your keyword. For example, you don't want to add different pages to your site with the keywords "Best SEO" and "Top SEO" because it looks like spam. You can, however, use your blog by writing interesting articles that incorporate the keywords in a logical way, such as "The Best SEO Strategies That Focus on Quality."
Write About Topics that are Trending Well
Blog posts can rank very quickly, especially if they are on topic. So, take the time to search Google Trends for keywords that are trending well in the region that you want to target. Then, write interesting posts that provide genuine value for your market.
By combining these three steps, you will not only rank for your keywords, but you will drive more and more traffic over time, which will result in more leads and sales, which is what it's all about.
If you have any questions, please leave a comment below. We are happy to help.