Twitter Link Building Strategies

Yesterday, we posted an article about using Google Alerts to find out about link building opportunities. In this post, we are going to show you how you can use Twitter to set up alerts that are emailed to you. And what's great about using Twitter for alerts is that they know your location, so you can set up alerts by location.
To get started, set up an account on Zapier if you don't have one, which you can access here. After you have set up your free account, click on "Start Using This!" as you can see below.

Once you click on "Start Using This", you will see the following page.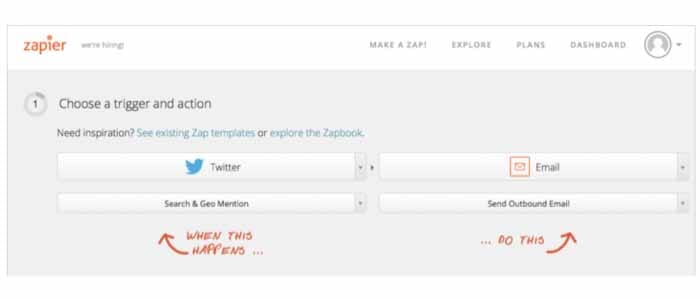 For step 1, keep the trigger actions the same as they are as outlined above.
For step 2, click on "Connect a Twitter Account" and name your account. In the example below, you will notice that we named our account Blueprint's Twitter Account.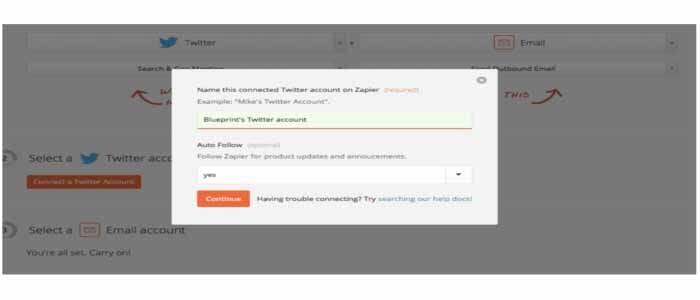 Click "Continue" and authorize Zapier to access your Twitter account by filling in your unsername and password for your Twitter account in the fields below.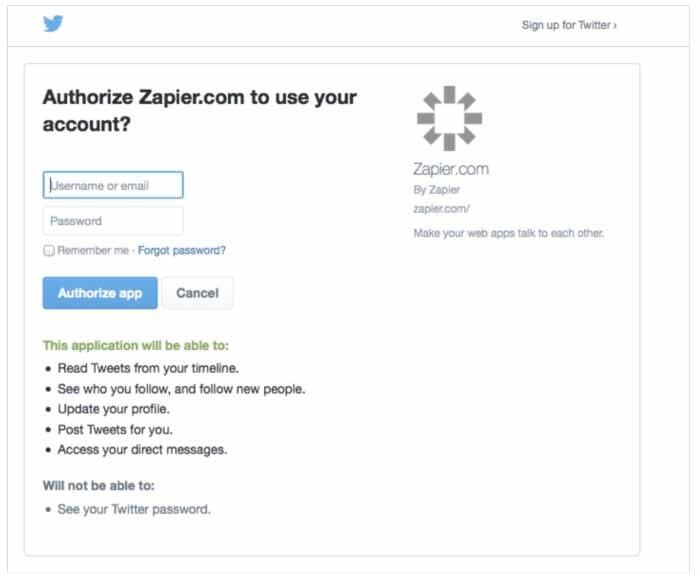 If set up correctly, Zapier will redirect you back to step 2 and show that your account is associated now as you can see below.

For step 3, since you have already set up your Zapier account, it will already have your email address, so it will show the following for step 3.

For step 4, enter in your search term as you can see below. In our example, we used the keyword "internet marketing."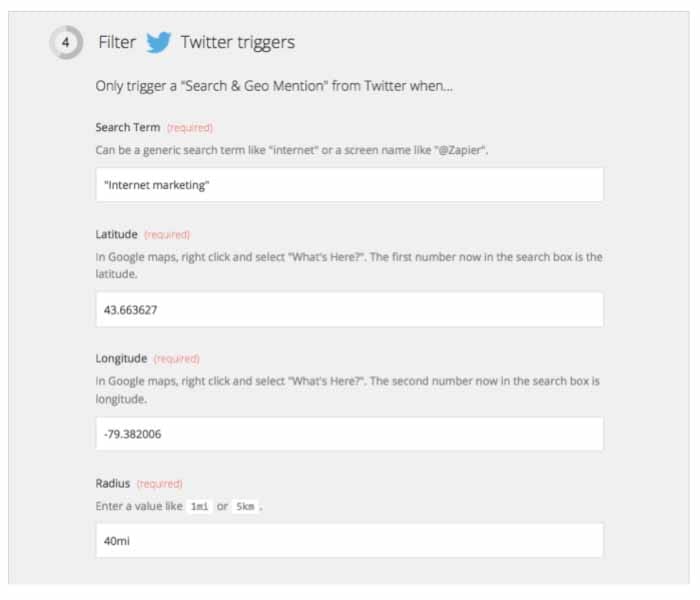 Then, go to a browser like Google to determine the latitude and longitude of your city. In your browser, type in your city. In our example, we used Toronto as you can see below.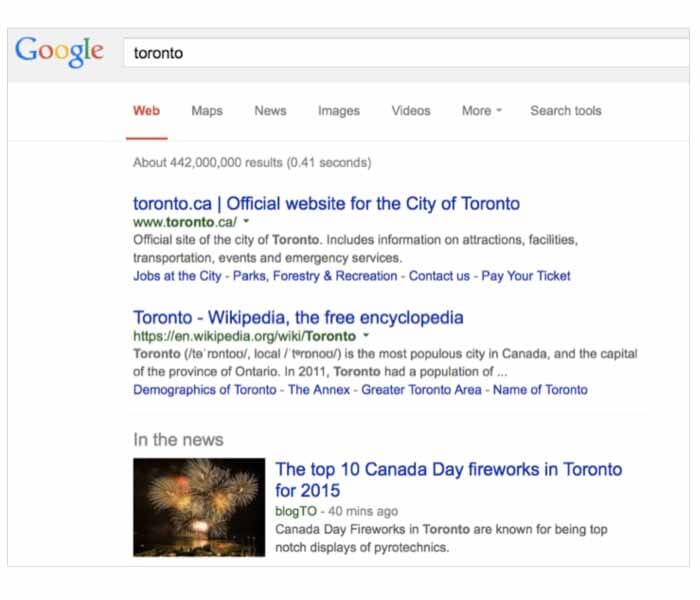 Once the search results appear for your city, click on the "Maps" link in the navigation, which you can see above.
When you click on "Maps", you will be taken to a map that is similar to the one below.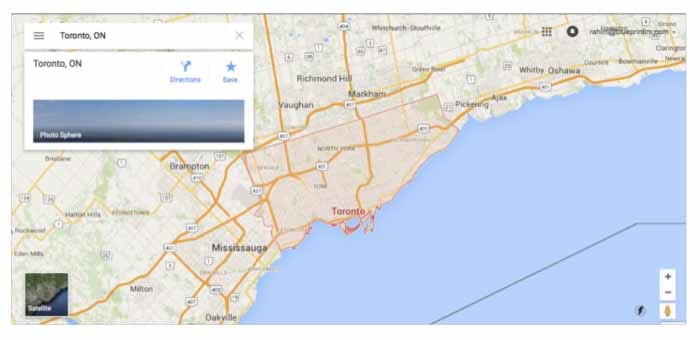 Right click over your city in red and it will give you a drop down list. Click on "What's here?" to get the latitude and longitude of your city, so you can enter your location in Zapier.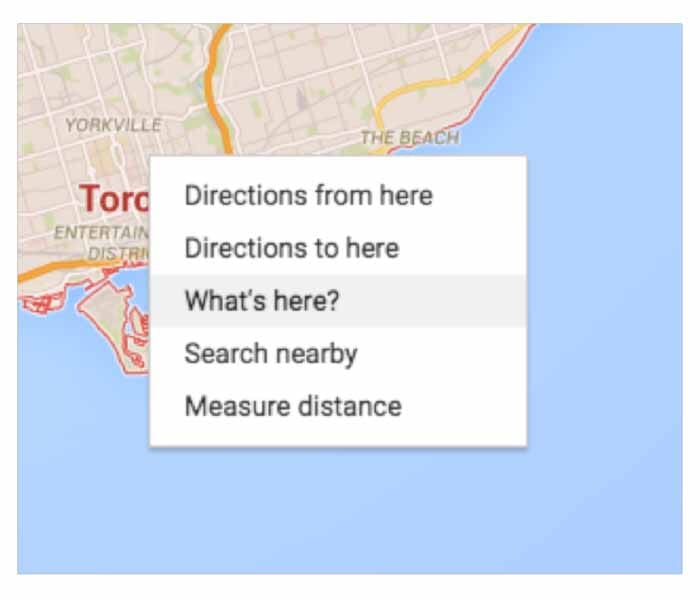 After you click on "What's here?", it will show you something similar to the following.

The two numbers that are provided below your city name are the latitude and longitude as you can see above. Input the latitude, longitude and your target radius into Zapier as you can see below.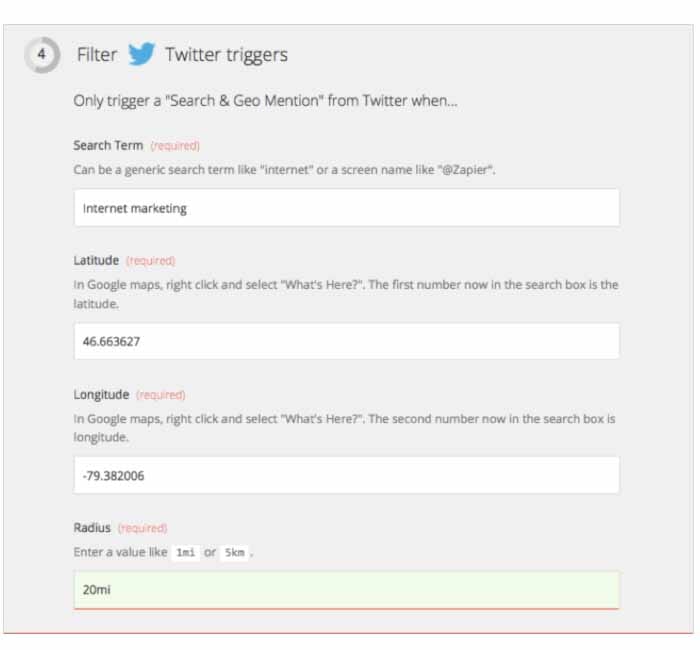 Next, fill in the first two fields in step 5 regarding your email address and subject line, so it's easy to understand what each alert is about.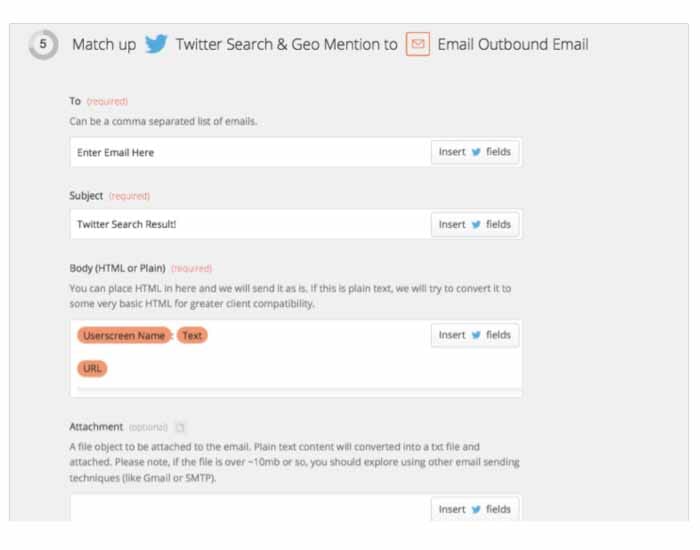 Next, scroll down to step 6 and click on "Test Twitter trigger" to preview your alert that you have set up.

Next, name your zap in step 7, so that next time you login, you understand what your zap is about.
Since we named our zap, Internet marketing, we can see the zap when we login as you can see below.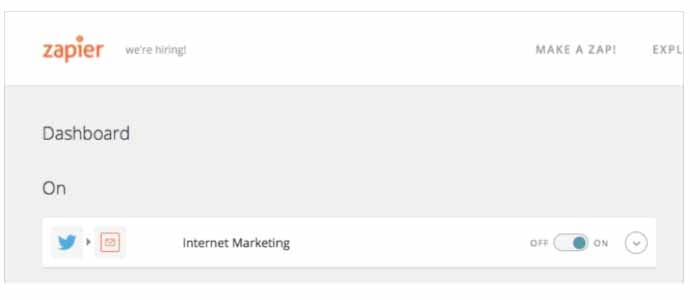 Now that you know how to set up an alert in Zapier, let's take a look at some examples of how you can set up an alert for your business to help you find link building opportunities.
If you know that your basic criteria will be the same for your alerts, such as your target location and the email address that you want your alerts to, copy the initial Zap that you set up by clicking on the down arrow, then click on "Copy" as you can see below.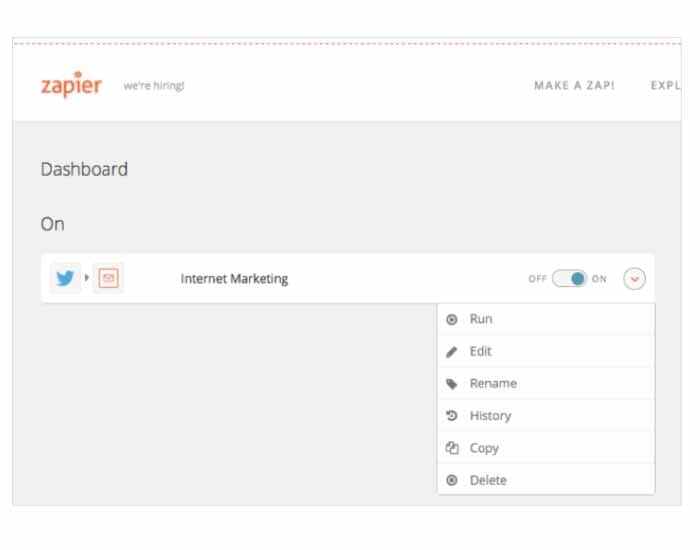 Let's take a look at some different Zaps that you can set up for your business.
Monitoring Your Brand
If you want to get alerts for people who mention you, your brand or twitter handle, while focusing on your product or service, but the content is not content that you have published, here is how we would set up this alert using Blueprint Internet Marketing as an example.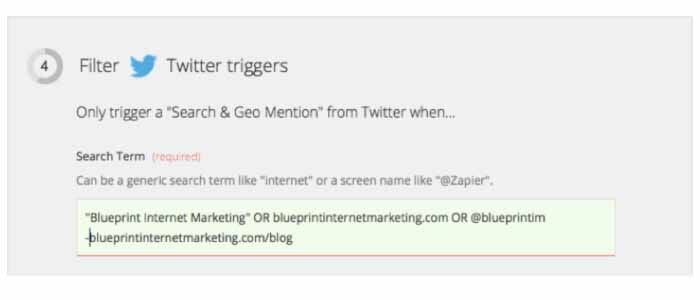 Monitor By Sentiment
It's important to know if people are talking positively or negatively about your business. A simple way to do this is by setting up alerts using emoticons. Here's an example of how we could set up an alert for a plastic surgery client for positive comments in the Toronto area.
"plastic surgeon" 🙂 near:toronto within:20km
Finding Guest Posts
If you want to guest post, you can set up alerts to track guest posting opportunities in Twitter. Here's how we could set up alerts for Internet marketing.
"write for us" OR "submit guest post" OR "bloggers wanted" OR "become a contributor" OR "this guest post" OR "become an author" "Internet Marketing"
Check out our post on Google Alerts for additional alerts that you can set up in Twitter. If you have any questions at all, don't hesitate to ask. We are here to help as a company that provides SEO services.