Link Building and Using HARO for SEO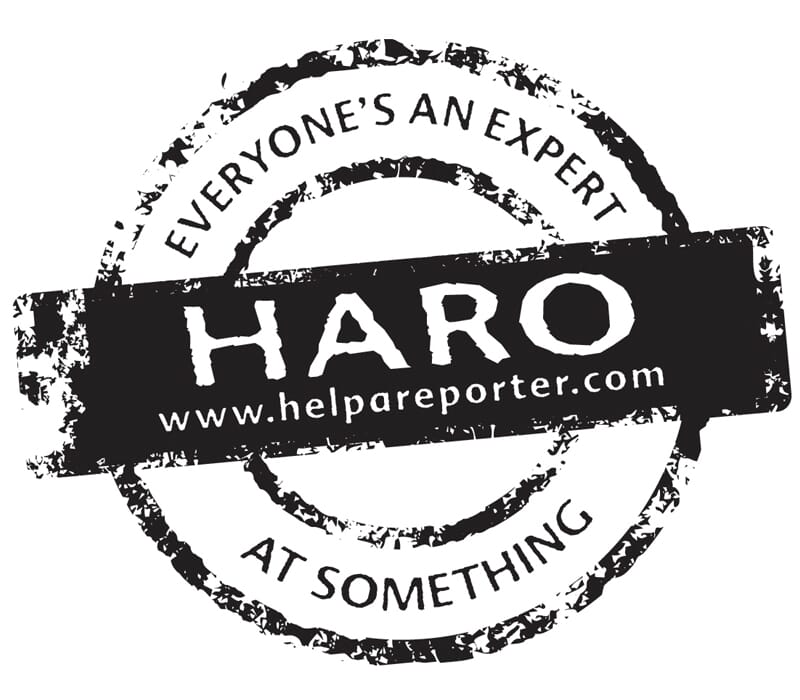 HARO (Help a Reporter Out) is a great place to find journalists that are looking for experts to provide content on a particular topic. You can find opportunities to create an article that can get published in big online newspapers or magazines, while being seen as the expert in your field. You can also get a backlink to your site, which is great as a SEO services company.
To get started, visit HARO and set up an account at helpareporter.com. When you visit helpareporter.com, scroll down to the following form to sign up, if you do not already have an account.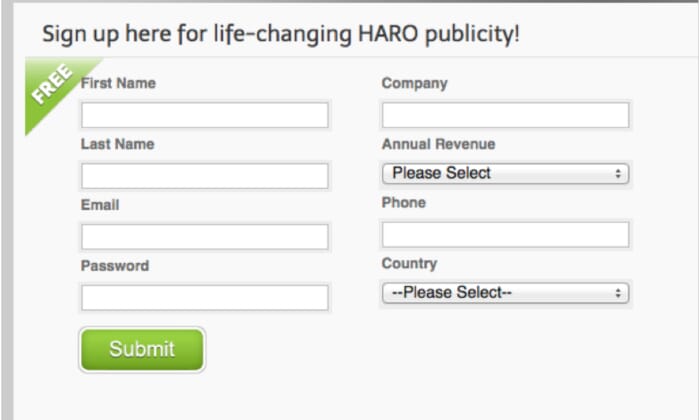 Once you complete the form above, they will send you a confirmation email. Once you confirm by email, you will be directed to the following page. Click on "Update and add to your Account Details" to update your profile.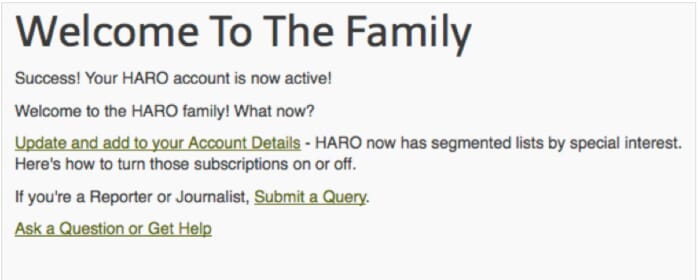 When updating your profile, it's important to select your preferences, so that you receive relevant information. As an Internet marketing company, we selected the following preferences.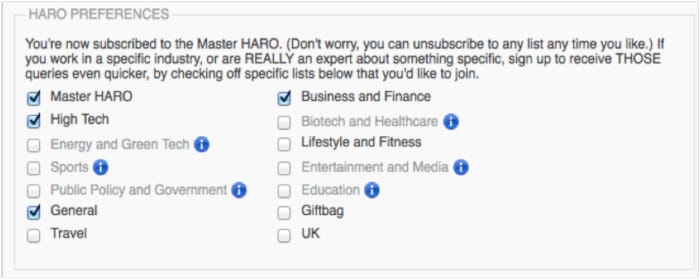 Each day you will receive two emails – one in the morning and a second email in the afternoon with a list of approximately 50 headlines as you can see below.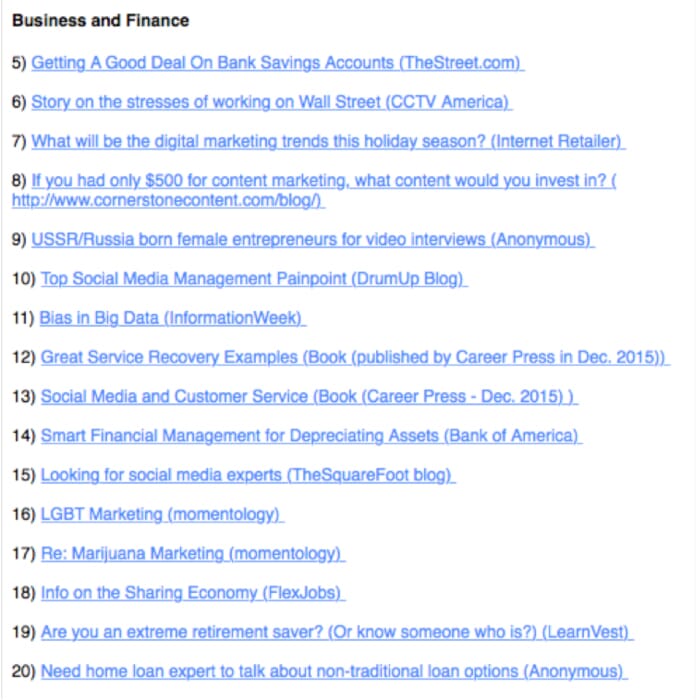 Each headline has a link to a description further down the page where you can see the journalists name, deadline for the reply and a short summary of the requirements.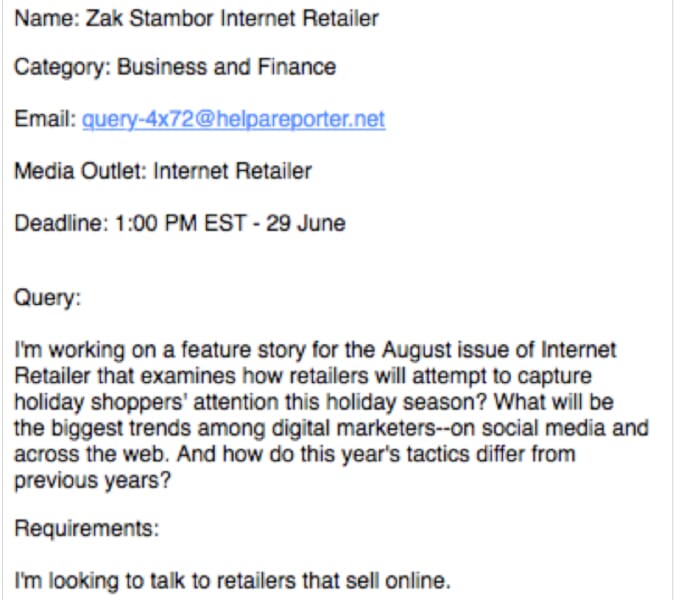 When you find a query that you are an expert in, follow these rules:
1. Read the query carefully and make sure you meet everything the reporter is asking for. Some queries ask for specific items like a certain subject line or lists of info in a specific order. FOLLOW THE RULES or your pitch will be deleted.
2. Respond quickly. Being first in their inbox may mean that your pitch gets more time being evaluated. Remember, hundreds of others may be pitching the same query as you are, so responding early may just give you that edge on the competition.
3. Keep your email short and to the point. The reporter does not want to read two pages before they have even decided that they will use your info. Here's the structure you should follow:
• 1st Paragraph: Introduce yourself.
• 2nd Paragraph: Explain why you are the right fit for this article.
• 3rd Paragraph: Outline how you can be reached.
4. Be careful. Don't send follow-up emails. If they like your pitch, they will contact you.
5. If you are chosen, make sure you send a genuine thank you email. Also, don't forget to promote the story in your Twitter feed to thank them again and connect through LinkedIn. This opens up the opportunity to be used as a trusted source for future articles.
NOTE: Be wary of 'anonymous' in the Name section, you don't want your great idea falling into the wrong hands!
To manage your ever growing email inbox, this can be taken one step further and filters can be set up in Gmail, so you only receive an email when your keywords are in the body of the email.
To set up your filters in Gmail, click on the gear tab and select Settings in the drop down menu.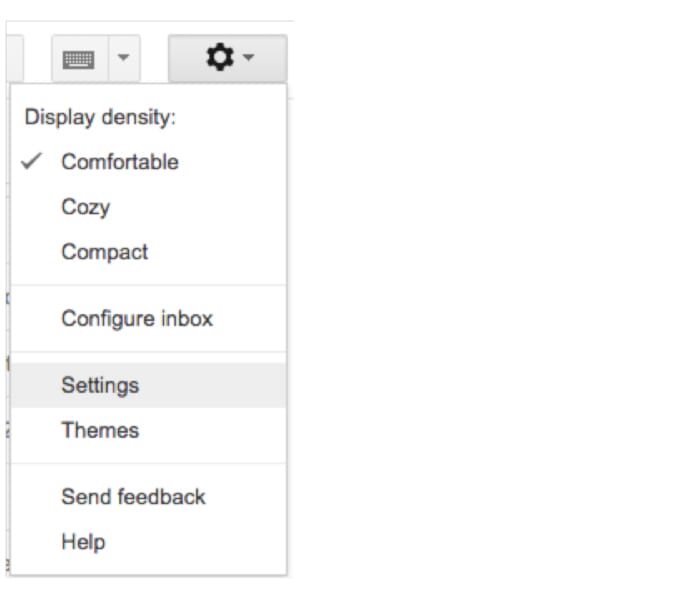 Then, click on Forwarding and POP/IMAP. Then, click
Forward a copy of incoming mail to and enter the email you want to use.

Gmail will then ask you to verify the email address, which will send an email with a confirmation code that you need to cut and paste into the confirmation box that is displayed next to the email address in the forwarding section.
Note that you can manage what Gmail does with the email after it has been forwarded. This is shown after the email address as you can see below.

Now you are ready to create a filter. Click on the grey down arrow inside the search box within Gmail.

You will then see additional questions that enable you to configure what email address to filter from and what email to forward the emails to, as well as the keywords to filter. Once you have completed the form below, click on "Create filter with this search" as you can see below.
Next you will see this screen. Click on "Forward it" and select your email address as you can see below.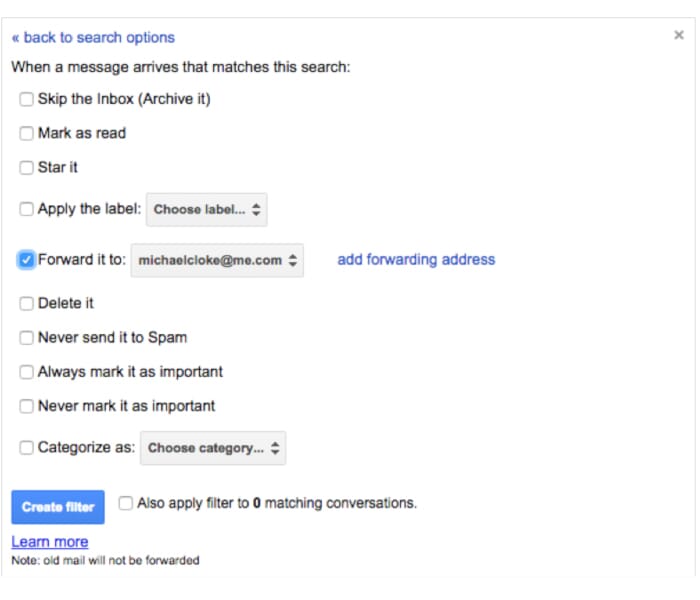 Now you will only receive emails from HARO that contain your keywords!