Using Press Release Sites As Part of Your SEO Campaign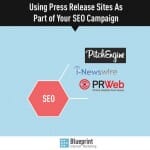 While there is a major shift from using low quality directories to higher quality link building strategies, press releases are still an effective component of an overall SEO campaign.
There are both free and paid press releases sites available, while several offer both free and paid versions. Below you will find a list of free press release sites, as well as different criteria that we use, as a search engine optimization company, to rank the press release sites.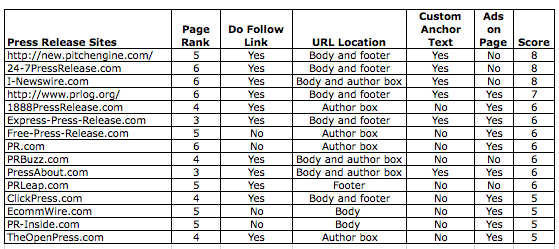 The first variable that we look at, as you can see above, is the page rank of the press release site. The reason that we look at the page rank is because it represents the quality of the backlink that we can acquire from the press release site.
The second variable that we look at is if the site provides a do follow link. This is important because it enables us to acquire a backlink, while driving traffic to the Website that the press release links to.
What's important to keep in mind is that you want to take the time to write a good quality press release. Although the press release site is free, we have seen several press releases get picked up by other sites and the do follow link has driven a good volume of traffic. If your press release is poorly written, while you may get a backlink, the chances of it getting picked up and driving traffic are low.
The third variable that we look at is the URL location. The bottom line is the higher the link the better. Specifically, we like to get a link in the body because it's a better placement to drive traffic, versus the footer or author box. The key here is that you want to think about driving traffic, not just acquiring a link. Also, this link is not viewed as favorably as higher quality links, such as a guest blog post, so it's important to think about driving Website visitors, not just link building.
The fourth variable that we look at is if the press release site allows you to use custom anchor text. By including your anchor text in your backlink, you are properly developing a link for a specific keyword, such as "SEO Services." Based on these variables, we assign a score to the press release site. This allows us to prioritize which sites we are going to use and in what order.
If you are looking for paid press release sites, we would recommend Market Wire, PR Web and Press King. While you do have to pay to publish your press releases on these sites, it's certainly worth it.
If you have any questions, please leave a comment below. We are here to help.