12 Ways to Diversify Your Instagram Content in 2022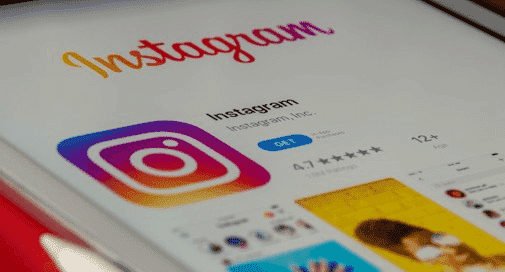 Staying up-to-date on all the latest social media trends can be rather tricky, and, as a business, your time is precious. That's why we're here to help you navigate through all of the ways you can optimize your Instagram content to diversify your profile. Below, we'll provide you with the best practices for creating unique and engaging content for 2022.
Using Instagram Reels
Instagram Reels are widely popular, successful, and an excellent way for businesses and individuals to add variety to their content. Often, brands don't take advantage of videos as much as they could be to connect with their audience. Creating videos like Instagram Reels not only breaks up your profile nicely but is currently one of the best ways for your account to reach more people. We recommend looking at Reels as a way to bring another layer into your branding. Spice things up a bit! Have fun with it! If your video lands on the Reels section of someone's Explore Page, and they see exciting, engaging and educational content, they're more likely to click on your profile to see what you're all about. Reels are incredibly popular right now, and we recommend turning your content into these short videos whenever you can. Remember, they're meant to be short and sweet, so there's no need to approach them the same way you would a YouTube video, for example.
When it comes to creating Instagram Reels, you can also go one step further and create content by using trending sounds. This will help you connect to the audience you already have and reach a larger demographic than your following alone. Here is one example of how Elton John's popular new song with Dua Lipa has become wildly popular to use for Reels, with even Elton himself creating one. By clicking on a specific audio, you can see how many Reels have used the sound, and in this case, there are 437 thousand Reels so far to do so.
Oftentimes, the music trending on Instagram Reels is also trending on TikTok, which means if you create content for this use, you can also very well use it for a TikTok account, too. Therefore, creating Reels is not only beneficial to your Instagram following but can be used to connect with even more people through TikTok.
Whether you want to create short snippets of your brand story, the evolution of your business, or even briefly show off products or services, the possibilities are endless with Instagram Reels.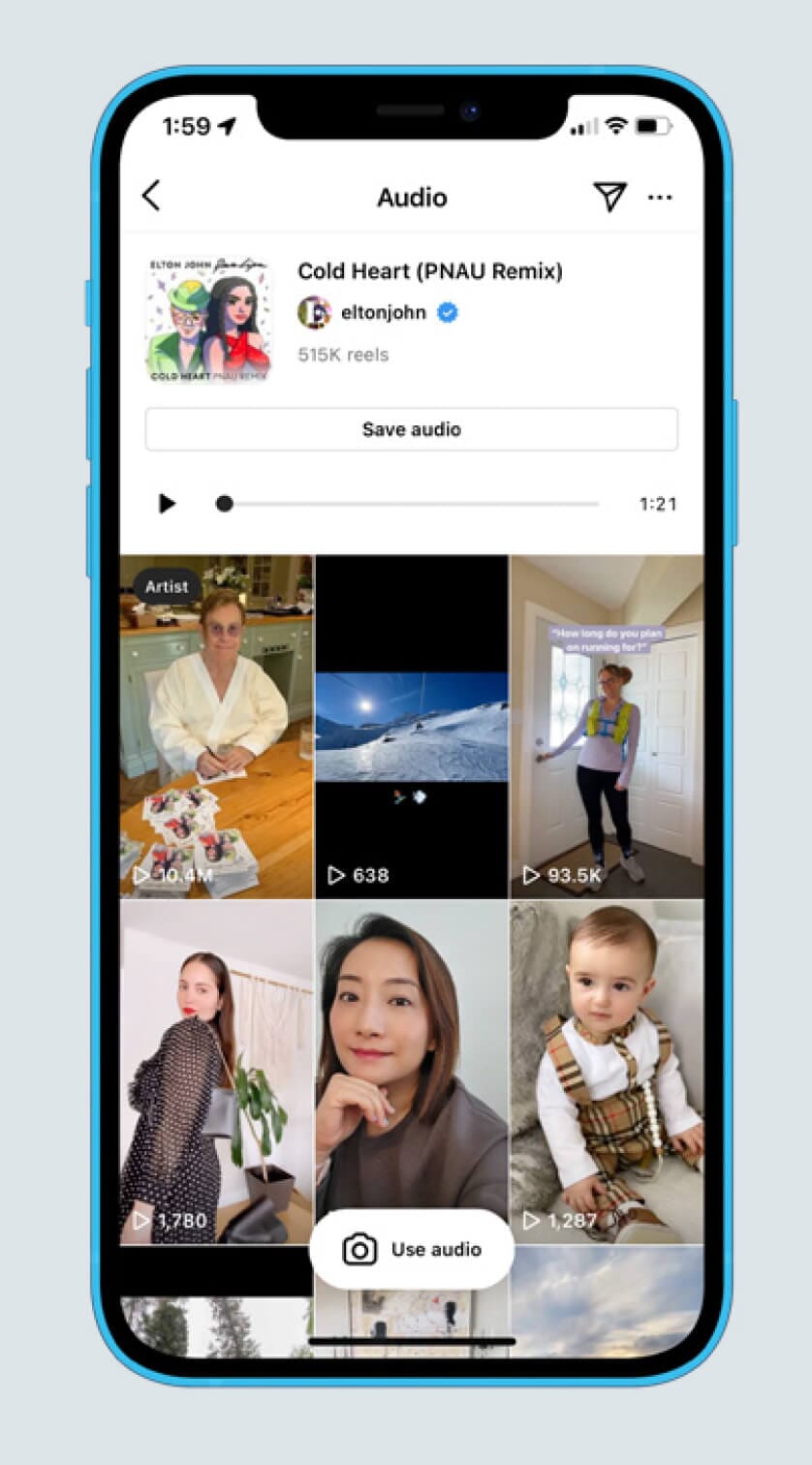 ---
Optimizing Carousels
Instagram is far from the platform we once knew that was merely pictures and nothing more. Today, we have the opportunity to benefit from carousels that display multiple related images together in one post. Carousels allow individuals to obtain brief snippets of information by swiping from right to left. Maybe you want to showcase your latest products and have each slide designated for a specific feature. Perhaps you'd like to present various styles from the same collection or little bits of writing for best practices or tips if you provide a service rather than a product.
This Instagram creator does carousels very well with fresh, unified colour schemes and insightful information. Her content is easy to follow and although her aesthetic is consistently top-notch, she does not compromise the quality of her content. In essence, her carousels are well thought out and a prime example of how you can create these Instagram posts for yourself.
Whichever way you choose to create your carousels for Instagram, try to remember that each slide should be kept brief and not too cluttered with content. You want to ensure that it's easy for your readers to swipe through, as too much writing can oftentimes make people feel overwhelmed. So, it's best to be mindful of this. And remember, having more space for content through carousels doesn't mean you should overload your audience with information. If you have a lot of writing you'd like to share, you can simply do so through multiple posts rather than carousel slides. The goal is to diversify your feed with various styles to keep your audience engaged. Using carousels is only one of many ways to do just that.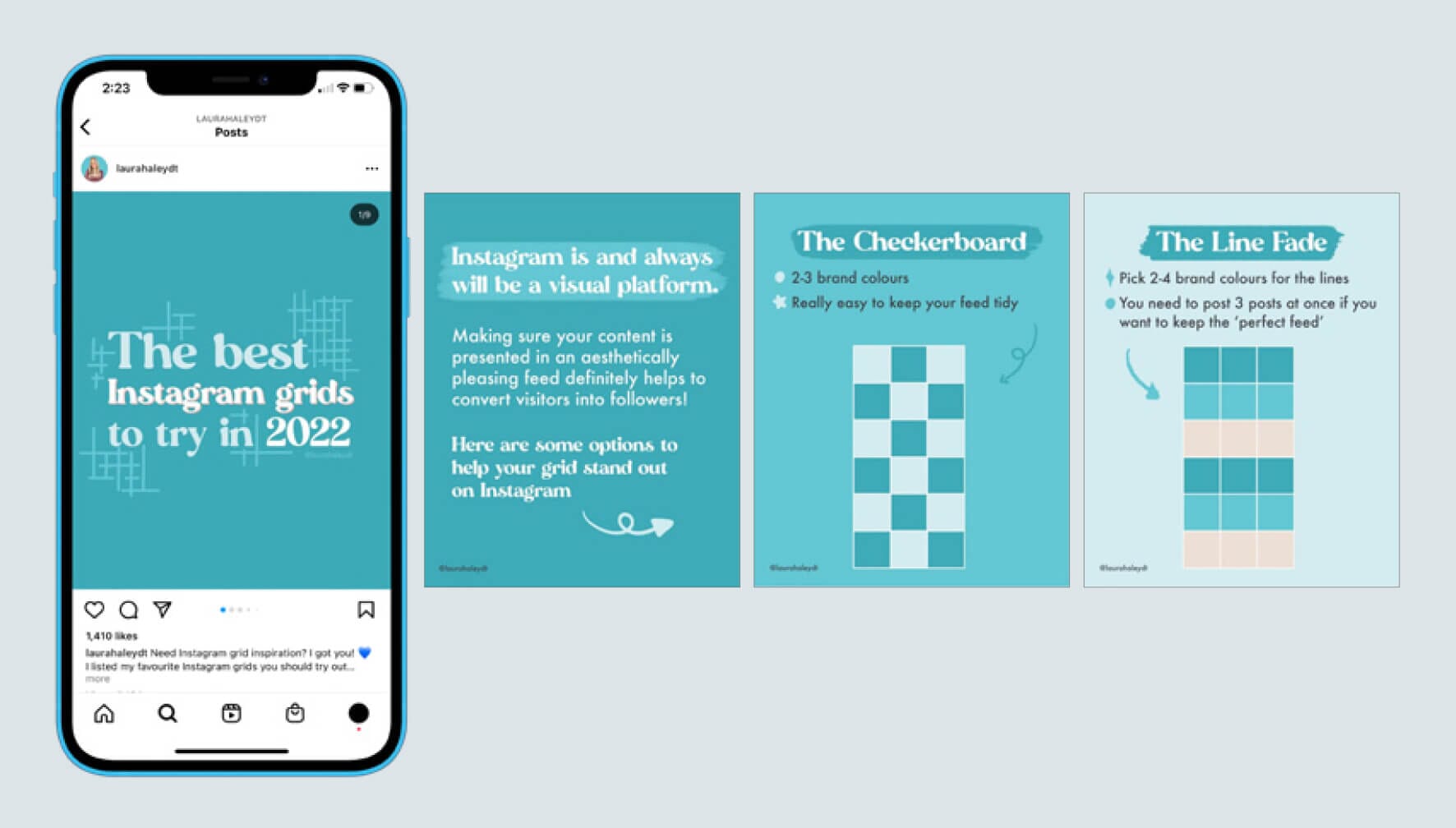 Spicing Up Your Instagram Pictures
We're going to take it back to the basics for a second and talk about how valuable simple images still are on Instagram. Although there are many other features now, people still appreciate single-image posts, so there's no need to stray too far from these. However, you can do a few things to spice these pictures up a bit to have your audience feel more engaged!
For starters, you can now add product tags to your pictures. Say, for instance, you have products you're looking to present for the first time. Product tags make it easy for people to see where they can get the item in your picture. With a quick click of the tag, they will be redirected to another area where they can see the cost and even proceed to purchase if they wish to. Sometimes, when we see a product, and even if we're instantly intrigued, any extra steps to search the website or find it can be a deterrent. Although it's another step for you to do, it's far fewer steps for your audience, therefore meaning a higher chance of purchasing.
Here is an example of a product campaign done well with the use of tags. Although, of course, Lululemon is known for their athletic clothing, it's still beneficial for them to tag their products so that customers can easily go from this post to the product itself.
You can also now tag people and places in your pictures, which significantly helps you connect to more people. Rather than just posting an image and hoping for the best, adding these few tags can truly work wonders for your brand's reach.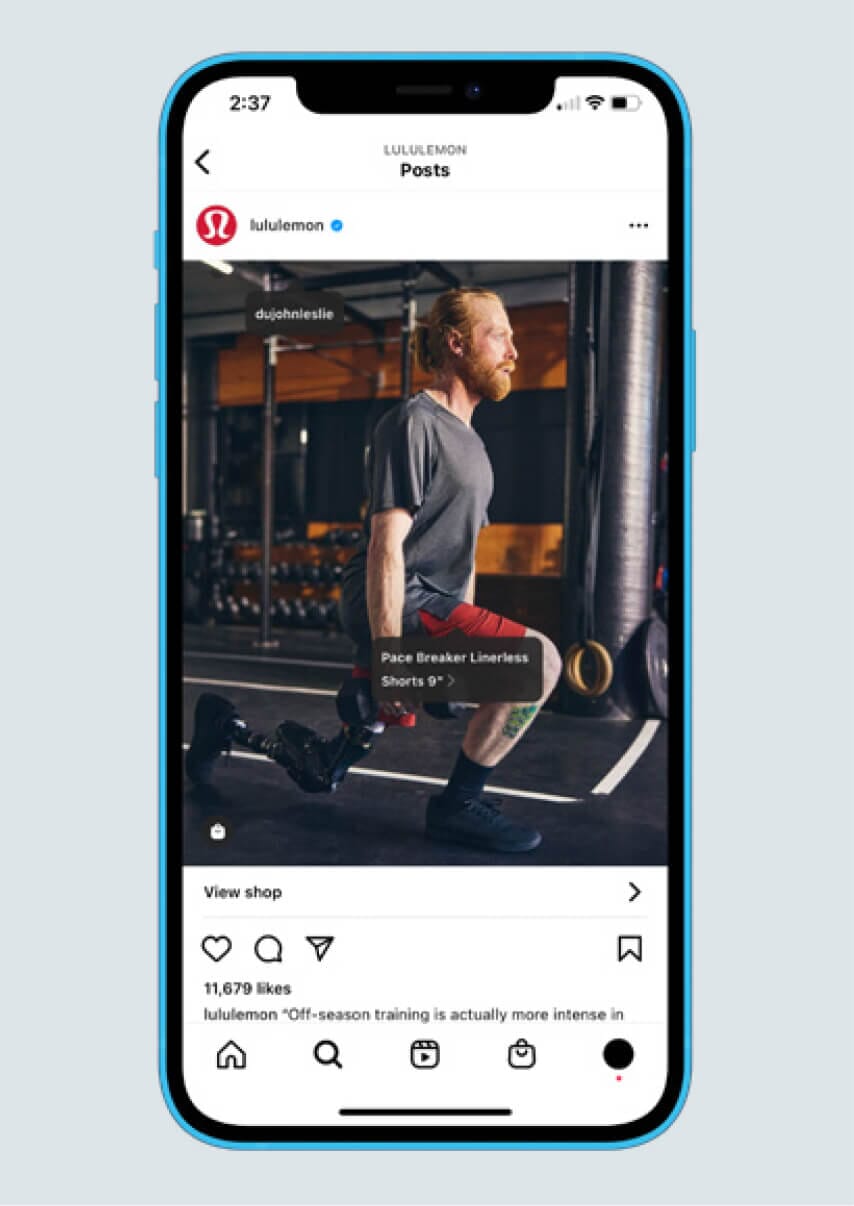 ---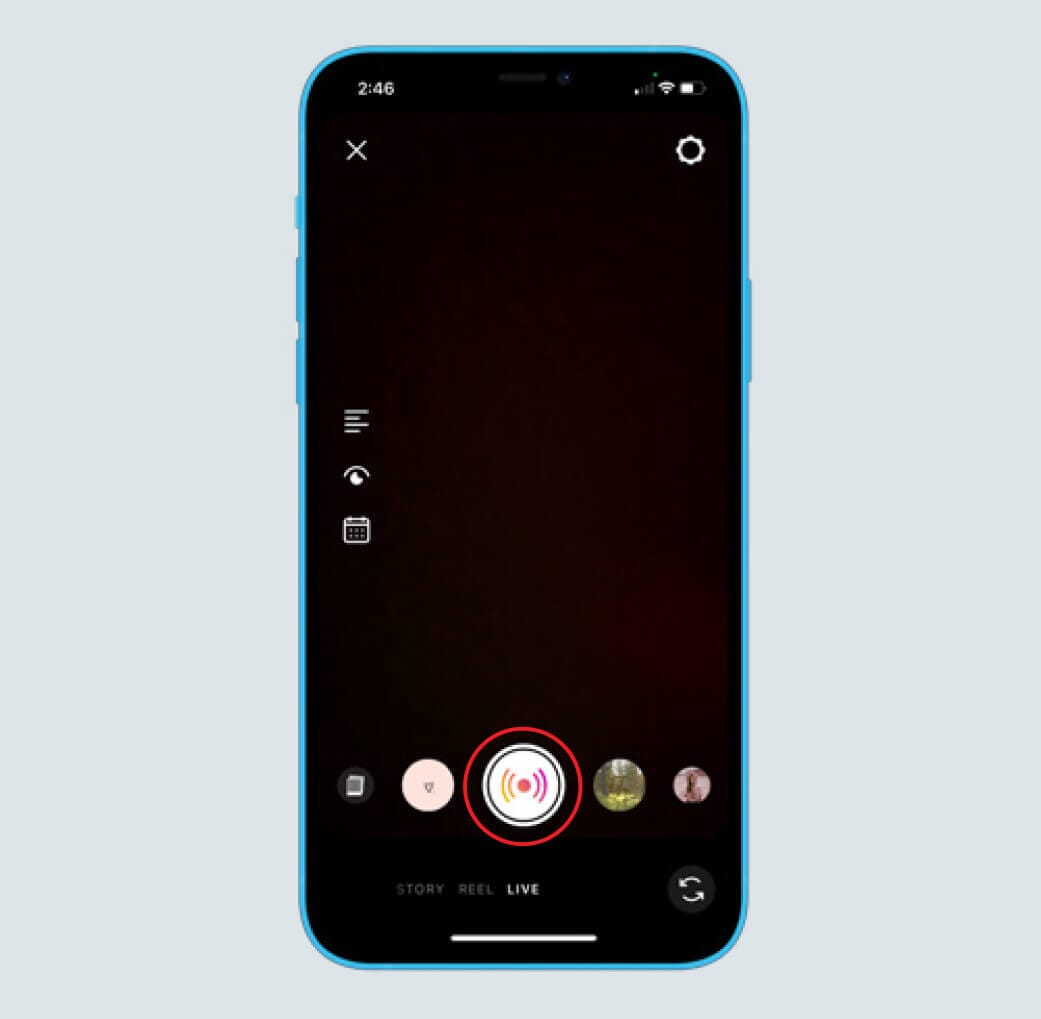 Going Live in 3, 2, 1…
Although choosing to "Go Live" on Instagram might not be for everyone, it's certainly one way to add something new to your profile and have your viewers interacting.
Going live means, well, starting a live video. You can either "Go Live" to represent your brand and speak with your audience, or you can partner up with another company or individual. When accounts "Go Live," their followers are alerted that it's happening so they can choose whether or not to join right away. If you choose to use this feature with another account, then their audience will also be notified, and they too can interact. It's a great way to connect to people further than an image will be able to and is an excellent opportunity to answer any questions your followers might have!
This picture demonstrates how you would "Go Live" if you chose to do so. Simply go to the section on Instagram that you would to upload a story or a Reel, and slide all the way to the right and click on "Live."
---
Cross-Promoting With Other Accounts
As previously mentioned, you can connect with other accounts or brands to start a Live, but you can also do so on posts. Whether it's done through partnering up to promote a product or service that you both believe in or giving a shoutout to a smaller business that you love, it's a great way to establish a community. Sometimes, larger brands will choose to use their platform to help build other companies up (we love to see it!), and it not only helps you connect to your audience further but is a kind act that rarely goes unnoticed.
You can also choose to connect with other accounts for giveaways or prizes, which we will speak about now.
---
Giveaways, Promotions and Prizes
Whether you choose to do it through a single image, a video, a Reel or a carousel, running giveaways is an excellent way to engage your audience. While some choose to include the standard "like, comment and follow to be entered in this content," others might take it up a notch and ask them to share it to their stories. Regardless of how you run your giveaways, it's a win, win for everyone involved. Not only will you likely see much more interaction with these kinds of posts, but your viewers also realize that their support of your brand or account is appreciated and reciprocated. Although it certainly doesn't need to happen all the time, running a giveaway every so often is a great way to boost morale!
You can also encourage your followers to tag one or more friends on your post when they comment. This is an excellent way to have more people interacting with your post than just your followers alone, whether for a giveaway or otherwise. This example shows an Instagram account that partnered up with others to offer their followers a trip of a lifetime. By partnering up with many different accounts, they were not only able to cross-promote and interact with each other's followers, but they also had those individuals follow each account. Taking it one step further, they had each person tag three friends and share to their stories for extra entries. All of these steps together allowed for a significant increase in audience reach and engagement for this giveaway.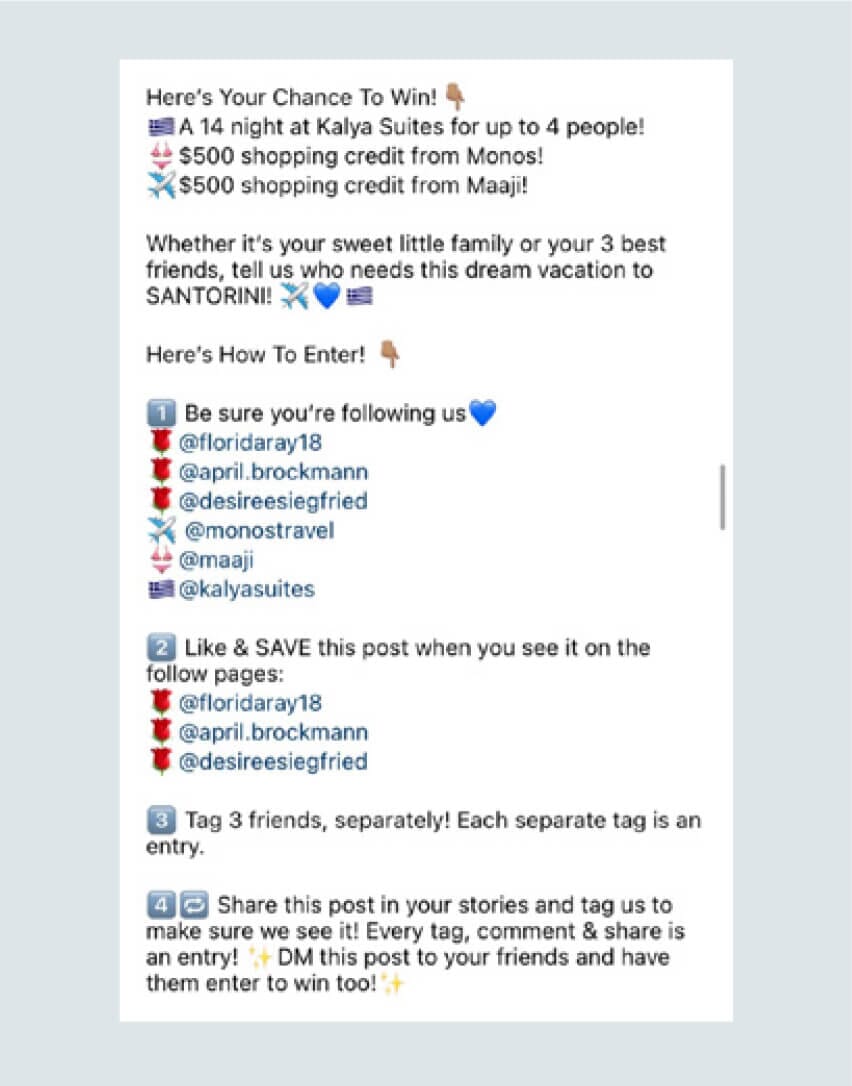 ---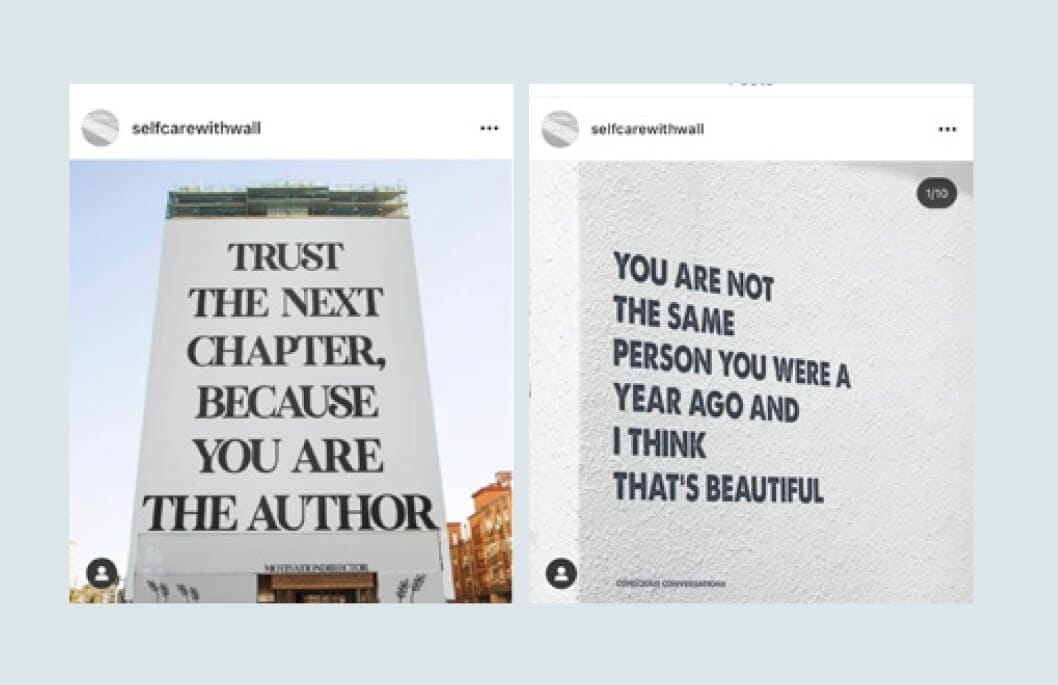 Quote of the Week
Now, no one says it actually has to be once a week, but adding quotes to your profile is a great way to break up your feed and inspire your audience. Although your brand might be based on educating your following, quotes are an excellent way to enlighten without intentionally feeling like a lesson. Use quotes to your advantage where you can, because oftentimes, people will share content that applies to everyday life more often than a specific niche or product. This is yet another great way for increased engagement with your content, as more people can share it! Here is an example of a quote that is not specific to one niche or account, but can be appreciated and shared by anyone.
---
'Tis the Season!
Regardless of the holiday or special event, you can add some creativity to your profile by creating seasonal posts. Whether it's for a traditional holiday or one that's more fun, like national cat or dog day, there are endless ways to incorporate fun and interactive posts year-round. So, if you're ever struggling to figure out what to post next, check to see what events are coming up and try to base them around that! Yet another great way to enhance your profile!
Here is an example of a simple, yet effective holiday post.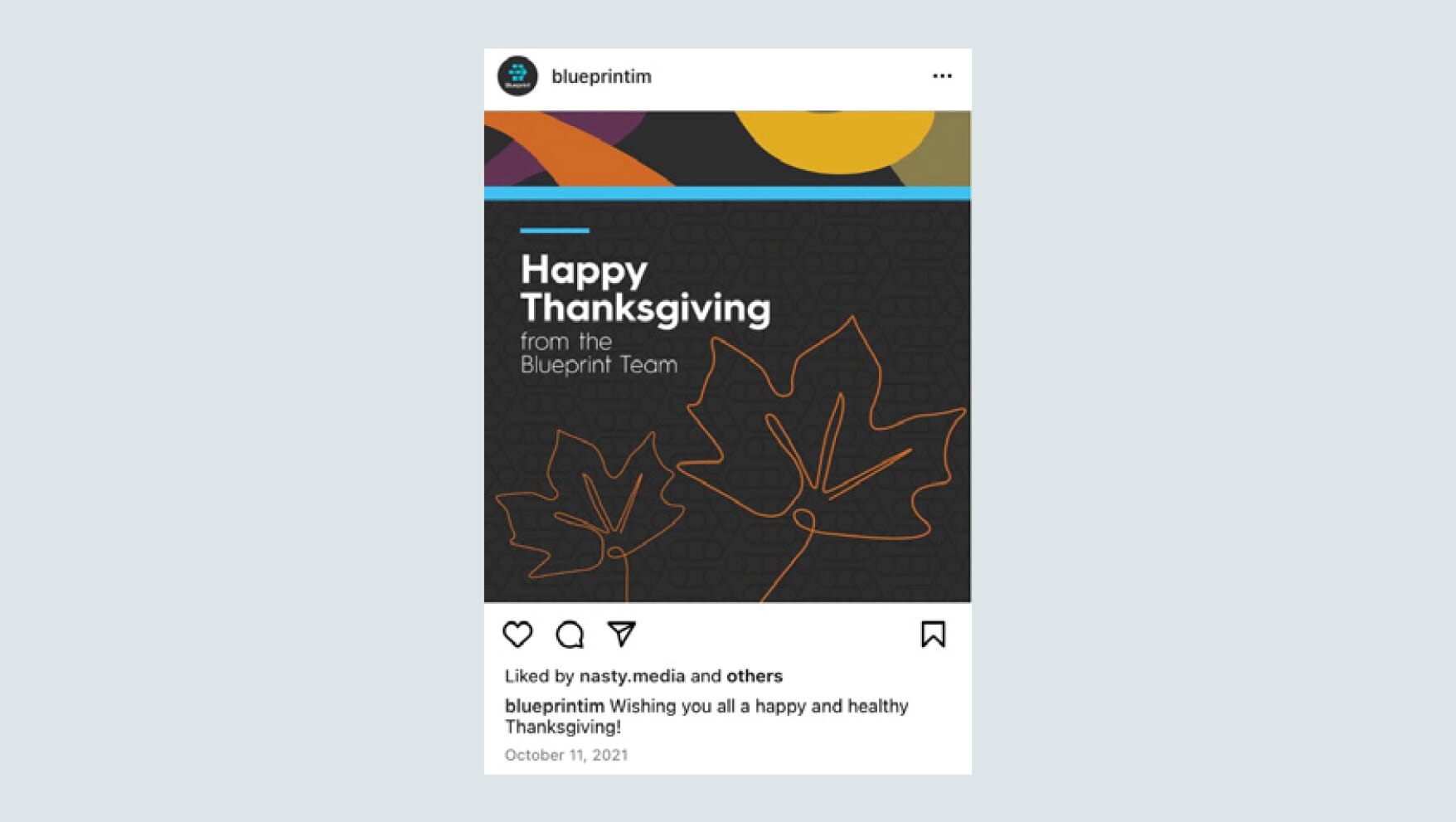 ---
Shifting the Spotlight
If you're a business or brand that typically displays its products or services, another way to switch up your feed would be shifting the spotlight. Whether you'd like to create posts that highlight all the hard work your employees are doing, different charities or organizations you work with, etc., there are endless opportunities for you to add a more human side to your account. This allows other users to see that you're more than just the products you create! It sets the tone for your viewers to see every side of your company rather than just your products or services alone.
---
Going Behind the Scenes
If you're looking for a less structured way of producing video content, then going behind the scenes is an excellent option! You're able to showcase how a product is made or the steps of providing a service from point a to point b. Whatever you'd like to present, people love seeing how things are done. As humans, we are curious by nature, and we are constantly looking to learn. Providing short videos showing behind-the-scenes footage of how things are done is a great way to do just that. Plus, this type of content doesn't need to be time-consuming, as you can simply go about your routine as usual and film the process of you doing it!
---
Optimizing Stories
When it comes to using Instagram stories, there are so many ways to make them fun and engaging. The Instagram Story feature allows you to post a range of unique content that adds another level of audience interaction. When posting your own original content to your stories, you can add videos or images and include tags, locations, people, stickers, GIFs, and so on. There are endless opportunities to make them interactive, so your audience can click on certain parts and be redirected to other accounts or your own.
It's important to remember that these go away after 24 hours. Therefore, if you have certain stories you'd like saved to your profile, you can easily highlight them and keep them there for your viewers to always have access to. Many times, businesses will optimize the highlighted stories feature by creating cover images and titles and having these little bubbles almost tell a story on their profile page. This is yet another excellent way to diversify your feed and further interact with more people.
---
Captions Are Key!
It's safe to say that regardless of the content you produce, you should always ensure you're paying attention to your captions. This is the perfect opportunity to say everything you need without putting too much information within your content. Whether you'd like to use your caption to add more context, add a Call To Action (CTA), or simply be open and honest with your audience, you can write as little or as much as you'd like in this space. It would help if you approached your cations almost like a second step people will take when viewing your content. Sometimes, people will choose to look through your pictures, carousels, or videos and not want to read on to your caption. However, other times individuals will want to read more about what you have to say, and are willing to read even a lengthy caption. Of course, each follower or viewer will be different in their approach. This is why you should always briefly put the most important content within the actual post itself and use the caption to further connect with your audience should they choose to take that extra step.
This Instagram content creator is a perfect example of connecting with your audience through meaningful captions. Sometimes her captions are short and sweet, and other times can be paragraphs long. The one thing they all have in common, however, is the authenticity and transparency she offers her audience.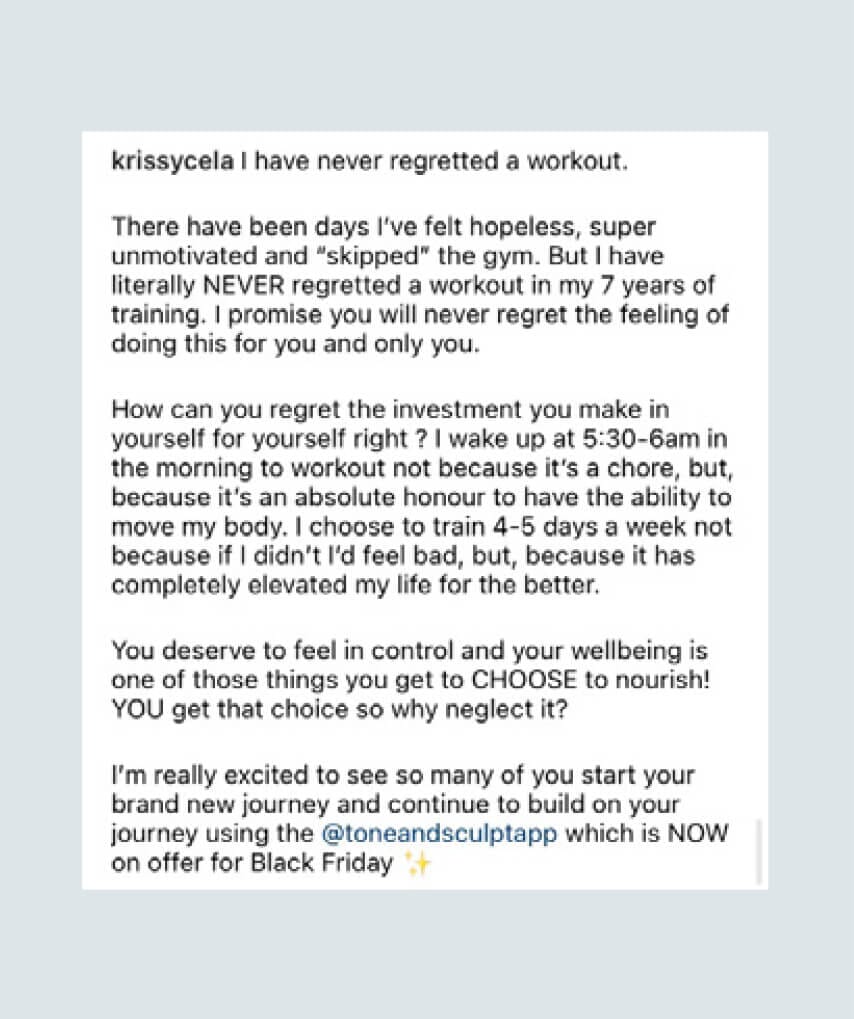 Conclusion
There are many ways you can improve your Instagram account, and these are only a few examples of that. By diversifying your feed with different types of content and creating more interactive posts, you can increase your audience reach tenfold. If you'd like to learn more about the best social media practices, download the complete social media marketing e-book for businesses.