6 Fundamental Steps to Succeed in Social Media Marketing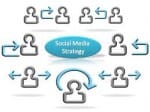 While the foundation of any successful social media campaign is based on having a two-way, value creating, and social conversation, sustaining a high quality experience depends on a strong process, quality control, and automation to maximize efficiency. Here are the six fundamental steps to implement an effective social media campaign that's sustainable.
1. Establish Goals
As a digital marketing agency, we always recommend establishing goals for any Internet marketing campaign and this includes social media. You want to establish both quantitative and qualitative goals. The quantitative goals tell you if you are succeeding from a results perspective. Qualitative goals act as leading indicators of success.
Here are some of the goals that you want to establish:
– Volume and quality of comments
– Volume of shares
– Network size (followers, fans, friends)
– Volume of visitors and sources of traffic
– Volume of leads and presentations
2. Establish a Quality Control Process for Each Social Network
One of the fundamentals taught in business school is operations, process, and quality control. To scale up anything in business, it's vital to establish quality control processes. To be as successful as possible in social media you want to establish a quality control process for each social network. For example, if you have a blog and you have to sign off on comments before they go live, ensure that a team member is assigned to review comments at specific intervals and forward them to you for approval. Without clearly defined processes and responsibilities, your social networks will break down over time and your followers will not be responded to as fast as they should be. It's important to keep in mind that it's a two-way conversation on multiple social networks. To provide great service, you have to be responsive.
3. Develop a Media Plan and Calendar
To ensure that there is a clearly defined plan both short and long-term, it's important to develop a way for your team to understand when and what content will be deployed to the various social networks. An easy way to achieve this is through the development of a media plan and calendar that the entire social media team has access to.
4. Automate the Right Steps to Save Valuable Time
The majority of business people do not have the time to send out their social media communication manually. To save time, automate certain steps in your social media campaign such as the deployment of weekly value-creating social media posts. There are various low-cost automation systems that can be used that are easy to use, such as Hootsuite.
5. Schedule a Weekly Social Media Meeting
Set up a weekly or bi-weekly meeting with your social media team to ensure that everyone is aligned on what needs to be communicated in the future, what's been communicated about your brand and products, and plan future communication.
6. Track Results
There are several social media monitoring systems that enable you to track the results of your social media efforts from Lithium to Radian6 and Marketing Cloud by Salesforce.
Please let us know if you have any questions. We're here to help.