How to Get Your Videos Ranking on TikTok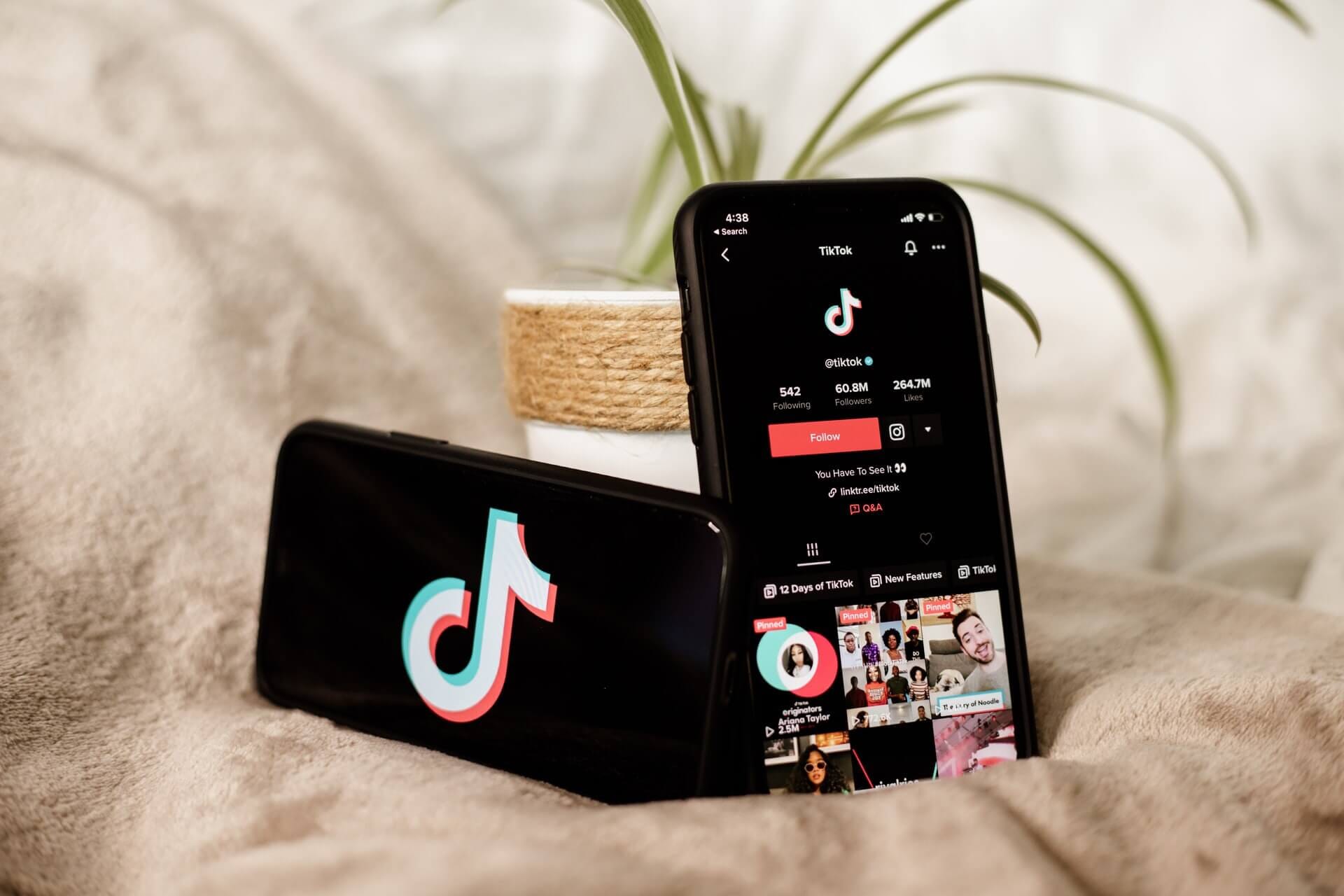 When creating content for social media, one of the main goals for many businesses and brands is to interact with as many users as possible. By having video content that is ranking on platforms like Instagram and TikTok, you're far more likely to engage with more users around the world. Within the age of trending content and sounds, it's fairly easy to follow which content is performing best with audiences. However, if you're looking to hop on the trend, it's important to get there before it dies off for another. This might seem like a tricky task, but there are certain things that you can do to stay on top of what's most popular right now. Whether it's content based around a concept, specific questions, or a product that people need, there are many ways to approach your social media. And although catching trends will be good for the time being, creating Evergreen content that can be useful long term is also wise to do.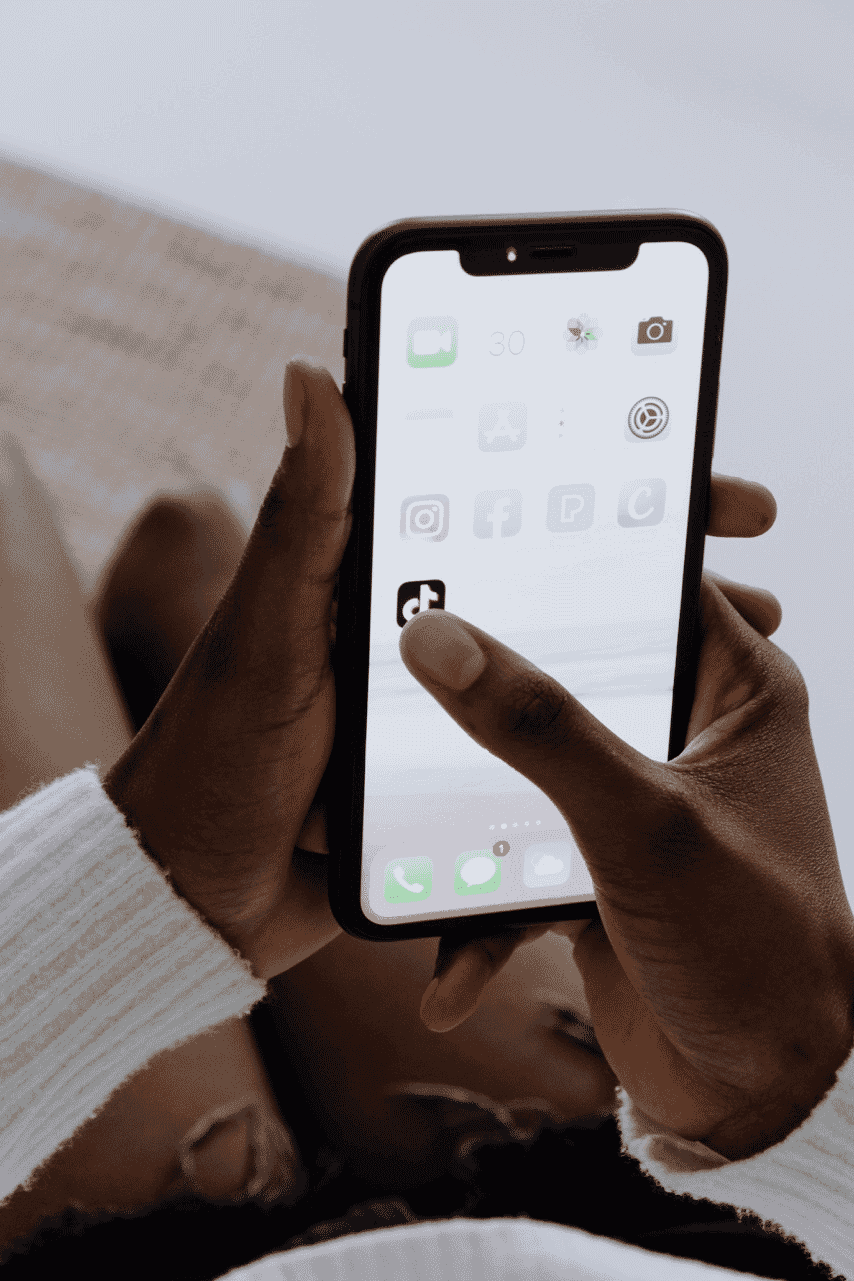 With all that said, here's what you need to know about creating content for your business accounts so that you can interact with more people.
Getting Your Videos On TikTok's "For Your Page" By Understanding the Algorithm
In order to get your content ranking on TikTok, it's important to know the basics of how this platform's algorithm works. When it comes to TikTok, the "For You Page" is a collection of videos that the platform pushes based on the interests you've indirectly expressed in the past. For instance, when you first made your TikTok account, you liked and interacted with videos about best business practices, then it's unlikely you will see a video on how to get the best makeup look for summer. TikTok collects all of the relevant information about your habits and interests and puts those on your main page. Therefore, if you're a business trying to interact with a certain demographic, your job will essentially just be to create the content, as TikTok will find your audience. However, being informed on how the platform operates can help you create content that has a higher chance of interacting with the right people. Here are the top aspects that TikTok's algorithm takes into consideration.
---
How Users Interact With Your Content Is the Blueprint
Different aspects go into determining how users interact with certain video content. For example, TikTok will look at the following things to understand what you like:
Content that you liked or shared
Videos that you added to favourites
Accounts followed
How long you watched videos for (video completion rate)
Which videos you left comments on
The type of content you create on your own account
As well as what you don't like:
Which videos you report as inappropriate
Videos marked as "not interested"
Certain accounts or creators you have hidden
As users scroll through their "For You Page," they are creating a pool of information that TikTok uses to put content before their eyes that they will want to see. Not only does this keep people hooked and scrolling for longer, which is good for the platform, but it can also be good for you as a business, too. When it comes to business in general, it's important to get into your customer's mind, right? The same thing goes for social media. What do you believe your ideal viewer will want to see? What will they want to learn? What type of content will make them want to comment, share or save to their favourites?
To find your target audience to get your videos ranking, consider certain aspects when creating content. To fully understand what content works and what doesn't for your specific target audience, keep track of the performance of the captions, hashtags, sounds and trending topics you include in your videos. It's all about trial and error to see what works and what doesn't. Maybe you'll start off not reaching nearly as many people as you hope to. That's okay and, in fact, perfectly normal. Use this time to better understand what your audience wants to see by digging a little deeper. While you're in this research phase, it's also wise to look at what content is trending to figure out how specific trends might work in your favour.
---
Understanding TikTok Trends and Using Them As Leverage For Your Business
Leveraging trends on TikTok is a wise choice that many brands and businesses will choose to make. By going to the "Discover Page" on TikTok, you can look through the top trends to see what hashtags or effects people are using and what's working for them. Although hopping on a dance trend might not exactly fit your business motto, you can look at trending music to increase the likelihood of exposure for your content.
This is often a wiser approach, as trending video ideas can be much shorter lived. For example, a trend at the top of this page has likely already been done so many times that it will fade out in a week or so. This is why turning to hashtags or sounds is your best bet as a business. Here's how you look for sounds and tags on your "Discover Page"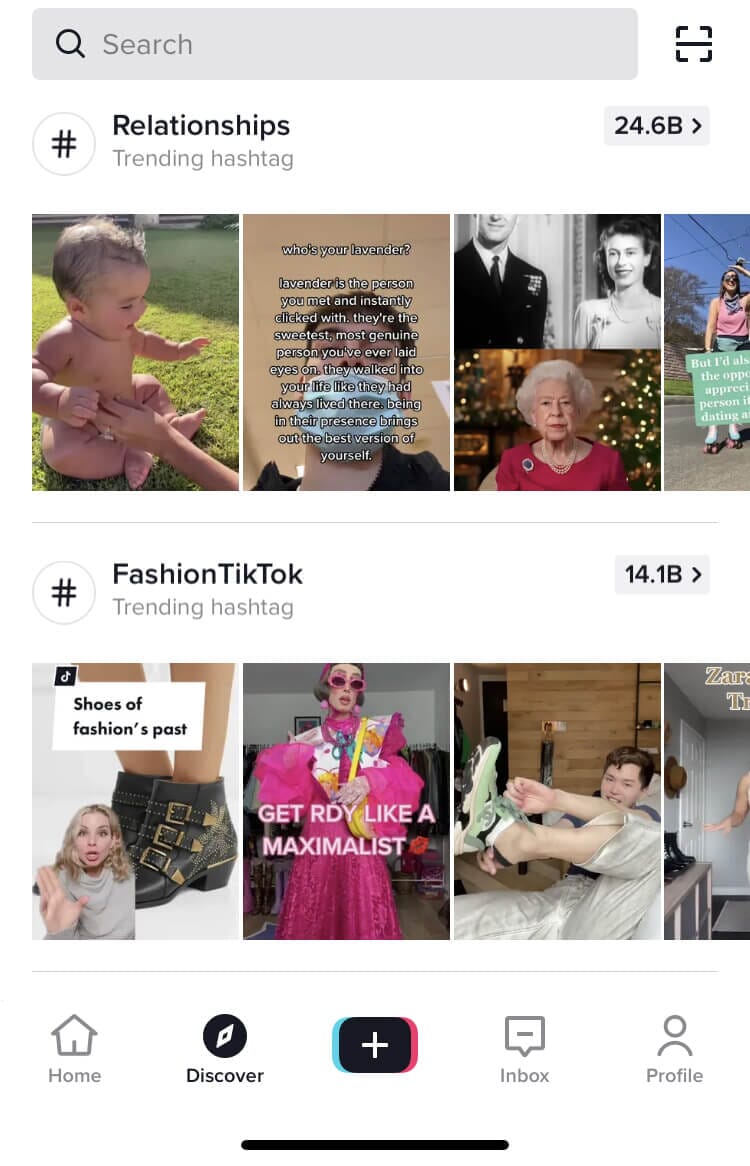 ---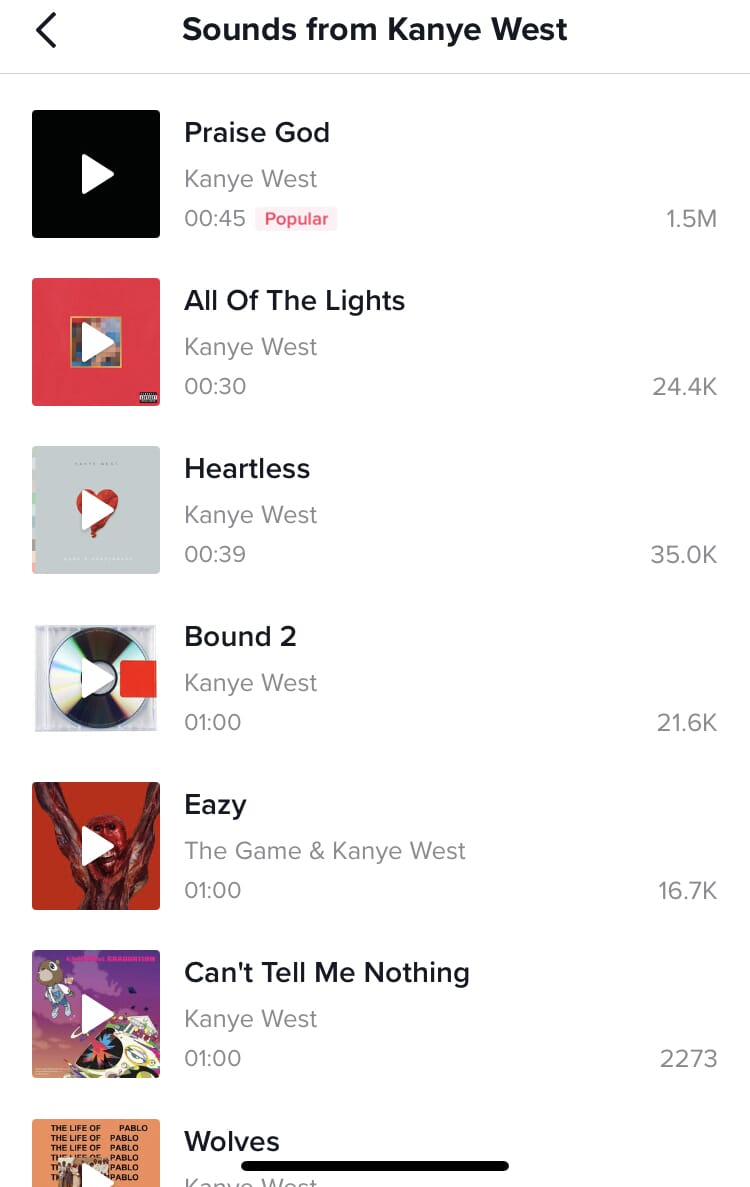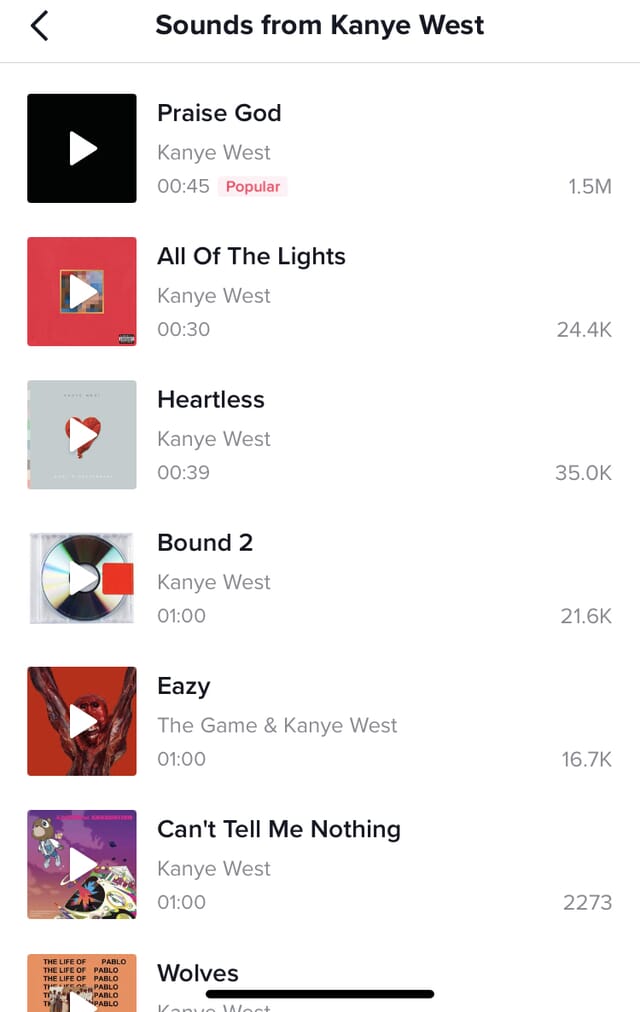 How to Spot Upcoming Trends
If you would like to try your luck with an actual trend before it actually gets too trendy, then there is a way that you can spot content that will likely become popular. You can look through videos within your niche that might only have a couple hundred videos based on a specific hashtag to get ahead of the trend. Maybe you think this will eventually become popular and become a widespread trend across the platform. Since social media content is intended to be fun, even if you are a business, it certainly doesn't hurt to try your hand at guessing an upcoming trend. If this idea interests you, spend some time scrolling through videos and making notes of any potential video concepts or songs that might take off. If you'd really like to get ahead of the game, you can even create content around new songs as they're released.
For instance, Kayne West's single "Praise God" off his newest album became incredibly popular across TikTok shortly after its release. Although many songs on the album could have become popular, this trend began because of the opening line spoken by his late mother. The power of her words became the focal point for over 1.5 million videos as of 2022. As you can see here, although these are other very popular songs done by this artist, "Praise God," has significantly more videos created with it.
This is just one example of how you can ultimately be the one to start a trend. By keeping an eye on relevant music and looking for words that can resonate with the greater population (and it doesn't hurt if it has a good beat, too), you might be one of the first videos to use that sound.
Now, maybe your goal isn't to start a trend or even follow one, but you'd simply like your content to land in front of the right people for your business. Here are some best practices to ensure that your content can be optimized to its fullest potential so that this can happen.
---
Top Tips For Optimizing Your Content For TikTok's Algorithm in 2022
Ensure You Have a TikTok Pro Account
There are two different accounts on TikTok based on whether you're a content creator or a business. If you feel that your brand fits in the latter option, then switching to a Business account is a wise thing to do. By switching, you're able to see insights and metrics of your content so that you can have a better understanding of what your strategy will be moving forward. In addition, you can have insight into specific information about your audience, such as the type of videos they want to see and will enjoy, so that you can be the one to create said content.
You can switch accounts by going to your profile page and clicking on the three dots at the top of your screen. Then, click on "Manage Account" and "Switch to Business Account." From here, you can choose which category best represents your business or brand.
Establish Your Niche
TikTok operates very differently from other social media platforms in that users spend the majority of their time interacting with accounts they don't follow. Scrolling through one's "For You Page" means viewing videos that are in line with our interest, regardless of whose account it is that posts the content. While, alternatively, when scrolling through your Instagram feed, it will only be people we follow. This is why it's important to establish your niche on TikTok so that you can create content that falls before your targeted audience. Understanding your niche and what type of content people are looking for within it will help you generate content that will be well received by your audience. Once you know what your niche will be on TikTok, you can look through related accounts or content to see what subcategories others are looking for or creating their own videos around. You can do this by searching relevant hashtags and seeing what videos are related to them.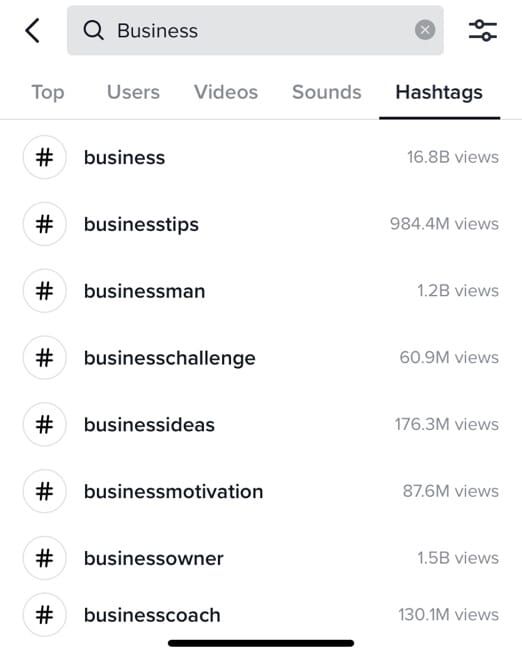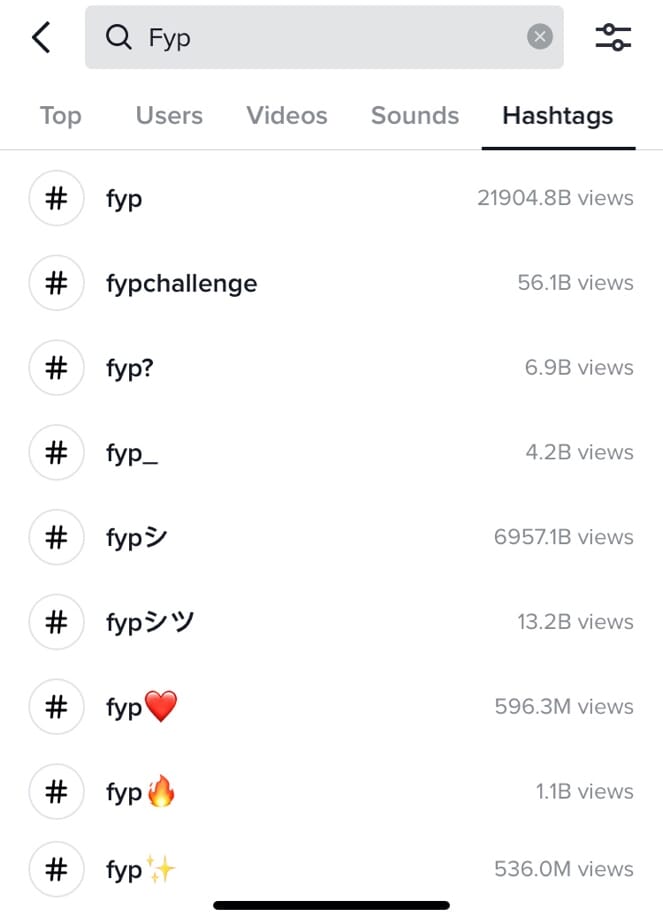 Use the Right Hashtags
Speaking of hashtags. When you create content on TikTok, ensure you're using hashtags that make sense to your videos and your desired audience. For example, if your video is about digital marketing, make sure you've done some research to find tags related to that original topic. You will also want to ensure that you're not only using hashtags that have millions of related videos if you'd like your content to rank. With that said, many popular videos will throw "#fyp" or "#foryoupage" in their tags regardless of how many millions of videos already have that tag. Although TikTok hasn't spoken about the success rate of these tags, these might just be the exception. As you can see, not only does the original "#fyp" have billions of views attached to it, but there are countless variations with billions of views too.
To do hashtag research, you will need to go to the "Discover" tab and tap on "Trends." From here, you can scroll through an endless number of videos to compile all of the tags that you'd like to include in your own. We recommend making a note of your tags in a document (with the search volume) to keep track of what you feel works and what doesn't.
For a more in-depth look at how to conduct hashtag research for social media, you can read our full article here.
Remember That Time is Precious on TikTok
When it comes to TikTok videos, the first few seconds are the most important. If the beginning of your video drags on for too long, then people might just scroll right past it. It's important to ensure you have a hook to really draw your audience in. Because it's such a fast-paced platform where viewers have access to endless videos, users often get in the habit of not hesitating to scroll right past if it doesn't immediately interest them. To grab attention quickly, many people will add some sort of powerful emotion at the beginning of their video. Rather than scrolling by a video with someone that has a neutral expression, people that express emotion are more likely to capture attention. Although TikTok now allows for 3-minute-long videos, to have any impact where people feel like they want to watch your content for that long, you need to make it appealing at the beginning.
Create Videos Specifically for TikTok
Although there are many social media platforms that you might feel the need to create content for, it's best to create original content for TikTok that hasn't been copied and pasted from your other channels. The layout of TikTok videos is a 9:16 vertical format, and using your phone is actually the best way to achieve high-quality video content for this platform. Though this may go without saying, it's also best to make sure that you're posting only high-quality videos, which can be done from your phone. You don't need any sort of expensive equipment; however, it is recommended to ensure you have proper lighting and quality sound.
Post At The Right Time for Your Audience
It will take some activity to understand the best times for you to post on TikTok. However, once you have some content to base this information on, you can go to your profile page and click on the three dots at the top of your screen to find "Business Suite." Then, you can go to the "Analytics" section, like so, to see what time of the day your audience is most active.
From here, you can better understand when the ideal times are for you to post videos.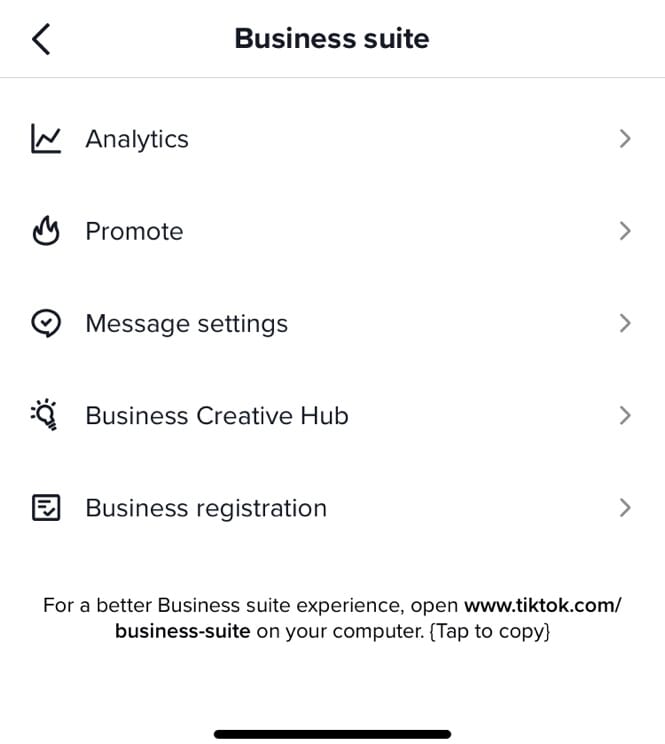 Establish Connections By Engaging With Others
It's always nice to see that the people we support take the time to support others. When it comes to TikTok, there is an endless opportunity to connect with individuals all around the world. You don't need to be following them to come across their content, which means they also don't need to be following you to come across yours. It's all about establishing connections with new people, and one way to do so is by being active on the platform by commenting and interacting with other people's videos.
Utilizing Sounds and Music
Last but certainly not least is using music in your videos. As previously mentioned, using trending sounds is an excellent way to have your videos seen by more people. Statistics say that two-thirds of users on TikTok say they are more likely to watch a video if it has sound than if it doesn't. Therefore, whether you want to use trending sounds or not is up to you, but it's important to you just make sure to include some type of sound. To choose from TikTok's available songs, you will need to go to the "Record Video" page and click on the "+" icon at the bottom of the screen. This will provide you with a list of songs that you can scroll through and add to your video. Here's how you can learn more about finding trending sounds.
Conclusion
Although TikTok is a platform that already has endless videos available for users at their fingertips, it's important to remember that your content is still valuable. Just because it might seem like everything's already been done on this platform, doesn't make it so. By following these tips and tricks to creating content, we hope you feel more confident using TikTok for your business.
To learn more about all of the best social media practices for your business, download our complete social media marketing e-book.