How To Increase Your Instagram Following For Business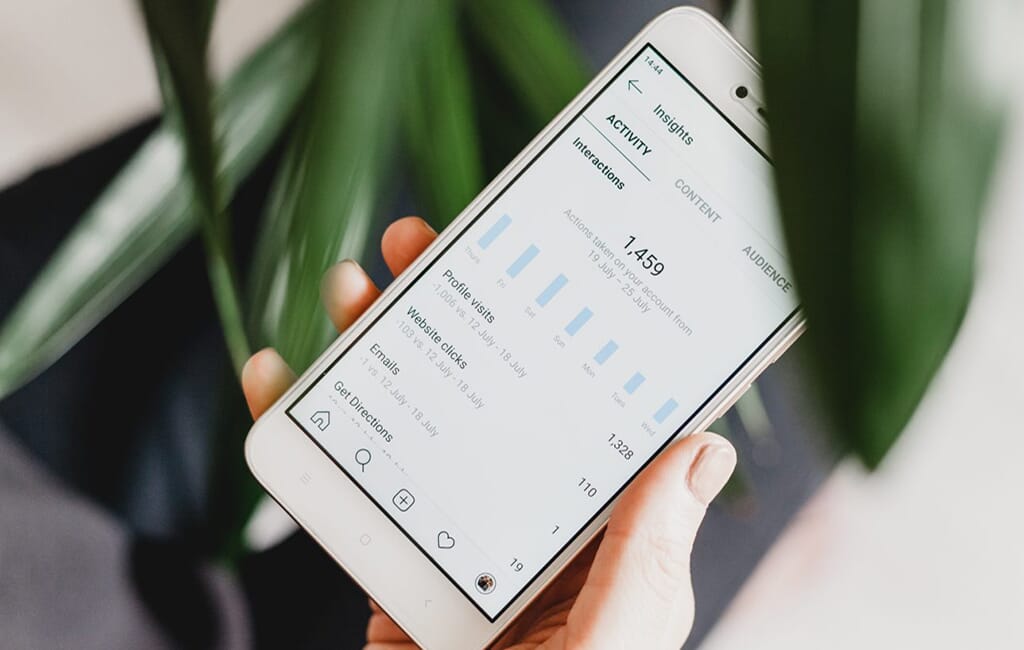 Instagram is becoming a vital part of any companies social media marketing mix. You just have to understand how to use it for business. All it takes is a bit of education, effort, and coordination. As a digital marketing agency, we'll teach you exactly what steps to take to increase your business Instagram following and expand your brand's reach on this incredibly popular social platform.
Optimize Your Profile
In order to get the largest number of followers, you should tweak your profile to make the task easier.
First off, you'll want to ensure you have an Instagram Business profile. If you're currently using a personal profile it's easy to convert. If you're starting from scratch, choose the business profile option. This will give you access to a lot of tools, Instagram Insights and features that aren't available to personal accounts.
Not only will a business profile allow you to access a ton of useful data, but you'll also be able to add a variety of useful things to the account that wouldn't be possible in a personal profile. We'll delve more into these options later, but suffice it to say that setting up a business account is a necessary first step.
Instagram Usernames and Names
Next, you'll want to ensure that the information that populates your Instagram username and name fields is easily findable by those searching for you.
This includes choosing a username and name that's closely associated with the type of business you're pursuing. You've probably already done this when choosing your business name, but if you haven't, here's the place to add some qualifying signifiers.
Make the username and name variations of one another rather than entering the exact same information. When deciding on these, think about what your potential followers might be typing in for keywords when using the Instagram search bar and looking for a business like yours.
For example, if you're a business consultant, you'll want to use words related to your niche that users would be searching for, like 'startup consulting' in your username, name, and bio. Here's an example of a real estate company that has their business name as their username but uses the specific keyword of 'Real Estate' as part of their profile name.

This may sound like common sense, but as a digital marketing company, we have often seen that businesses don't put enough thought into this process, making it difficult for new followers to discover their profile.
---
Your Instagram Bio
You only get 150 characters for your bio, so you need to be concise and stay on brand. Again, this is a field where you want to use keywords that are related to your type of business.
An emoji may also help to communicate a larger concept using a single character.
However, you also want to make your bio more about your followers than yourself. Use your bio to show the benefits that your followers will receive.
Generally, you'll want to use your bio to present a Call To Action (CTA) to anyone who lands on your page. Again, a CTA that benefits the user is more likely to create a positive result.
You want to leave enough space to add a link as the bio is the only place on your profile where you can feature a clickable link. Using a URL shortener will help you stay within the character limit. To maximize only having one link, many businesses will use a service like Link Tree, where a single link can open a customizable navigation menu of multiple links to your website.
Many URL shortener services also provide analytics to let you know more about who is clicking on your link. Take advantage of this extra information whenever it's available so that you can see trends in how you are gaining new followers and continue to optimize to attract more.
In the example below, you can see that HubSpot makes it easy for people to understand what their business is about, learn more via their link menu and keep a consistent visual appeal.

---
Instagram Profile Picture
Although quite small, your Instagram profile picture will be attached to any activity you undertake on the site, so make it distinguishable, memorable, and striking.
If you already have a logo, that probably makes the most sense to use as a profile picture. Just make sure that it's still recognizable when shrunk down to micro postage stamp size. If not, you may want to rework it specifically for your Instagram account.
Create Good Content
Now onto the fun part!
Sharing quality content to identify yourself, express your creativity, promote your business and ideally, build a community. Content is what users see of your business and will determine whether or not they will click the 'follow' button to see more. Understanding the different types of content you can produce on Instagram and the advantages that each type has to reach new followers can help you maximize your reach.
---
Feed Content
The content you upload onto your Instagram page will be shown in your followers' feeds. Feed content was the original idea behind Instagram when it first came out, but there are now several other avenues to reach your followers which we'll describe later.
However, feed content still remains the main focus of Instagram and this is where you'll initially want to start posting. It'll fill up your homepage and give potential followers a better idea of what you're all about. Keeping your feed content consistent with your branding, following a style guide and using presets are all ways to make it even more appealing to followers. Here's an example of Sprout Social's IG feed: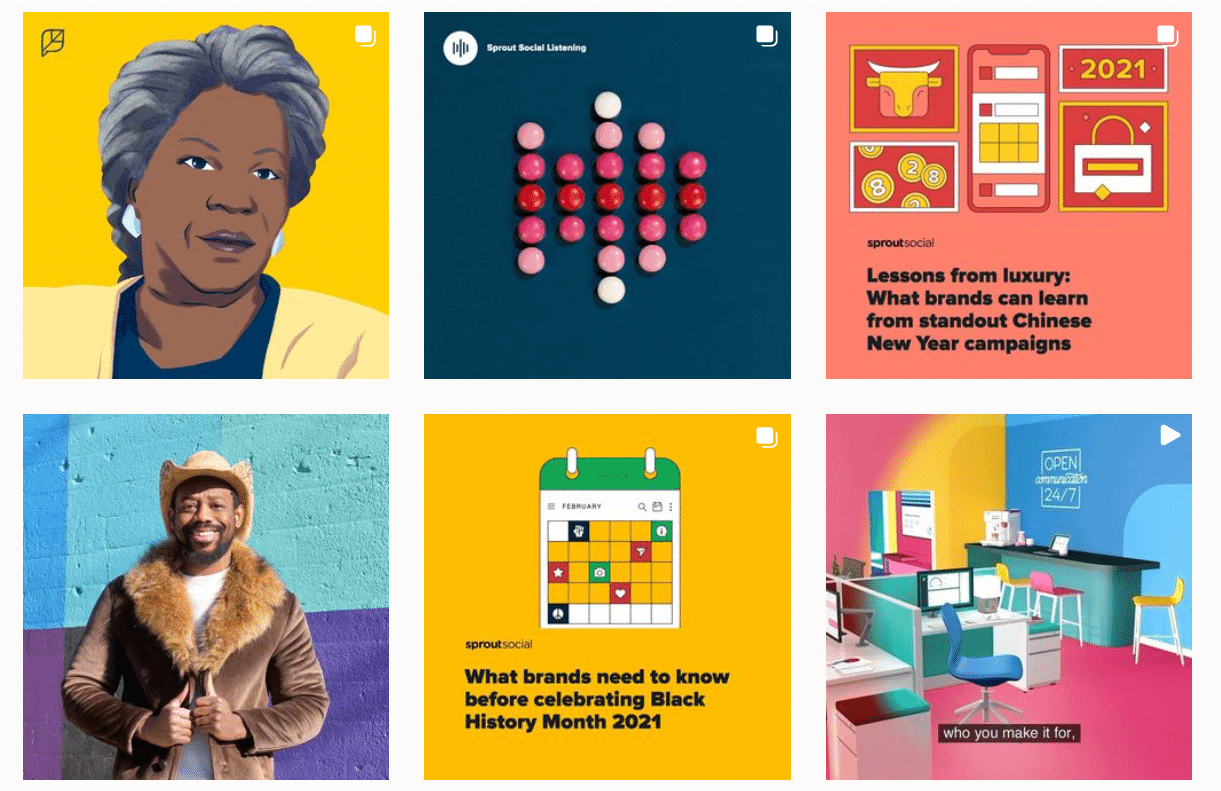 Check Your Fellow Businesses
The best way to find out what works is to learn from someone who's already done it. Check the profiles of related businesses and see which posts have generated the most activity – likes, comments, shares, etc. This will give you a clue of what might work and what might not.
Of course, you don't want to be an exact copy of another business, but you can learn a lot from the various ways that different profiles use Instagram.
Authenticity
Authenticity goes a long way on social media. Social media acolytes are hyper-aware of being sold to and can find it off-putting. Sharing feelings, emotions and thoughts will allow people to relate to your business as they would a person rather than a faceless corporation.
Utilize The Caption Field
There's a lot of real estate in the caption field and you should utilize as much of it as possible. Longer captions give followers more insight and increase the chances they'll identify with your post.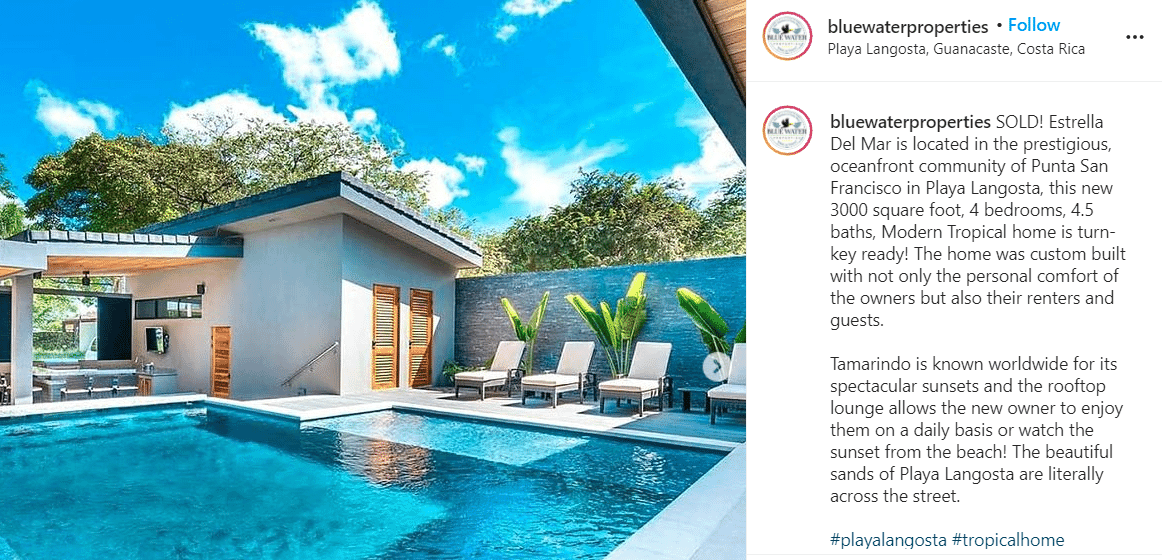 This is another field where you'll want to employ your search engine optimization skills by including keywords that people are likely to enter into the search bar.
Instagram is starting to include caption text in the search results, so make sure to include keywords that are often used and popular in your line of business.
---
Instagram Stories
Instagram Stories is Instagram's answer to Snapchat. Posts on Stories disappear after 24 hours. You may wonder how that's useful, but the fact is that over posting in your feed can be annoying for your followers.
Stories allow the followers to decide if they want to see what you've posted. This opt-in approach allows you to post more often without alienating your followers.
Post made on Stories doesn't automatically end up on your profile page either. This means they won't mess up your page's aesthetic when experimenting with different styles or approaches.
That said, you can stop your Stories posts from disappearing automatically. If you want a Stories post to stick around, you can highlight it and it will be posted to your profile.
Stories also has some features that aren't available in the regular feed. You can add different things to your content to make it more engaging, entertaining, or eye-catching.
Stickers are graphic design features that can be added to your posts. They're often used to add a playful element to the content but can have some serious uses as well.
For example, a poll sticker can help you find out exactly what your followers think about something, like shown here with HubSpot Academy. A countdown sticker can let your followers know when something important is about to happen. You can even ask for a donation through the use of a sticker.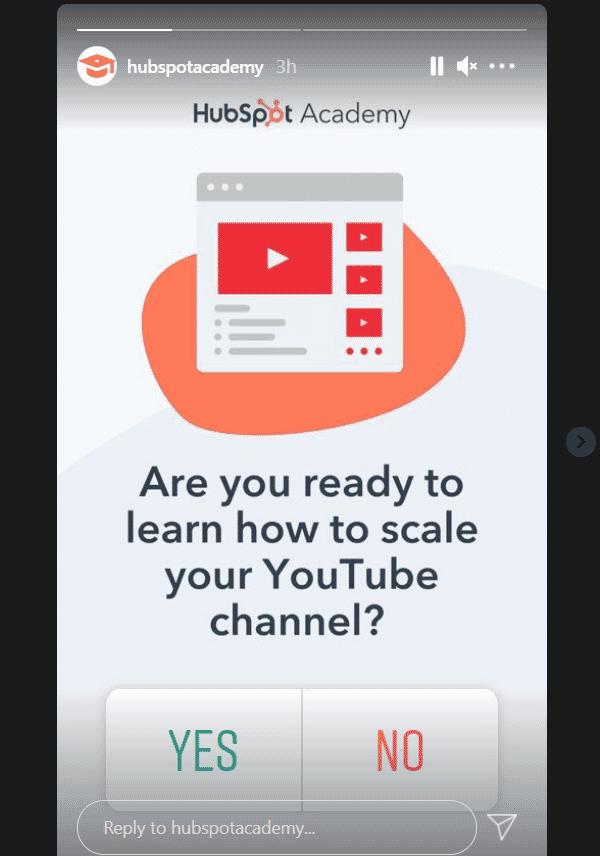 There are a lot of different ways that Stories can be used for both fun and serious purposes. Be creative and experiment to see what resonates with your followers. The more you use Stories the better at it you'll get.
---
IGTV
IGTV allows you to post videos that are longer in length. Depending on your account, these might be limited to 10 minutes, but they may eventually have no time limits.
IGTV is the Instagram answer to YouTube. The videos posted can be used for whatever purposes the user dreams up. Entertainment, information, etc. It's all available to you.
Some enterprising Instagrammers have used IGTV to create their own TV series, like Neil Patel's channel shown below. If you ever wanted your business to be featured on a traditional TV show, IGTV makes it easy to do it yourself.

---
Instagram Reels
Instagram Reels mixes short videos and music in a way that's very similar to Tik Tok. Reels can be seen by everyone on Instagram, not just those who follow your account. This can make them a very powerful tool to reach new followers.
Reels offers useful editing tools to trim and adjust your video. You can also add text, stickers, and effects to make it stand out or appear more useful.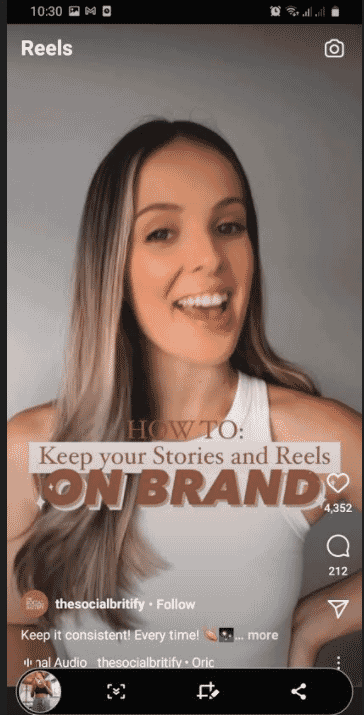 Depending on your brand, Reels can be used to educate, entertain, showcase or humanize your account. Again, whatever you're able to imagine when it comes to short-form video, Reels allows you to reach out.
As Reels is still a new feature, the competition is still relatively low. It is a great opportunity for businesses to utilize and reach new followers via both the Main Feed and Explore page where Reels are displayed.
---
Instagram Live
Instagram Live allows you to stream live, unedited video footage. It also allows real-time audience engagement, meaning viewers can comment, ask questions and offer feedback to what you're presenting.
Going live will send a notification to all your followers with your video appearing at the front of their Instagram Stories feed.
Like Stories, Live video stays on your profile for 24 hours allowing those who originally missed it a chance to catch up. You can also save them to keep them around permanently.
A cornerstone of boosting your Instagram follower numbers is to post consistently. Posting randomly or inconsistently will cause the followers you do have to forget about you. It will also make it more difficult for potential followers to find you in the first place.
Creating a publishing schedule will not only boost engagement with followers, but it will also give you an overview of what is being done or what needs to be done at any one time.
---
Content Calendars
A good way to stay organized is to use a content calendar. There are a lot of free and paid tools available that can help you maintain order.
Most of these allow you to create several posts in advance and have them automatically publish according to your prescribed schedule. This allows you to "set it and forget it" and helps compartmentalize your social media activities rather than have them take over all your time.
Another benefit of using content calendars, like Sprout Social shown here is that they can manage multiple social channels.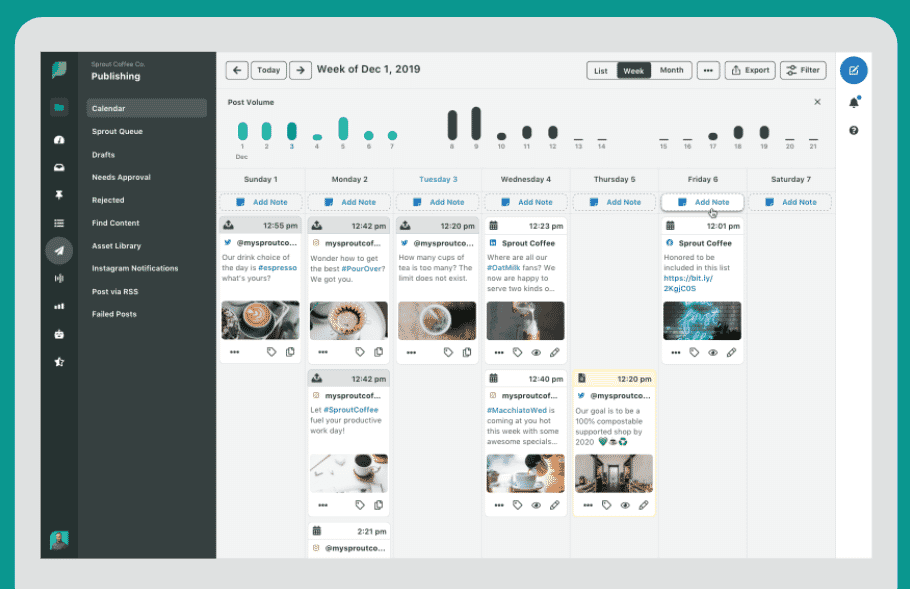 ---
Scheduling
When you schedule your posts, you want them to appear when the greatest percentage of your followers are online. This means finding the best times to post.
A good place to start is Instagram Insights. It will tell you when your followers are online according to the time of day or day of the week.
Scheduling your posts to coincide with the times and days that the majority of your followers are active on Instagram will only boost engagement.
Scheduling will be dependent on your type of business and where you're located. For example, exercise and meditation companies might perform well first thing in the morning, whereas alcoholic beverage businesses or nightclubs might benefit more from afternoon posting.
Paying attention to your followers' Instagram activity and experimenting with different schedules can lead you to a sweet spot where you're able to maximize engagement and attract more followers.
Hashtags can be a tool of discovery for your potential followers, so it makes good sense to monitor relevant hashtags and use them to attract eyeballs to your account.
The trick to hashtags is to find ones that are popular, but not overwhelmingly so. It'll be pretty tough for your post to stand out using a hashtag that has millions of photos connected to it. Conversely, a hashtag that no one uses is even more useless.
A good way to use overly popular hashtags is to pair them with more niche-like hashtags to introduce you to a wide scope of potential, but relevant, followers. There are many paid tools that monitor engagement and hashtag performance, such as Metricool as shown below.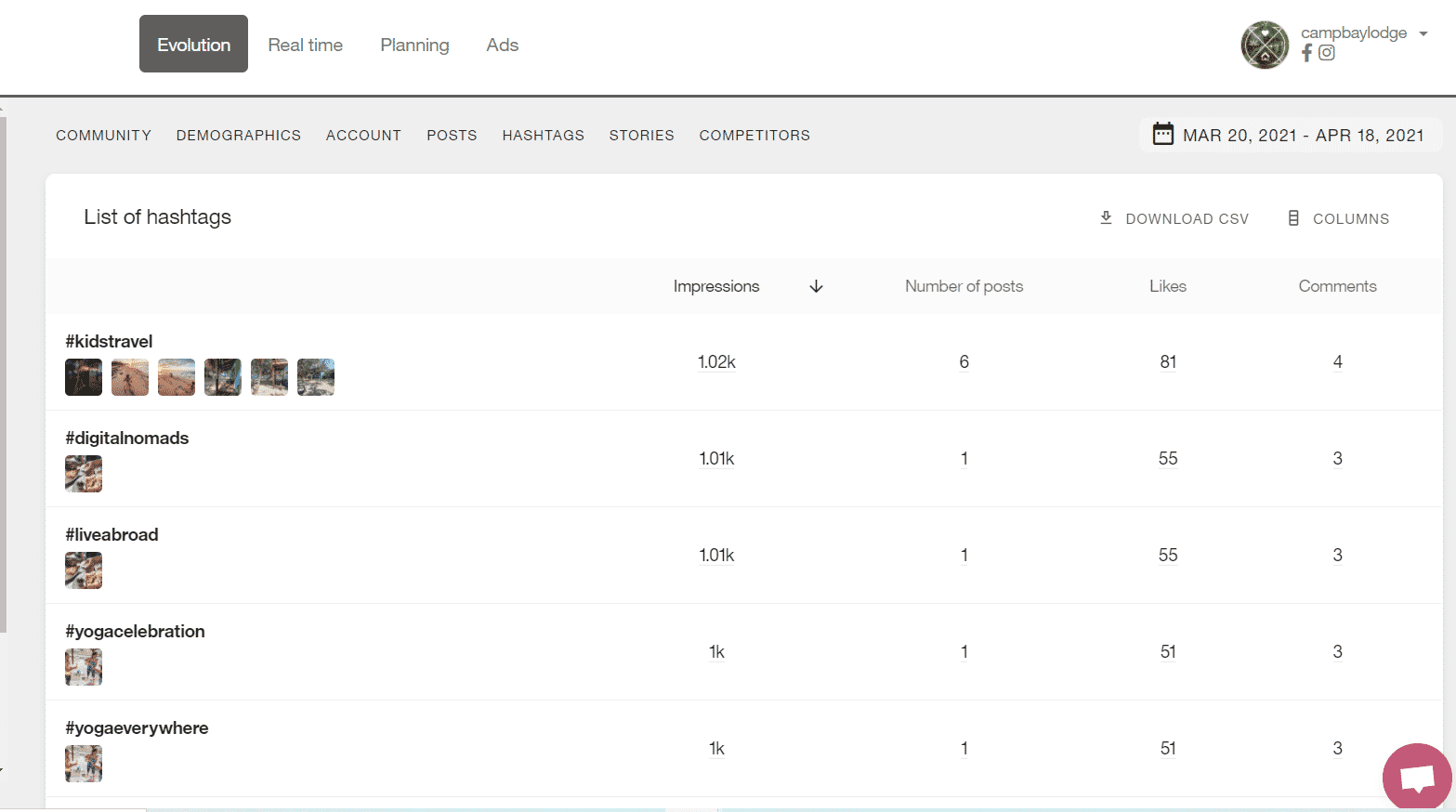 ---
Using The Right Hashtags
By searching for various hashtags in the Instagram search bar you can see how popular each one is. This will also bring up other related hashtags that could be used to help attract more followers, simply just type in the search bar to display related hashtags: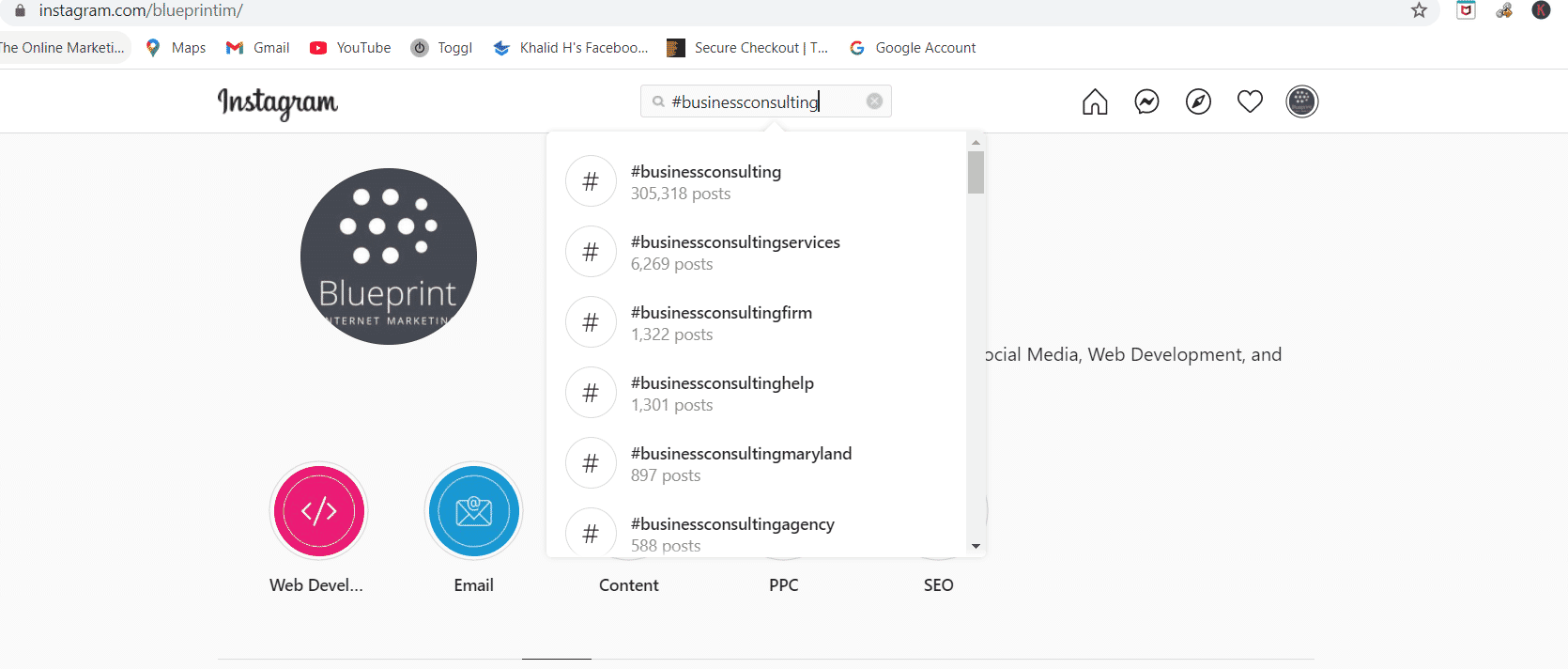 Again, checking up on what fellow businesses are using will give you insight into the hashtags that are popular in your particular industry.
You should also look for and follow hashtags that are relevant to your business. As an example, when you see someone post your location as a hashtag, it's pretty likely they're in your town or city. Like or comment on their post and they'll probably be curious enough to check your profile.
---
Creating Branded Hashtags
Creating your own unique, branded hashtag is in no way an instant fix to boost your number of followers. But using them consistently over time can slowly lead to the growth of a community.
Once a branded hashtag starts being used by others it's important to engage with those users in a way that encourages them to continue doing so.
Make sure to include your branded hashtag in your bio, on other social media sites, and on all your marketing materials. With time, effort and consistency, a branded hashtag can be as important as your logo or business name.
An example of a very popular branded hashtag was Uber's #beyond5stars, which encouraged followers to compliment their drivers, significantly expanding their reach on social media.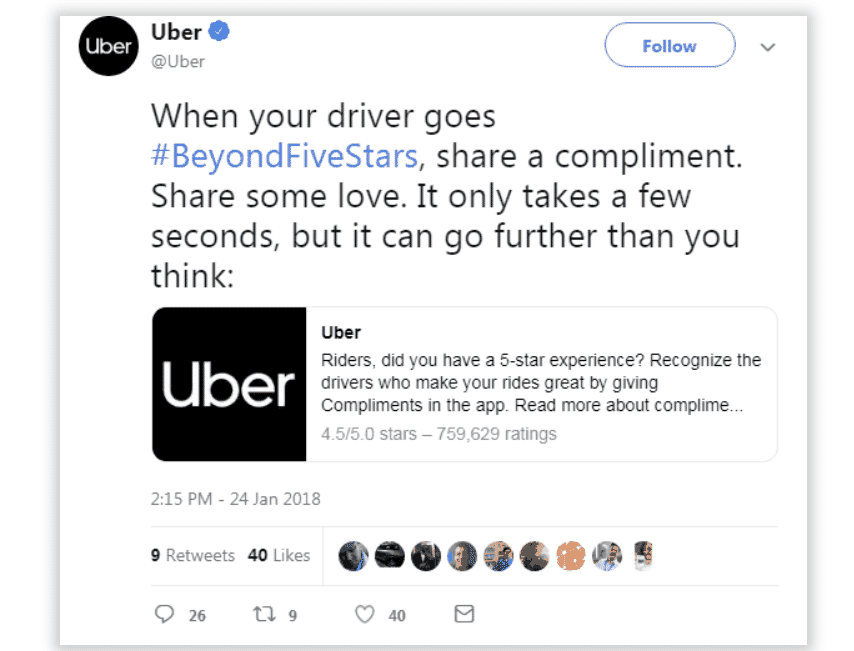 ---
Work With Influencers
Influencers have been getting a lot of attention lately. And that's because of the attention they can bring to a brand, event, or cause. Working with influencers can be a way to rapidly multiply your follower numbers.
For the uninitiated, influencers are Instagram users who have large, engaged followings. They accept payments or other benefits to provide exposure of a product or service to their group of followers. Think of them as the celebrity endorsers of Instagram.

For the most impact, you'll need to identify the influencers that hold sway in your industry. You'll also need to ensure they stimulate engagement among their followers. This may be easier said than done.
It's important to understand that the dynamics of influencers are constantly in flux. An influencer who performed well in a specific environment yesterday may not have the same impact today.
There are now thousands of marketing agencies that focus solely on influencers that might make setting up an influencer marketing campaign easier – for a price.
You could also go it alone and reach out to popular Instagram users who seem to mirror your aesthetic.
The key to a successful influencer marketing campaign is research. As with any marketing plan, getting the right balance between cost and ROI will be the difference between success and – not so much.
---
Contests/Giveaways
Another way to get people engaged with your profile is to sponsor a contest or giveaway. Of course, everyone likes free stuff and you can leverage this to increase your number of followers by offering a service, product bundle or something of interest to your target audience, like the example below where a pair of tickets to a sought-after industry related event were up for grabs.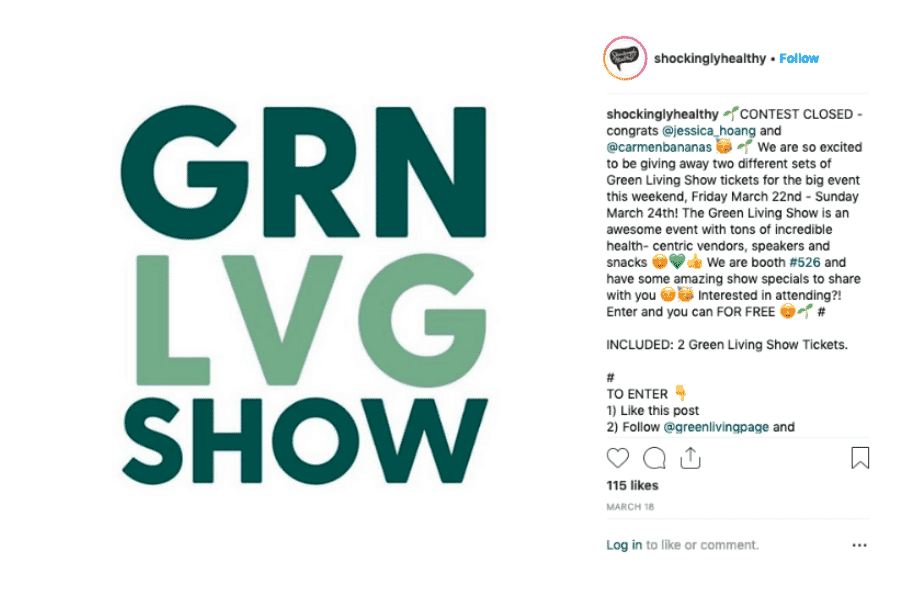 The classic Instagram contest involves urging entrants to follow your account (if they aren't already) and tag a friend or friends to create some viral outreach.
Instagram also seems to be a platform that works well for creating viral challenges where a follower challenges their friends to attempt a similar stunt.
Famous examples include the Ice Bucket Challenge or planking in absurd locations. Instagram Stories even includes a challenge sticker to help get the ball rolling.
Partnering with another account on a giveaway can give you the ability to swap follower lists and grow the community. Again, looking for angles that benefit everyone seems to work better on social media.
Contests, challenges, and games are also a great place to include a branded hashtag. Entry could be dependent on adding your hashtag to a post.
As mentioned in more than a couple of places in this article, keeping an eye on related businesses and competitors can provide important insight into the goings-on in your industry.
This isn't meant to promote copying, but just to give you ideas of the trends and what's working and what isn't when it comes to posting and follower engagement.
It's also possible to directly engage with the followers of related businesses. Like and/or comment on their posts, follow them and, if appropriate, engage with them using direct messages. Ideally, you'll end up with more followers. Here is an example of a competitor analysis using Metricool software: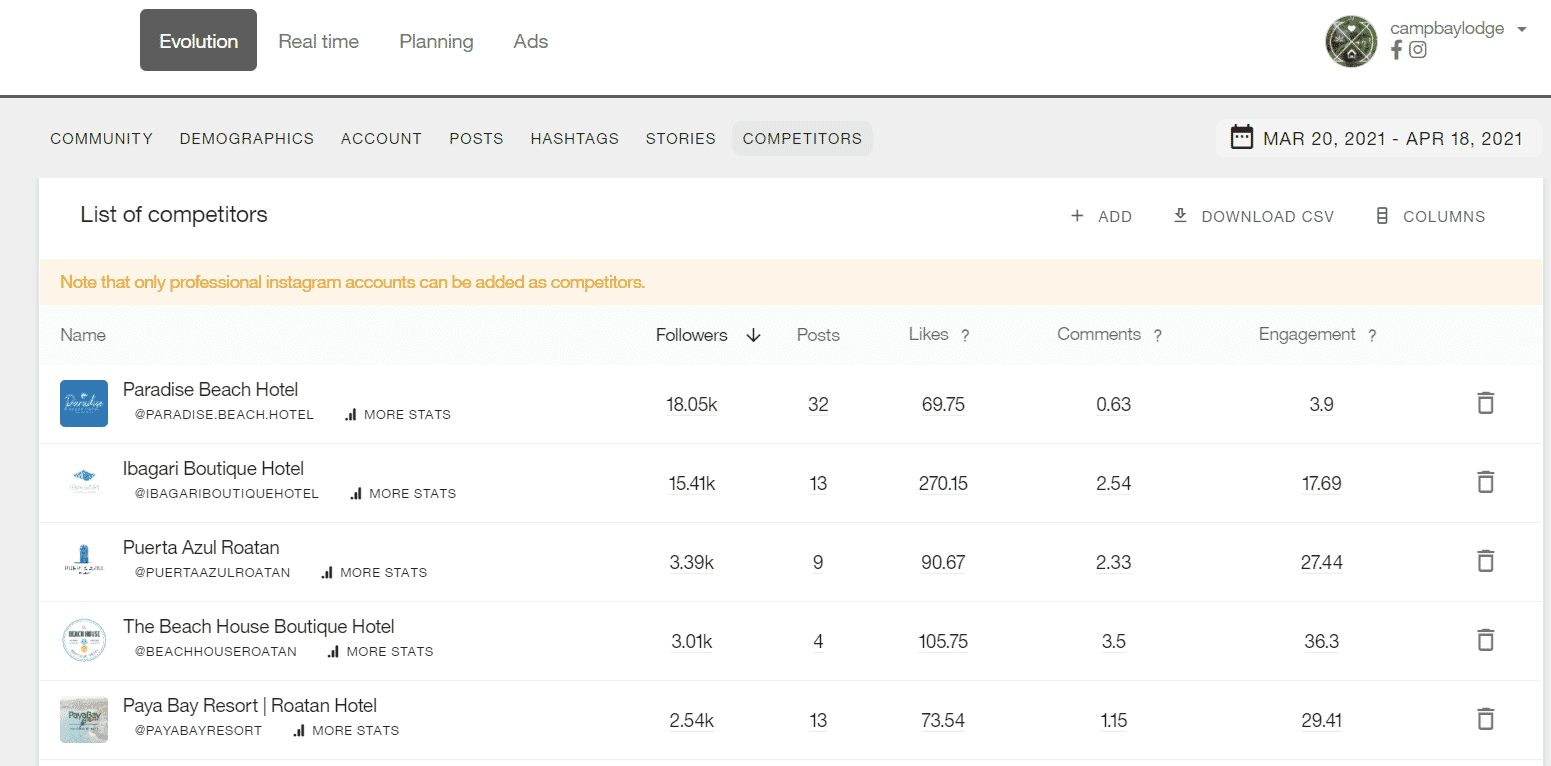 Most of this article has been describing what you should do to get more followers. However, there are certain things that you shouldn't do in an effort to bolster your numbers.
Don't Follow Fake Accounts
Fake accounts have become a problem for large social media companies. The platforms spend countless hours deleting millions of fake accounts every week.
Getting caught up with fake accounts can be detrimental to your Instagram presence. Sure, everyone wants lots of followers, but if there's no real person behind the account, what good is it beyond just being a number?
Fake accounts will generally lower your engagement percentage and that could affect whether your posts are exposed to new potential followers.
Fake accounts will also reduce your credibility among your legitimate followers. If your followers start being targeted by fake accounts from your list it won't be long before they're clicking the "Unfollow" button.
---
Don't Buy Followers
There are many places on the internet where you can buy followers for your Instagram account. However, this is a serious don't.
Most, if not all, of the paid-for followers, are fake accounts who are not interested in your business and will not engage with your activity. This is the opposite of what you want in a follower.
Again, fake followers that lower your engagement rate can also have consequences with Instagram algorithms designed to provide active accounts with more exposure.
Also, as has been mentioned, authenticity is extremely important on social media. A list of thousands of followers who never post or only post spam is not going to help the credibility of your business in any way whatsoever.
Ultimately, you'll benefit most when you build your follower list organically. Aside from the tips in the article, there are no shortcuts. It takes time, creativity, consistency, and persistence. As your list begins to grow your efforts will become exponentially more effective. Everyone, including the most popular businesses and influencers, has to start somewhere. So, create your business account, develop a solid content marketing strategy and get building your follower list! If you have any questions about growing your Instagram audience, reach out to us at info@blueprintim.com.