How to Optimize Facebook Ads for Your Business
With over 2.85 billion monthly users worldwide, Facebook is a top platform that businesses can use to their advantage. One way to do so is through Facebook ads. But how exactly do you set these up, and how successful are they? You might be thinking to yourself, "who clicks on Facebook ads?" and the simple answer would be, a large percentage of the population.
In fact, Facebook generated approximately $117 billion in ad revenue in 2021. Almost doubling its revenue from 2019, where the platform was just shy of $70 billion, it's clear to see how many people have, in fact, been using Facebook ads within recent years. It's likely that the pandemic played a large role in this. However, with more people purchasing online now than ever before, it's a good time to figure out how to optimize your Facebook ads if you haven't done so already.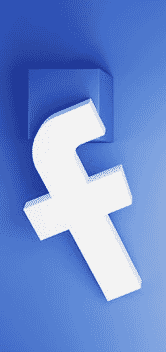 With all that said, here's what you need to know about running Facebook ads so your business can interact with more potential customers around the world.
What are Facebook Ads?
Ranked continuously as the top leading social media platform, Facebook offers various ad targeting options to choose from. With such a large population of users of many ages and across various countries, there are endless opportunities to reach more people. With Facebook ads, you can specify where you would like your content to be seen and by whom. There are also various ways to optimize ads, from promoting specific posts on your page to the page itself, your website, and more. Although Facebook prefers to keep people on their platform for longer, you can still successfully link away to your own domain without issues. In addition, you're able to target users based on demographic, location, and even the information they have on their profile, so you can get as specific as you need to.
But with countless ads already on Facebook's platform, how do you get yours in front of more people? And how do you know if it's right for you and your business? Here's what you need to know.
---
Are Facebook Ads Right For You?
To determine how successful your Facebook ads will be, there are a few things you should ask yourself first. Will your ads be purely set in the hopes of receiving direct sales, or will they be used to increase the overall engagement of your business or service? Low-friction conversion is the best way to approach Facebook ads, in which your focus is for users to sign up their email or visit your page, rather than directly buying. Since Facebook ads will pop up on people's feed without them necessarily looking for the product beforehand, the likelihood of them buying that product right away is very slim. Instead, focus on developing relationships with the users. Rather than expecting sales or an immediate ROI (Return On Investment), perhaps you'd like to present a newsletter they can sign up to or a section that allows them to submit their email address. The point of running Facebook ads should be approached as a means of exposure and connecting to more people around the world, rather than aggressively trying to sell a product.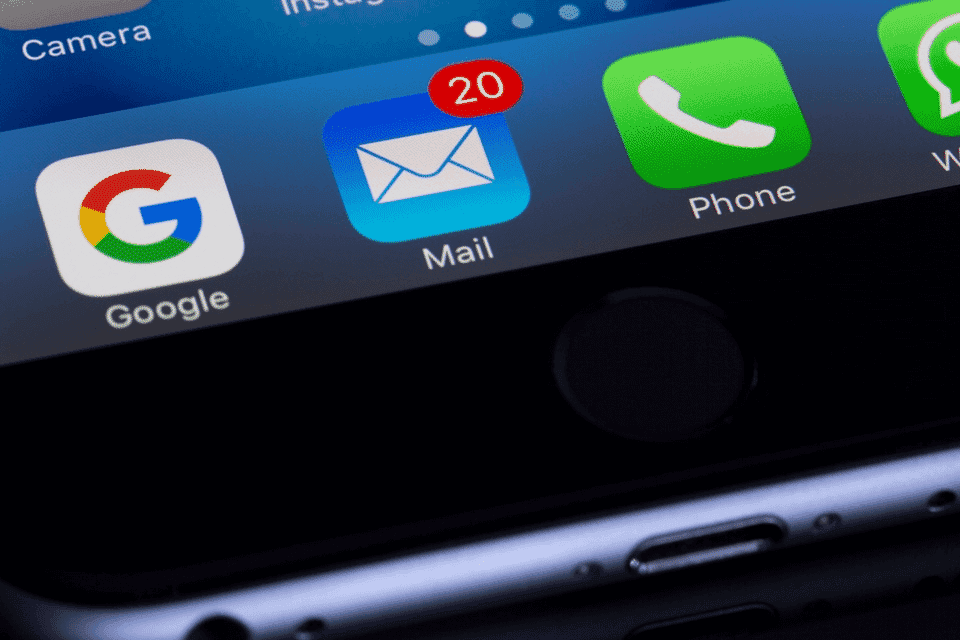 However, we do know that the end goal is to convert leads to sales. So, perhaps once they've signed up their email, they receive a coupon or some sort of incentive to go back to viewing that product later on. Maybe instead of focusing on selling one big-ticket item, you direct your audience to smaller purchases instead. It's all in how you approach your Facebook ads that will determine their success rate. It also depends on how you actually set them up. Here's what you need to know.
---
How Do You Optimize Facebook Ads?
Because Facebook provides so many options for targeting customers, how you can approach your ads is pretty unmatched. Whether you want to target based on location, age, gender, relationship status, language, education, etc., there are endless opportunities to find your ideal audience. Even something as specific as their connections or interest as indicated on their profile, you can be sure that if your product fits those interests, they'll be put in front of the right people.
However, when you're initially starting out, you should focus on a broader search by including location, age, gender and possible interests. Much of this information will already be based on the trends you've seen through your company's profile. For instance, if you know that men between the ages of 21 and 40 are your main clientele, then this is who you should be targeting with your ads. When it comes to setting your ads to target interests, there are two ways you can look at this, a broad or more detailed approach.
For example, a broad approach would be taking your niche (say your products are geared towards new parents), then you should cast a wide net for anyone within that category. However, a detailed approach would be including far more specific aspects to your ad targeting.
This information is based on what people have on their Facebook profiles or what they have said they're interested in. Many times, businesses will choose to create ads that target as many different groups of people as possible. They will want their ads to be seen by everyone. However, this will ultimately be much more expensive and far less effective. Because if you target nothing more than a specific age group and gender, then that is generalizing that the entire, say, 50-60-year-old female population likes the same thing. Your ads will likely fall in front of people who have no interest in what you're presenting, so it's best to be specific when creating your ads.
For example, you should take your main interest group and break it down into much smaller categories to get specific with your targeting. The goal should be to reach an audience of around 50,000 to 1 million people.
We highly recommend that you include Facebook Login as a sign-up option when individuals are on your website. You might have seen before that when logging into certain sites, they present the option of using Facebook to do so. Since this will connect to their Facebook, it will let you analyze their interests, which can help for future targeting.
---
Using Facebook Ads to Retarget Users
Although Facebook ads are typically used to gain a brand-new audience, they are also incredibly useful for retargeting people already familiar with your business, services, or products. For example, these specific ads can target individuals who may have already visited your store and, say, left an item in their cart or previously clicked one of your ads. It's almost like a second chance for them to become a potential customer, and because you know they have already shown interest in your business, there's a higher chance for ROI.
---
How to Create a Successful Facebook Ad
Finding the Perfect Image for Your Ads
If you see an ad pop up on your Facebook, what is the first thing that you notice? Your answer will likely be the image. It will either capture your attention or you will simply scroll right past it depending on what it is. The product or service itself could be absolutely life-changing, but the image isn't doing it any justice. This is why the image you choose for your ads is significant. It's essential to keep in mind that you use high-resolution images. Also, steer clear of images that you don't have the right to use. That's a big one for a variety of reasons. We also recommend ditching the generic Stock images and using pictures that are engaging and display your product the way it should be.
For example, this ad displays products from one of their popular brands and with the bright colours and visual of the product itself inside the container, it shows you everything you need in a split second.
It's also highly recommended to use images with people in them. This adds a sense of humanity and allows your audience to feel connected to your brand or business. Once again, your ad should consider your audience at every turn. For example, if your product or service is catered to an older demographic, your image should represent that. Rather than including a young, attractive model to represent your product or service, adding a picture of a real, older adult will be a more accurate display. Connection and representation are everything when it comes to selling. Your target audience should always be made to feel like the product is for them because, well, it is!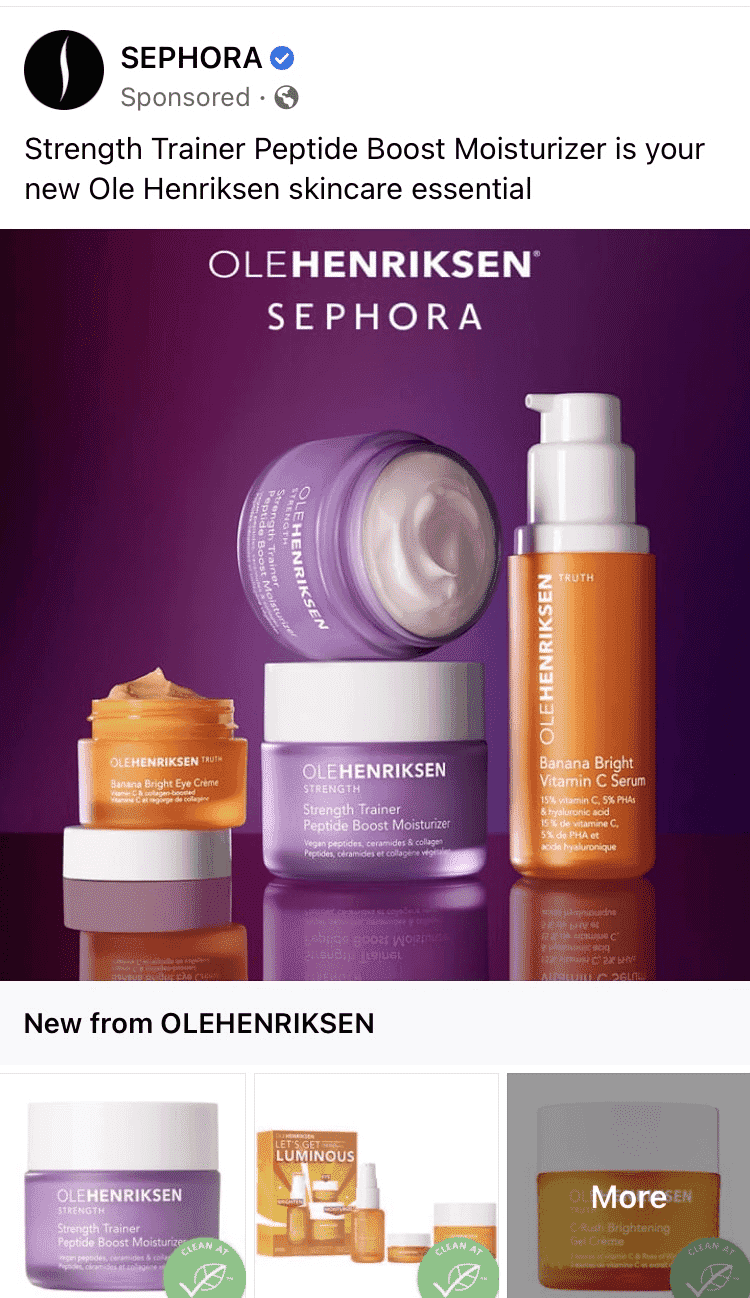 The Ad Writing
Ensure that the writing on your ad is clear and concise. You want to make sure that it's readable, and it's also recommended to add some colour where you can. This will provide another component for your ad to really stand out and capture your viewer's attention. Also, if it makes sense to your business, try to be witty or simply creative with what you write in this space.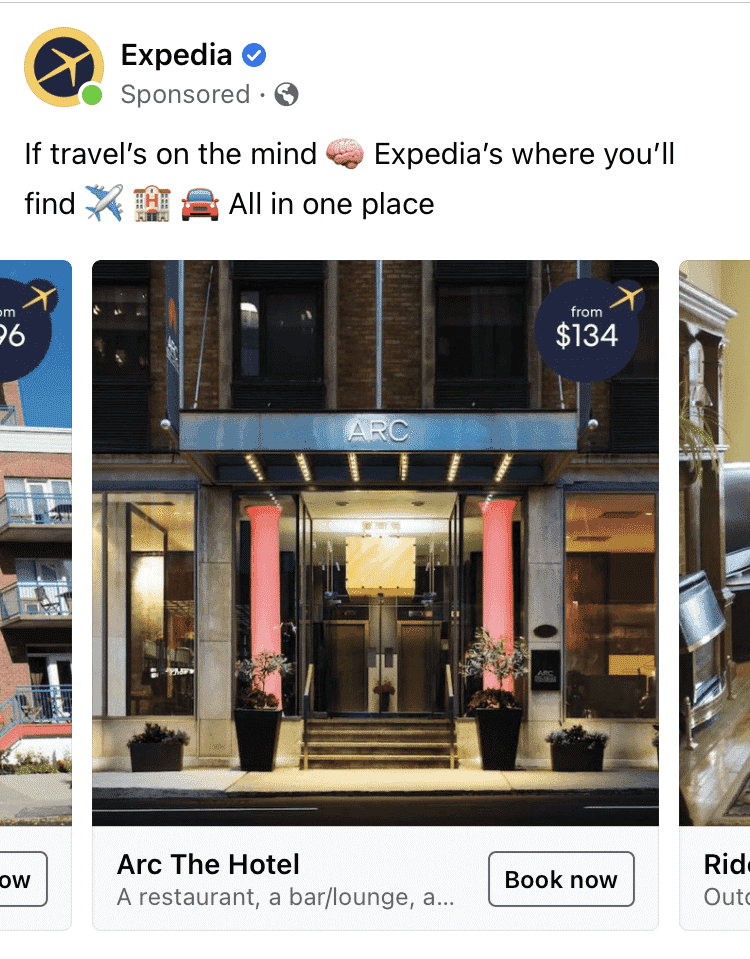 The Text Accompanying Your Ad
This will be the caption for your ad. The first two steps will bring your customers to your ad and, hopefully, encourage them to read on. Although there's only enough space for 40 characters in the headline and 125 characters in the body for text, there is still enough room to present all of the information you need about your ad. Keep it short and sweet. Saying what you need to in a limited space might be tricky, so keep in mind three things for your text. Ensure that you have a hook, talk about what the product or service can provide to its customers, and include a CTA (Call To Action) at the end.
Take this Facebook ad for example. Although Expedia is already very popular, with more people starting to travel again, it would make sense why this is sponsored ad is coming up. With a quick, witty headline that includes emojis, it will likely capture a lot of attention. And because people will generally already know what Expedia offers on their website, there's no need to say much more.
---
Testing Out Multiple Facebook Ads
When setting up a Facebook campaign, you should focus on having at least three versions of the same ad. They should have the same interest targets, but perhaps the copy or image will differ from one ad to the next. This is a simple trial period to see what works and what doesn't. After the ads have run their course and you've been tracking which one is most successful, you can delete the rest and proceed with the one that did the best. Ultimately, you can approach this as a research period to see what people prefer and use it to develop future ads.
---
Tracking Your Facebook Ads Performance
To accurately track your Facebook ads, you will need to use Google Analytics or another back end-system that you have access to. Start by creating a trackable link that you can monitor on Google Analytics. Once again, this is why creating separate campaigns is essential, as you will measure which one performs best.
It's a good idea to keep on top of these analytics as ads with low CTR (Clickthrough Rate) will likely become more expensive and stop serving the intended purpose, and those with a high CTR will receive as many clicks as they can to fit within your budget. In addition, once you've established an ad that is working well, you will likely see a gradual decrease in impressions over time. This is normal and when it happens, simply create new ads based on the successful content. Do not edit the existing ads, but simply use them as a template to create new ones.
Conclusion
Facebook ads can be an incredibly powerful and successful tool when used properly. Although the idea of it might seem a bit confusing at first, with this guide, we hope you feel more confident moving forward and creating Facebook ads of your own. To learn more about optimizing your social media platforms, download the complete marketing e-book for businesses.