How to Use Instagram Stories and Highlights for Business
Social media continues to grow in importance to drive business growth. It's just a matter of understanding how to use the different social networks from a business perspective. Below, you will learn how to use Instagram Stories and Highlights.
What are Instagram Stories?
Instagram Stories are digital reels composed of images and videos that disappear after 24 hours. The introduction of Stories appeared to be a response to the growing popularity of the Snapchat platform which functions similarly. Posts on Instagram Stories can be upgraded and decorated with digital stickers, filters, captions and other add ons. Here is an example of what Stories looks like.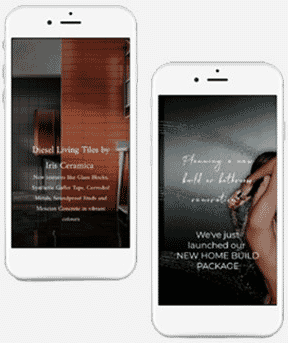 Why Should Businesses Use Instagram Stories?
It might not make sense that a post that disappears after 24 hours could be beneficial for business. However, using Stories can be a way of engaging users and getting them to act before the post disappears. The fleeting aspect of a Stories post adds a feeling of scarcity that can drive engagement. It's also important to realize that Instagram Stories have become a hugely popular part of the platform. Since its introduction in 2016, Stories has grown to have more than half a billion daily users.
It's also been found that since Stories was introduced, that the number of regular feed posts has been declining while Stories posts are rapidly increasing. Any good marketer should want to be where the most eyeballs are directed, and Instagram Stories are obviously under the gaze. Instagram Stories also provides some unique features that can be used to further business goals much more easily compared with relying solely on feed posts.
How Do You Use Instagram Stories for Business?
One of the main advantages of Instagram Stories is the number of engaging add-ons that can be easily incorporated into Stories posts. Features such polls, emoji sliders and question, quiz or chat stickers all encourage engagement while allowing the marketer to tell their story as you can see here.
Polls for Business
Poll stickers are virtual add-ons to your Stories that allow you to ask a question and provide answers for your followers to choose in response. Asking your followers questions is one of the best ways to encourage engagement and grow your Instagram following. The answers you receive will let you know exactly what your followers are thinking. When you share the results of your poll you further engage with your audience and let them know that you're actually listening to them. The questions you ask in your polls can be as lighthearted or serious as you want to make them.
For example, polls can ask followers for whimsical opinions about favourite foods or cartoon characters. Or, they can be used to formulate serious business decisions by asking about desired future product lines or pet peeves with your company. Users love to engage with polls. Try incorporating them into some of your weekly stories. In the examples here, a brand uses lighthearted polls to create engagement and feedback for products.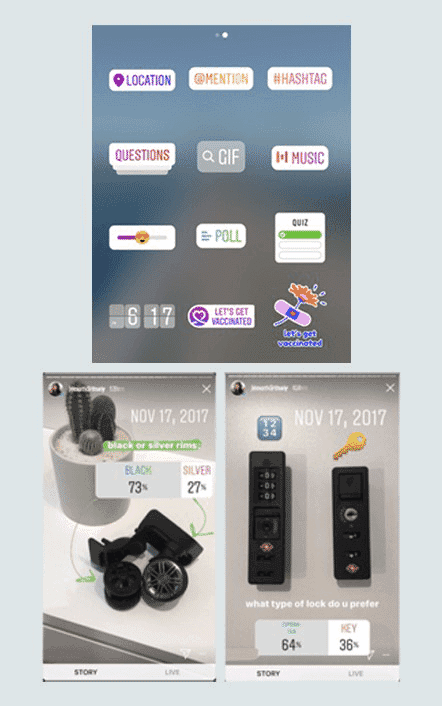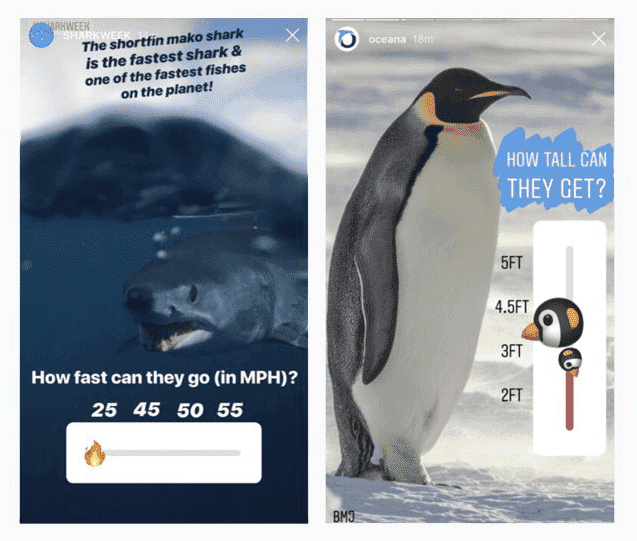 Emoji Sliders Stickers
Emoji sliders stickers can add some colour and playfulness into your polls even if you are being serious. Emojis add a visual element to the polls that can be used to increase engagement when used properly. There's a massive number of emojis tto choose ffrrom,, so you shoulld ttake the time to search through and find emoji stickers that represent your brand or the idea you're trying to communicate in the poll.
Your followers slide the emojis along a rating scale that best answers your poll question. Rather than providing an either/or answer, the slider provides a range of interpretations. In this example, you can see how emoji sliders appear in stories.
Questions Stickers
Questions stickers allow your followers to customize their responses to your questions. They're able to type in their answers rather than choose from a range or list of prepared responses.
Chat Stickers
Chat stickers allow you to create a chat session with up to 31 followers of your choosing. Rather than the one-way conversation created by a Questions sticker, a Chat sticker creates a conversation with and among your followers. Chats can be a great way to lead your own focus group while also providing a feeling of exclusivity among those who were accepted into the session.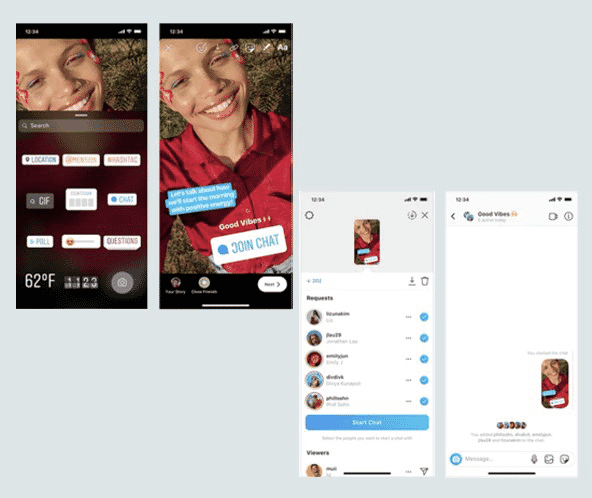 ---
What is the Benefit to Business for Going Live on Instagram Stories?
Going Live is exactly what it sounds like. You're the reporter in your own live stream and you can present whatever your heart desires. If you want to connect directly with your followers in a completely authentic and unvarnished way, Live is the way to do it. As going Live is unedited, it can be daunting, but it can also connect with your followers in ways that other posts can't.
One thing to note about going live is that any on-app follower i notified about your broadcast as it happens. Timing your Live broadcasts to coincide when most of your followers are online will be most effective.
Followers can comment on your broadcast in real-time to allow you to gauge your performance while gaining insight into your audience's mindset. You can choose who sees your live broadcasts and filter out offensive comments by changing your privacy settings before you broadcast.
Other benefits of using IInsttagrram live is that you can see how many of your followers are currently active before starting your live video and it can be saved to a profile IGTV post once completed as you can see here.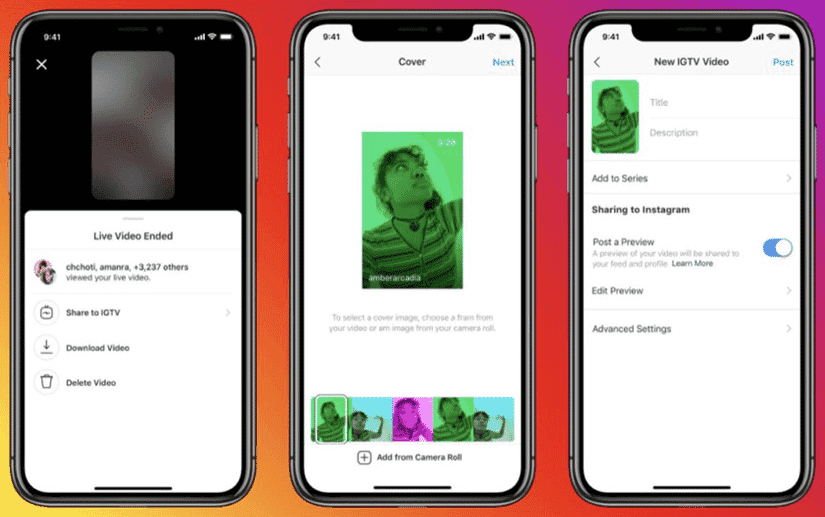 ---
How Do You Increase Sales Using Instagram Stories for Business?
One of the reasons that Instagram Stories is so important for businesses is that it offers several features that facilitate direct sales. Digital add-ons such as Product stickers, Countdown stickers and Ads are effective tools for increasing traffic to your website or product page and driving sales.
Product Stickers to Increase Sales
A Product sticker allows you to add add a tappable link to a product that you feature in Instagram Stories. Product stickers allow followers to click directly to your product sales page. This means followers don't have to go to your bio to click a link or "swipe up." (More on swiping up later.) Product stickers can be added to both still images and videos in Stories. They provide an unobtrusive method of selling your range of goods to your follower list.
Countdown Stickers to Increase Sales
Countdown stickers are a great way to keep your followers informed about upcoming product launches, sales events, release dates or announcements. By posting a Countdown sticker in Stories as you can see here, your followers are encouraged to subscribe to the countdown which will ensure they're reminded when the special occurs.
You'll also be notified when people subscribe or reshare your countdown with their followers. If you're launching a product, event, or holiday sale, the Countdown sticker will ensure people are aware of it and ready to opt-in when the time comes, which is a great way to boost your results.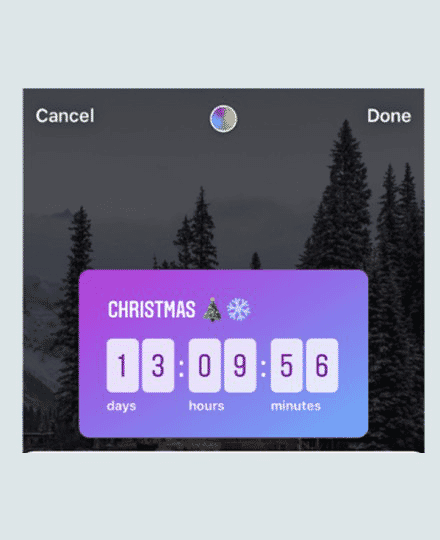 Stories Ads to Increase Sales
It can be tough creating organic sales, especially when you have a small follower list. For a price, using Instagram Stories Ads can help get your information in front of a much larger audience. Instagram Stories Ads allow you to target the specific audience you want to reach according to the demographic characteristics that you choose.
Experimenting with Instagram Stories posts is a good way to see if you're on the right track before putting up money to promote your product with advertising. Instagram Stories posts that perform well organically, however small your follower list may be, will generally also work well as an ad. Many Instagram Business users will convert highly engaged Instagram Stories posts into paid ads to allow them to reach a much larger audience.
---
What's the Importance Of Getting 10,000 Followers On Instagram Stories for Business?
10,000 is a magic number when using Instagram Stories for business. Hitting that number unlocks the valuable Swipe Up feature that allows you to add direct links from your Instagram Stories posts to non-Instagram online properties.
---
How Do You Use Instagram Stories Swipe Up Function to Increase Sales?
Once you reach the milestone of 10,000 followers, you'll be able to add the Swipe Up function to your posts made in Instagram Stories. When followers swipe up on your Instagram Stories posts, they're directed to an out-of-app page that you specify. Whether that's your website, Youtube channel, pop-up product page or somewhere else, depends on what you're trying to achieve. Swiping up eliminates the need to ask your follower to go to your Instagram bio page and click on the URL link that appears there – extra steps that drastically reduce engagement. The swipe up function, as you can see here, also allows you to post several different links in your Instagram Stories posts as opposed to the single, solitary link found on your bio page.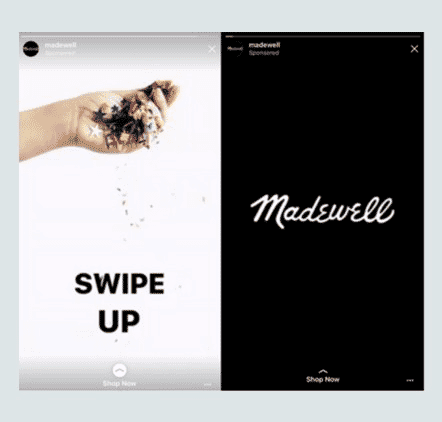 ---
How Do You Increase Your Instagram Stories for Business Views?
Paying for ads to increase the exposure to your Instagram Stories posts is one way to increase your viewer numbers, but with some effort you can increase your views organically. Creating a consistent posting schedule and making use of hashtags and location tags can expose your Instagram Stories posts to a wider audience without having to pay for the privilege.
Use of a Posting Schedule
If you do an online search for how to increase your Instagram follower numbers and post views without paying for them, you'll find that the top answer is to post consistently.
To post consistently, post on a regular basis and maintain a consistent theme or brand identity through all of your posts. Creating a posting schedule will ensure that your posting activity occurs on a regular basis. Regular daily posting is better than sporadic posting. Try to post when most of your followers are engaging with the app rather than at odd hours or when they're likely to be sleeping or at work. Creating a consistent theme or brand personality by paying attention to colour, logos, content and tone of voice in your posts will also drive more engagement and viewers.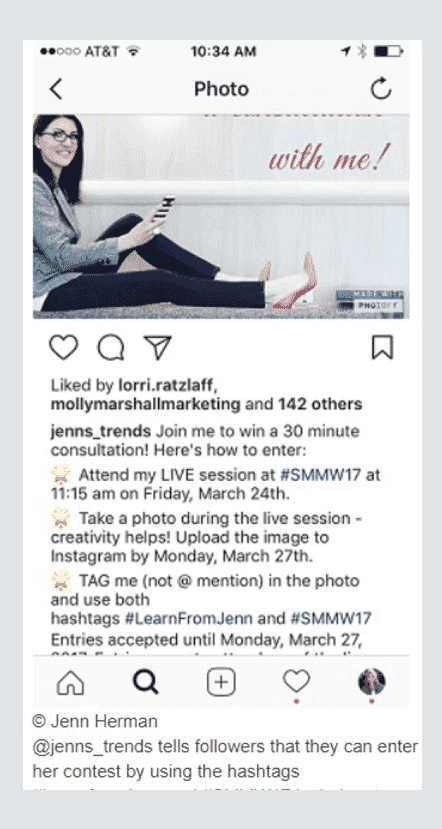 Use of Hashtags and Location Tags
Finding and using hashtags that relate to your business and location can be powerful ways to draw others into your circle. Hashtags and location tags allow you to tap into groups of people who are looking for something that's likely related to your product or business. For example, someone who's interested in shoes might search #shoes or #sneakers. Using those hashtags in your Instagram Stories posts could be used to attract those users if you're selling customized shoelaces or waterproofing spray.
Instagram Stories allow you to use 10 hashtags and one hashtag sticker per post. Rather than completely cluttering your post with hashtags, you can shrink text-based hashtags, blend them into the story by changing the colours or hide them behind a sticker.
It's important to use location tags because they attract those who are already related to you by location. Someone who's about to visit your city might be searching your location, come across your location tagged posts and decide to visit your store during their stay. Others who are interested in what's going on in their hometown will often search by location tag. Conversely, liking a user's post that includes your location's hashtag lets them know that you're nearby and paying attention.
Creating A Custom Hashtag
Creating a hashtag specific to your business is also a great way to increase the view numbers of your Instagram Stories. At first, it may not seem like your hashtag is making much of a difference, but over time you'll create a body of posts that will resonate with interested followers. Ideally, users will eventually begin to use the hashtag and search for it specifically. Branded hashtags are great to use for contests as you can see in this example.
---
How Do You Use Shareable Branded Assets to Increase Your Instagram Stories for Business Views?
Another way to increase user engagement and Stories views is to create shareable branded assets such as augmented reality (AR) filters, screen backgrounds, gifs or information panels.
Although some of these options may require a few more graphic design skills than others, you don't necessarily need to be an artist to create compelling branded assets. If you already have a logo and a basic brand guidelines, you're halfway there. Combining these elements into an interesting or useful and shareable online graphic can increase follower engagement and elicit interest in their followings.
Instagram Stories Highlights for Business
Stories Highlights allow your various Stories to be saved permanently on your Instagram profile. Stories Highlights appear above your regular feed posts on your profile page with the most recently posted Highlight appearing at the front of the Highlight queue. This means that Stories Highlights are even more prominent than your regular feed posts when someone visits your profile page. Think of Stories Highlights as the greatest hits of your Stories posting history. Many businesses use Stories Highlights to retain their best performing Stories posts and provide easy-to-access, highly relevant information to their followers. Hiighlliightts posts often include product line additions, information updates, bonus content, Stories posts that received high engagement rates or information resources such as FAQs, contact information, company history or factoids that link to a more informative blog post as you can see here.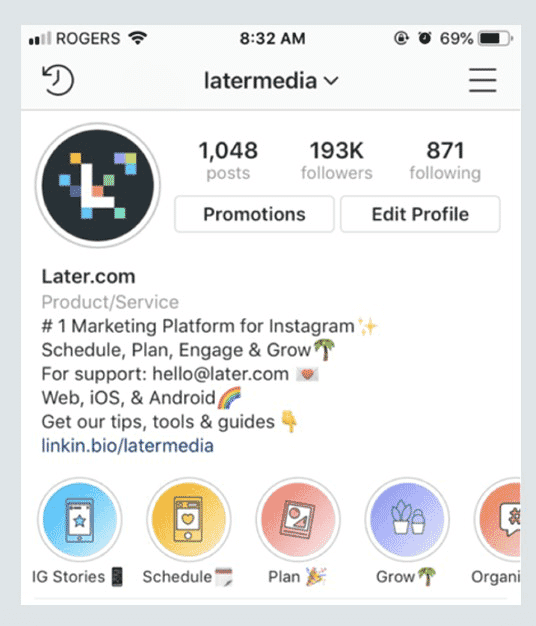 Why Should You Customize Your Covers
Instagram Stories Highlights default to using a thumbnail of the first image of the Stories post as its cover. However, you can customize the covers across your Highlights post to create a cohesive and consistent appearance. Highlights covers can be created using the tools available within Stories or you might find more design options with other online or software-based tools. Simply add the newly created image to make it the first image in the Highlight and it will appear as the cover photo.
Conclusion
Instagram Stories and Highlights can be powerful tools for business and should not be ignored. Used alongside an Instagram posting strategy, Stories and Highlights can help grow your followers list, increase engagement and drive sales. To learn more, download our complete social media ebook.