How to Use Snapchat for Business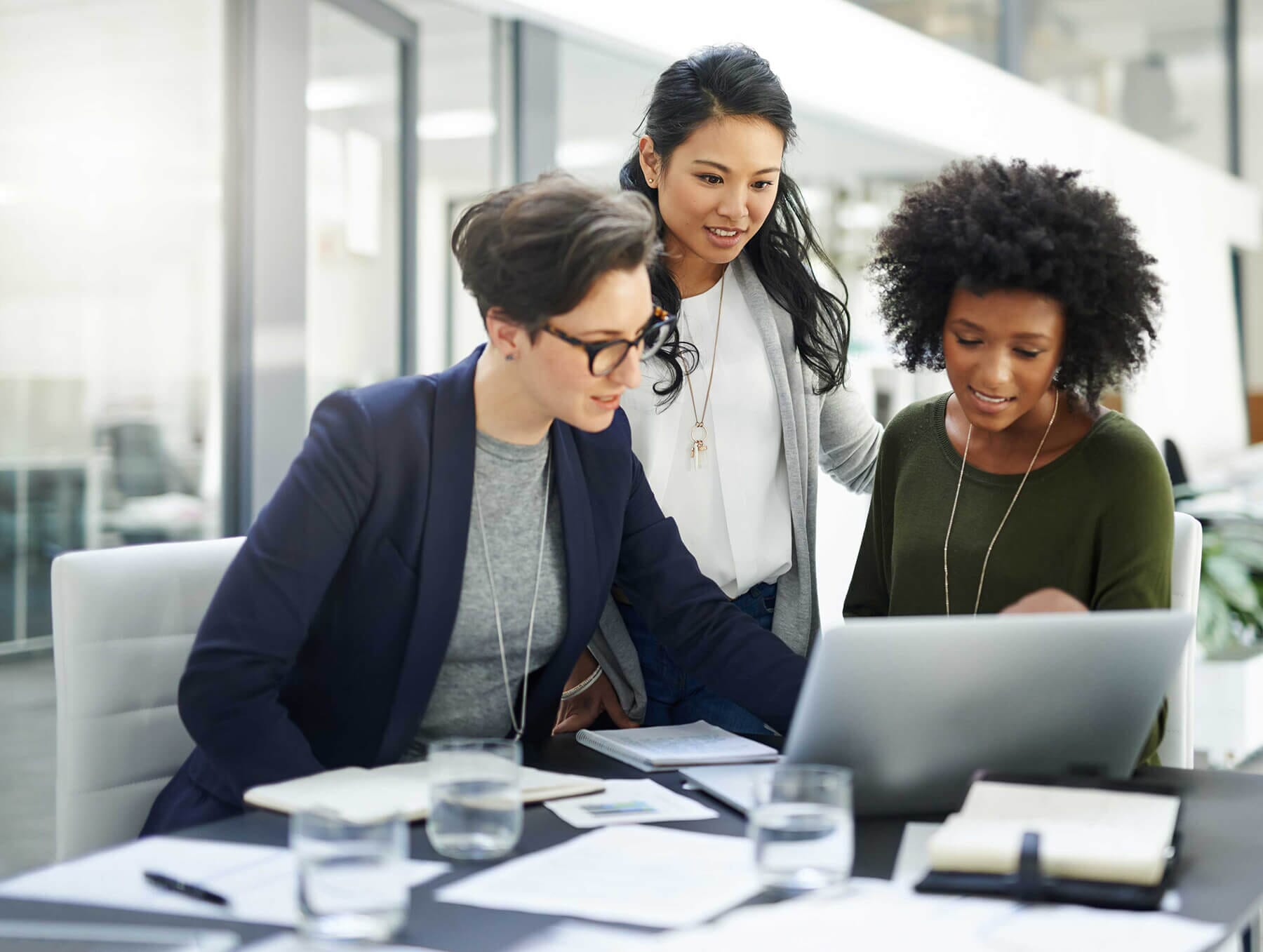 While it may not be one of the big three of social media sites, such as Facebook, Twitter and Instagram, Snapchat is still an important channel to promote your business. As a matter of fact, some of the features popularized by Snapchat have been adopted by the bigger social media sites. While Snapchat is more popular among young users, it doesn't mean older people don't use it or that you should ignore its business potential. As a digital marketing company, we have seen businesses use it with much success. If you want to learn how to use Snapchat successfully for your business, we've put together an all-encompassing guide below.
---
Snapchat Stats
By the end of 2020, there were over 264 million active daily users of the Snapchat app. Almost 60% of Americans between the ages of 13 and 24 use Snapchat. Among that age demographic, it's more popular than the Big Three social media groups. A large reason for that is the makers of Snapchat understood what younger users wanted in a social media app – and they delivered. It may be tempting to ignore Snapchat because of this young demographic, but if you consider Facebook was one used exclusively by the young – at least until parents and grandparents finally caught on – you would understand the need to stay educated about what the younger generations are captivated by. Even if your target audience skews older, having a working knowledge of Snapchat today could ensure you're well-versed in its working as the user base changes. On the other hand, if you're targeting a young and highly engaged audience, being on Snapchat is a must, as you can see from their consistently growing audience documents by Statista below.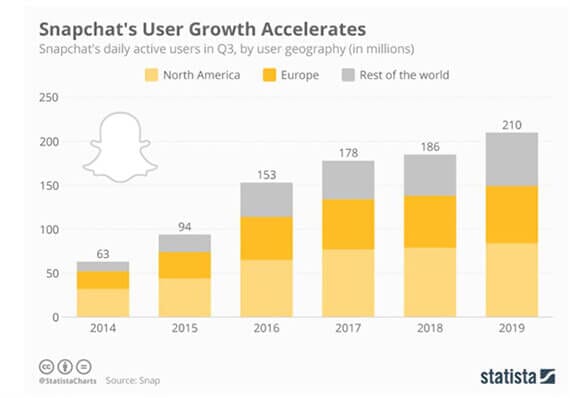 Snapchat Culture
Understanding the culture of any social media app or platform you're using for business is just as important as understanding how to use it. The wrong approach can lead to disastrous results. Just as Instagram is known for aspirational and beautiful photos, Twitter for short blocks of factual text and Facebook for connecting with family and friends, Snapchat has a social climate that needs to be understood for the best results. Hard selling generally won't work on Snapchat. This is an app that's based on fun, storytelling and the creation of compelling content. It's great for sharing quick observations about your business life, valuable information, insider sneak peeks and unique promotions or engaging product launches. Tailoring your social media content to the prevailing social media platform attitude is a must.
Snapchat's Main Features
Like every other social media platform, there are specific ways to introduce your content to other users. And while Snapchat might seem confusing when you first start using it, it'll quickly become second nature as you become more familiar with the various features. In this section, we'll provide an overview of the basic features of Snapchat.
Snaps
Snaps are what the entire concept of Snapchat is based upon. A Snap is a photo or short video (up to 10 seconds long) taken with your phone that can be sent to your friends or followers. The Snap disappears after it's been viewed.
Stories
This feature was once unique to Snapchat but has quickly been copied by Facebook and Instagram. A Story is a collection of photos or videos that can be assembled to create a collage that plays out in chronological order. A Story lasts 24 hours before it disappears.
Memories
Memories is a feature that allows you to create posts using photos and videos that were previously recorded outside of the app. You can also reuse content from old Snaps or Stories. Memories are not designed to automatically disappear.
Filters
Filters are a type of graphic overlay that can be used to frame or enhance your photos and videos. While there are a range of Filters that can be used for free, for a price, it's possible to create your own filters. This can be very handy for branding or highlighting special events.
Lenses
Lenses are a type off Augmented Reality (AR) that allows you to add special visual and sound effects to faces that appear in images and videos. When you see posts of people with cat noses or bunny ears, this is a result of using a lens. Lenses can also be customized. Brands will often create AR lenses to help generate engagement, like in the example below with Bacardi.
SnapMap
A SnapMap allows you to share your location or to track a friend's location in real-time when the Snapchat app is open. It was introduced to increase the possibility of meeting up with people in real life.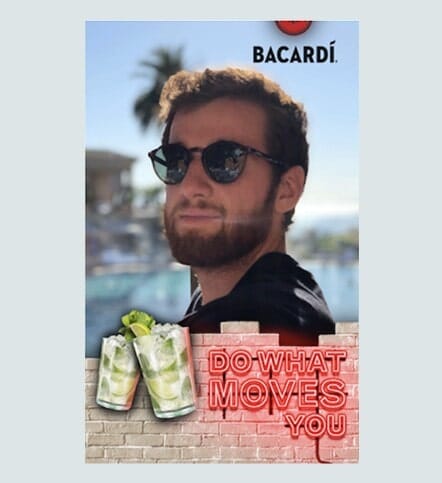 ---
How To Grow Your Business Snapchat Account
Now that you understand the basic functions of Snapchat, it's time to grow your business Snapchat account. If you're feeling apprehensive about starting, it's important to remember that everyone starts at ground zero. Although it may be tough going at first, you just have to dig in and get going. Momentum will eventually build and your account will grow because of your efforts. The sooner you start, the sooner you'll see results, so don't put it off. To get you started, below are some of the tried and true ways to grow your business Snapchat account.
Intrigue Viewers
If you're just learning how to use Snapchat, it's very likely you already have other social media accounts. You can leverage the existing followings you have on Facebook, Twitter or other socials to intrigue those viewers and direct them towards your Snapchat account. The way to do this is to drop a teaser on your other social media accounts and tell your followers to get the rest of the story on Snapchat. It could be a list of expert tips, an exclusive interview, a travelogue, a cliffhanger story or the details of a new product launch. As you continue to share samplings on your other social accounts, those followers will ideally go directly to the source of the full stories and start following you on Snapchat. In the example below, National Geographic uses Stories to feature a series of Snaps to encourage users to visit their website and read their latest articles.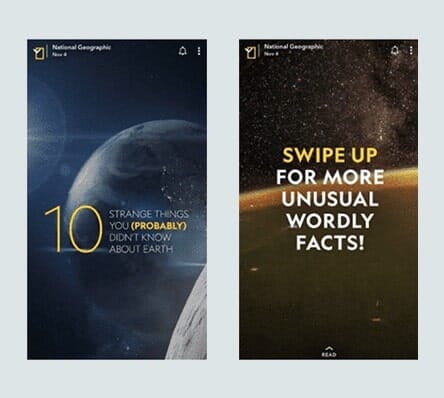 Run Contests and Promotions
Snapchat is an ideal platform to run limited-time contests and promotions because of the ephemerality of the Snap and other features. Contests and promotions work great on social media in general because of the low cost of entry. Getting your followers to crosspost on other social media platforms as well as on Snapchat can supercharge your growth. Asking your followers to do something as simple as sharing your contest as a Story will quickly increase the exposure your posting gets. Or ask people to follow your account to get an entry into the contest. Ask your followers to post a photo that's related to your brand to receive an entry to the contest. Contests and promotions should be interactive and have an end goal of building your Snapchat following. Contests do not have to be for expensive prizes – Grub Hub had great success with requesting a week's worth of daily challenges with Snaps for a chance to win $50 in free takeout. This content resulted in a 20% increase in followers that week.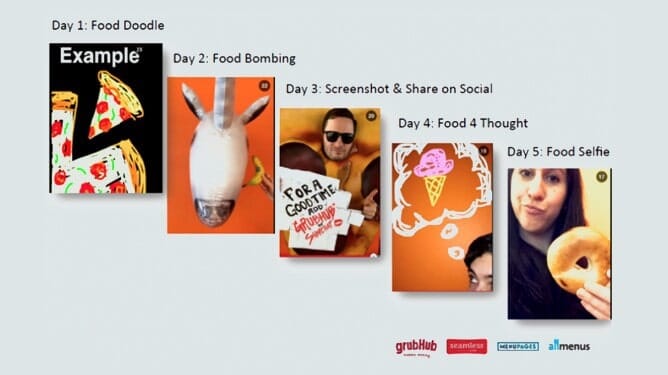 Host A Takeover
A social media takeover is when you allow someone else to post content on your account. Ideally, this will expose both your profiles to each other's audience and cause some cross-pollination of followers. You might consider asking a related business to do a takeover and announce to their followers that they'll be posting on your account for a limited period of time. If you do nails and eyebrows, you might get a popular hairstylist to do a takeover of your account. If your industry is too competitive to find a willing partner, you might need to approach an influencer (ie someone with a large and highly engaged following) for the account takeover. Just make sure to keep the takeover exclusive to the Snapchat platform if your goal is to grow your Snapchat following.
Takeovers can be incredibly successful – in the example below, cosmetic producer, Shiseido partnered with beauty blogger Jen Chea which generated over 100,000 impressions on Shiseido's Shapchat channel.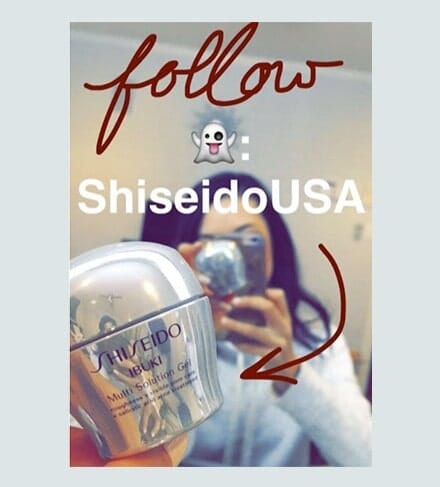 Offer Discounts or Promo Codes
Discounts and promo codes are ideal for customers who are already primed to buy but have yet to pull the trigger. Conversely, they can also be used to create a sense of urgency for people who hadn't even considered purchasing before seeing the discount or promo code. Sharing a discount or promo code as a Story means it'll only last for 24 hours before it disappears. A sense of urgency is created and those who see the Story will feel like they have inside information which they could share with friends. Offer discounts or promo codes to grow your following and make some sales at the same time
Reply To Your Followers
Social media is so-named because it's meant to bring people together. This should be kept in mind with everything you do on Snapchat and your other social accounts. The internet can make things feel very impersonal. Most businesses don't help matters by keeping their customers at an arm's length or not engaging at all. By replying to your followers you make them feel listened to and valued. If somebody posts something about your business, it's important to engage with their sentiments – even if they're bad. By taking the time to recognize their opinions it's possible to create much more loyal customers.
Feature User-Generated Content
Similar to replying to your followers, using their content is a way to reinforce your relationship and ideally spread it out to their friends as well. Of course, it's always important to ask for permission before featuring user-generated content. The beauty about user-generated content is that it's authentic. Rather than being a top-down advertising force, it's a bottom-up, crowd-sourced transferral of information. In this day and age people are more likely to listen to their friends than an authority figure or marketing directive. As an added bonus, posting user-generated content can influence others to post and create a bandwagon effect.
Measure Results
Once you've invested some time in growing your follower base, it's important to measure the results so you can understand what works and what doesn't. It's important to remember that social media isn't one-size-fits-all. What works for one account, business-type or industry doesn't necessarily work for everyone. Having an informed idea of what generates results in your situation is far more important than assuming. Keep track of the views, screenshots, open rates and follower numbers for each type of promotion you work on. This will give you a benchmark to work from and allow you to understand how different tweaks can lead to different results.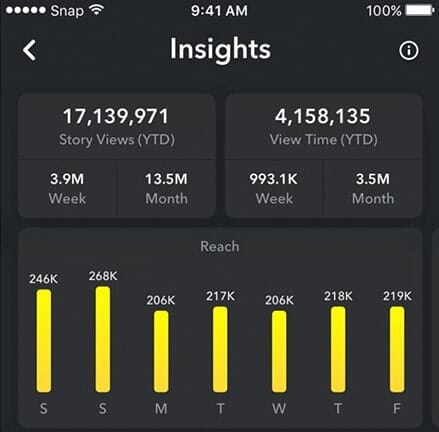 ---
Cross Promoting Content From Other Platforms
It was mentioned early on in this article that cross-promoting content from other platforms can be an effecttiive way to grow your following. As important as it is to intrigue viewers on other social media platforms, you ultimately want them to migrate from one platform to the other and follow ALL your social media accounts. For this reason, it's important to create distinctive posts for each platform. Simply posting the same thing to every social media platform doesn't give anyone the incentive to follow you in more than one place. Creating unique, but related posts for each platform can help you leverage your entire social media identity. If you have a large enough team, this might be done by dedicating diifferrentt people to different platforms. If you're running the show yourself, it might be easier to stick to a certain type of post depending on the platform. For example, Snapchat might be used for product launches and promotional discounts while one of the other platforms is used for posts about your company mascot's adventures.
---
Using Snapchat Ads
Once you've got a good handle on all the free services that Snapchat has to offer, you might want to turbocharge your effort by trying out some paid-for advertising. Using Snapchat ads doesn't necessarily have to increase your revenues (although that wouldn't be a bad thing!) they can also be used to grow non-monetary assets such as your follower numbers or app downloads. To start advertising with pay-per-click ads, you'll need to set up your Business Account under their Ads Manager section as shown below.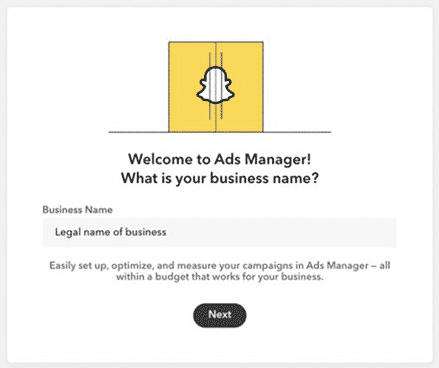 Overview of Advertising On Snapchat
Snapchat has a self-serve advertising system called Ads Manager which means you don't have to deal with pushy salespeople or fight for service. It enables you to specify your market according to their locations, interests and other demographics. You can spend as little as $5 USD a day which allows you to experiment and find out what works for you with little monetary risk.
Types of Snapchat Ads
There are a handful of different types of Snapchat ads. Depending on your business, some might be more useful to you than others, but experimenting and monitoring the results will be key. Conveniently enough, Snapchat provides monitoring tools to help you quantify what's working best.
Single Image or Video Ads
Single image or video ads are full-screen ads that are featured before or after user-generated content. Because the entire screen is used for the ad, the user's attention isn't being distracted. Single image and video ads can last up to 3 minutes long, but most of the best ads are short, punchy and to-the-point. It's possible to add an interactive factor into the ads so that viewers feel that they're being included rather than being talked at. You can also add attachments to drive app downloads, website views, texts and calls.
Dynamic Product Ads
Dynamic product ads are automated, custom-built and personalized according to a potential customer's interaction with your website or app. The ad pulls from a product catalog that you've uploaded and is programmed according to your target demographic and each individual user's data. For example, if a potential customer has been browsing your line of olive oils, a dynamic product ad can be automatically generated to entice them back and finish the purchase. Below is an example of a Dynamic Product ad shown in 5 different templates.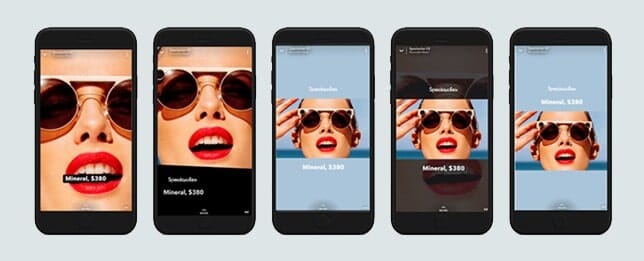 Story Ads
Story ads are so-named because they follow the pattern of Snapchat Stories. Users will find them in the Discover section and they feature a series of 3 to 20 images or videos – just like the user would experience in Stories. With a Story ad, you can create a mini-movie, highlight a range of products and/or services or give the viewer an informative insight into your brand and motivations. A Story ad should be an experience for the user. Take them on a branded adventure.
Collection Ads
Collection ads are a great way to present your product or service catalog in an engaging and artfully designed way. Collection ads are full-screen images or videos with a superimposed carousel of product thumbnails revolving along the bottom of the screen. The user can tap on a carousel image to find out more information and be directed towards a call-to-action. Collection ads can also be designed to be a type of dynamic product ad in that they can be automated and generated in real-time and be pulled from an uploaded product catalog according to the user's data.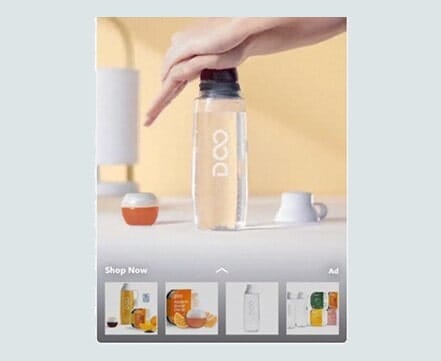 Conclusion
Whether you're targeting the youth market or just trying to stay ahead of mass social media migrations, now is the time to get started on Snapchat. The sooner you get started, the quicker you'll create a following and the faster your efforts will have synergistic effects. As with any online activity, there is a learning curve, but once you've got it figured out, it will soon become second nature. Don't delay in using Snapchat for your business. Being proactive today will ensure you're well-prepared for tomorrow.