How to Use Twitter for Business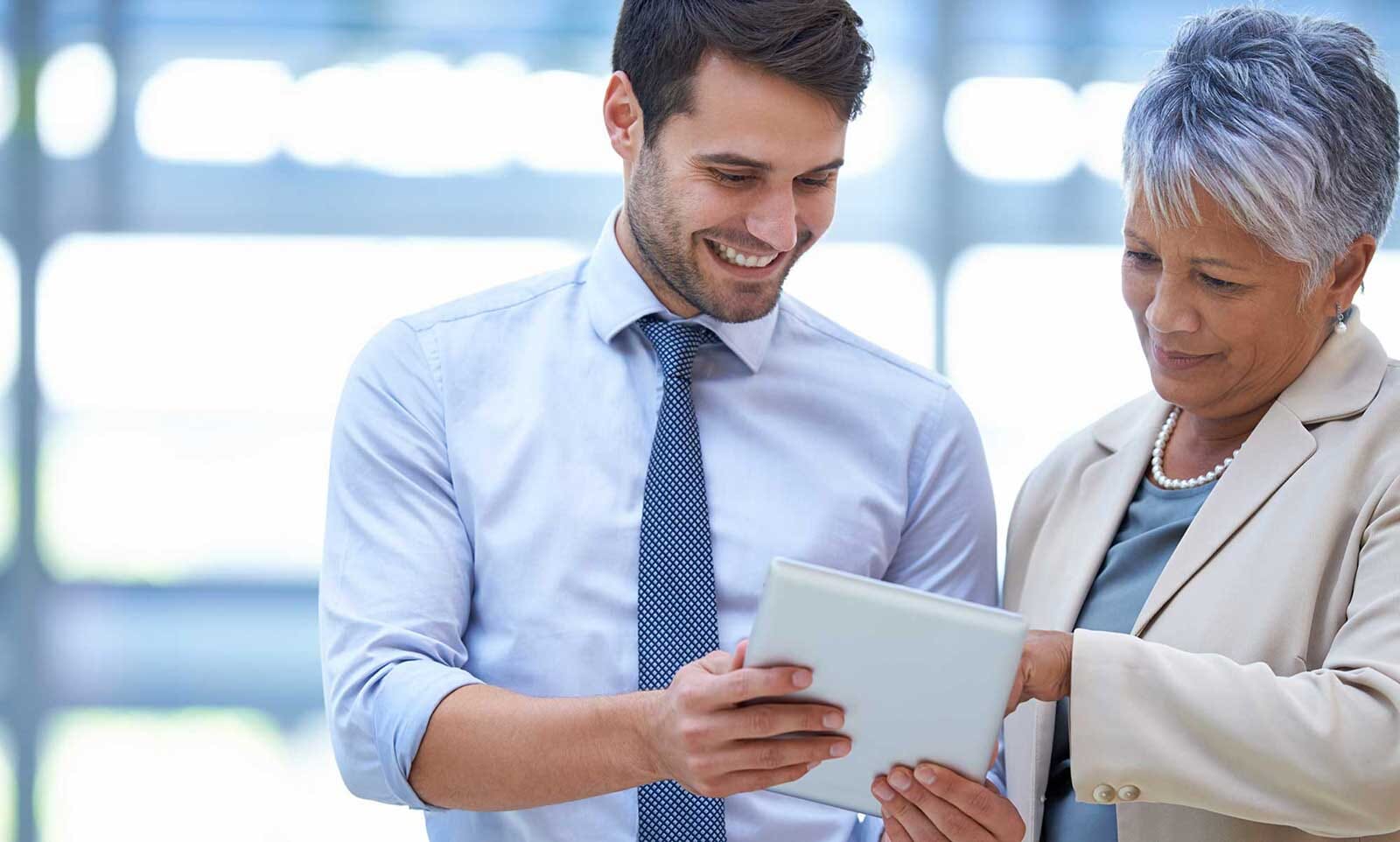 Twitter is a very powerful platform for businesses if used correctly. The type of content you see on this platform is quite different from others because of aspects like word limits, how things trend, how quickly news is brought to Twitter, and more.
There are many ways you can optimize your content for Twitter to have it seen by significantly more people worldwide and increase overall user engagement. Below, we'll be providing you with how you can do just that.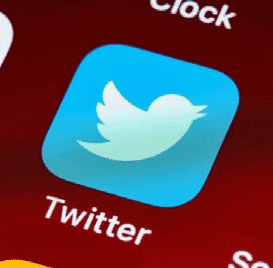 The Benefits Of Using Twitter For Your Business
With more than 300 million active users, it's fair to say that if you're not already on Twitter as a business, then now is as good a time as ever to start! One of the main benefits of Twitter is that it is a free marketing tool for your business that can increase your sales and customer reach worldwide. In addition, this platform provides easy two-way communication between you and your audience, and it's more than likely that other people within your niche are already on there. So why shouldn't you be too?
Twitter is fairly straightforward, and you can continue being active on this platform without always needing to create original content. So, although many accounts might require you to post once a day to continue engaging with your audience, retweets, likes, or quoted tweets will still allow you to be interactive. Since Twitter is often the first social media platform for news to break, it is incredibly up-to-date and fast-paced. In fact, on average, about 6,000 tweets are uploaded to Twitter every second, which equals about 500 million tweets per day! Therefore, it's safe to say there's constantly new content generated that you can very easily interact with.
When it comes to Search Engine Optimization or SEO, there are endless opportunities for keywords to be used. There are many ways to integrate keywords from different placements within your actual profile to every tweet you make. Now that we know about the benefits of using Twitter for your business, let's look at how to set up your profile in the most effective way possible.
Building Your Twitter Profile
The first thing you'll want to come up with before establishing your account is your Twitter handle or profile's name. It's best to stick with a handle that is either your business name or something niche-related. However, if your business name is already taken, you can easily add a CTA at the beginning or end of your name to make it work. For instance, our name could become something like "GetTheBlueprint," "ChooseBlueprint," or "BlueprintHQ."
Once you've established a Twitter name, the next thing you should do is optimize your images. Your profile picture will likely be your company's logo or something that represents your brand or identity; however, the banner section of Twitter is where you can get a bit more creative. Add something here that really shows off your brand's identity or originality.
While you're setting up your profile and writing in the description, be sure to add in a few keywords to help with ranking. With only 160 characters to work with, you should try to approach your description in a fun, unique and concise way. Here are a few tips on approaching your Twitter bio and some examples of businesses doing it well. Start by introducing yourself, your brand, your product, etc., while showing off your personality before including a call to action for your followers. One example of a CTA for your audience could be something as simple as encouraging them to use a specific hashtag to be featured on your account.
This example is the perfect representation of a witty Twitter bio that tells you everything you need to know and includes hashtags that people can use to engage and interact.
When looking at a smaller business like this artist's account here, the way her bio is written in combination with her banner image and tweets, all ties together perfectly. She has created a scene that upon first glance we can easily understand and connect with.
If your brand has more than one Twitter account, you can also put that information here. For instance, you have accounts in different languages or one specifically for customer service. Regardless of your other account, you can include that within your description to help your audience navigate easier. You can also include a hashtag or emoji within your description to make it more personalized; however, avoid going too hashtag happy, as this can result in people turning away from your profile. Here's an example of a hashtag that has naturally been integrated into a Twitter bio.
Once your Twitter bio is created and finalized, you can also add your location and website link within this section. This Etsy example shows a location of "everywhere" because it's content can be used and applied universally. Many big companies might choose this location; however, as a smaller business you can specify to your region. And as time goes on, you want your audience or customers to be directed to the right location, so ensure your links are always up-to-date!
The final step in setting up your profile would be following other accounts within your niche or business. You can do this by going to the search section of Twitter and typing in any word that's related to your brand or business. From here, accounts that use those keywords will pop up, and you can follow. This brings us to our next point; adding keywords to rank. Here's how to do that!

---
Keyword Research for SEO
When it comes to creating and optimizing your Twitter content, there are a few important things to keep in mind. For starters, adding keywords within your profile can significantly increase the chances of connecting with others who are searching those words. By including words related to your niche, you are ultimately making it easier for people to find you and your tweets. Here's an example of how the word SEO is incorporated into their description, making their account easy to find when searching that specific keyword.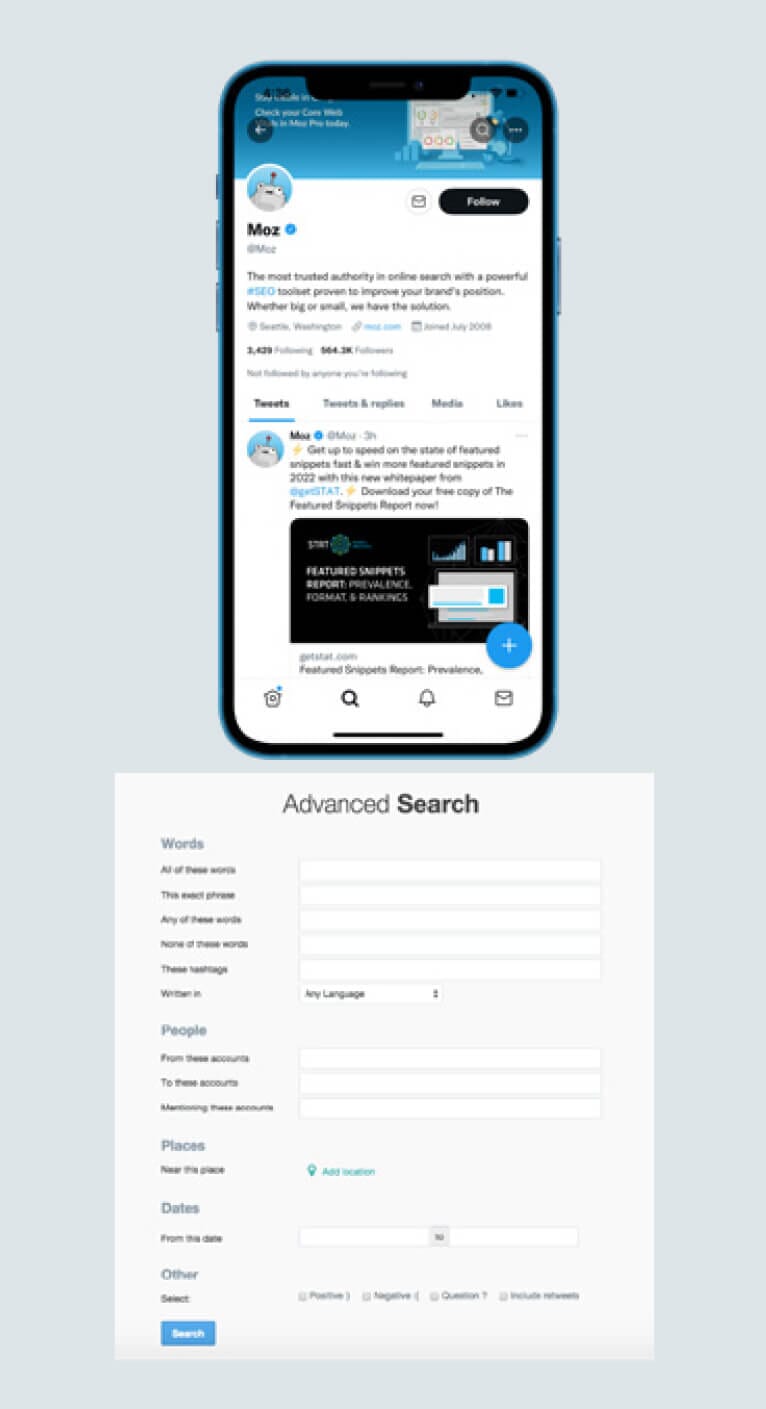 You might be wondering what the best way to find keywords is. One way to do this is by going to the search section of Twitter and typing in any words you think would apply. From here, different hashtags, trends and accounts will pop up. You can spend some time here looking through to see what's popular.
Another way of finding keywords is by using the Advanced Search option that Twitter offers. By going one step further at the search section, you can find more specifics about the words you're looking at. Once you've clicked on the top right corner of Twitter and searched something here, you can then go to the "search filters" menu on your right and click "advanced search."
As you can see, there are many different sections to fill in when going through the Advanced Search option. "All of these words" refers to the words or phrases you want searched. Simply separate your phrases by quotation marks, like "digital marketing" and "social media marketing."
In the next column, you should include only one exact phrase you want to search. This is a good place to search for any specific names. "Any of these words" allows you the freedom to well, write any word related to your niche or topic. While, in contrast, "none of these words" is used to filter out the words you don't want within the search. The following box can be used for specific hashtags that you want to search, and "written in" allows you to either choose from any language or the specific language you wish.
If you're really hoping to get even more specific with your search, you can add in only certain people to the "from these accounts" section, "to these accounts," and "mentioning these accounts." That way, you can filter all of these keywords through only specific accounts and the tweets they've made, been mentioned in or have been sent to them.
---
Creating and Optimizing Your Content
Once you've done your research, found your keywords, it's now time to begin creating tweets. You should make sure you're adding value within the 280-character limit you're given when doing this. Because you're quite limited with how many words you can use, ensure you're concise and thoughtful with what you're saying. Add in your keywords, but ensure it's being done naturally. You can also include hashtags at this time to help specify the targeted audience of that tweet.
Another aspect to keep in mind when tweeting is that they don't always need to be just writing. In fact, including pictures where you can has proven to be more successful, as tweets with images get 150% more retweets than those without. Additionally, many people find having the visual aspect a better option than simply words alone. So, this is something to consider when creating content of your own!
Twitter's relatively new feature of pinning top tweets has been very helpful for businesses. This is another way you can optimize your content as a whole, as you can pin your top or most relevant tweets to the very beginning of your profile. For example, this account has pinned their tweet about supporting small businesses throughout the holidays.
So, whether you'd like to showcase certain deals, products, most interacted with tweets, or in support of other people like this example, what you choose to pin is up to you. It's a good idea to really think through what you'd like pinned as it will be what users see first on your account. So, make sure to be strategic with what you're choosing!
Planning Your Content Long-Term
The first thing you should establish is how often you want to post and what time of the day you would like to do so. Many people will tweet in the morning, lunch, or night when they know more people will be online. Re- gardless of what time of day you choose, it's important to remember that 92% of companies tweet more than once a day to keep engaged with their audience. This might sound like a lot, but because Twitter's content is so short and sweet, you can repurpose content created for other platforms and have it broken up into multiple tweets. Another thing to note is that many different sites will help you with scheduling and posting. For example, using a tool like Hootsuite, Later, Buffer, etc., can help you plan content far in advance.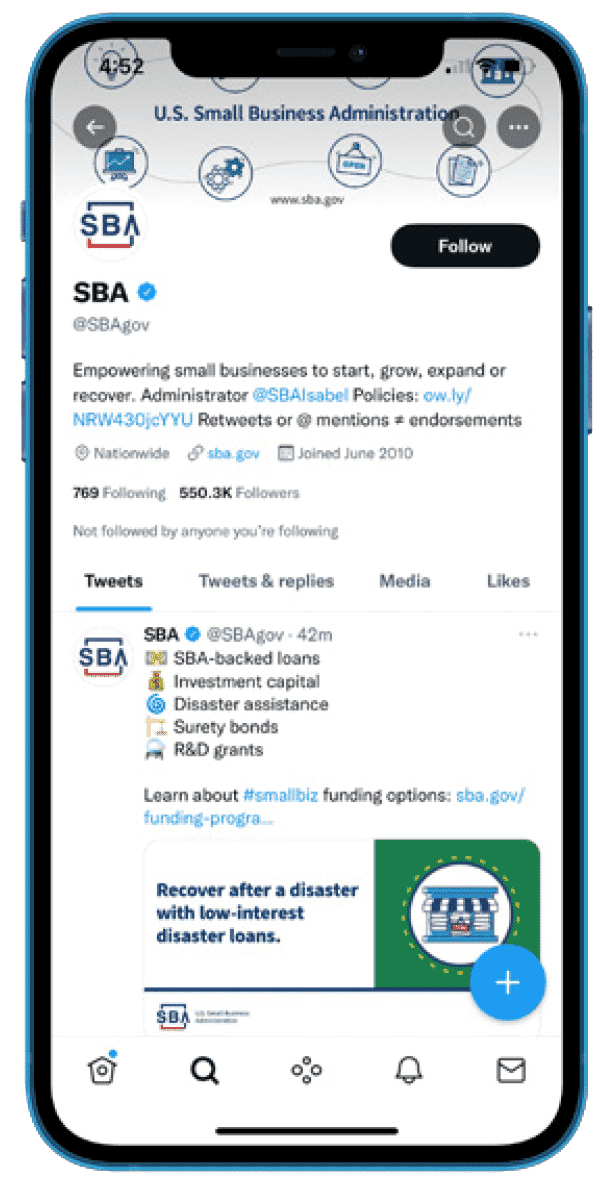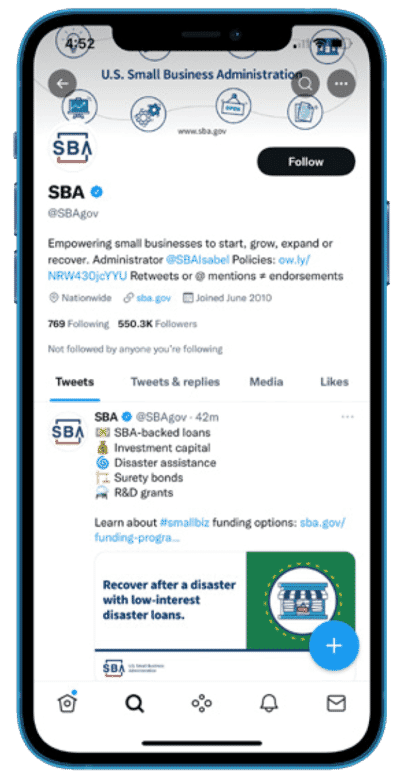 ---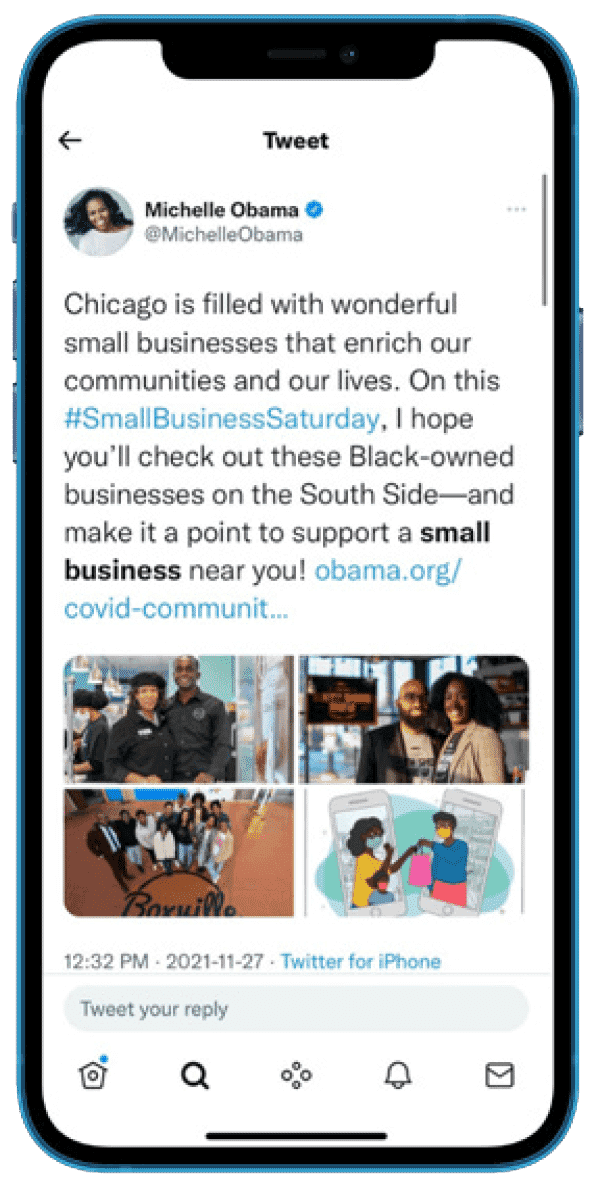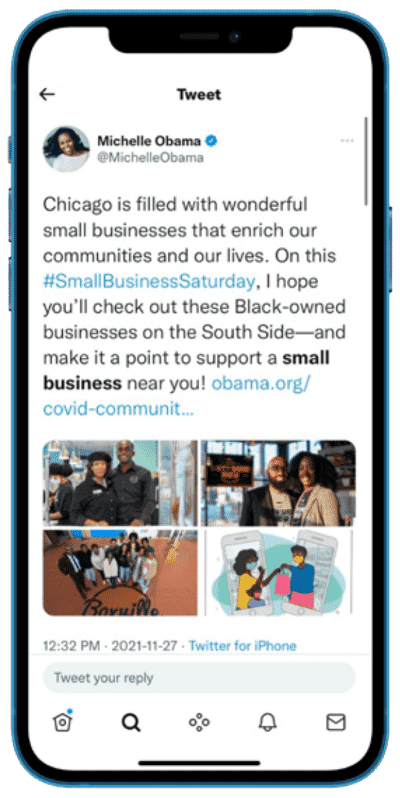 Establishing a Community
Best Practices
The best practices for Twitter to get your content ranking include being consistent with your posting, adding hashtags to your tweets, staying on top of trending topics and, of course, adding relevant keywords. All of these aspects are beneficial to the success of your account; however, it's important to remember the role that community engagement plays. There are many ways to establish a community, from retweeting or commenting on other people's content to interacting with others who support yours. It's important to respond to other people's comments because it shows that you care and listen to any feedback they might have to give. If your audience is saying they want more of a specific thing, then that's ultimately what you should be giving them! Being consistent in every regard is important to creating and nurturing a community of members worldwide.
On top of being consistent, it's also a great idea to show your support for other people. This example of Michelle Obama's tweet to support small businesses is a powerful one, and whether you have millions of followers or hundreds, showing your support goes a long way. People want to support people who support others.
To have your business reach the largest audience possible, it's important to have a basic understanding of how each social media platform can benefit you and your brand. Twitter allows for short and sweet content, easy two-way interactions, a simple yet effective use of keywords and up-to-date information. There are so many ways to utilize Twitter in order to increase user engagement and connect with audiences worldwide.