Pinterest Marketing For Your Business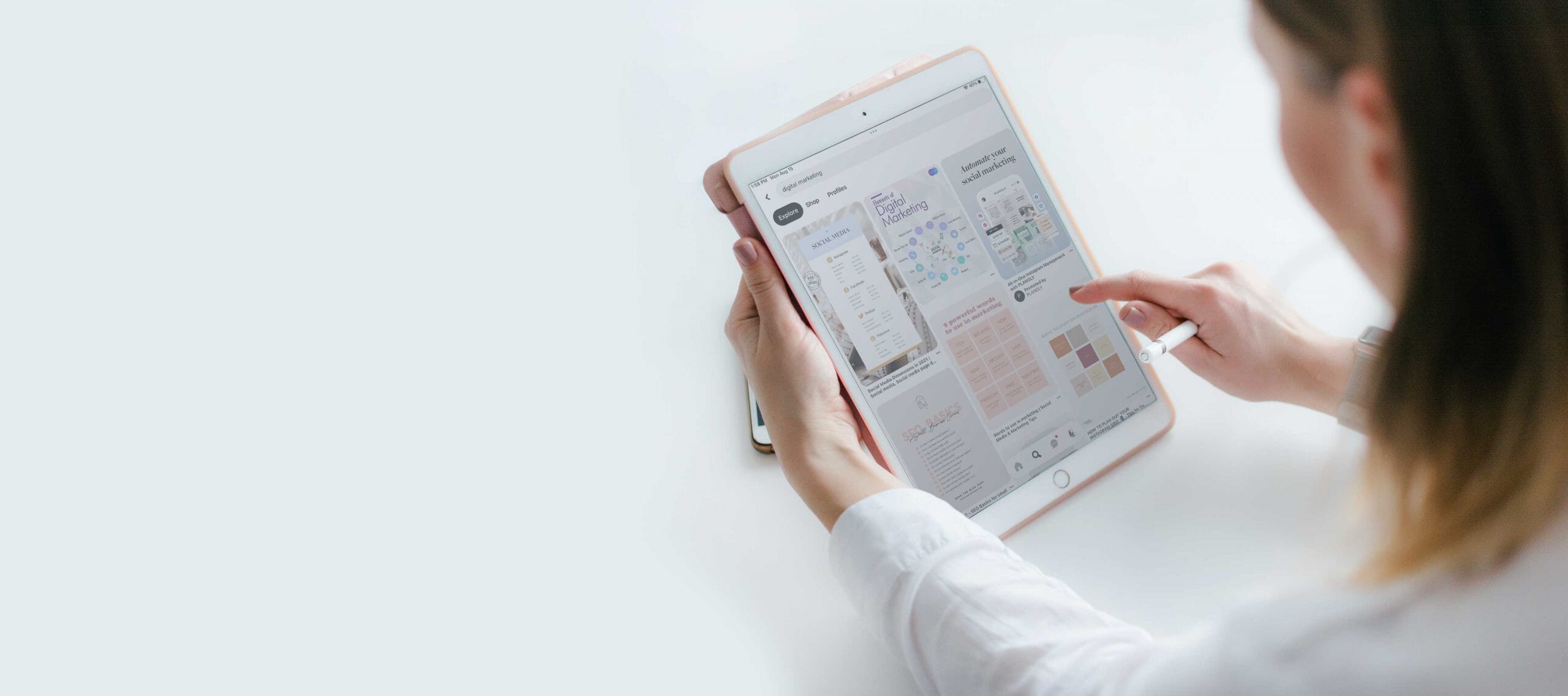 We've likely all heard the saying, "a picture is worth a thousand words," and on Pinterest, that is certainly the case. While most people may assume this platform is nothing more than a place to find wedding inspiration or home decor ideas, Pinterest is an excellent means of reaching more people worldwide for your business or products.
If you're not using Pinterest for your business yet, it might be time to consider getting on board. Below, we will discuss how you can start using Pinterest to its fullest potential. We'll cover everything from creating a business account to crafting pins that drive traffic and promote growth. Here's what you need to know!
What Makes Pinterest Different From Other Platforms?
Known for its captivating visuals, Pinterest is a social platform where people look for inspiration and fresh ideas related to their interests and hobbies. Those using Pinterest add or 'pin' content to boards that follow a particular theme. This ultimately allows ideas to be well-organized and ensures other people can discover them more easily.
Each pin can include a website link to a blog post, an online store, a personal portfolio, or a company website. Adding a direct link to images or videos makes Pinterest different from other highly-visual social platforms, such as Instagram. In addition, the content on Pinterest doesn't show up chronologically like other social networks. Instead, pins show up based on the relevance of search activity.
When it comes to the audience, most people on Pinterest are looking for new ideas on purpose rather than scrolling through their feeds or liking posts. They're actively seeking content from businesses and creators. In fact, 87% of Pinners have purchased a product because of the platform.
How Your Business Can Benefit From Pinterest Marketing
So why should your business be on Pinterest? To answer this, we can start by looking at some statistics:
433 million people use Pinterest every month

85% of users say Pinterest is where they go to start a new project

The platform's advertising reach in January 2022 was 226 million people

People watch nearly one billion videos daily on Pinterest

75% of weekly Pinterest users say they're always shopping
These numbers can give you an insight into why Pinterest is a great platform for showcasing products and services. It's a rich social resource that people use when they're preparing to make a purchase, making it an engaged, niche marketplace.
When you sign up for a business account on Pinterest, you'll be able to enjoy a handful of integrated features as well. These include a visual search tool, the ability to run ads, and more. You'll also have access to Pinterest Analytics which lets you track important data to help you determine which strategies and content work for your business. Another perk of being on Pinterest is its business community, where you can get personalized support and advice from other brands on making the most of the platform.
In addition, you can also take advantage of Rich Pins when creating your Pinterest marketing strategy. These unique pins include additional information such as the price, availability, and recipes. They can be beneficial if you run an eCommerce store or blog because they provide potential customers with all the information they need to purchase right then and there.
Last but not least, what's great about Pinterest is how accessible it is. Businesses of all sizes can succeed on the platform, whether they're just starting or are already established. And with millions of monthly active users, you're sure to reach your target audience if you use Pinterest marketing to your advantage.
Setting Up a Business Profile on Pinterest
If you're new to Pinterest, the first thing you need to do is sign up for a business account. You can do this by going to Pinterest Business and clicking "Create Account." If you already have a personal profile, you will need to log out of it first before you can proceed to sign up for a business account.
From there, you'll be prompted to provide some information about your business and those who will manage the account. After you've filled out the details, you will need to accept the Terms of Service. Then, you can click Create Account and start pinning away!
Using Pinterest for Marketing: 9 Strategies to Grow Your Account
1. Create Beautiful Pins With Unique Visuals
People are visual learners, and Pinterest is a visual platform. That's why it's essential to ensure that your pins are high-quality, visually appealing, and informative. You want people to stop scrolling and take notice of your content. So it's best to think outside the box and develop something that will make your pins stand out from the rest. For added creativity, you can take advantage of the fact that portrait shots are best for the platform and that the max aspect ratio is 1:2.
You can also use videos in your pins, which is a great way to add personality to your content and capture people's attention. Remember to keep them short and sweet, as around 15 – 30 seconds is ideal.
2. Share Your Pins Within Relevant Categories
Make it easy for people to find your pins by sharing them in relevant categories. This way, your pins will come up as results when someone searches for something specific. To find the best categories for your pins, start by looking at the interests section in your Pinterest analytics. This will show you which topics people are already interested in when they visit your profile. Once you have a good list of topics and keywords, you can start creating pins that are relevant to those terms and share them in the corresponding categories.
3. Make Sure Your Captions Are Search-Friendly
Similar to any other form of content, you want to ensure that your pins are optimized for search engines. That means using popular keywords throughout your pin descriptions. This way, you can ensure your pins are at the top of search results when people are looking for ideas. For example, if you sell skincare products, you'll want to use keywords like "skincare routine," "best skin care products," and "how to get clear skin." This way, when people search for content related to those topics, your pins will come up as results.
Do some research on popular keywords in your industry and list the ones you want to use in your descriptions. Then, start incorporating them into your pins whenever relevant. Just make sure not to stuff your captions full of keywords but, rather, only use them when they naturally fit into the description.
4. Build a Solid Community by Following, Engaging and Interacting
A big part of Pinterest marketing is building a strong and engaged community. After all, the more people you can get interested in your content, the more likely they will share and save your pins.
One of the best ways to build a community on Pinterest is to start following other accounts in your niche. This way, you can engage with their content and get your name out there. In addition to following other accounts, make sure to like and comment on other people's pins, especially if they're relevant to your business. Re-pinning content from other businesses is also a good idea since it allows you to be seen as an authority in your industry that provides a resource for inspiration and information. You can also join group boards, which are a great way to interact with other pinners and get your content in front of a larger audience.
5. Incorporate the Save Button on Your Website
Make it easy for people to save your pins by adding the "Save" button to your website as an extension. This way, whenever someone comes across one of your blog posts or product pages, they can quickly and easily save it to their Pinterest boards with just a few clicks. Here's what that page will look like.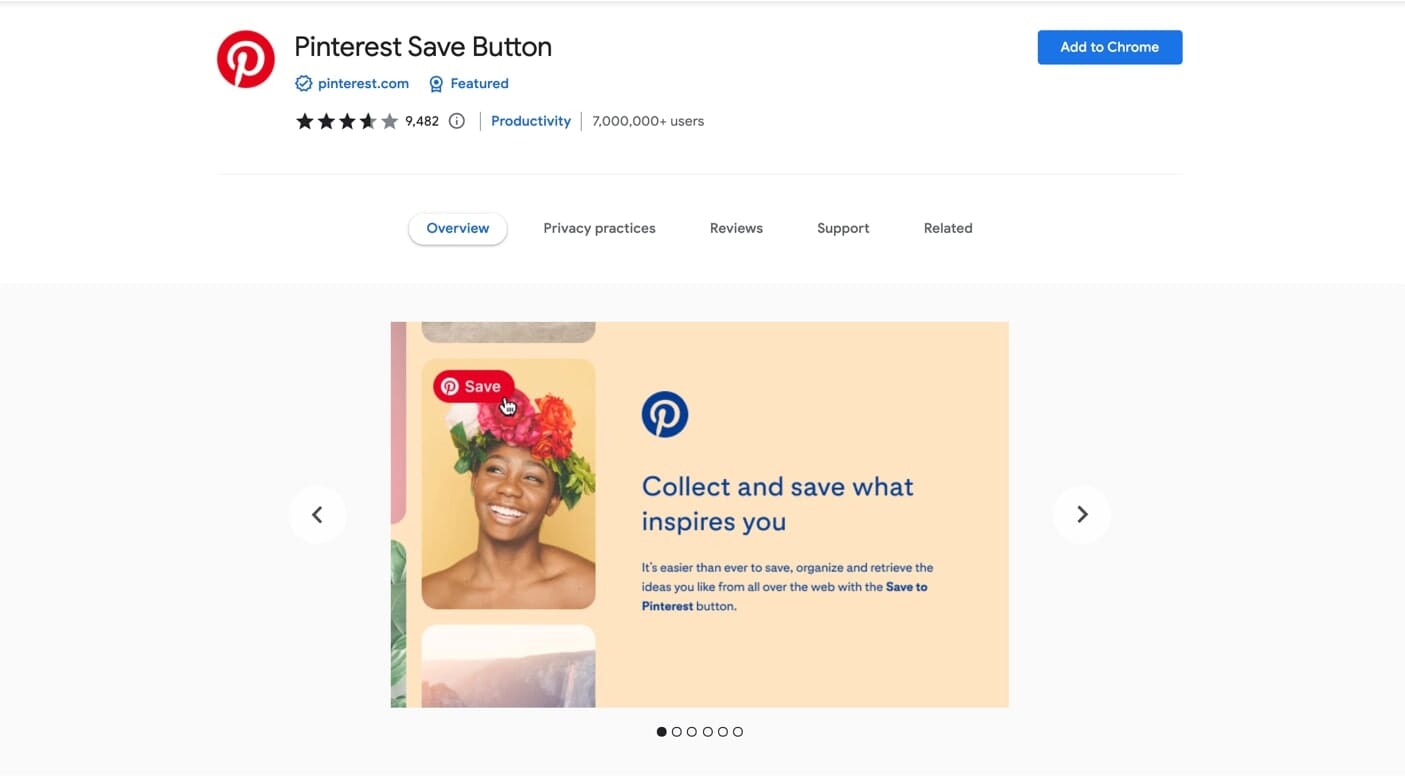 6. Use Pinterest Ads to Promote Your Business
Another great way to promote your business on Pinterest is to use ads. Pinterest ads are a bit different from other social media ads since they're more like promoted pins than traditional ads. With Pinterest ads, you can promote your existing pins or create new ones specifically for your ad campaign. Promoted Pins are a great way to build brand awareness, increase sales or drive website traffic. In addition, they also allow you to reach shoppers when they're actively looking for new ideas.
7. Enable Rich Pins
If you want your pins to stand out and get more clicks, make sure to enable rich pins. Rich pins include extra information about the pin itself, like the product's price or the ingredients in a recipe. This makes them more visually appealing and informative, which can help you get more clicks and conversions. You can choose from Product Pins, Recipe Pins, Article Pins, and App Pins.
8. Share Your Pins on Other Social Networks
In addition to promoting your pins on Pinterest, you can also share them on other social networks like Facebook, Twitter, YouTube, and Instagram. This will help you get more eyes on your content and reach a larger audience. Additionally, it's also a good idea to link your Pinterest profile to your Facebook and Google accounts. This will make it easy to share content across networks, login to different accounts quickly, and back up your profile data when needed.
9. Take Advantage of Pinterest Analytics
Lastly, you should be taking advantage of Pinterest Analytics. This free tool provides valuable insights into your pins, boards, and followers. It can help you understand what's working well and what needs improvement.

Conclusion
Pinterest can be a powerful marketing tool for businesses of all sizes. By incorporating some simple strategies, you can start using Pinterest to drive traffic, increase sales, and build your brand. Because of its visual nature, you can use Pinterest to showcase your products, services, and content in a creative and engaging way. And with the right approach, you can reach a large audience of potential customers. If you're not already using Pinterest for business, now is the time to start!
Looking for the best tips on establishing a social media following for your business? Download our free social media marketing e-book today!