Social Media Marketing for Business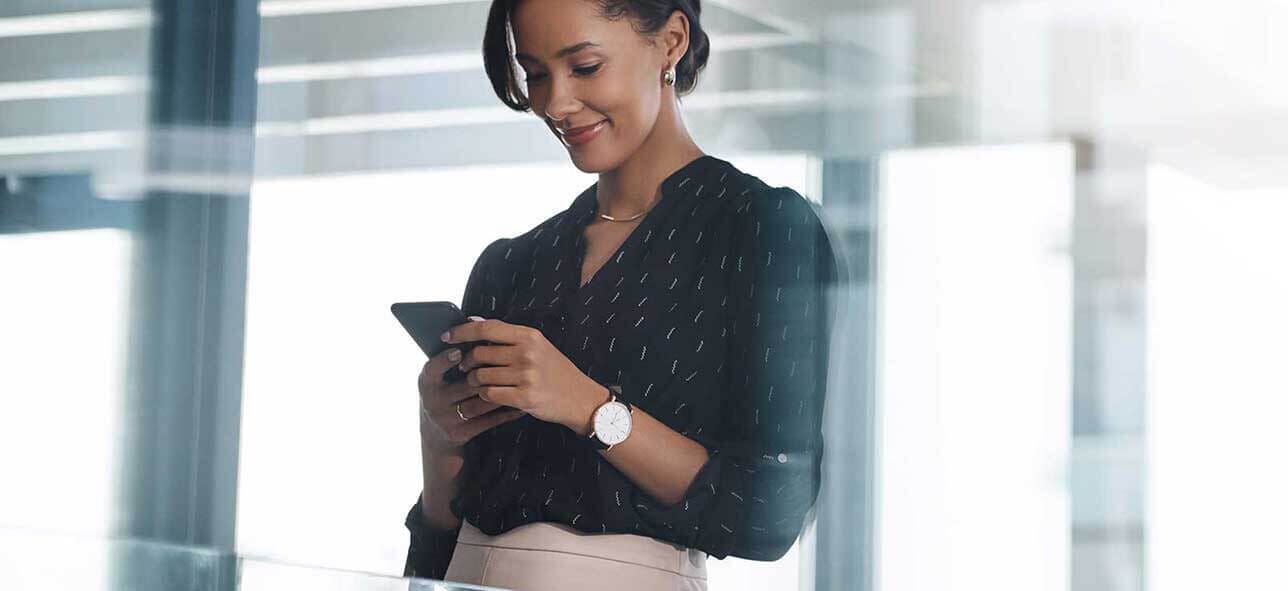 Like many industries in the digital age, marketing has been wholly transformed by technological advances. Hard data is more abundant and easier to come by. Target markets are more easily identified and directly addressed than they were in the past. While big data has made sweeping changes in the marketing world, social media has amplified that change and created a two-way communication system between brands and their customers. Understanding social media marketing for business is no longer an afterthought, it's now a vital part of the marketing mix implemented by any digital marketing agency. The number of consumers actively involved with social media is growing every year. Ignoring this billions-strong sector of society limits the effectiveness of your business. The numbers in the graph below speak for themselves: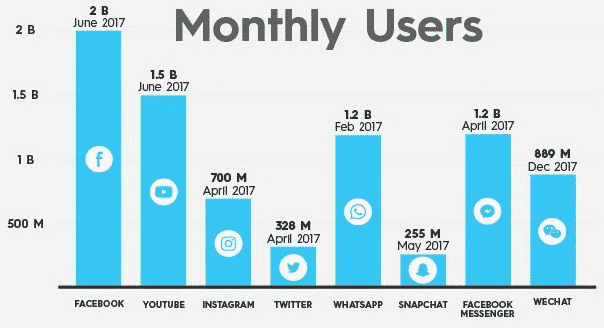 To gain a better understanding of social media marketing and how to use it, delve into this guide.
What Is Social Media Marketing?
Social media marketing is the use of social media platforms to engage potential and existing customers with content composed of text, imagery and sounds. Social media marketing is a powerful tool that can be used to increase brand awareness, engage customers, grow sales and increase website traffic. Although social media is an ever-changing environment, the current most influential platforms are, in no particular order, Facebook, Instagram, Twitter, LinkedIn, YouTube, Snapchat and TikTok.
Developing A Social Media Marketing for Business Plan
Social media has grown so much in the past 15 years that it's no longer smart or desirable to simply wade in without a plan. Developing a social media plan should be the first step of any foray into the world of social media marketing. Aligning your company's goals with your social media strategy will be important in making the best use of your time and efforts. To help develop a social media plan, the following strategies should be considered.
Setting Goals and Objectives
The specific goals and objectives of your social media marketing plan will greatly depend on the type of business you're running. For newer businesses, brand awareness may be the main objective. More mature companies might be looking to increase sales or improve customer service and support systems. Other companies might use social media marketing to distribute information, increase lead generation or bolster customer engagement. Asking questions about the identity of your business, your target market, their social media preferences, the message you want to send, the image you want to portray and what you hope to get out of social media marketing will all inform your strategy. Setting goals and objectives for your social media marketing program will provide the basis for an outline of how to move forward.
Competitor Research
If you're just starting out and trying to create a social media marketing plan, analyzing the social media presence of competitors in your field can be highly informative. Learning from your competitors' mistakes and successes can reduce a lot of the guesswork in your own social media forays. Not only will this research help define who your competitors are, but it will also let you know which social media platforms they're using, how effective each platform is and how you can use them more effectively as part of your social media agenda. It will also give you more insight into your target market and allow you to understand what they respond to and how. Competitor research will help you establish some benchmarks regarding following sizes, interaction rates and the effectiveness of various types of actions. It will also help you identify the important keywords that are relevant in your industry.
Performing A Social Media Marketing for Business Audit
The opposite of competitor research is performing a social media audit. This is when you look at your own social media accounts to gain insight into what's working, what could be improved and whether your goals are being reached. Start by listing all your existing social media accounts. On top of your current accounts, there may be older ones that are no longer in use. Larger companies may have multiple accounts on each platform used by different parts of the business. There may even be imposter accounts that have been set up by other people. Seek out all of these different types of accounts and include them in your list.
Once you have a list of accounts, they should be compared to ensure they're all complete, on-brand and compatible with your goals and objectives. Check your profile pictures, bios, links and social media handles and ensure they all complement each other rather than being contradictory or off-target. You may need to update some accounts or shut others down completely.
Once you've coordinated the various accounts, check the top-performing posts made on each. This will help you understand what's working on which platforms. This should give you some guidelines as to what you should be concentrating on in the future. A comparison with some of your more poorly performing posts will round out this analysis. Look for patterns that connect your best and worst-performing posts. You may find that posts with certain types of content or made at different times of the day/week work better than others. You may find that your followers on different platforms respond to different things. Analyzing these connections will help inform your social media strategy going forward.
Finally, compare the different social media platforms and find out which works better for you. It may not be necessary to be on every social network if your target audience is concentrated on one or two of them. You may also find that your followers are migrating from one platform to another which may suggest that you should be following them and spending more time where they are.
Creating A Content Calendar
Creating a content calendar can help you visualize your social media strategy while reducing the amount of time required to maintain the various social media accounts. It will allow you to anticipate the need for content creation and ensure you're prepared for special events or important holidays in your industry.
Start by listing the different types of posts that you're likely to make. Examples may be image posts, videos, audio tracks etc. You may have serious posts, funny posts, call-to-action posts, general information posts, contests, etc. The list of types of posts should be specific to your company/industry and geared towards your goals and objectives.
Once you have a list of the different types of posts you'll be making, spread them out over the calendar on specific days and times. Maybe you'll have inspirational text posts on Monday mornings, informative video posts on Wednesday evenings and light-hearted, funny images on Friday afternoons.
Your content calendar should be reviewed regularly to ascertain what creates the most engagement. Experiment with different types of channels, posts and times of day/week and observe what your following responds to most to inform future iterations of your content calendar.
Setting Social Media Marketing for Business Goals
We quickly covered setting goals and objectiveness when developing a social media plan, but there's also importance in setting social media goals as a whole. This will ensure that each post you make is consistent with the goals of your overall social media presence. You should follow the S.M.A.R.T. framework where each goal is Specific, Measurable, Attainable, Relevant and Timely. All your goals should be held up against these attributes to ensure they're realistic and there's accountability when it comes to evaluating your social media outcomes. Choosing goals with quantifiable results will allow you to easily measure your successes or failures and inform future operations.
Choosing The Right Social Media Platforms
As mentioned earlier, it may not be necessary to be on every social media platform that exists. For some businesses, concentrating on a single platform may be more effective whereas other businesses may find the best results by being everywhere possible.
Each social media platform has a distinct user base and media type. For example, Facebook is geared towards connections between family and friends, while LinkedIn supports business relationships. Similarly, Instagram is known as a photo-based platform whereas YouTube is known for videos and Twitter for short-form text. Each platform also appeals to different demographics which is important to understand if you want to efficiently reach your target market. Below is a quick breakdown of each platform to give a better understanding off who inhabits each environment.
Facebook Social Media Marketing for Business
Although not the first social network to exist, Facebook is the most well-known. Most of the users fall in the 18 to 44 year old age range, although you're likely to find a large number of the over 44 year olds on this platform as well. Because Facebook concentrates on personal relationships, it can be difficult for businesses to engage users, but the platform has a powerful pay-per-click advertising program to help get in front of interested eyeballs and increase interactions.
Facebook continues to rank ass a top channel for B2C and B2B marketers with well over 80 million small to medium sized business using Facebook pages. Organic engagement tends to be highest with video content and since the Coronavirus pandemic, Stories and Live Video have soared in popularity.
Twitter Social Media Marketing for Business
Twitter users trend a bit older than Facebook with most of its users between the 25 to 49 year old age bracket. Twitter made its name by limiting the number of characters in text posts which has led to a succinct style that's popular among those looking for news and other factual content. Twitter is an ideal platform for asking your target audience questions, sharing thoughts, promoting events or website content and creating polls. Plus, it isn't solely limited to text, GIFs are now widely used on the platform.
Instagram Social Media Marketing for Business
Similar to Facebook, most of Instagram's users fall between the 18 to 44 year old range. However, it has been adopted by more older users than some of the newer social media platforms. Instagram got its start as a photo-based platform and works particularly well for those who can create appealing photographs. It has since expanded to include short-form video and also features a strong pay-per-click advertising program.
With over a billion users, Instagram is the perfect platform to showcase your brand in the best possible way. Using the right hashtags and curating user generated content is a great way to increase engagement and reach. Photos, short and long form video all perform well on Instagram. Stories is currently the most popular form of content on the channel with Reels rapidly gaining in popularity.
LinkedIn Social Media Marketing for Business
LinkedIn was created for business professionals and those looking to network professionally. It's known to attract those looking for jobs or recruiters looking for employees. LinkedIn has one of the more mature user bases with the majority of users being between the ages of 45 and 55. LinkedIn also provides a pay-per-click advertising service to help expand upon organic reach.
YouTube Social Media Marketing for Business
YouTube is the original video-sharing website and is a powerful search engine in its own right. While it may not have been considered a social media platform upon its inception, the fact that it's the second most popular site in the world means there's a large user base to draw upon. Because of its search engine origins, keyword optimization plays an important role in attracting an audience. Pay-per-click options also exist to help draw more user interaction.
As the second largest search engine after Google and the second most popular social media channel, capitalizing on video content on YouTube is an integral part of today's marketing strategies.
Well performing video content can vary in length, but more in-depth videos are popular on this channel.
TikTok Social Media Marketing for Business
TikTok is the newest sensation in social media which has been driven by its adoption by younger users. It was the most downloaded app in 2020 which led to its rapid growth. Its largest demographic is the under 19 year old group who use the platform for its efficient short-form video editing tools and vast, licensed song catalog. The platform is known for its playful and creative feel and its algorithmic ability to make posts go viral without a large user following.
With over 700 million monthly worldwide users, if you're businesses can create valuable educational and entertaining content, this channel will serve you well.
Snapchat Social Media Marketing for Business
Snapchat is another social media platform that's more popular among younger users with its largest demographic being between 13 and 34 year olds. Its appeal is an easy-to-use video messaging system and real-time updates that foster in-person interactions. Snapchat is a great platform for creating in-person traffic with real-time messaging.
At its core, Snapchat is a messaging app and is great for brands trying to develop a more personal connection with their audience. It lends an opportunity to share unique behind the scenes glimpses of your business, products and services.
Snapchat can also be credited with launching the Stories feature – which now is a key part of Instagram and Facebook.
Know Your Audience
One of the most important lessons about using social media effectively is to know your audience. Depending on their age, interests and favoured method of communication, different social media sites will pay off with different dividends. Virtually all social media platforms allow you to micro-target your audience with paid advertising, but you need to know who that audience is to use it effectively. Understanding your audience will let you know which platforms will work better to achieve your goals and the type of content that should be provided to engage that audience. By correctly identifying your audience you'll be able to narrow your focus while expanding your influence.
Many social media platforms provide interactive tools which can help attract attention. Things like polls, countdowns and customized filters or lenses can create a playful atmosphere that gets people involved. Again, providing engaging content is key and appealing to users' sense of association will generate the best results.
Expanding Your Audience
Once you have a good idea of who your audience is, you can use that information to find more potential customers with similar tastes and interests.
One way this can be done is by using social listening. This means monitoring keywords and hashtags specific to your business or industry and reaching out to those involved in those conversations. Social listening can also lead you to other relevant keywords, hashtags and communities that can help expand your audience.
Another way to expand your audience is to compile information associated with your best and/or most engaged customers and use that to find others who match similar criteria. This can be done using targeted advertising or interacting with community groups of like-minded people.
Building Better Relationships
When it comes to marketing, the power of social media lies in the fact that it's possible to interact with users. This allows companies to create and build better relationships with existing and potential customers over time. It's important to take advantage of this distinction and engage with users who interact with your content. It proves you're listening, makes you appear more approachable, builds trust and creates loyalty. This is important regardless of whether the interaction is positive or negative. Responding to positive engagement fosters goodwill while appropriately responding to a negative communique displays a sense of humility and compassion that can change an antagonistic relationship into one of mutual understanding.
Beyond interacting with engaged users, it's possible to build new relationships by joining or creating communities of like-minded groups and individuals. Certain social media sites allow you to explicitly create or join those communities, while others require following hashtags or connecting directly with individual accounts.
Many social media platforms provide interactive tools which can help attract attention. Things like polls, countdowns and customized filters or lenses can create a playful atmosphere that gets people involved. Again, providing engaging content is key and appealing to users' sense of association will generate the best results.
Platform Insight
Every social network provides access to platform insights that allow you to better understand your audience and the effectiveness of your engagement with that audience. It requires a small learning curve associated with each social media site to gain that access, but the benefits far outweigh the effort required. To utilize social media to its fullest extent, it's imperative to access and engage with the data available. There are many digital tools that can compile data from all the social media sites you use to make it easier to compare and contrast your presence, community engagement and achievement of goals.
Analytics
Analytics tools provide you with detailed insight into your social media presence and those you engage with. They allow you to proceed according to hard data rather than simple guesswork. There are several layers of social media analytics that have grown along with the popularity of social media itself. This is part of what makes social media marketing so powerful.
Ultimately social media analytics should be used to discover and meet the needs of your customers.
Analytics tools can provide demographic information about your audience, engagement numbers, customer experience, competitor analysis, conversation topics, prevailing sentiments, trend monitoring and more. Many of today's analytics tools allow you to compare the different social media platforms to help you to discover patterns, sequences, clusters, insights and more. Below is an example of the social media dashboard provided by Sprout Social.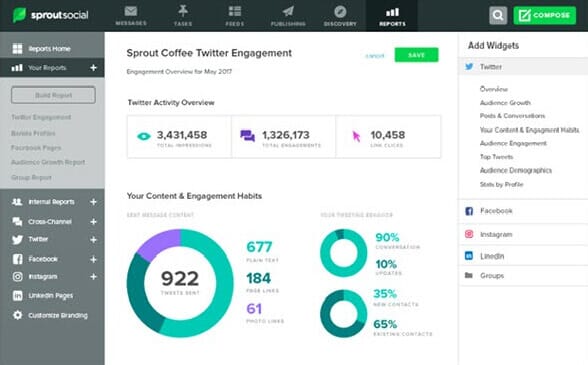 Graphics
Although graphics should be an important part of your social media content plan, they may not always be necessary. It's important to run your own tests, but some social media studies have shown that on certain platforms, text-based messaging performs better than those with graphics. Again, you'll have to find out exactly what works with your audience, so pay attention to the data that results from experimentation.
Content Curation
Constantly creating interesting and engaging content can be a full-time job in itself. If you don't have the budget or the time to consistently create your own subject matter, content curation can help round out your posting. Posting content created by your followers (user-generated content,) experts in your field or related businesses can provide your social media audiences with some interesting variation while filling in some of the holes in your content calendar. When curating content, it's important to try and provide value for your followers while maintaining your brand integrity.
Scheduling And Automation
Having a content calendar is an important part of providing an overview that allows you manage what can become a large and complicated system.
Scheduling and automation of your social media posting can reduce some of the time-consuming work necessary to ensure consistent social media representation. By setting aside a block of time to schedule and automate your social media posts you can cut down on the number of interruptions in your working day.
Conclusion
Social media is no longer a simple time-waster or distraction from day-to-day life. Its popularity has made it a hugely influential industry that can no longer be ignored by any business that relies on marketing. The fact that social media marketing can be so finely tuned makes it a powerful and indispensable tool in every modern-day marketer's arsenal. Whether you're just starting or you're already a veteran, it's important to keep up with the trends and developments in the social media world to ensure you aren't left behind. Marketers have always tried to create closer relationships with their customers and social media provides the means to reduce that distance even more.