The Complete Guide to Instagram PPC Advertising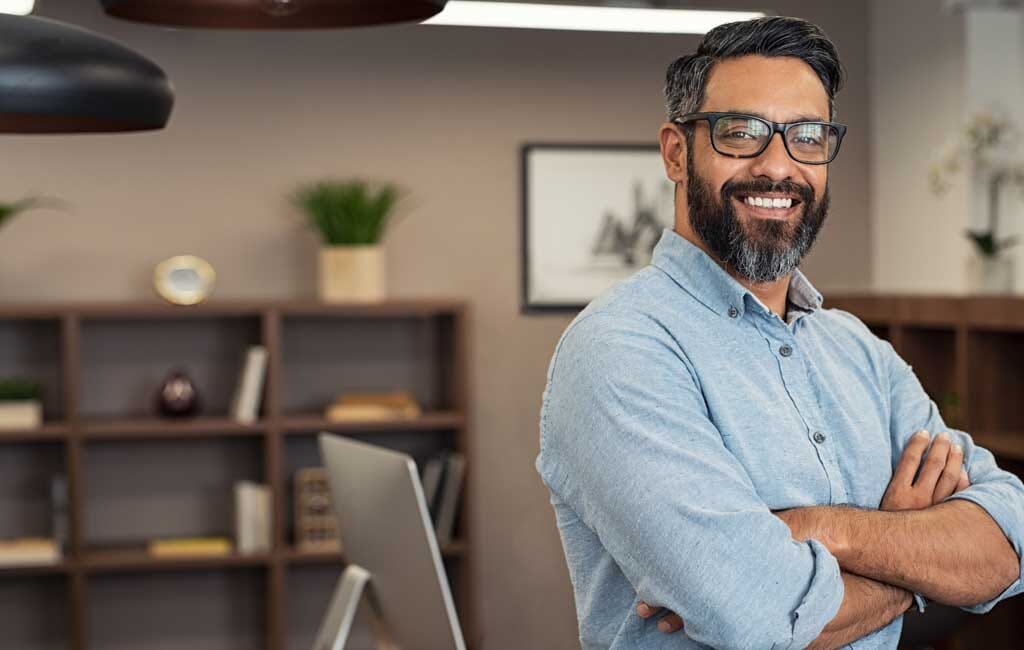 Instagram has over 1 billion monthly users. Over the past several years, more and more businesses have joined the platform to interact with their audience, strengthen their branding, and promote their company.
Instagram advertising is sponsored posts, stories, or videos that promote a company's sales or interests. If you've ever scrolled through Instagram and saw a "Sponsored" label, those were Instagram ads.
How to Find the Right Marketing Channel For Your Business
There are plenty of different marketing channels for businesses that are interested in trying PPC advertising. In level of popularity, these are the five most common platforms:
Google Ads
Facebook Ads (including Instagram Ads)
Bing Ads
AdMob
AdColony
As a digital marketing agency, we recommend testing different platforms to see what works best for you starting with Google Ads and Facebook/Instagram.
Perks of Instagram Advertising
Instagram advertising has some significant advantages. As a business, you'll have complete creative control of how your ads look, your goals, and your copywriting. Since Facebook owns Instagram, you'll be able to access several of the comprehensive features that Facebook Ads offers.
According to statistics released by Instagram, 60% of users have discovered or purchased new products on their platform. That statistic is proof that Instagram advertising and Instagram business accounts see traction with their posts. In fact, 33% of the most viewed stories are from flourishing business accounts. Where Instagram used to be a platform for selfies and animal profiles, it now leans heavily in the favor of businesses.
Budgeting for Instagram Advertising
Instagram advertising works on two different budgeting methods:
CPC (cost-per-click)
CPM (cost per impressions
It can be difficult to identify how much your advertising strategy will cost directly. All prices consist of Instagram's ad auction. This is to say that your total ad cost will be determined by your audience, your industry, the type of ad you use, and how well your ad performs. Though this can seem overwhelming, Google Ads and Facebook Ads use a similar methodology when determining ads' overall price.
How much do ads cost?
To give you a rough idea, AdEspresso researched $100 million of Instagram Ads in 2017 to give businesses a better idea of what their ads will cost. Their research concluded that the average CPC fell between $0.70 and $0.80. This can differ significantly depending on your industry.
Generally speaking, Instagram Ads fall slightly higher in price than Facebook Ads. According to Leverag Consulting, businesses can pay as high as $5 for a CPM.
---
How do you determine a comfortable budget?
One of the most important factors when setting up your ads is to outline a comfortable budget for your business. We recommend setting a predetermined budget for a minimum of $10 per day. This budget allows your ad to optimize and flush out to new audiences.
The beauty of Instagram Ads is the ample opportunity for the business to harness creative freedom with each advertisement. There are plenty of different ads for an advertiser to choose from. We recommend A/B testing a variety of different ad formats to determine what works best for your target audience.
Image feed ads
Image feed ads also referred to as photo ads, are the most common type of Instagram ads used today. They camouflage in nicely with everyone else's usual posts on your target audience's feed.
Image feed ads will allow you the chance to come up with a creative caption to inform your audience about the service or product you're advertising. It gives plenty of opportunities to connect, engage, and sell a product. Here is an example of an image feed ad.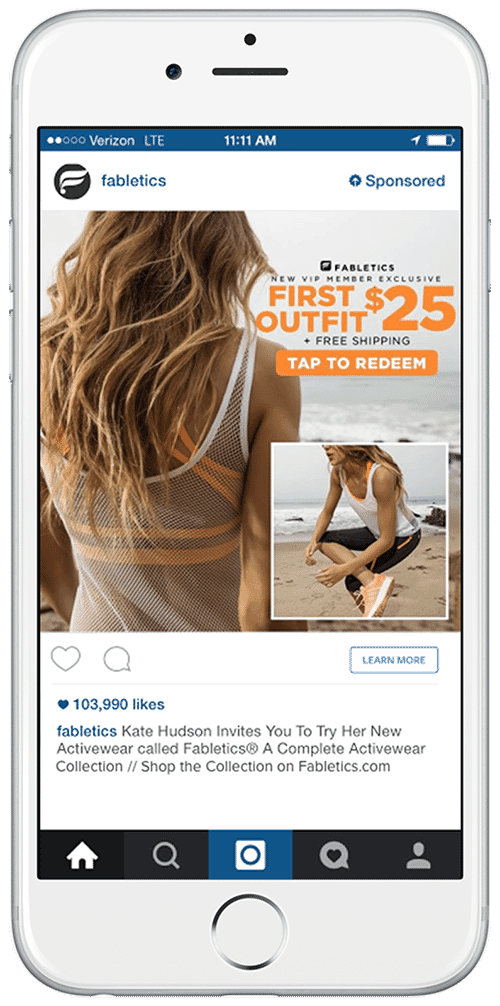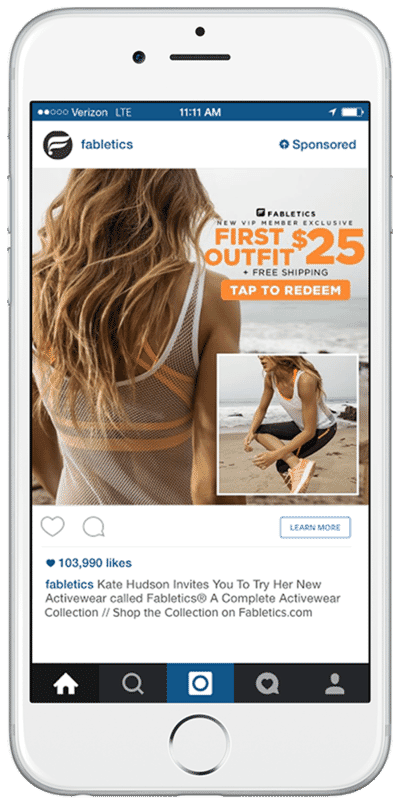 Instagram story ads
Instagram stories run at the top of your Instagram feed. They are limited-time photos or videos that disappear after 24 hours. These ads won't run as long as traditional image feed ads and don't allow the business to write a creative caption. Here is an example of story ads.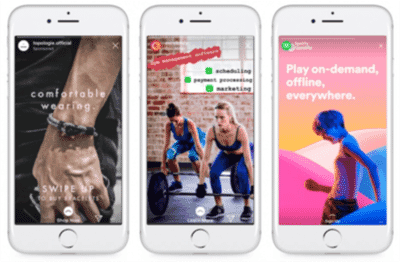 Video feed ads
If you're still interested in traditional commercials, then a video feed ad might be for you. This gives your business the chance to film and push a video of your product or service.
Videos can be anywhere between 3 to 60 seconds. However, the shorter it is, the more likely your audience will engage with it. Video feed ads also allow for a creative caption to drive home a central idea.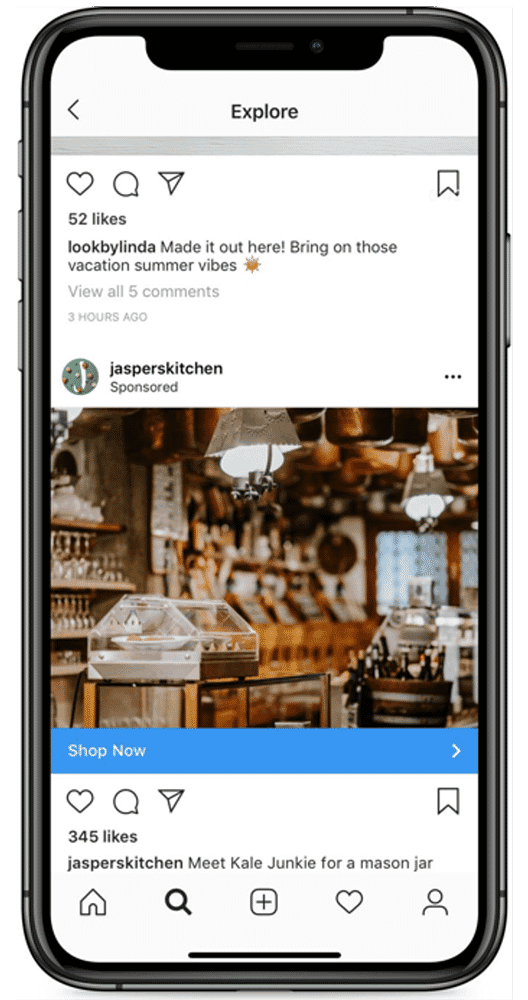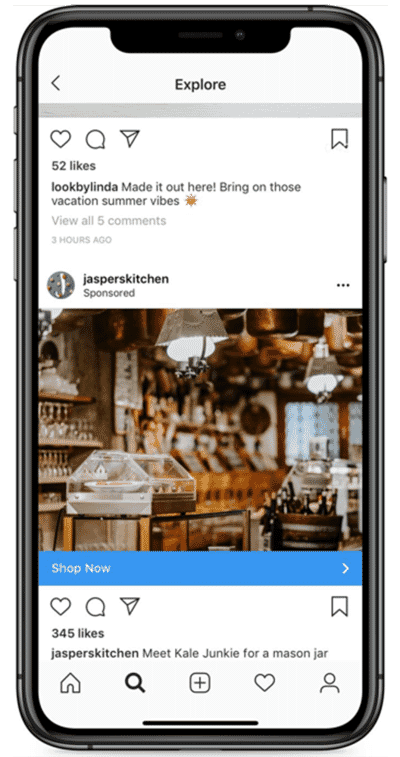 Video story ads
To post a limited-time video on your story, you might consider video story ads. These videos are often relatively short in length (about 15 seconds), but they allow you the opportunity to customize a quick, engaging video for your audience.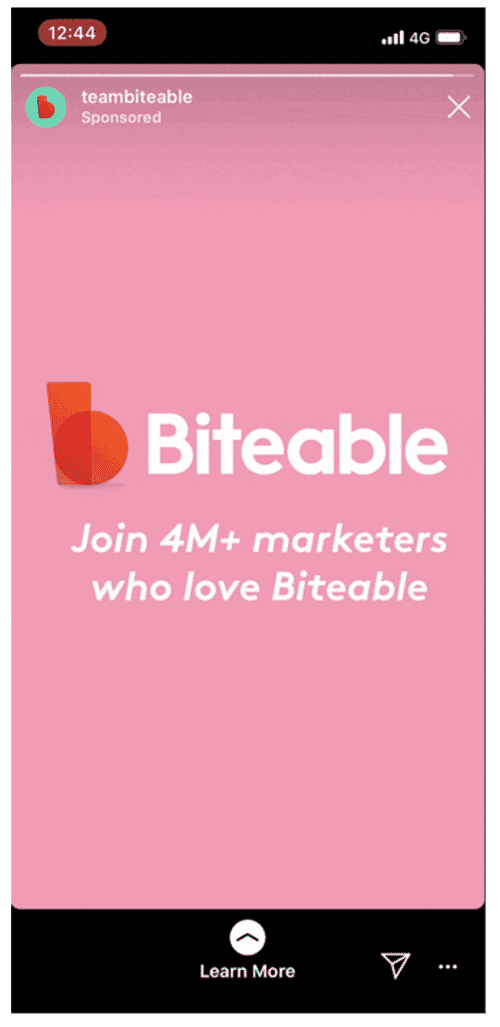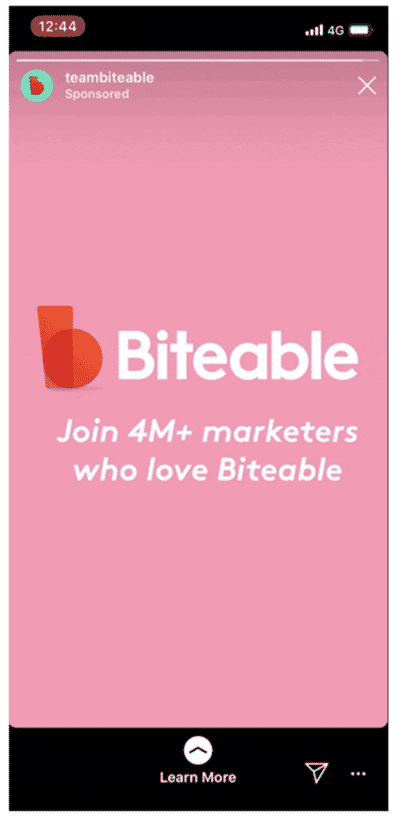 Carousel feed ads
Having a difficult time choosing just one creative? Instagram carousel feed ads are the perfect choice for you. Tell a story with more than one video or photo. Carousel ads will show up on your target audience's feed, so they won't delete after 24 hours.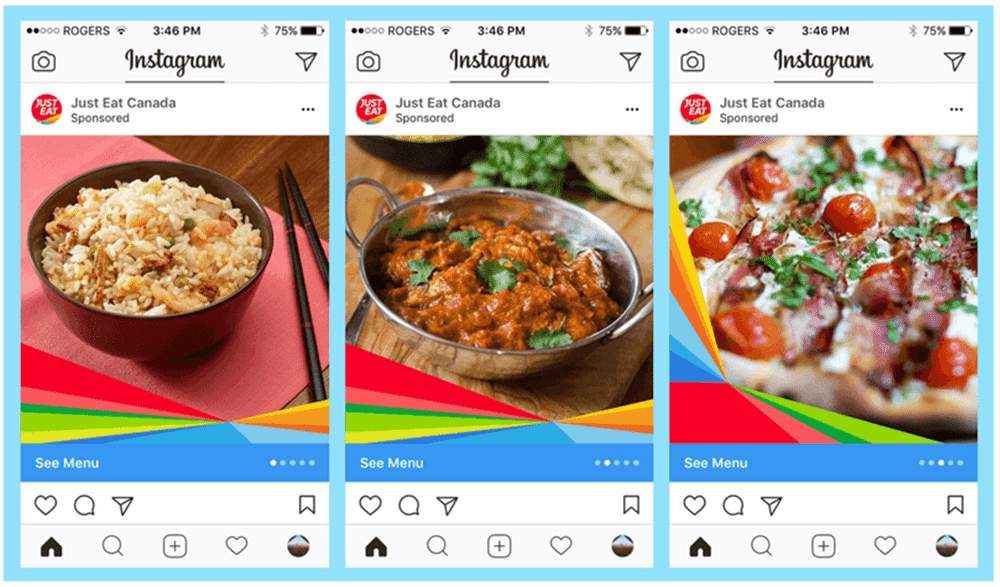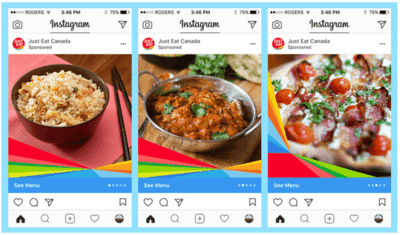 Tips
Below you will find four basic tips to optimize your Instagram ad experience.
Use a compelling visual
The visual (whether photo or video) is your first impression with your audience. This is your one and only opportunity to catch the eye of the busy Instagram scroller. We recommend using a compelling visual that only has 20% font on it to capture your audience.
Nail your copywriting
Copywriting is an underrated skill that makes a big difference. Think writing but with a marketing twist, and you'll meet copywriting. Copywriting may include the text you put over your image and the caption you use to connect with your audience.
Copywriting includes a lot of marketing knowledge and understanding of sales psychology. To convert your ideal customer, you'll want to nail your copywriting.
---
Stay within your budget
You can spend as much money as you want on Instagram – the sky is the limit! However, we don't recommend spending beyond your means. This will create unnecessary stress and only keep your ads running for a short amount of time.
Include a strong CTA
A CTA, or call-to-action, points your audience in the direction you want them to go in. For example, if you want them to shop your website, you'll use "Shop Now!"
Being direct with your audience is the best way to convert them.
Do you feel ready to jump into Instagram ads after this quick learning guide? It might seem intimidating at first, but it's a great platform to leverage your business to new heights. If you have any questions at all, email us at info@blueprintim.com.